Pacific Crest Trail: OR Section 3
OR 140 to OR 62: More than 200 lakes provide primo camping and swimming holes on this 45.3-mile stretch. At the beginning, scale 9,495-ft. Mt. McLoughlin for superb views.  
Heading out the door? Read this article on the new Outside+ app available now on iOS devices for members! Download the app.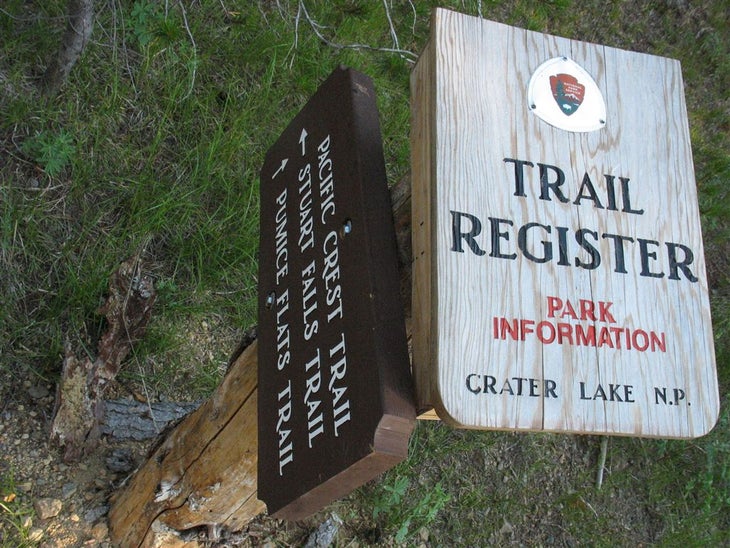 Trail Facts
Waypoints
PCT1147
Location: 42.3957824707031, -122.291435241699
From OR 140, head NE on PCT. Side trip: Hitch L to visit restaurant at Fish Lake Resort 2 mi. away
PCT1148
Location: 42.3965492248535, -122.289970397949
Cross a nicely-flowing creek
PCT1149
Location: 42.431884765625, -122.26171875
Go L @ trail jct.
PCT1150
Location: 42.4335823059082, -122.268699645996
Keep straight @ jct. with spur leading to Freye Lake
PCT1151
Location: 42.4716987609863, -122.280166625977
Stay straight; N tip of Fourmile Lake stretches out to the E
PCT1152
Location: 42.5056343078613, -122.253967285156
Pass Christi's Spring
PCT1153
Location: 42.5137672424316, -122.230751037598
Stay straight on official PCT. Worthy alternate: Bear L onto Red Lake Trail to travel alongside many scenic lakes; only 0.1 mi. longer than the official trail
PCT1154
Location: 42.5387153625488, -122.241218566895
Set up camp at Red Lake
PCT1155
Location: 42.5490684509277, -122.229835510254
Stay straight; Red Lake Trail rejoins the PCT
PCT1156
Location: 42.5580177307129, -122.218803405762
Bear L to stay on PCT, which travels the ridge above this lake-filled area. Scenic alternate: Follow Sky Lakes side trail to the NE past small lakes with abundant campsites; a fair amount of ups and downs
PCT1157
Location: 42.641918182373, -122.211982727051
Stay straight @ jct. where Sky Lakes Trail meets up with PCT; savor views of Lucifer from the Devils Peak shoulder
PCT1158
Location: 42.6489677429199, -122.207466125488
Cross creek with nice camp
PCT1159
Location: 42.6536827087402, -122.205047607422
Creek crossing
PCT1160
Location: 42.6575164794922, -122.206581115723
Creek crossing
PCT1161
Location: 42.6543502807617, -122.211715698242
Cross creek
PCT1162
Location: 42.6563682556152, -122.213752746582
Go R @ Seven Lakes Trail jct.
PCT1163
Location: 42.6575508117676, -122.212333679199
Cross creek
PCT1164
Location: 42.6638832092285, -122.208801269531
Go straight; Seven Lakes Trail enters from the L
PCT1165
Location: 42.6684341430664, -122.201286315918
Cross Honeymoon Creek
PCT1166
Location: 42.6831817626953, -122.172317504883
Stay straight @ jct. with Sevenmile Trail
PCT1167
Location: 42.6852684020996, -122.171714782715
Continue straight @ jct. with Middle Fork Basin Trail that leads to Ranger Springs
PCT1168
Location: 42.7084159851074, -122.187950134277
Stay straight, heading NW toward Maude Mtn.
PCT1169
Location: 42.7368011474609, -122.195686340332
Keep straight @ jct. with spur to Jack Spring
PCT1170
Location: 42.7571182250977, -122.196929931641
R @ Y
PCT1171
Location: 42.8009986877441, -122.17586517334
Enter Crater Lake NP
PCT1172
Location: 42.8160018920898, -122.179565429688
Stay L @ Pumice Flat Trail jct.; trail register
PCT1173
Location: 42.8160514831543, -122.180816650391
Stay R @ Stuart Falls Trail jct.
PCT1174
Location: 42.8416175842285, -122.194984436035
Go straight @ jct. with Union Peak Trail
PCT1175
Location: 42.8712844848633, -122.180183410645
OR 62; for Mazama Store, turn right on highway, walk down until the road takes a sharp turn; at that point you'll see a guard rail on the left side of the road. the most direct route to the store is to leave from this guardrail and walk down the very steep embankment.
PCT1176
Location: 42.8673324584961, -122.166946411133
Mazama Village Store offers showers, laundry, camping, all-you-can-eat restaurant. Don't linger too long, Crater Lake awaits.
More PCT: Next Section | Previous Section
Trail register at Pumice Flats
Location: 42.8156089782715, -122.179222106934
©Jack Haskel