Pacific Crest Trail: Seiad Valley to the Oregon Border, California Section 42
Traverse the Siskiyou Crest on this 35.8-mile leg through the northernmost mountains of California.
Heading out the door? Read this article on the new Outside+ app available now on iOS devices for members! Download the app.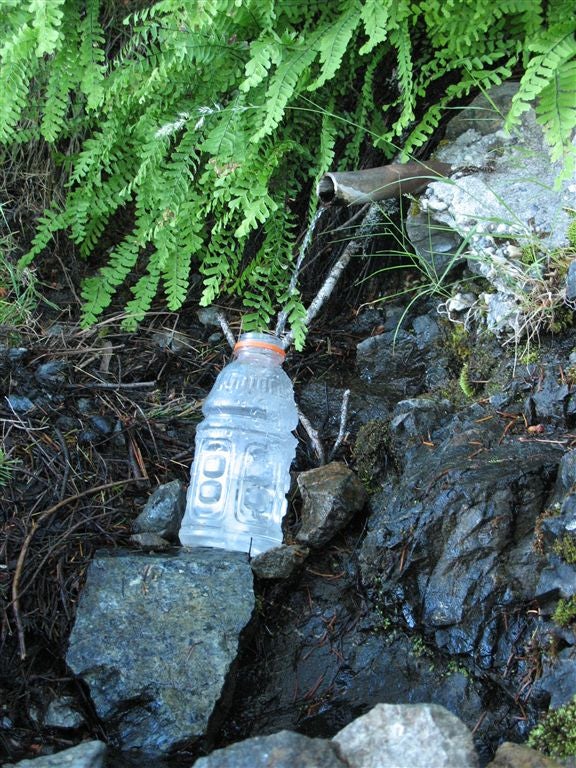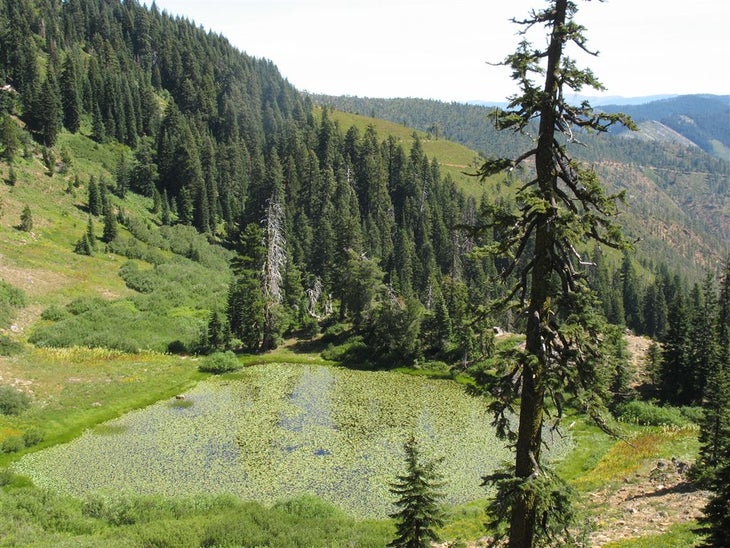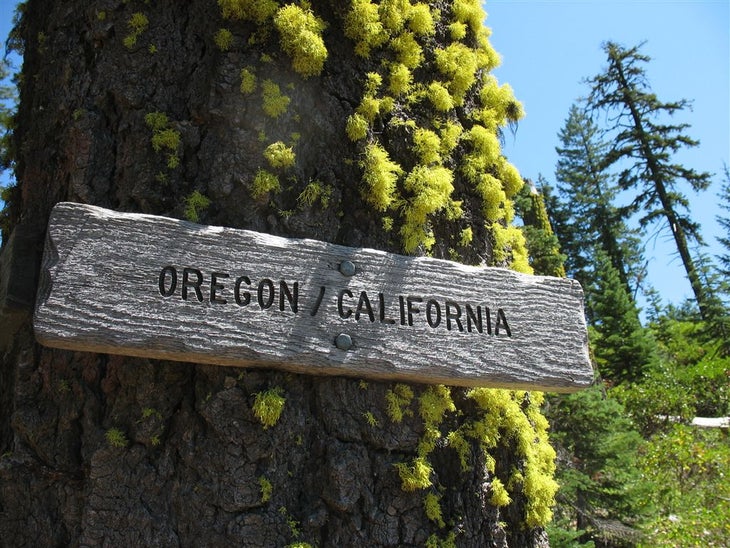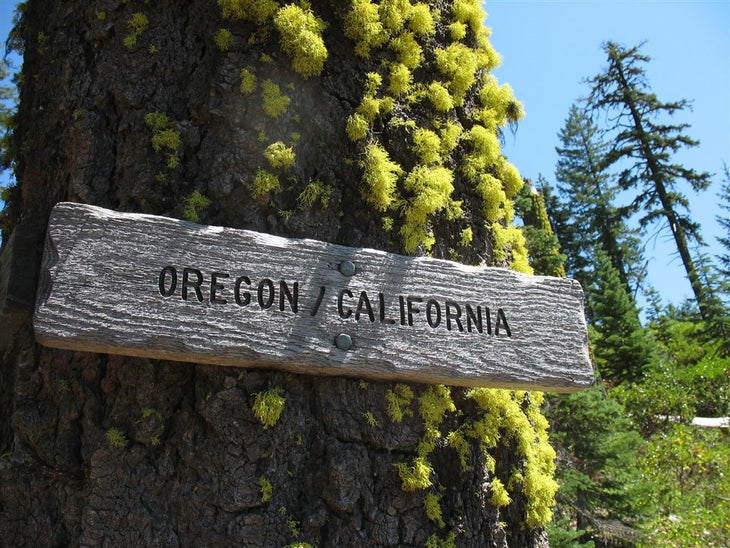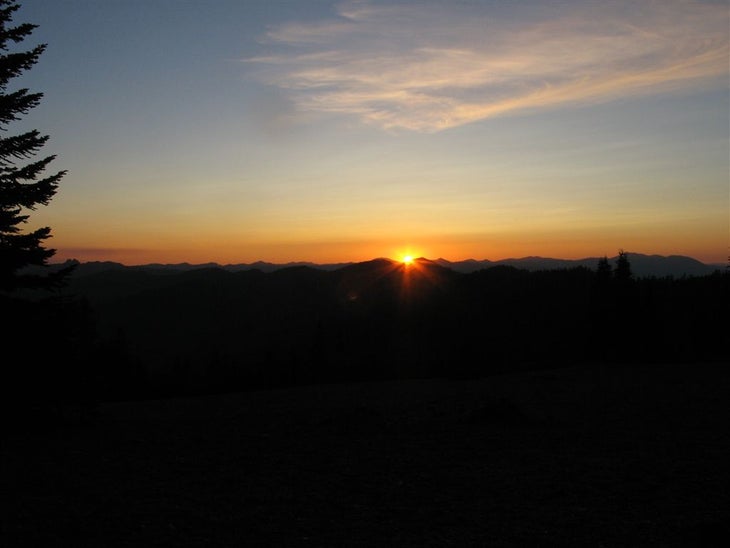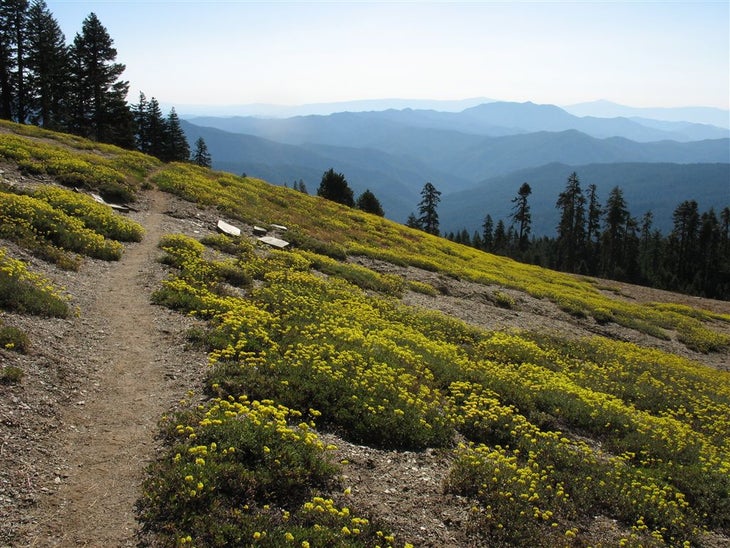 This section starts with a steep climb out of the Klamath River Valley and the small community of Seiad Valley before entering the deep ravines and soaring buttes of the Siskiyous. Though not as obviously impressive as the Sierra Nevada, these mountains at the far northern edge of California have a wild—and solitary—appeal all their own. This leg is one of the loneliest stretches on the PCT, leaving you the remote Siskiyou Crest all to yourself.
Turn By Turn
1) Seiad Valley has a small store, café, payphone, post office, laundry, showers, and camping. Mid River RV Park also accepts hiker resupply packages.
2) A 3,500-foot climb brings you out of the town and into the mountains.
3) At PCT mile 1657.6 Fern Spring provides a good place to stop for water.
4) At PCT mile 1660.5 there is one campsite.
5) Lookout Spring, at PCT mile 1661.9, flows from an iron pipe and is another good water source.
6) At PCT mile 1662.6 stay left at the junction with Darkey Creek Trail.
7) Kangaroo Spring, down a short spur trail at PCT mile 1666, is another reliable water source. 1.7 miles past Kangaroo Spring a seasonal creek provides water for early-season hikers.
8) At PCT mile 1670.7 stay straight at the junction with Cook and Green Pass, then stay east at the intersection with a dirt road.
9) Go left at the junction with Copper Butte Trail at PCT mile 1673.5.
10) There are small campsites at PCT mile 1675.2 and mile 1675.5.
11) At PCT mile 1675.9, stay right at the Tin Cup Trail junction.
12) Pass Bear Dog Spring, another good water source, at PCT mile 1676.2.
13) At PCT mile 1685.3 a spur trail leads to Mud Spring and campsites .2 miles north of the PCT.
14) There are several small campsites in a saddle at PCT mile 1679.3.
15) At PCT mile 1687.7 there's a small campsite and spring.
16) Cross the junction of 6 unpaved roads at Wards Fork Gap, PCT mile 1689.1.
17) At mile 1690.5 cross Donomore Creek on a small bridge. The water here has been very polluted from nearby grazing cows, so it isn't a good water source.
18) At PCT mile 1691.7 reach the Oregon/California border and accompanying trail register.
Do It 
Trailhead 41.840, -123.192 Season Summer to early fall Permit thru-hiking permits are required for the PCT; this section goes through Six Rivers National Forest, which does not require backcountry permits for section hikers. Contact Six Rivers National Forest or Pacific Crest Trail Association
Photos
Lookout Spring
Location: 41.8775939941406, -123.20393371582
©Jack Haskel
Lily Pad Lake
Location: 41.9212532043457, -123.187545776367
©Jack Haskel
CA-OR Border
Location: 42.0038185119629, -122.910041809082
©Jack Haskel
CA-OR Border
Location: 42.0035285949707, -122.909942626953
Welcome to Oregon! ©Jack Haskel
Sun and horizon
Location: 41.9718055725098, -122.926147460938
©Jack Haskel
Wildflower-laced hillside
Location: 41.9786720275879, -122.921112060547
©Jack Haskel