Pacific Crest Trail: CA Section 27
SIERRA CITY to QUINCY-LAPORTE ROAD: Hike past dozens of alpine lakes and a few notable peaks on this 31.7-mile section. Don't pass by the Sierra Buttes without climbing to the old lookout, the views from the top are some of California's best.
Heading out the door? Read this article on the new Outside+ app available now on iOS devices for members! Download the app.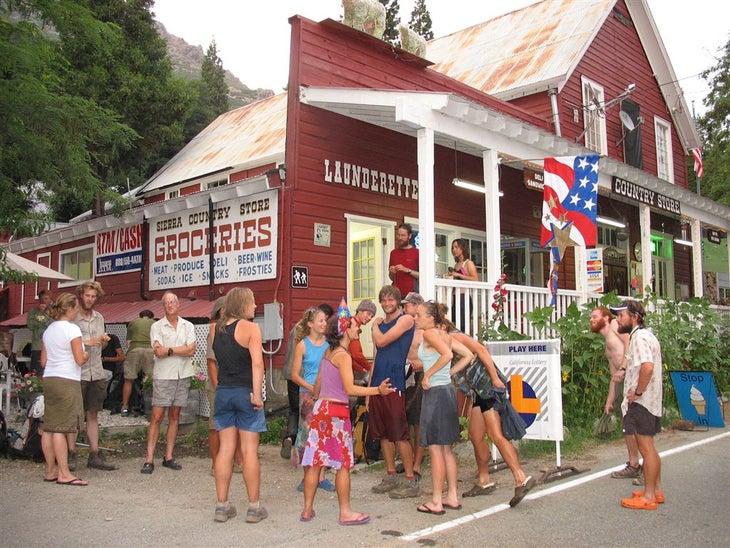 Trail Facts
Waypoints
PCT713
Location: 39.5770950317383, -120.612648010254
Head N from CA 49 around ridge and begin switchbacked climb toward the Sierra Buttes
PCT714
Location: 39.5881996154785, -120.616752624512
Water @ switchback
PCT715
Location: 39.583065032959, -120.642219543457
On-trail spring
PCT716
Location: 39.5886993408203, -120.661666870117
Sierra Buttes jeep trail (leads to summit); first tree cover after long, exposed ascent and traverse of southern side of Sierra Buttes
PCT717
Location: 39.592098236084, -120.662246704102
Spring below trail
PCT718
Location: 39.6021347045898, -120.661949157715
Straight @ Ridgetop trail junction
PCT719
Location: 39.6116333007812, -120.665412902832
Sierra Buttes TH; dirt pullout @ metal gate; PCT becomes the road, so walk N on it
PCT720
Location: 39.6143836975098, -120.666519165039
Stay R @ paved road, which becomes PCT
PCT721
Location: 39.6194839477539, -120.667152404785
Stay straight and resume trail tread @ Packer Lake Saddle intersection
PCT722
Location: 39.6436157226562, -120.672966003418
Overlooking Deer Lake, this spot on a dirt road would be an excellent car camping destination
PCT723
Location: 39.6460990905762, -120.672218322754
Cross dirt road
PCT724
Location: 39.662181854248, -120.674453735352
Summit Lake road
PCT725
Location: 39.6715316772461, -120.682350158691
Dirt road
PCT726
Location: 39.6755485534668, -120.680763244629
L @ trail junction
PCT727
Location: 39.6908836364746, -120.700836181641
L @ Silver Lake trail
PCT728
Location: 39.6969337463379, -120.706069946289
Saddle with small pond and water flowing in a creek to R
PCT729
Location: 39.7056846618652, -120.716201782227
Cross dirt road
PCT730
Location: 39.7150993347168, -120.745231628418
The "A" Tree: an intersection of five roads; what The "A" Tree actually is remains a mystery. There is a good spring down the road directly to the L when you hit the road. Follow your ears down twenty feet to a spring
PCT731
Location: 39.7184982299805, -120.758369445801
A vegetated saddle with camping for a few tents
PCT732
Location: 39.7186851501465, -120.773048400879
Creeklet
PCT733
Location: 39.714282989502, -120.778114318848
Creeklet
PCT734
Location: 39.7152671813965, -120.784950256348
Creeklet
PCT735
Location: 39.7144317626953, -120.787269592285
Creeklet
PCT736
Location: 39.7271995544434, -120.795867919922
Creeklet
PCT737
Location: 39.7511329650879, -120.842300415039
S end of Bunker Hill Ridge and jeep road
PCT738
Location: 39.7636680603027, -120.857200622559
Spur down to pond below the trail with greenish water–not recommended…but if low-water season can be filtered
PCT739
Location: 39.7671165466309, -120.858512878418
Cross dirt road
PCT740
Location: 39.7822341918945, -120.891571044922
Quincy-Laporte Rd.; water found .25 mi. to W
More PCT: Next Section | Previous Section
Sierra City County Store
Location: 39.5677223205566, -120.630126953125
Thru hikers gather for a party in front of the Sierra City County Store ©Jack Haskel