Pacific Crest Trail: CA Section 21
TUOLUMNE MEADOWS to SONORA PASS: This 65.8-mile section travels the remote regions of Yosemite. Our advice: Pack a good camera (the scenery is five stars), extra sunscreen (it's the High Sierra), and water shoes (swift rivers).
Heading out the door? Read this article on the new Outside+ app available now on iOS devices for members! Download the app.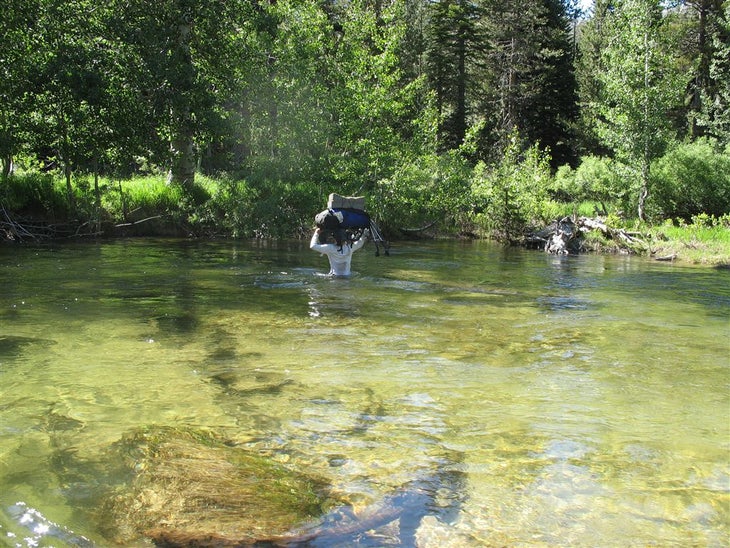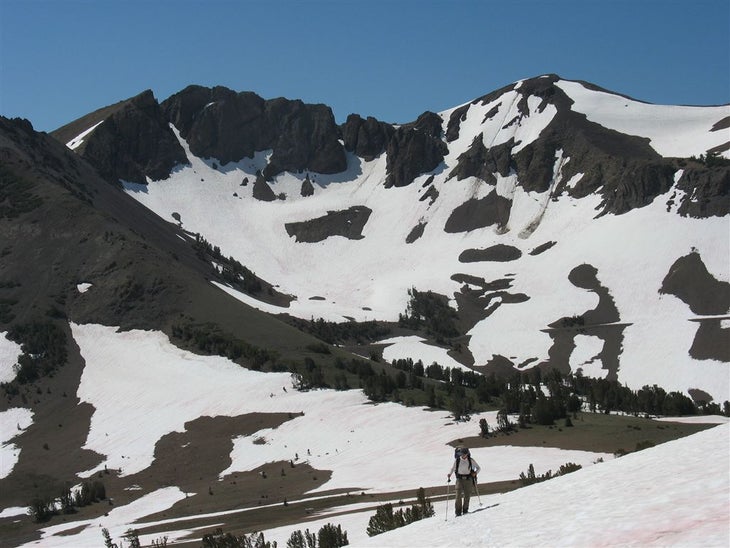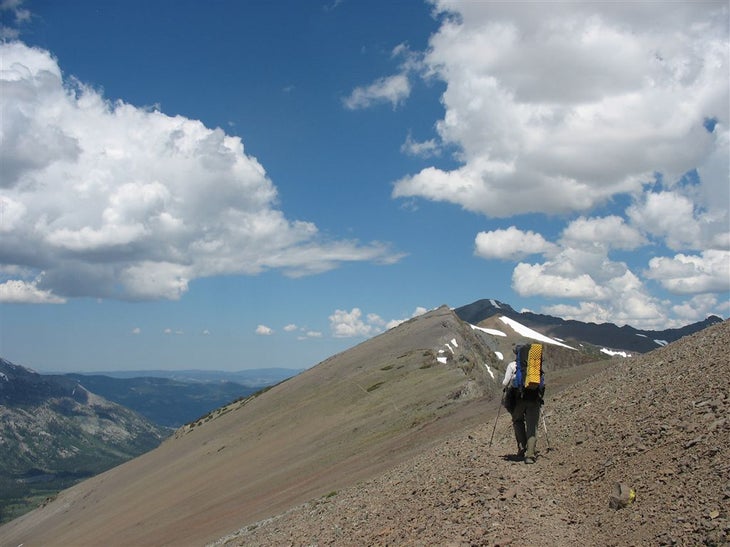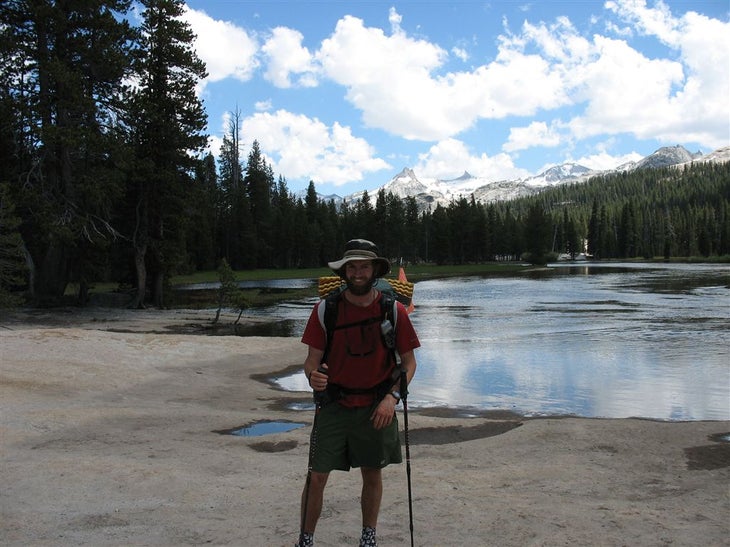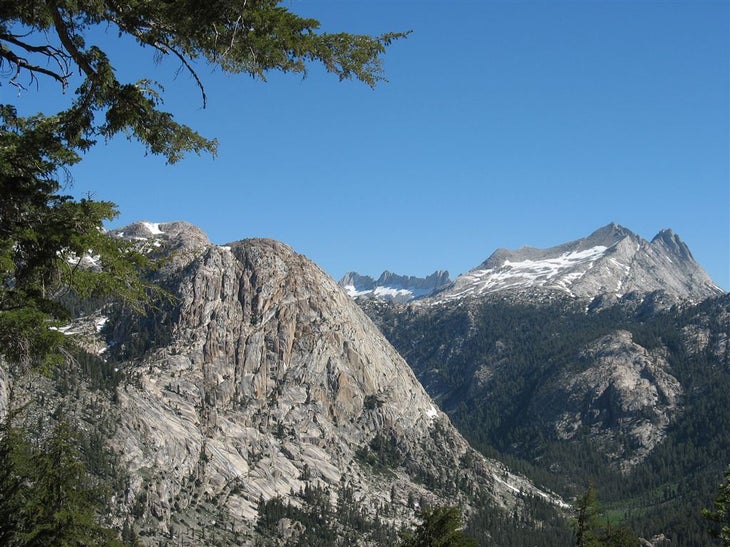 Trail Facts
Waypoints
PCT522
Location: 37.87698, -119.353065
From Tioga Pass Rd., head N on gravel road following John Muir Trail/PCT signs. Optional resupply @ General Store to the W.
PCT523
Location: 37.879101, -119.366852
PCT trailhead sign; here the JMT goes S to Yosemite Valley and the PCT heads to Glen Aulin High Sierra camp. Enjoy the views of Tuolumne Meadows framed by the Cathedral Range while heading northbound
PCT524
Location: 37.885109, -119.377289
Cross Delaney Creek
PCT525
Location: 37.888416, -119.380669
Go L @ Young Lakes trail
PCT526
Location: 37.901501, -119.412453
Multi-section bridge over the roaring Tuolumne River
PCT527
Location: 37.906418, -119.418251
See the rushing cascades of Tuolumne Falls from here
PCT528
Location: 37.907902, -119.4207
Go R @ McGee Lake trail junction
PCT529
Location: 37.9091, -119.42025
Bridge below White Cascade
PCT530
Location: 37.909584, -119.419853
Bridge going R to Glen Aulin High Sierra camp (don't cross it)
PCT531
Location: 37.953548, -119.405701
The trail welcomes you into a large meadow in Cold Canyon; in early season mosquitoes can be horrible
PCT532
Location: 37.995815, -119.378799
Go L @ McCabe Lake trail
PCT533
Location: 38.004932, -119.37748
Virginia Canyon creek
PCT536
Location: 38.004917, -119.377449
Virginia Canyon creek; can be a dangerous ford
PCT537
Location: 38.00655, -119.376732
Virginia Canyon trail; go straight, bearing W
PCT538
Location: 38.006901, -119.390503
Cross Spiller Creek
PCT539
Location: 37.993999, -119.418434
N end of Miller Lake
PCT540
Location: 38.01495, -119.413033
Go L @ Matterhorn Canyon trail
PCT541
Location: 38.014099, -119.41452
Matterhorn Creek
PCT542
Location: 38.019697, -119.448273
Last ford of Wilson Creek; head up to Benson Pass on well-graded path for fairly easy climb
PCT543
Location: 38.015148, -119.461197
Benson Pass
PCT544
Location: 38.012165, -119.486618
Smedberg Lake
PCT545
Location: 38.00602, -119.493077
R @ junction to Rodgers Lake
PCT546
Location: 38.005496, -119.497583
R @ Pleasant Valley trail junction
PCT547
Location: 38.022896, -119.52002
Cross Piute Creek with Benson Lake Spur trail going L; Piute Creek can be a deep, wet ford in the spring and early summer even though the current is minimal in this wide river. A visit to the "Benson Riviera," a large sandy beach on Benson Lake's N shore is well worth the detour, but the bugs can be bad in this wet, heavily vegetated area.
PCT548
Location: 38.03915, -119.526863
Beautiful sparkling pond nestled amongst granite, which should not be passed quickly. It's well protected from the wind, fairly warm and has great diving rocks. Be sure to camp 100 ft. from shore; no fires
PCT549
Location: 38.044949, -119.522285
Seavey Pass
PCT550
Location: 38.044796, -119.572856
Go R @ Kerrick Creek and Bear Valley Trail Junction; Kerrick Creek can be a very dangerous ford.
PCT551
Location: 38.058854, -119.590881
Stubblefield Creek
PCT552
Location: 38.062901, -119.624382
Go R @ Tiltill Valley trail
PCT553
Location: 38.064167, -119.623718
L @ Tilden Lake trail
PCT554
Location: 38.069218, -119.6399
S end Wilman Lake
PCT555
Location: 38.073467, -119.645897
Falls Canyon Creek crossing; can be dangerous
PCT556
Location: 38.073849, -119.6465
Straight @ Laurel Lake junction
PCT557
Location: 38.087799, -119.634003
Straight @ Tilden Lake junction
PCT558
Location: 38.133701, -119.61953
S end of long and beautiful Grace Meadow
PCT559
Location: 38.169815, -119.601547
Straight @ Bond Pass trail
PCT560
Location: 38.176033, -119.59407
Dorothy Lake; exposed camping can be found away from the lake
PCT561
Location: 38.194733, -119.570847
Cross Cascade Creek and reach the 1,000 mile mark from Mexican Border. This area can be very buggy.
PCT562
Location: 38.199917, -119.568634
L @ Y with Walker River trail
PCT563
Location: 38.223934, -119.578568
Straight @ Cinko River trail
PCT564
Location: 38.22575, -119.576736
L @ Long Lake trail and bridge
PCT565
Location: 38.253315, -119.59787
Cross creek in Kennedy Canyon
PCT567
Location: 38.294018, -119.637154
Cross through a notch on E ridge of Leavitt Peak
PCT568
Location: 38.320212, -119.643624
Potentially dangerous slope if covered in snow; at Sonora Pass, you can hitch W to the northern Kennedy Meadows Resort for food and relaxation or hitch E down to Bridgeport for a town with more services
PCT569
Location: 38.328191, -119.63738
CA 108 @ Sonora Pass; camp to W;
More PCT: Next Section | Previous Section
Piute Creek Crossing
Location: 38.02285, -119.519241
A hiker hoists her pack above her head crossing Piute Creek. ©Jack Haskel
Climbing to the county line
Location: 38.248615, -119.614403
A hiker climbs towards the Mono/Tuolumne County line in deep early-season snow. ©Jack Haskel
Open ridgeline
Location: 38.263897, -119.620552
©Jack Haskel
Jack on the Tuolumne River
Location: 37.88546, -119.38308
With the Cathedral Range behind, Jack stands on the banks of the Tuolumne River. ©Jack Haskel
Meadow
Location: 37.932148, -119.411259
©Jack Haskel
Canyon view
Location: 38.003603, -119.383106
©Jack Haskel