Pacific Crest Trail: CA Section 1
SOUTHERN TERMINUS to BOULDER OAKS CAMPGROUND: From the US-Mexico border, begin this 21.2-mile leg with a traverse of Hauser Mountain's broad slopes before descending into the lowlands near Lake Morena.
Heading out the door? Read this article on the new Outside+ app available now on iOS devices for members! Download the app.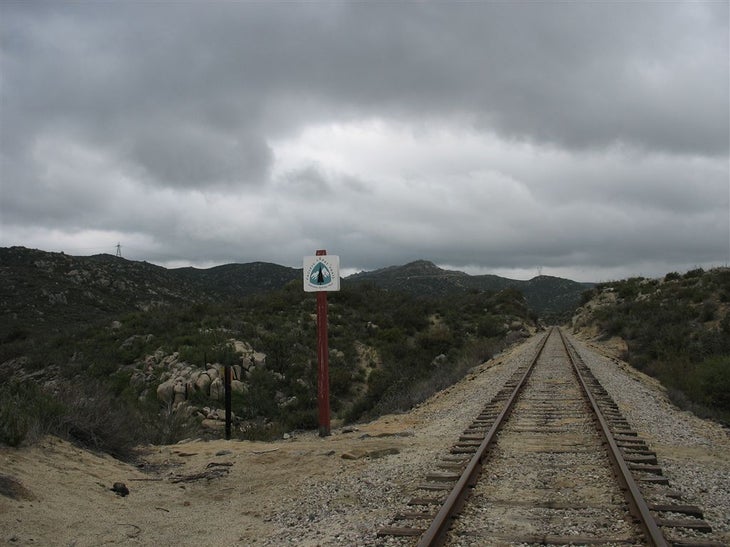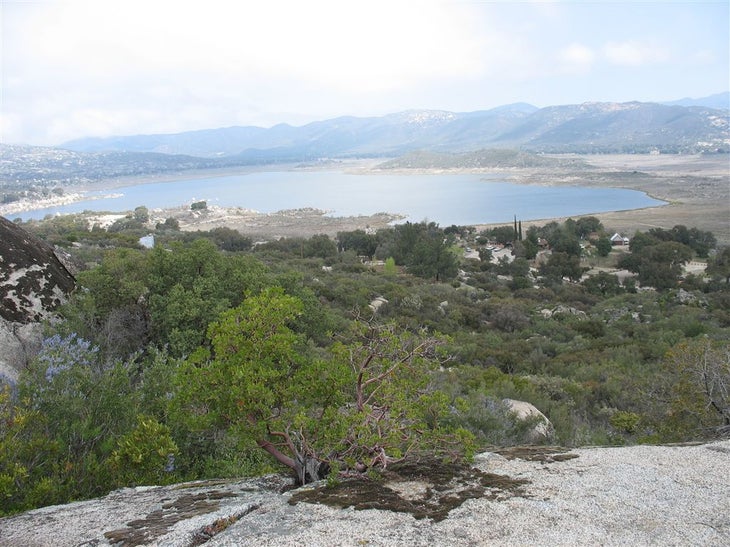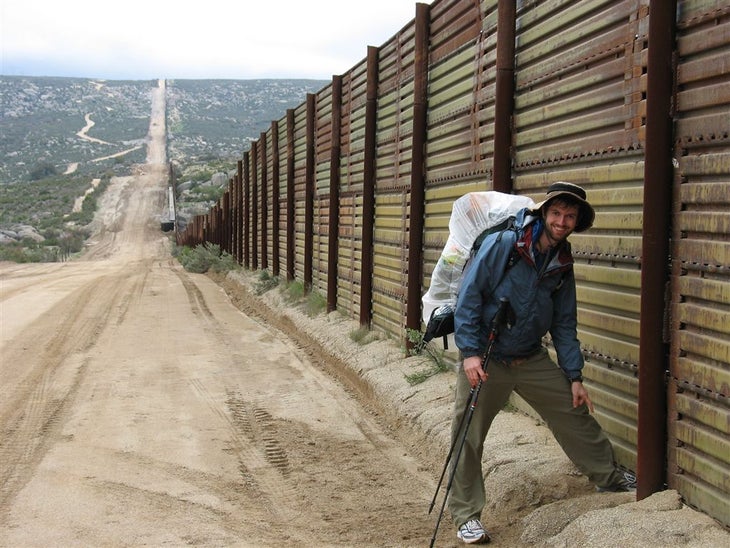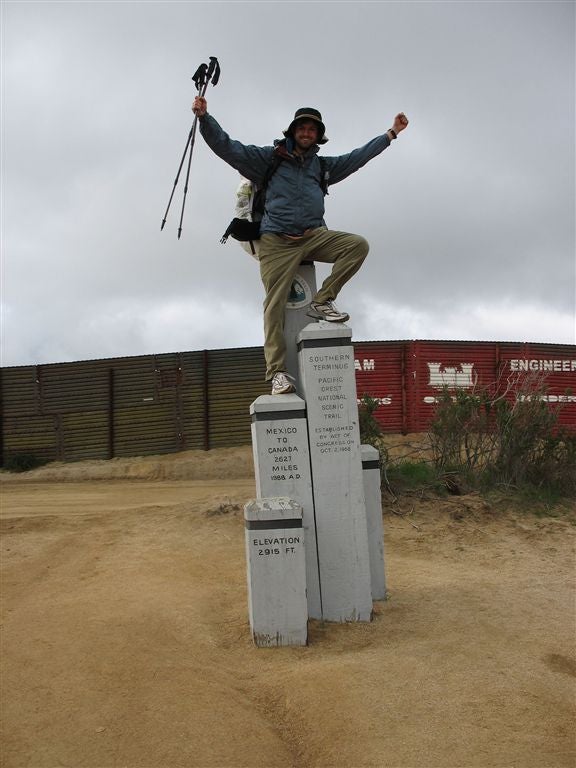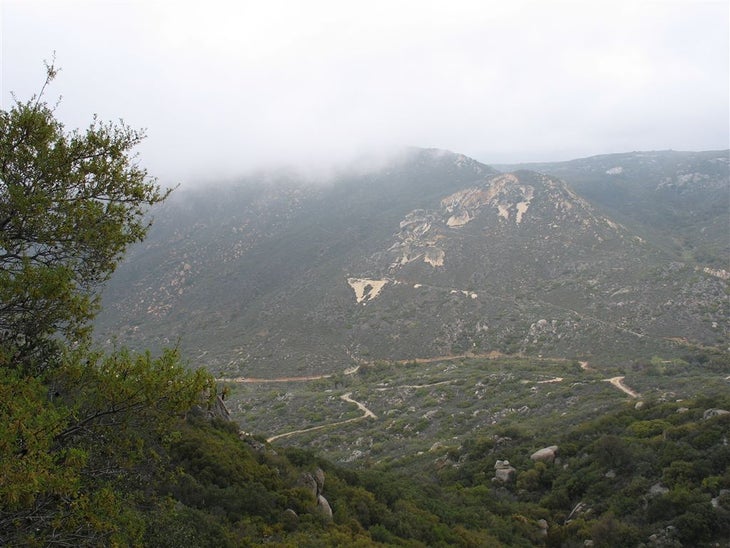 Trail Facts
Waypoints
On the tracks
Location: 32.605411529541, -116.488822937012
Here the PCT crosses the abandoned tracks for San Diego and Arizona Eastern Railroad. ©Jack Haskel
Views of Lake Morena
Location: 32.6694793701172, -116.526947021484
©Jack Haskel
PCT001
Location: 32.5897331237793, -116.46696472168
Southern Terminus Monument and Border Fence along a dirt road. Sign trail register and head downhill into high brush.
Tip: Print out PCT Water Report for current water levels and information.
PCT002
Location: 32.6031837463379, -116.470283508301
Cross paved Forest Hill Road
PCT003
Location: 32.6053352355957, -116.471351623535
Turn L at old concrete steps onto PCT trail tread
PCT004
Location: 32.6054992675781, -116.482948303223
Cross CA 94
PCT005
Location: 32.6067657470703, -116.485313415527
Campo Creek has a good flow
PCT006
Location: 32.6072006225586, -116.489067077637
Cross abandoned tracks for San Diego and Arizona Eastern Railroad and start ascent winding W over small ridge. Trail enters a maze of gullies and ravines.
PCT007
Location: 32.6079330444336, -116.498985290527
Pass seasonal creeklet and head along eastern flanks of Hauser Mountain
PCT008
Location: 32.6233825683594, -116.518714904785
Cross metal gates and old jeep road
PCT009
Location: 32.6248168945312, -116.520362854004
Cross jeep road
PCT010
Location: 32.6433982849121, -116.524116516113
Cross jeep road
PCT011
Location: 32.6601181030273, -116.550636291504
Sharp R turn down a good dirt road where views of Hauser Canyon open up.
PCT012
Location: 32.6548004150391, -116.542503356934
Turn L down onto trail for descent into Hauser Canyon.
PCT013
Location: 32.6613998413086, -116.545486450195
Hauser Creek flows in winter and early spring. Find camping under a welcoming glade of large oaks and sycamores.
PCT015
Location: 32.6612167358398, -116.545219421387
Hauser Creek camp
PCT016
Location: 32.6711349487305, -116.526031494141
High point of ridge with views towards Lake Morena.
PCT017
Location: 32.6824836730957, -116.517181396484
Lake Morena Campground
PCT018
Location: 32.6949996948242, -116.495903015137
Rocky outcrop where views open towards Lake Morena
PCT019
Location: 32.7151184082031, -116.498863220215
Buckman Springs Road; cross creek with water
PCT020
Location: 32.7283821105957, -116.483848571777
Boulder Oaks Campground
PCT021
Location: 32.7318992614746, -116.483367919922
Cross old CA 80
More PCT: Next Section
At the border fence
Location: 32.5901222229004, -116.467163085938
Thru-hiker Jack Haskel starts from the Mexico-US border.
Southern Terminus Monument
Location: 32.5906028747559, -116.468032836914
BACKPACKER Map Contributor Jack Haskel on the southern terminus monument. ©Jack Haskel
Hauser Canyon
Location: 32.6600456237793, -116.550354003906
Fog floats above Hauser Canyon. ©Jack Haskel