Pacific Crest Trail: Best Weekend – William O. Douglas Wilderness, WA
A good pick for new backpackers and fit families, the 25.6-mile leg from White Pass north to Chinook Pass is spectacular without too much challenge.
Heading out the door? Read this article on the new Outside+ app available now on iOS devices for members! Download the app.
Amid steadily improving views, the PCT traverses relatively flat, lake-dotted terrain in hemlock forest with a colorful ground cover of azalea, lupine, and huckleberry. North of Crag Lake (mile 17), the trail climbs back to the crest, and the show begins. You'll cross meadows of aster, spirea, and blueberries; in late summer, pick a pint as you linger over views of Mts. Adams, St. Helens, and—only 12 miles distant—a gargantuan Rainier. Insider tip: Camp at quiet Anderson Lake; it's just inside Mt. Rainier National Park, yet no permit is required.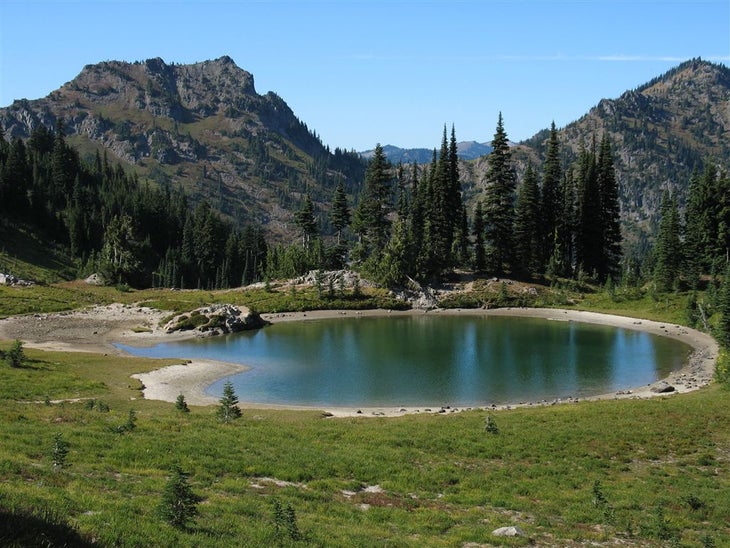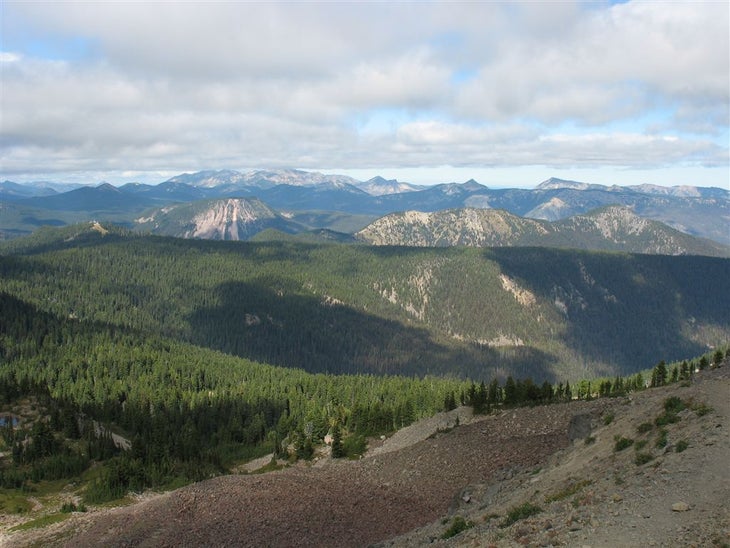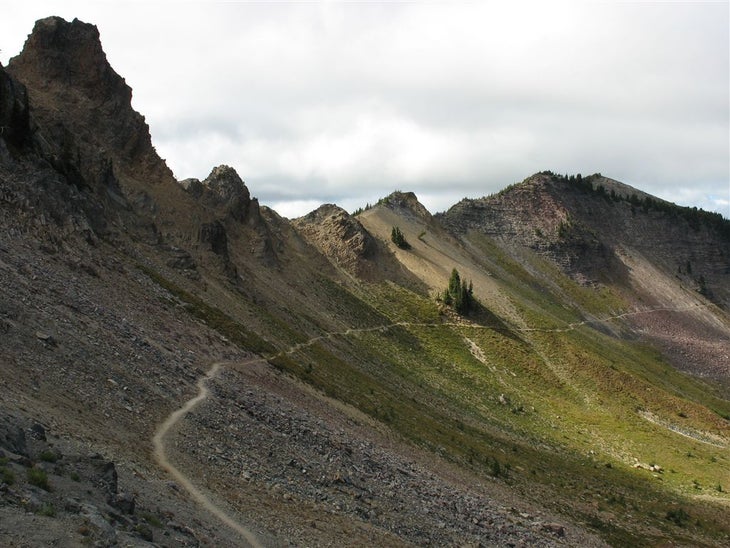 Trail Facts
Waypoints
PCT1493
Location: 46.6394348144531, -121.388572692871
White Pass @ US 12
PCT1494
Location: 46.643684387207, -121.379531860352
Head NW past Leech Lake and White Pass Campground
PCT1495
Location: 46.6518821716309, -121.39331817627
Stay straight @ jct.; trail curves to the W
PCT1496
Location: 46.6530838012695, -121.409553527832
Pass spur on L that leads to Deer Lake
PCT1497
Location: 46.6597671508789, -121.413764953613
Stay straight; head N past Sand Lake
PCT1498
Location: 46.682918548584, -121.40438079834
Continue straight @ jct.
PCT1499
Location: 46.6962814331055, -121.389617919922
Stay straight @ jct. with Dumbbell Lake Trail
PCT1500
Location: 46.7021827697754, -121.385719299316
Set up a lakeside camp overlooking Pipe Lake
PCT1501
Location: 46.707649230957, -121.383964538574
Stay straight @ jct.; continue NW trek
PCT1502
Location: 46.7090492248535, -121.387001037598
Stay R @ jct. with Penoyer Lake Trail
PCT1503
Location: 46.7235679626465, -121.403030395508
Skirt Snow Lake's W shore
PCT1504
Location: 46.7319679260254, -121.403564453125
Veer L @ jct.
PCT1505
Location: 46.7322998046875, -121.404998779297
Continue straight
PCT1506
Location: 46.7432823181152, -121.415214538574
Go straight @ Jug Lake Trail jct.
PCT1507
Location: 46.7482490539551, -121.419097900391
Cross creek @ a developed horse packer camp
PCT1508
Location: 46.7635345458984, -121.427085876465
Very nice camp (4-5 tents) past creek near Bumping Lake trail
PCT1509
Location: 46.7714500427246, -121.427314758301
Creek crossing
PCT1510
Location: 46.7724838256836, -121.427886962891
Cross creek
PCT1511
Location: 46.7718849182129, -121.449981689453
Stay R; look to the NW for views of Mt. Rainier
PCT1512
Location: 46.7909164428711, -121.448013305664
Continue straight
PCT1513
Location: 46.816951751709, -121.468696594238
Continue straight
PCT1514
Location: 46.8317489624023, -121.473915100098
Set up camp at a designated site near Anderson Lake
PCT1515
Location: 46.8478507995606, -121.475997924805
Cross creeklet
PCT1516
Location: 46.8493843078613, -121.477348327637
Cross creek
PCT1517
Location: 46.8526496887207, -121.479202270508
Stay L; walk the SW banks of Dewey Lake
PCT1518
Location: 46.8535652160644, -121.481101989746
Pass many campsites at this popular lake
PCT1519
Location: 46.8555679321289, -121.487030029297
A campsite overlooking Dewey Lake
PCT1520
Location: 46.862232208252, -121.496383666992
Trail heads N; Tipsoo Lake to the W
PCT1521
Location: 46.8719902038574, -121.515769958496
Turn R @ WA 410/Chinook Pass/Mt. Rainier NP sign
Lake View
Location: 46.867546081543, -121.500938415527
Northwest view overlooking a beautiful tarn. A great, very short day hike, from a popular tourist road. ©Jack Haskel
Lake and ridge
Location: 46.734920501709, -121.411781311035
©Jack Haskel
Low ceiling and valley
Location: 46.7546005249023, -121.408706665039
©Jack Haskel
Ridge trail
Location: 46.7665939331055, -121.409629821777
©Jack Haskel
Rainier #2
Location: 46.8065719604492, -121.464370727539
©Jack Haskel
Rainier #1
Location: 46.8121070861816, -121.468368530273
©Jack Haskel