Pacific Crest Trail: Best Weekend – Mokelumne Wilderness, CA
Hike past bizarre volcanic formations to a campsite offering remote sunrise views of the northern Sierras on this 14.8-mile trek.
Heading out the door? Read this article on the new Outside+ app available now on iOS devices for members! Download the app.
Yosemite this ain't. Here in the northern Sierra, you leave the ubiquitous granite behind for a surreal landscape of volcanic plugs, lava flows, and colorful pinnacles. The geologic peculiarities begin in Raymond Meadows, which is a few miles north of Ebbetts Pass, the starting point of this south-north traverse. You'll walk past innumerable bizarre formations scattered between 8,000 and 9,000 feet, across country intermittently vegetated with sagebrush or pine and hemlock. The often-faint trail enhances your sense of remoteness. The most soul-stirring scene: From 8,650 feet on the ridge northeast of Reynolds Peak, you'll gaze north at a massive, perfectly symmetrical rock dome across the Eagle Creek Valley, and beyond it, cathedral-like Peak 9700. Camp at Raymond Lake, reached by a .7-mile spur midway through this hike, for a stunning show of dawn light.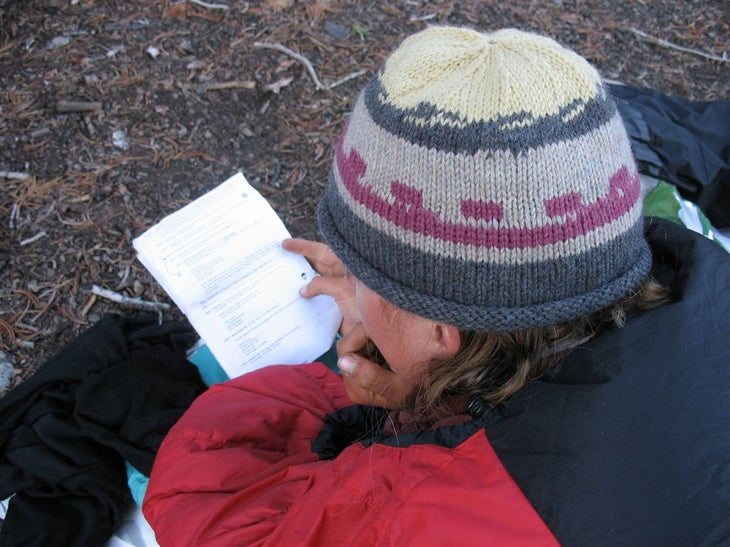 Trail Facts
Waypoints
Checking the notes
Location: 38.6130027770996, -119.856864929199
©Jack Haskel
PCT587
Location: 38.5460166931152, -119.811431884766
Cross CA 4 near Ebbetts Pass
PCT588
Location: 38.5558013916016, -119.828536987305
Kinney Lakes
PCT589
Location: 38.5930328369141, -119.821029663086
Saddle bridging Eagle Creek and Pennsylvania Creek drainages
PCT590
Location: 38.6080513000488, -119.81729888916
Saddle between Pennsylvania Creek and Raymond Canyon Creek
PCT591
Location: 38.6168518066406, -119.831520080566
Straight @ Raymond Lake trail
PCT592
Location: 38.6171836853027, -119.83683013916
Raymond Lake outlet creek
PCT593
Location: 38.6214981079102, -119.845764160156
Stay straight @ saddle with Wet Meadows TH spur
PCT594
Location: 38.6076011657715, -119.875152587891
Cross dirt road
PCT595
Location: 38.6061515808106, -119.876831054688
Cross a better dirt road
PCT596
Location: 38.6061172485352, -119.886215209961
Lily Pad Lake
PCT597
Location: 38.6212005615234, -119.906768798828
Tamarack TH spur going L; stay straight unless you want to visit the large Lower Blue Lake
PCT598
Location: 38.6245002746582, -119.908683776855
Cross paved Blue Lakes Road which leads to the very popular Blue Llakes campgrounds