Pacific Crest Trail: Best Dayhike – Sonora Pass, CA
This 8.9-mile section hike gets top billing for its 100-mile Sierra views of shimmering alpine lakes, towering peaks, and hillsides bursting with wildflowers.
Heading out the door? Read this article on the new Outside+ app available now on iOS devices for members! Download the app.
Getting PCT cognoscenti to agree on the trail's top dayhike might seem like a Sisyphean effort, but there's surprising consensus on the 8-mile walk from 9,628-foot Sonora Pass south to Leavitt Lake Pass. Here, the PCT straddles a windswept ridge high above treeline, with 100-mile Sierra views. In the foreground, shimmering alpine lakes dot glacial cirques among towering cliffs and hillsides bursting with lupine, green gentian, and other wildflowers. Gnarled whitebark pines claw the air in mute testimony to their own staying power. And off in the distance, in every direction, are regal stone giants. On a good day, you'll see Mts. Conness and Lyell in Yosemite. Cap off your hike with the half-mile scramble up 11,570-foot Leavitt Peak, leaving the PCT at 10,880 feet on the peak's east shoulder. Then, to reach your car at Leavitt Lake, descend 1.7 miles on an old, closed jeep track called Horse Meadow Road, which is 8.1 miles south of Sonora Pass near 10,640-foot Leavitt Lake Pass.
LOCAL WISDOM Create a shorter, partial loop back to Sonora Pass by linking Latopie, Koening, and Leavitt Lakes via cross-country routes.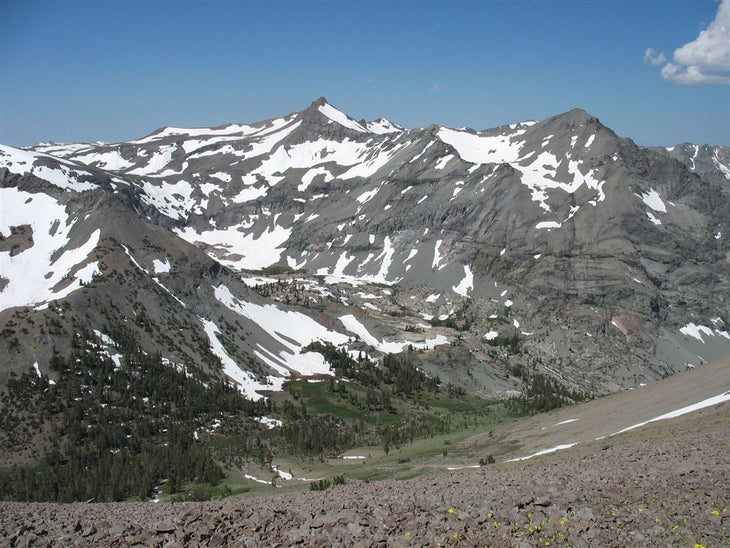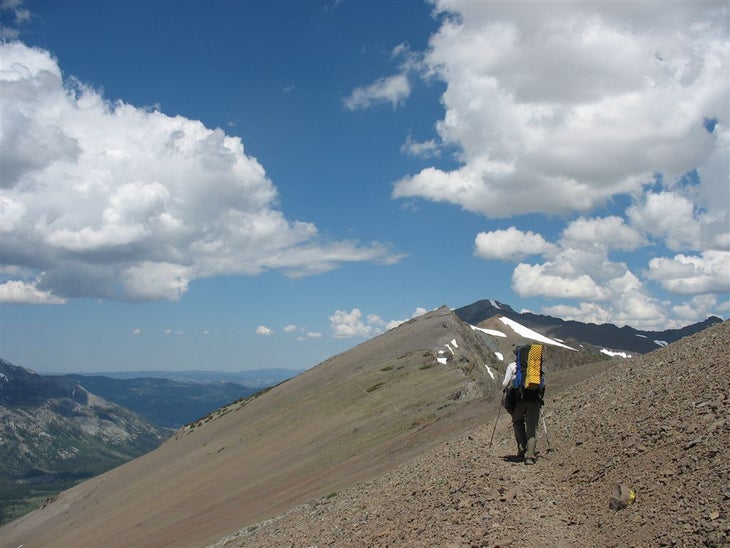 Trail Facts
Waypoints
PCT001
Location: 38.327835, -119.63723
To begin, head S from Sonora Pass.
PCT002
Location: 38.320191, -119.643576
Potentially dangerous slope if covered in snow
PCT003
Location: 38.293995, -119.637208
Cross through a notch on E ridge of Leavitt Peak
PCT004
Location: 38.27909, -119.643559
SE shoulder of Leavitt Peak
PCT005
Location: 38.260356, -119.61427
L on jeep track down to Leavitt Lake
PCT006
Location: 38.276108, -119.617424
Leavitt Lake
On the ridge
Location: 38.262277, -119.616491
Views stretch deep into a glaciated canyon. ©Jack Haskel
Ridge walk
Location: 38.26499, -119.622853
A PCT'er clings to a rocky, exposed ridge. ©Jack Haskel