Ouachita National Forest, AR: Eagle Rock Loop
Combining rugged hill climbs through pine and hardwood, with a leisurely stroll along the Little Missouri River, this 26.4-mile loop may be the best in the Ouachita Mountains.
Heading out the door? Read this article on the new Outside+ app available now on iOS devices for members! Download the app.
Eagle Rock Loop is a scrambler's paradise in this 1.8-million-acre national forest, 117 miles southwest of Little Rock. The trail tracks along blue rivers and through shady gorges with spur trails to craggy overlooks. Begin this 26.4-miler on the Little Missouri Trail from Camping Area B in the Albert Pike Recreation Area. You'll gain 72 feet on a pleasant stroll along the Little Missouri River, with stream crossings at mile 2.5 and 4.5.
Reach Little Missouri Falls 1.6 miles later, where clear water spouts between rocks and drops 20 feet, tumbling over a series of natural dams into idyllic swimming holes. Then, grunt up a quick 128-foot climb as the gorge narrows beneath lush Round Mountain. Cross a small footbridge, then veer westward and follow the river for another 3.9 miles through Little Missouri Falls Picnic Area. Scan for secluded campsites with room for one or two tents.
The next morning bear left at a T-junction to join the briar-lined Athens Big Fork Trail at mile 10.1. This southbound stretch crosses six ridges with shimmering creeks between them. The black-and-white wall along Briar Creek at mile 12.3 is composed of Arkansas Novaculite, sedimentary rock once part of an ancient seafloor. Cross Baylock Creek at mile 15 and set up camp on the far bank.
Day three holds 11.4 miles to close the loop. At 2.5 miles, take Eagle Rock Vista Spur Trail for a 0.4-mile round-trip to the circuit's highest views. Link up with the Viles Branch Trail and pad 3.4 miles to cross the Little Missouri and reach the Little Missouri Trail. Cross the Little Missouri once more at mile 22.7, then turn right onto Winding Stair Trail 1.6 miles later. Cross FR 106 and descend to the parking lot.
Note: Albert Pike offers the only designated camping en route, but developed backcountry sites dot the trail and offer plenty of options for making this a 2- or 3-day excursion. River crossings along this trail may be dangerous or impassable when water levels are high. Call the ranger station to check conditions before your trip; (870) 356-4186.
Gear up: John Plyler Home Center, 101 West Broadway, Glenwood, AR; (870) 356-3312
Paper Map: Rangers here use maps from BACKPACKER contributor Charlie Williams (ouachitamaps.com, on sale at Glenwood District Office on Monkey Barrel Lane).
-Mapped by Charlie Williams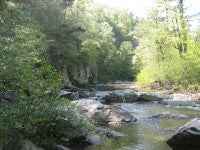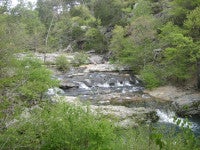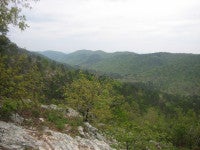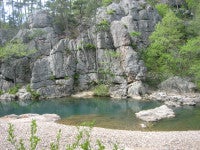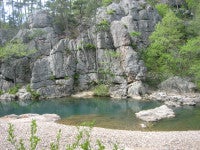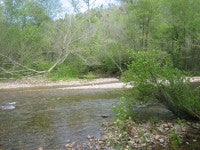 Trail Facts
Waypoints
ERL001
Location: 34.375413, -93.87795
The Albert Pike Recreation Area is a perfect spot to camp after a late arrival to the trailhead. Begin by following the Little Missouri Trail upstream from Camping Area B.
ERL002
Location: 34.39804, -93.885062
You'll hit the first river crossing just 2.5 miles from the trailhead. From here, it's another 2 miles (mostly-flat) alongside the river to the next crossing. When water levels are high, these crossings can be dangerous; check conditions with rangers before hitting the trail.
ERL003
Location: 34.409229, -93.911347
The second crossing of the Little Missouri River is at mile 4.5, expect to get your feet wet in this reliable year-round water source (which you'll be following for the next 5.5 miles).
ERL004
Location: 34.422107, -93.919169
Climb through a deep gorge beneath Round Mountain and catch a glimpse of the Little Missouri Falls before crossing this bridge near mile 6.3.
ERL005
Location: 34.423251, -93.921119
After the falls, the trail turns west and follows the river for another 3.8 miles.
ERL006
Location: 34.427549, -93.940809
This 100-foot climb at mile 7.5 is the first noticeable elevation gain on this route, but the trail turns downhill and hits the river again in another half mile.
ERL007
Location: 34.433455, -93.973851
Turn left @ T-junction where you'll join the Athens-Big Fork Trail. The flat trail turns uphill at this point and rises 400 feet over the next half mile to the top of a prominent east-west ridge. This southbound stretch of the trail crosses six such ridges. These folded sedimentary rock formations characterize the Ouachita Mountain region.
ERL008
Location: 34.425399, -93.970785
Briars and other vegetation can crowd the Athens-Big Fork Trail during growing season, but look for this right-leading trail on the top of the first ridge. It's an easy 0.8-mile round trip from the main trail to the Spirit Rock Vista.
ERL009
Location: 34.421461, -93.971086
Between several of the ridgelines, you'll cross dirt roads and creeks, most of which are reliable sources of drinking water year-round. Bring a filter.
ERL010
Location: 34.409309, -93.971354
Along riverbanks and steep-sided saddles, look for black and white chert-like rock called Arkansas Novaculite. The sedimentary rocks of this region settled onto an ancient sea floor before being folded and pushed into the ridgelines like the one ahead that precedes a 0.5-mile stretch along Brier Creek.
ERL011
Location: 34.381727, -93.96234
Baylock Creeks is wide, so the stone-step crossing is long, but can usually be done with dry feet. Just a few hundred feet from the river is a third alternative trailhead on FR 106. The trail's longest climb (1 mile, 700-foot rise) toward Brush Heap Mountain begins here.
ERL012
Location: 34.360541, -93.974133
Continue straight @ 3-way junction. Optional: Turn right @ 3-way junction with the Eagle Rock Vista Spur Trail. The 0.4-mile round-trip detour offers sweeping views of Viles Valley and Big Tom Mountain to the south.
ERL013
Location: 34.354934, -93.975326
Turn left for a flat, 3.4-mile stretch on the Viles Branch Trail. The multi-use trail crosses the Little Missouri tributary almost a dozen times, but unless water levels are unusually high, the crossings are easy and dry.
ERL014
Location: 34.348193, -93.921121
When water levels are high, this crossing of the Little Missouri is dangerous, but even when the water is low, expect to take off your boots. After the crossing, turn left @ the T-junction to join the Little Missouri Trail.
ERL015
Location: 34.349623, -93.909463
The Raven Branch joins the Little Missouri at this point (one of the most scenic in the Winding Stair area). Spectacular overlooks of the river, large novaculite outcroppings, wildflowers, and the relatively short hiking distance from a nearby trailhead make this one of the most popular destinations in the Ouachitas.
ERL016
Location: 34.354932, -93.910746
Another wet crossing of the Little Missouri traverses a gravel bar mid-river. Keep your shoes off until you're all the way across the second stretch of water.
ERL017
Location: 34.364135, -93.901631
Bear right at the junction with the spur trail to Winding Stair Trailhead. The final 2 miles of trail passes an old cemetery before climbing 300 feet to a ridge overlooking the Albert Pike Recreation Area.
ERL018
Location: 34.373638, -93.888581
Continue straight across FR 106. In about 200 yards, the final climb tops out and the trail turns steeply downhill for its final half mile.
Little Missouri
Location: 34.388567, -93.879161
The first half of the trail follows the Little Missouri River. Though it's usually calm, it can be treacherous after a strong rain.
Little Missouri Falls
Location: 34.422063, -93.9186
Eagle Rock Vista
Location: 34.360549, -93.97366
A side trip to this loop's namesake feature is worth the sweeping views of the valley.
Winding Stair
Location: 34.349619, -93.909223
Pools and striking rock formations alongside the river draw people to Winding Stair.
Winding Stair
Location: 34.354951, -93.910532
Little Missouri Crossing
Location: 34.348184, -93.920703
A wide, easy crossing of the Little Missouri heading back to the trailhead.