Oregon Coast Trail (Section 03): Ecola State Park to Arch Cape
This 9.5-mile section of the Oregon Coast Trail winds south on sandy beaches punctuated with craggy headlands and 235-foot Haystack Rock.
Heading out the door? Read this article on the new Outside+ app available now on iOS devices for members! Download the app.
Stretching from the mouth of the Columbia River to the California border, the 382-mile Oregon Coast Trail links sandy shoreline, rugged headlands, and numerous state parks. This section of the OCT starts at Ecola State Park and travels 9.5 miles to Arch Cape.
Walk south from the parking lot at Ecola State Park to the trail just beyond the restrooms. The route climbs briefly into forest before tracing the road for a nearly two-mile descent into the town of Cannon Beach. At mile 2.5, turn left and walk south along Cannon Beach, passing 235-foot Haystack Rock and tidal pools teeming with starfish, sea anemone, crabs, and sea slugs.
From here, continue south along the beach, passing Tolovana Beach, Silver Point, Humbug Point and Arcadia Beach. At mile 7.3, follow the road blasted into Hug Point. (Caution: Do this during mid- or low tide—the road is submerged during high tide.) On the other side of the point is a small oasis, complete with cave, waterfall, colorful algae, and another stretch of beach.
The next 1.8-mile stretch continues south to Arch Cape. At mile 9.4, take the last left before the point of Arch Cape juts out into the sea and follow Leech Lane east to your shuttle car.
CAUTION: Do not try to round headlands without knowledge of tide heights and times. Bring a tide chart and a detailed topo map. Free tide tables are available at state park offices, information centers, and the Hatfield Marine Science Center website.
INFO: Oregon Coast Trail
MORE OREGON COAST TRAIL MAPS
Section 1 | Section 2 | Section 3 | Section 4
-Mapped by Echo Hobbs, Salem Hiking Meetup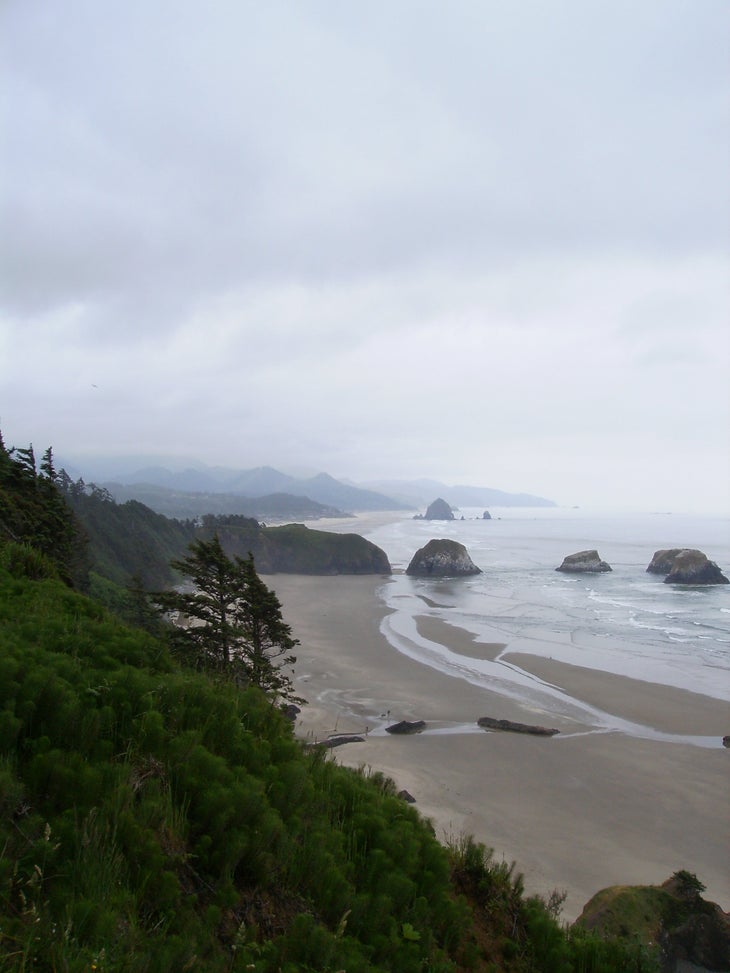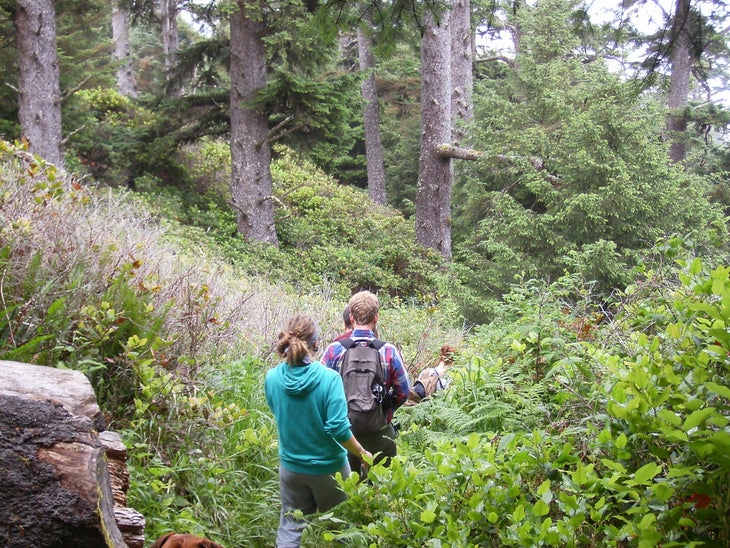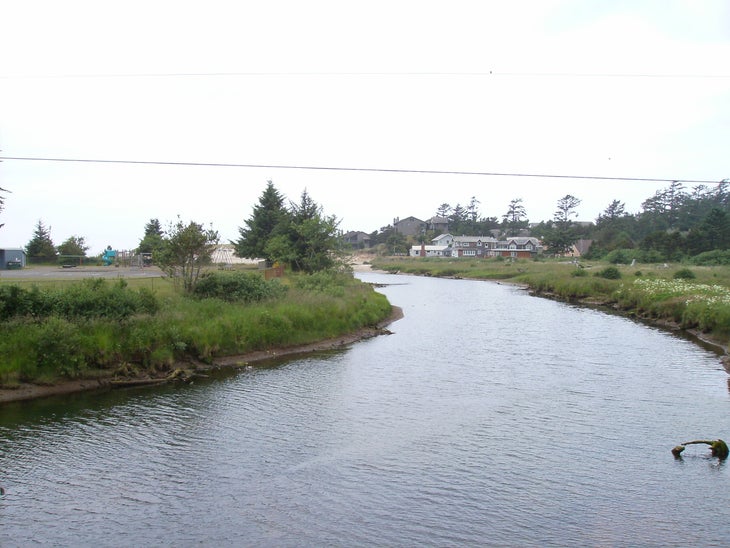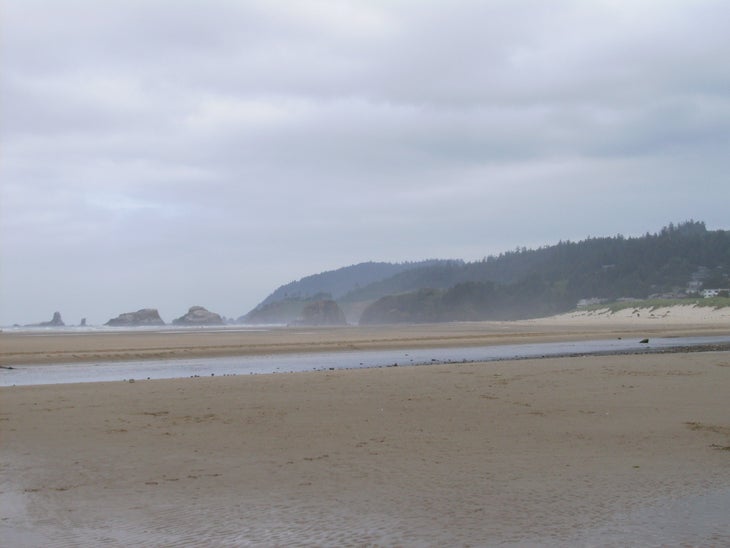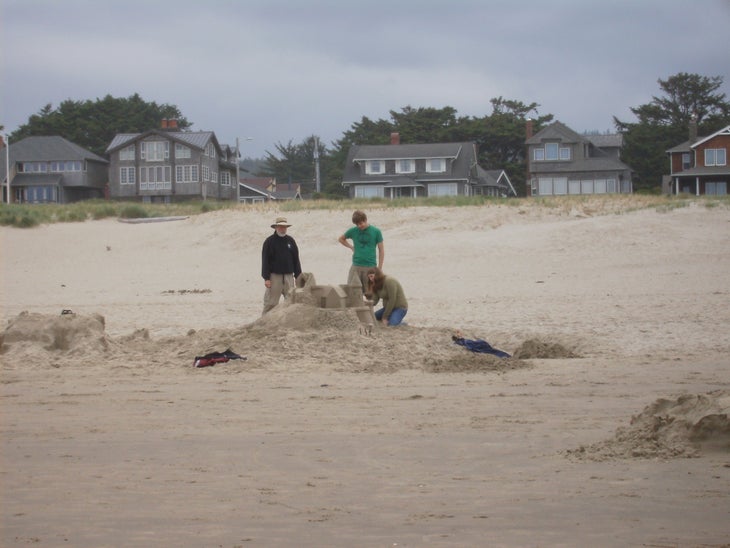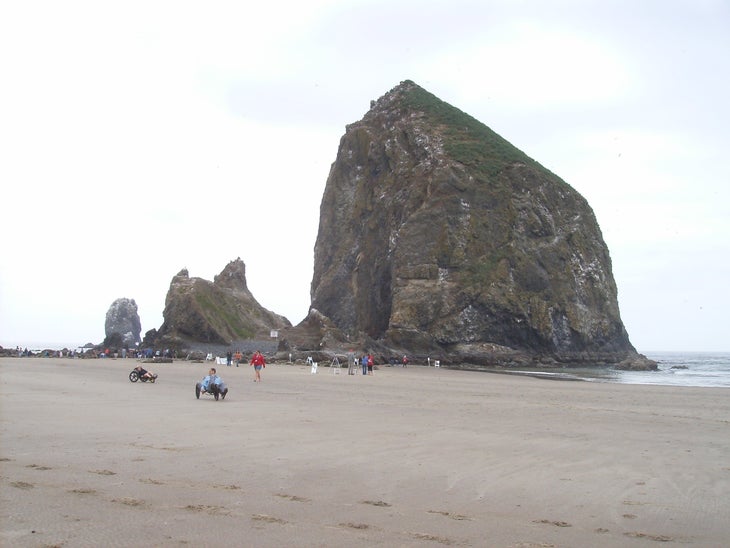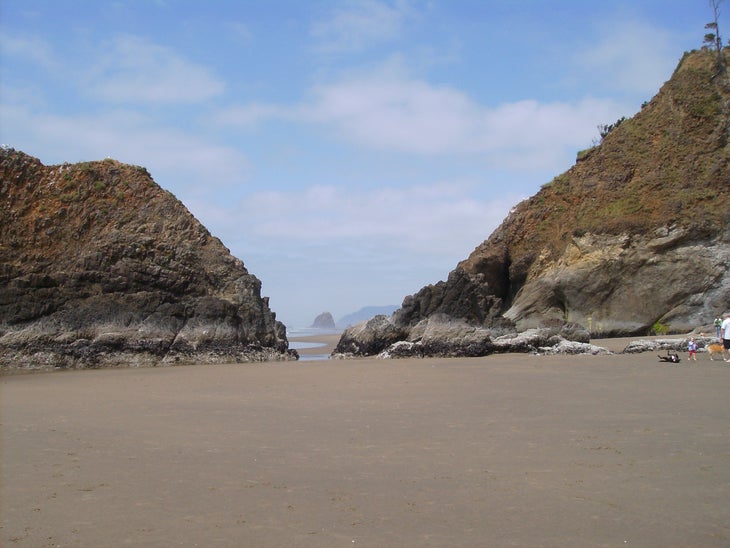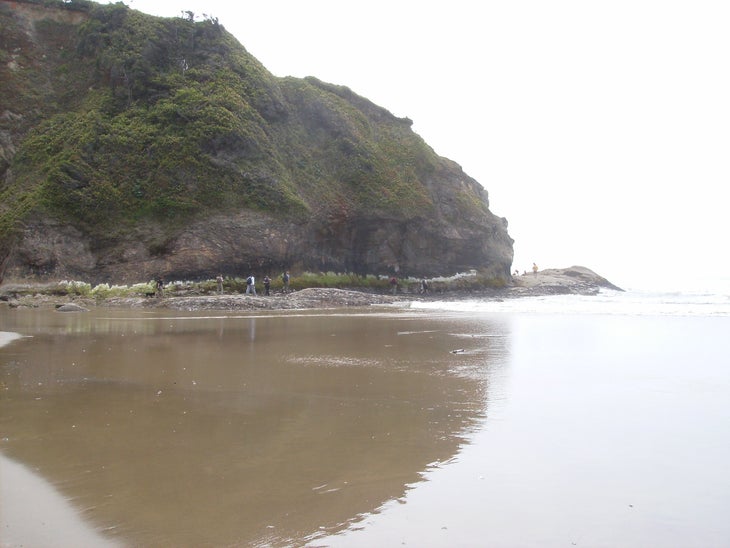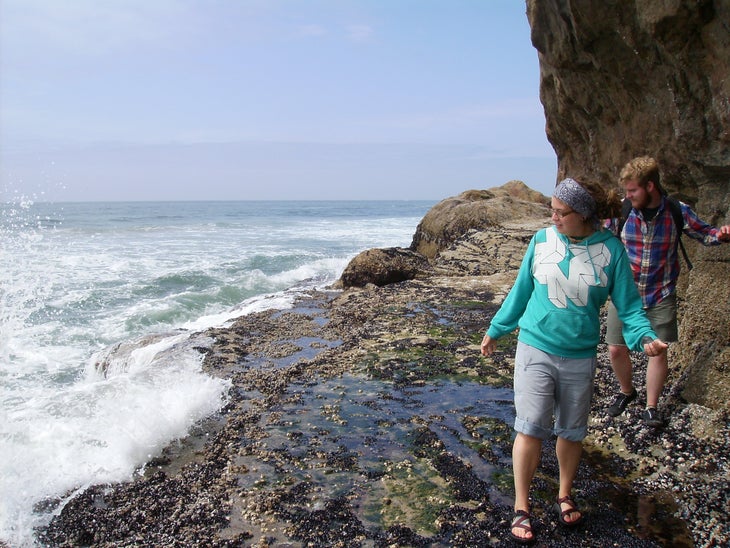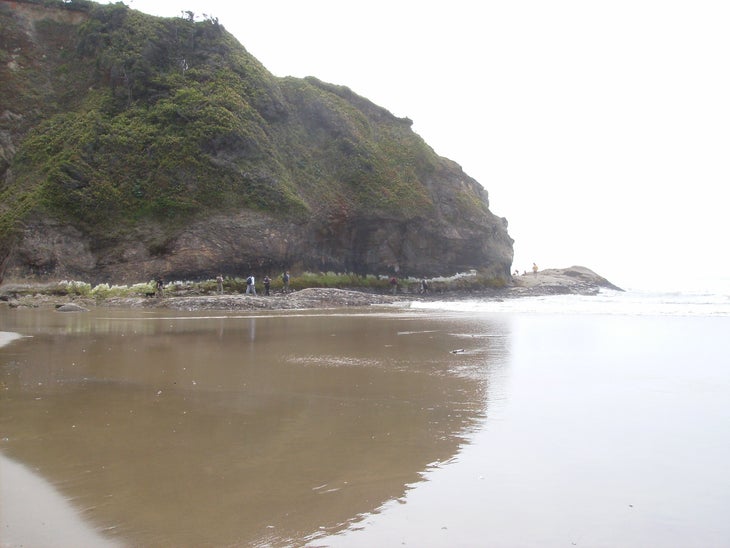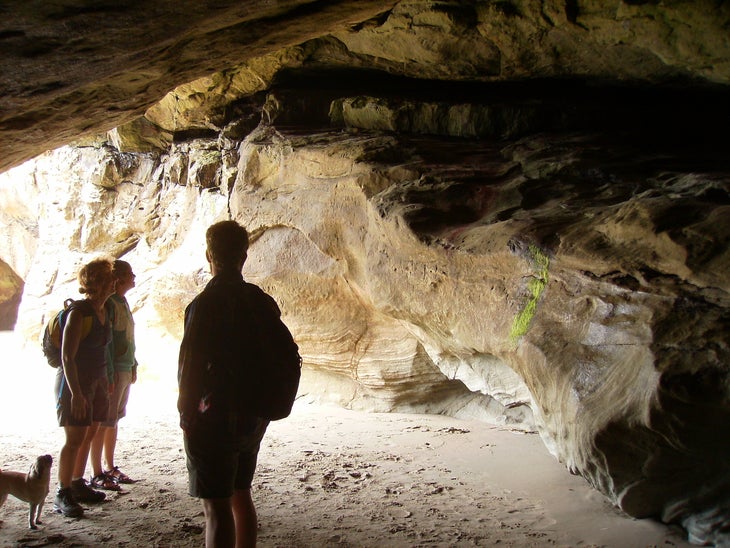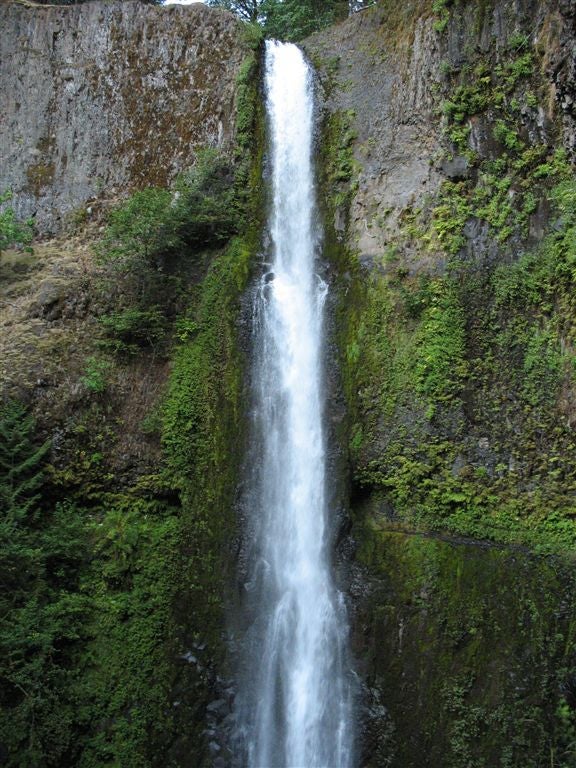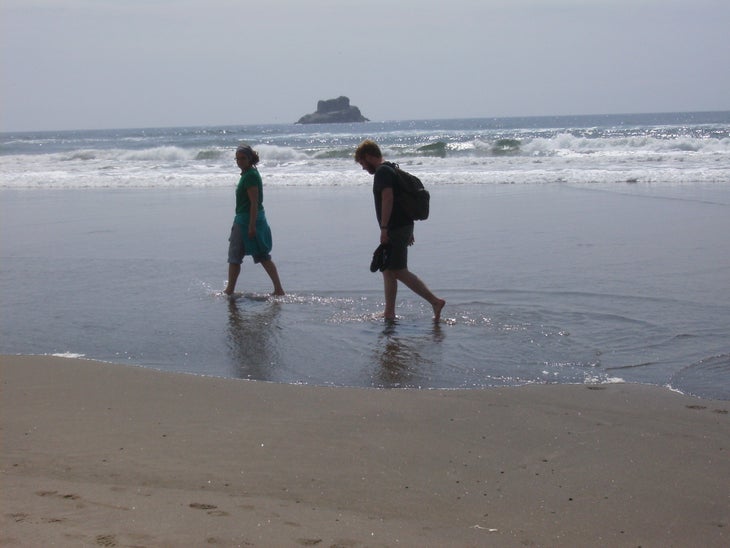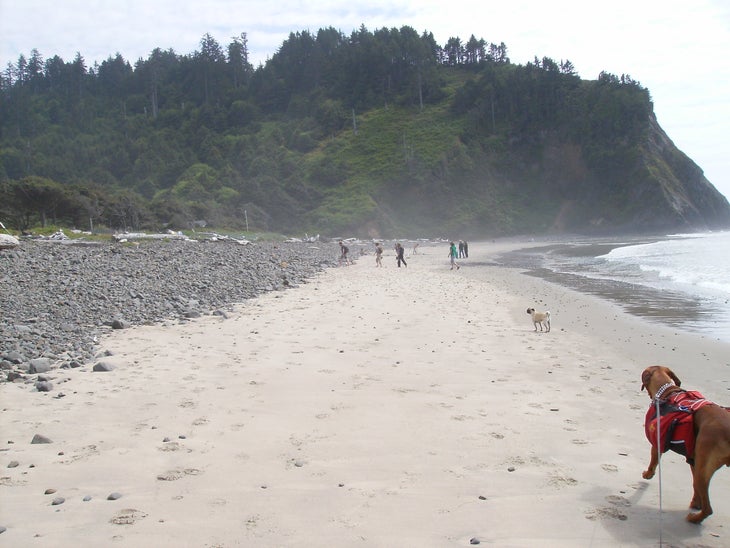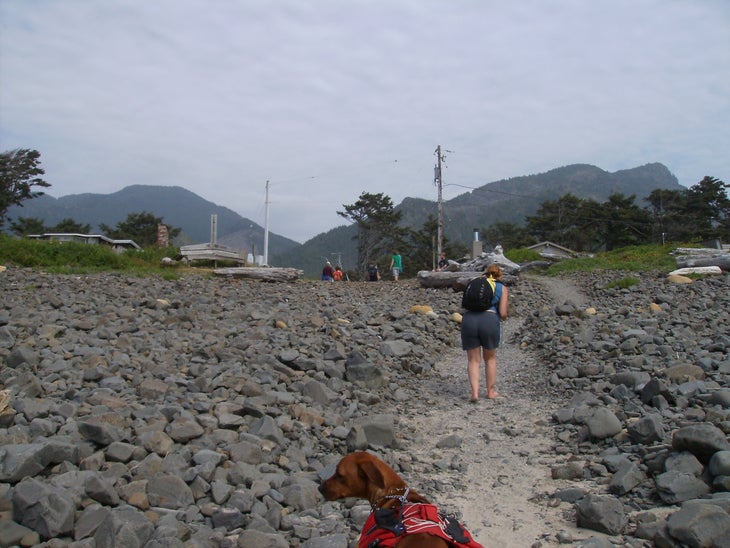 Trail Facts
Waypoints
OCT046
Location: 45.919617, -123.974275
Hike south from the parking area off Ecola Park Road.
OCT047
Location: 45.915511, -123.966856
Cross a bridge.
OCT048
Location: 45.915139, -123.969008
The trail passes Crescent Beach (0.1 mile to the west).
OCT049
Location: 45.911847, -123.965661
Turn right onto Ecola State Park Road and head south.
OCT050
Location: 45.910661, -123.964619
Continue straight at the junction.
OCT051
Location: 45.903675, -123.959694
Turn left on 5th Street.
OCT052
Location: 45.902653, -123.957269
Turn right onto Fir Street (becomes Elm Avenue) and cross Ecola Creek.
OCT053
Location: 45.898319, -123.959942
Turn right onto 2nd Street.
OCT054
Location: 45.8983, -123.962769
Beach access: Turn left and walk south along Cannon Beach.
OCT055
Location: 45.889464, -123.962378
Public restrooms are located near the corner of Dawes Avenue and Hemlock Street in Cannon Beach.
OCT056
Location: 45.884369, -123.967011
The route passes 235-foot Haystack Rock. Look for tide pools teeming with starfish, sea anemone, crabs, and sea slugs. On summer weekends, volunteers are present to help educate people about these underwater gardens.
OCT057
Location: 45.873428, -123.963825
Walk south through Tolovana Beach Wayside Park.
OCT058
Location: 45.857619, -123.964492
Silver Point
OCT059
Location: 45.847844, -123.962217
Pass Humbug Point.
OCT060
Location: 45.839233, -123.961508
Arcadia Beach
OCT061
Location: 45.831492, -123.962483
Follow the road blasted into Hug Point. Caution: Do this during mid- or low tide. The road is submerged during high tide.
OCT062
Location: 45.831103, -123.962439
A cave is located on the southern side of Hug Point.
OCT063
Location: 45.830108, -123.961786
Waterfall
OCT064
Location: 45.828919, -123.962581
Pass Austin Point.
OCT065
Location: 45.819378, -123.963289
Austin Creek flows into the ocean.
OCT066
Location: 45.804494, -123.966283
Turn left onto Leech Lane.
OCT067
Location: 45.804381, -123.964583
The hike ends at Leech Lane and Canon Road.
View from Ecola State Park
Location: 45.919586, -123.973953
View down the beach from the Ecola parking area.
Forest
Location: 45.915303, -123.968439
Ecola Creek
Location: 45.902172, -123.957953
View of Tillamook Head
Location: 45.893997, -123.965672
Sand Castle
Location: 45.885767, -123.965564
Haystack Rock
Location: 45.884258, -123.966486
Tillamook Head from Humbug Point
Location: 45.847844, -123.961831
Hug Point
Location: 45.832392, -123.962172
Road around Hug Point
Location: 45.831683, -123.963181
The road gets covered by high tide.
Hug Point
Location: 45.831022, -123.962569
Cave
Location: 45.8311, -123.962392
Waterfall
Location: 45.830078, -123.962258
Walking along Arch Cape
Location: 45.806547, -123.965864
Arch Cape
Location: 45.804856, -123.966314
Path to Leech Lane
Location: 45.804497, -123.966225