Oregon Coast Trail (Section 02): Gearhart to Ecola State Park
On this 12.7-mile section of the Oregon Coast Trail, you'll tour two coastal towns, travel to a lighthouse lookout, and skim the edge of craggy headlands.
Heading out the door? Read this article on the new Outside+ app available now on iOS devices for members! Download the app.
Stretching from the mouth of the Columbia River to the California border, the 382-mile Oregon Coast Trail links sandy shoreline, rugged headlands, and numerous state parks. The second section of the OCT starts in the town of Gearhart and travels 12.7 miles to Ecola Point in Ecola State Park.
From the west end of 10th Street in Gearhart, walk south along the beach for half a mile, then turn left to connect with the Ridge Trail. The route briefly follows the Ridge Trail before meandering through town and merging onto the Oregon Coast Highway for a 0.6-mile stretch to the town of Seaside. At mile 3.5, turn left and head south on Seaside's Promenade, a 1.5-mile boardwalk that overlooks the ocean.
At the end of the Promenade, turn right onto Ocean Vista Drive/Sunset Drive and follow it to Ecola State Park. At mile 6.4, turn left on Tillamook Head Trail (prepare to gain more than 1,000 feet of elevation in the next 1.6 miles). The route travels past Tillamook Head at mile 9.5, then visits Tillamook Head Lighthouse overlook and Indian Beach. The section hike ends at Ecola Point parking area at mile 12.7. Pick up your shuttle car and return to Gearhart.
CAUTION: Do not try to round headlands without knowledge of tide heights and times. Bring a tide chart and a detailed topo map. Free tide tables are available at state park offices, information centers, and the Hatfield Marine Science Center website.
INFO: Oregon Coast Trail and Ecola State Park
MORE OREGON COAST TRAIL MAPS
Section 1 | Section 2 | Section 3 | Section 4
-Mapped by Echo Hobbs, Salem Hiking Meetup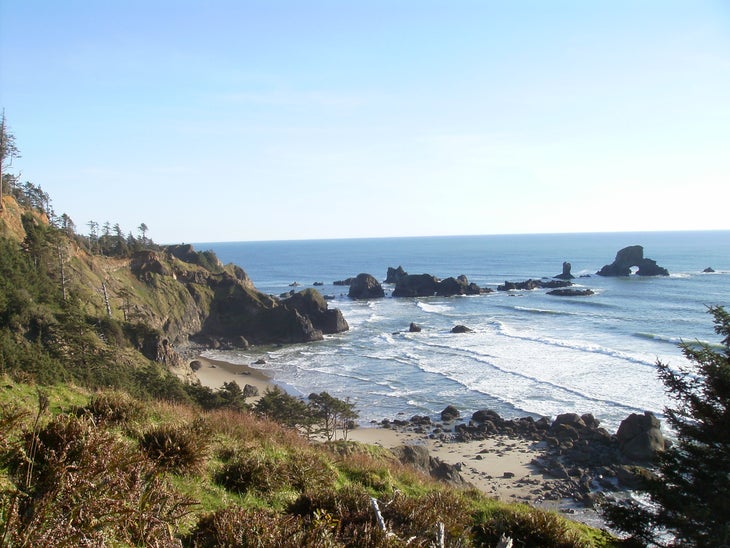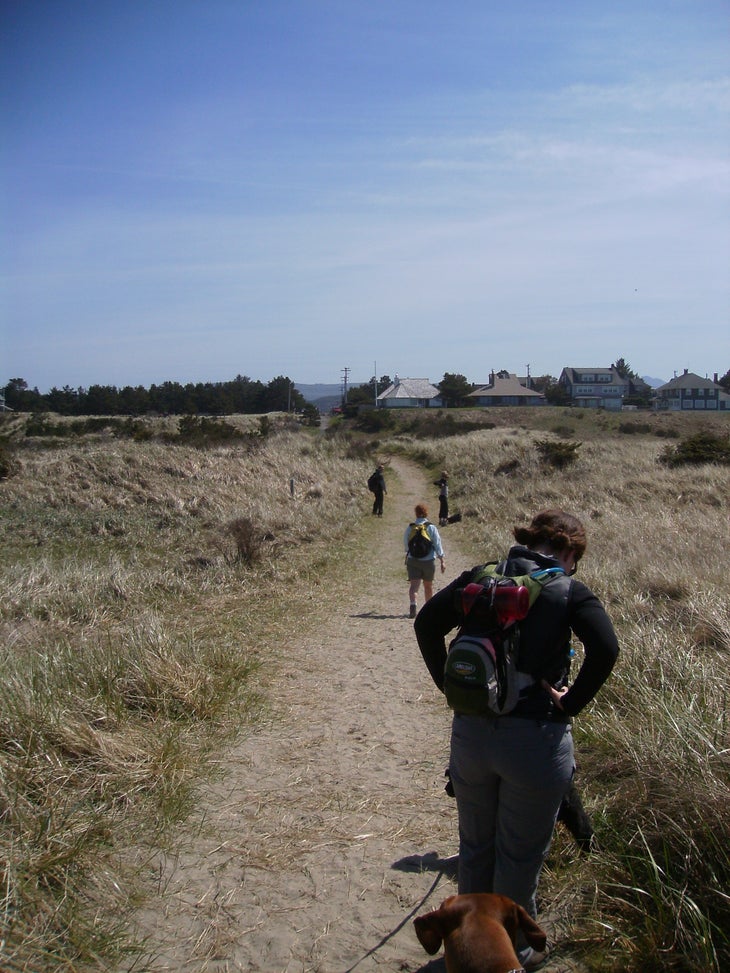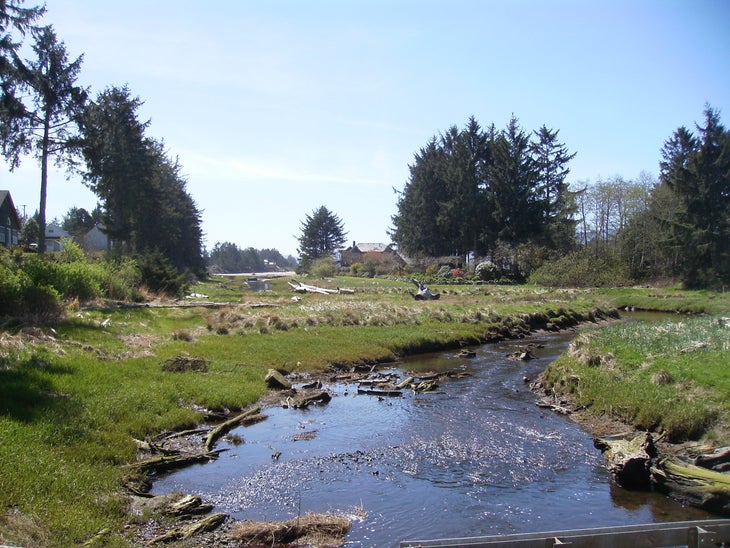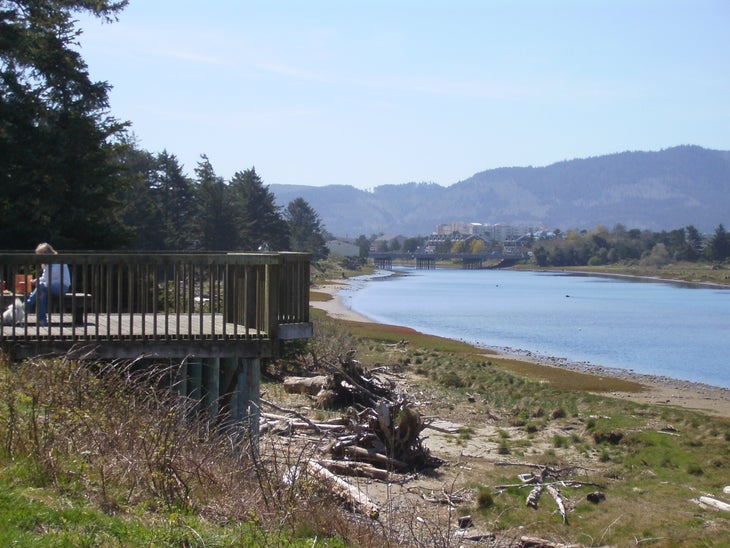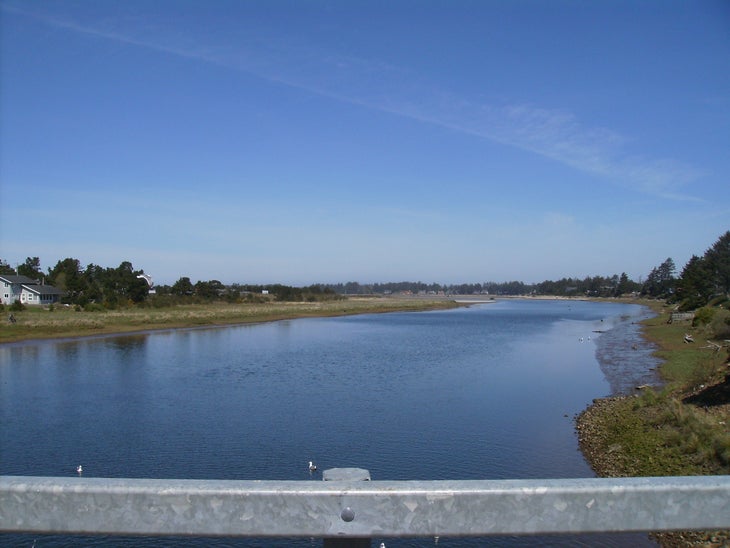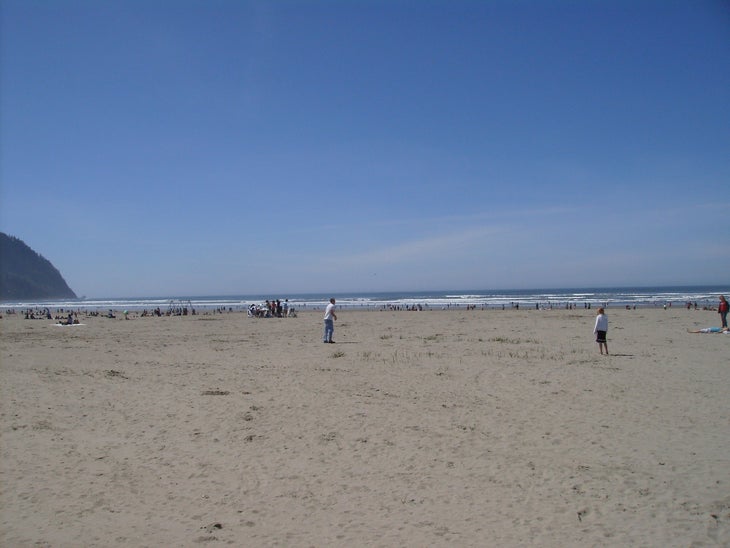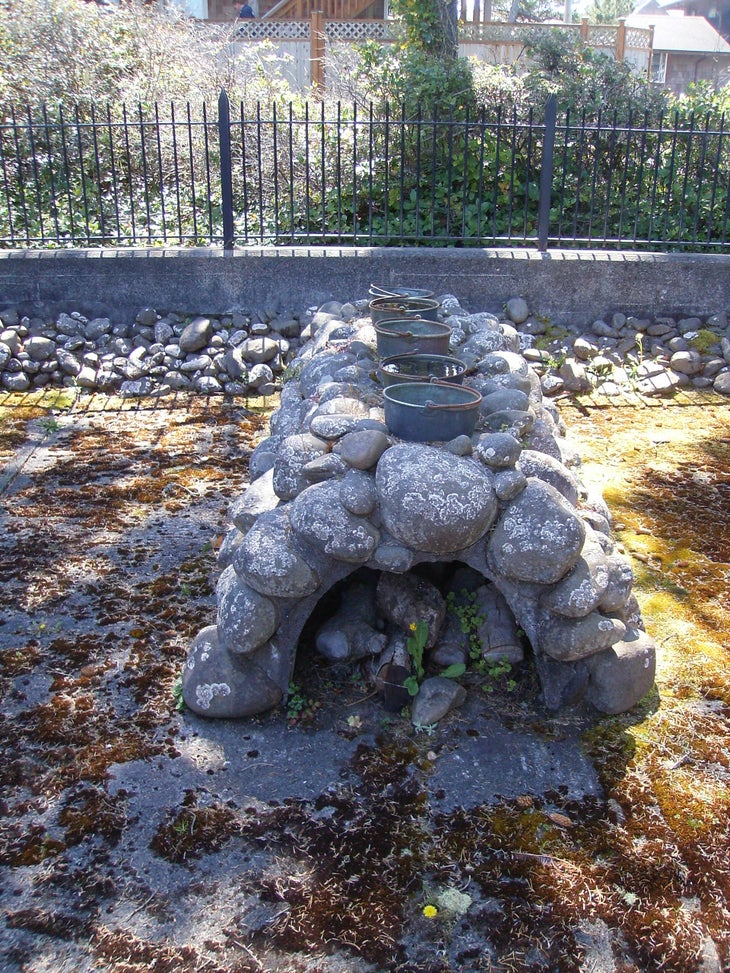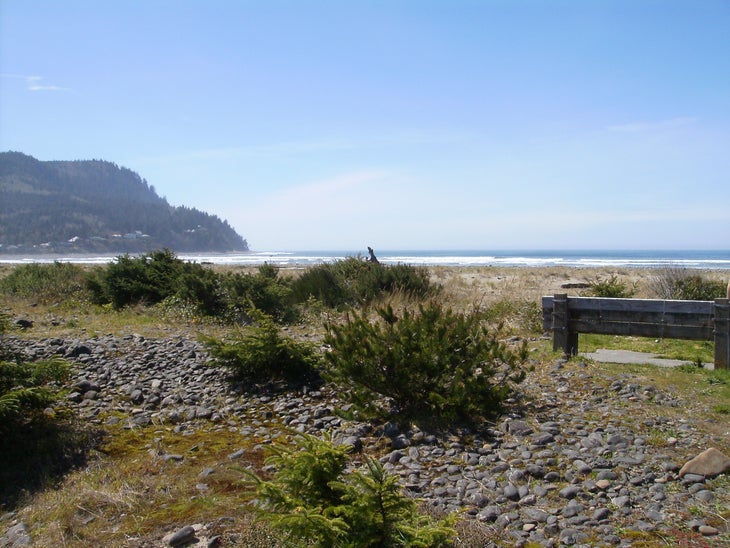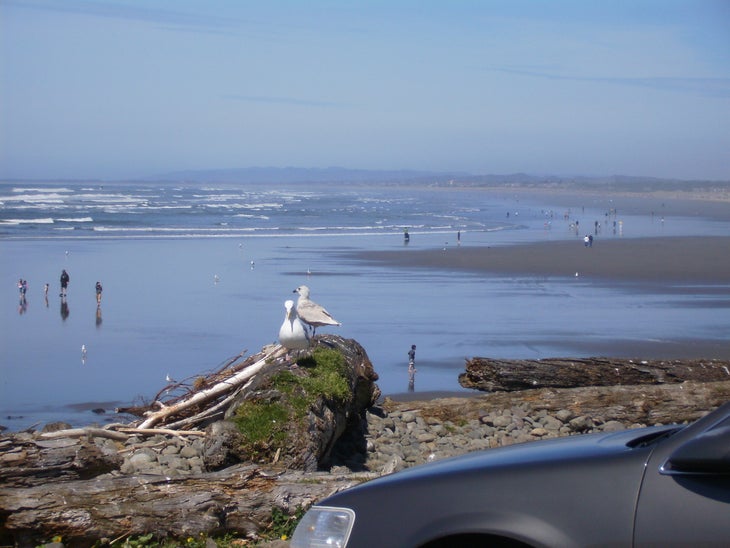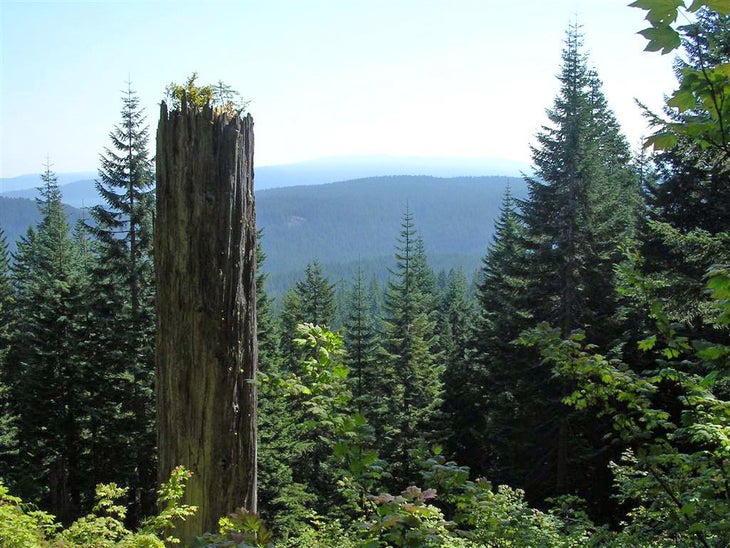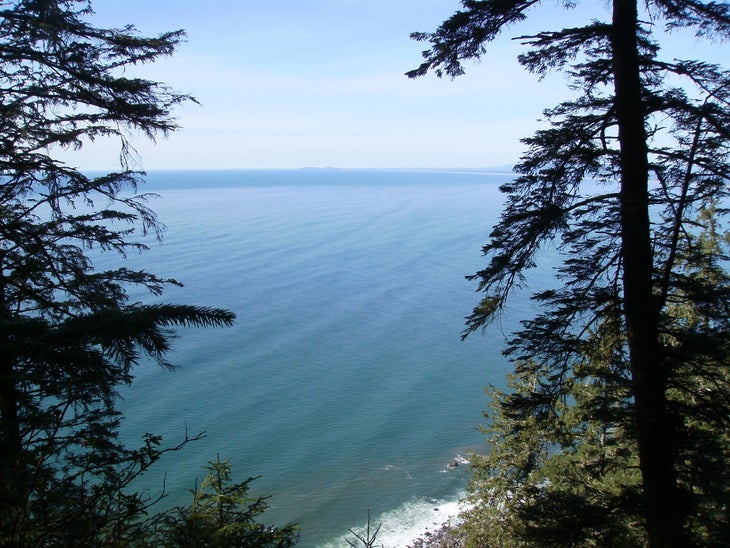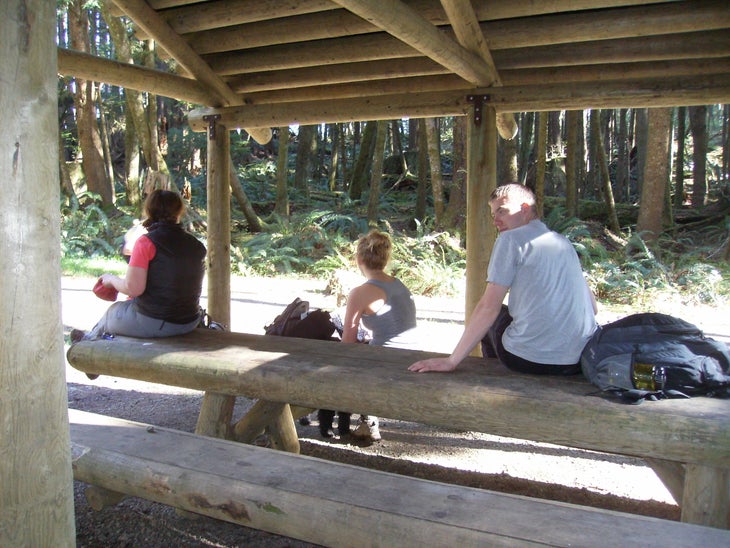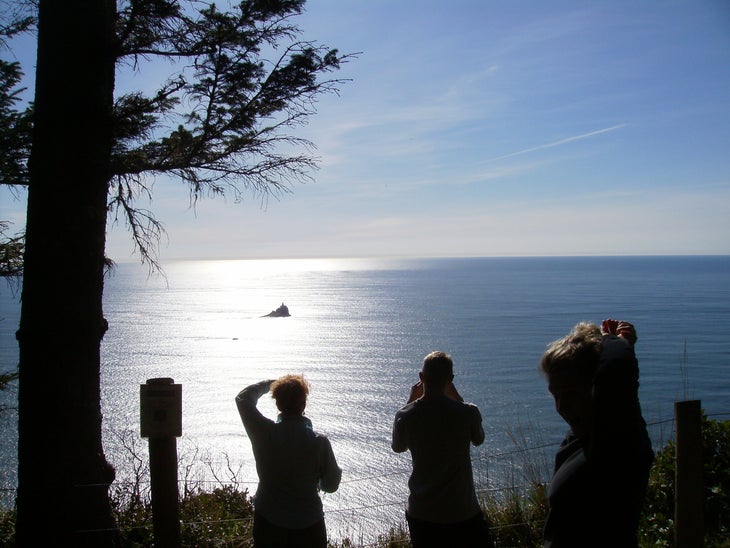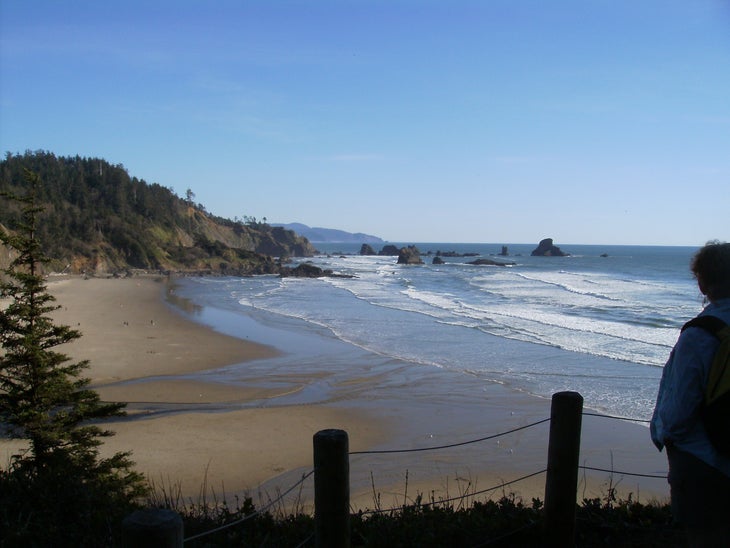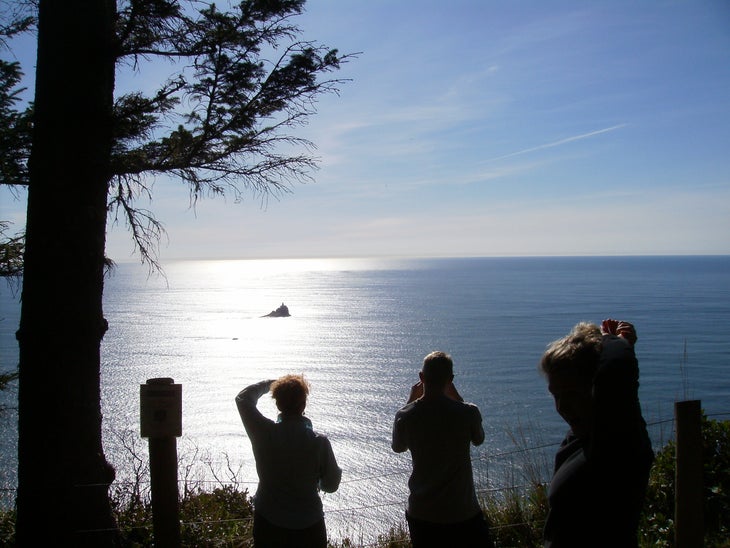 Trail Facts
Waypoints
OCT014
Location: 46.0309046, -123.9284045
From the west end of 10th Street in Gearhart, head southwest toward the shore. From here, views extend south to Tillamook Head and north to Washington.
OCT015
Location: 46.0241147, -123.9290535
The route leaves the beach for the next 3 miles. Turn left and hike east over the dune to reach the Ridge Trail.
OCT016
Location: 46.0240216, -123.9270794
Turn right onto the Ridge Trail, heading south.
OCT017
Location: 46.0191344, -123.9264464
Turn left onto G street for a 0.2-mile stretch along this paved road.
OCT018
Location: 46.0191344, -123.9218169
Turn left onto Wellington Avenue (unsigned).
OCT019
Location: 46.0198198, -123.9217687
Turn right onto F Street.
OCT020
Location: 46.0198608, -123.9191401
Turn right onto Hagar Avenue.
OCT021
Location: 46.0191605, -123.9191106
Turn left onto G Street, heading east to OR 101 (Oregon Coast Highway).
OCT022
Location: 46.0191568, -123.9156103
Cross Neacoxie Creek and continue heading east.
OCT023
Location: 46.0189668, -123.9114475
Turn right onto OR 101 and head south.
OCT024
Location: 46.0109385, -123.9113456
Cross the Neawanna River on the bridge and veer right onto 24th Avenue.
OCT025
Location: 46.0104206, -123.9145643
Bear left onto Holladay Drive.
OCT026
Location: 46.0069537, -123.9181316
Stop at this spot along the Necanicum River to take a break and admire the views.
OCT027
Location: 46.0015527, -123.9207172
Turn right onto 12th Avenue and cross the Necanicum River. Continue onto boardwalk.
OCT028
Location: 46.001521, -123.9272994
You have 2 options here: 1. Turn left onto the Promenade (a 1.5-mile, concrete boardwalk) and follow it south; 2. Continue to the beach, then turn left, paralleling the Promenade.
OCT029
Location: 45.9846847, -123.9323473
Side trip: Turn left onto Lewis and Clark Way and go 200 feet to the Salt Cairn (on the right). This stone furnace is a replica of the one built by the Lewis and Clark expedition to extract salt from boiling saltwater.
OCT030
Location: 45.9813522, -123.9336455
Pass another scenic spot overlooking the ocean (good place to take a break).
OCT031
Location: 45.9805471, -123.9339942
At the end of the Promenade, follow the sidewalk through a small apartment complex to Ocean Vista Drive.
OCT032
Location: 45.9797419, -123.9339566
Turn right onto Ocean Vista Drive.
OCT033
Location: 45.9766999, -123.9360595
Turn right onto Ocean Vista Drive (becomes Sunset Boulevard) and follow it into Ecola State Park.
OCT034
Location: 45.975313, -123.9402866
After passing Seaside Golf Course, the route starts to climb steadily.
OCT035
Location: 45.9735459, -123.9540625
Turn left and head south on Tillamook Head Trail. The path steepens as it travels into cool forest en route to Tillamook Head. Prepare to gain more than 1,000 feet of elevation in the next 1.6 miles.
OCT036
Location: 45.9612041, -123.968643
This 1,245-foot point marks the highpoint of the section hike.
OCT037
Location: 45.9495505, -123.9801223
Clark's Viewpoint: Gaps in trees reveal views across the Pacific Ocean.
OCT038
Location: 45.942884, -123.9845967
Turn right at the junction, and hike west to the Tillamook Rock Lighthouse Viewpoint.
OCT039
Location: 45.9422871, -123.9879763
This overlook offers distant views of the Tillamook Rock Lighthouse, which is located roughly 1 mile from shore. Built on top of a rock in 1881, the lighthouse's tempestuous location inspired its nickname "Terrible Tilly." Next, turn around, return to Waypoint 37, and turn right. Look for an old bunker located next to the trail on the right.
OCT040
Location: 45.9374748, -123.9845109
The trail merges back onto the road and continues its descent toward Indian Point.
OCT041
Location: 45.9315129, -123.9798975
Look down onto Indian Beach from this scenic viewpoint.
OCT042
Location: 45.9317293, -123.9789534
Turn right, heading south-southeast toward the Indian Beach parking area.
OCT043
Location: 45.9291101, -123.9769149
After crossing the bridge, veer left. The trail begins to climb.
OCT044
Location: 45.9278788, -123.9766467
Turn around for distant views of Tillamook Rock Lighthouse.
OCT045
Location: 45.9196395, -123.9742702
The section hike ends at the Ecola Point parking lot. Pick up your shuttle car and return to Waypoint 14.
Ecola Point in Ecola State Park
Location: 45.9265579, -123.9758635
The Ridge Trail
Location: 46.0235039, -123.9269614
Neacoxie Creek
Location: 46.019153, -123.9155459
Break Spot
Location: 46.0069518, -123.9180967
Necanicum River
Location: 46.0015638, -123.9221656
Beach in Seaside
Location: 45.9991081, -123.9283347
Salt Cairn
Location: 45.984435, -123.9318967
Ocean Views
Location: 45.9813466, -123.9341524
View to Washington
Location: 45.9746122, -123.9441383
Trail Views
Location: 45.9514182, -123.9757669
"Clark's Pointe of Viewe"
Location: 45.9495981, -123.97964
Picnic Shelter
Location: 45.9426229, -123.9853799
View of Tillamook Rock Lighthouse
Location: 45.9423319, -123.9878154
Indian Beach
Location: 45.9315428, -123.9797258
View of Tillamook Rock Lighthouse
Location: 45.9278788, -123.9765286