On the Wonderland Trail, You'll See One of America's Greatest Peaks from Every Angle
At 93 perfect miles long, the Wonderland Trail in Mt. Rainier National Park is about at short as thru-hikes get. But that doesn't make it any less spectacular. Plan your trip with our advice.
Heading out the door? Read this article on the new Outside+ app available now on iOS devices for members! Download the app.
The Wonderland Trail is aptly named: Spend a few days on this 93-mile circumnavigation of Washington's Mt. Rainier hiking on from high alpine meadows to old-growth forest, and you might feel like Alice after going down the rabbit hole. Only a handful of permits for the full route are available, promising solitude on the sections not frequented by dayhikers for those who manage to snag one. But with 22,000 feet of elevation gain over those 93 miles, this isn't a trail for the faint of heart.
That staggering elevation gain, though, is the key to one of the best aspects of the Wonderland Trail: its variety. The trail ranges from thick evergreen forest in the river valleys to the high alpine, with a corresponding array of plants, wildlife, and even rocks in each zone. If you're never sure quite where you want to spend your backpacking trips, this is the hike for you.
Some hikers do the Wonderland Trail as section hikes completed over several years due to permit issues, time constraints, or fitness. Others trek the whole circle in one go. Some parts of the trail make for spectacular and accessible dayhikes, too, with alpine vistas just a few miles from the trailhead. Whether you're tackling the entire loop, dipping in your toes on a dayhike, or just spending a weekend in the shadow of the 14,411 foot volcano, this guide will prepare you for the trail ahead.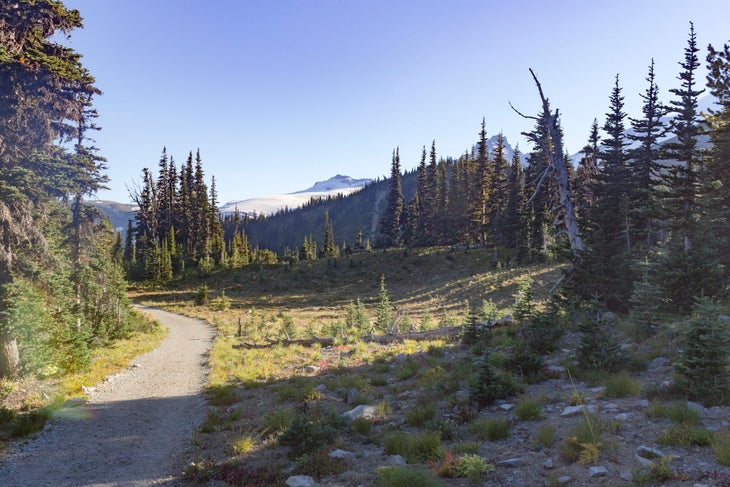 Dayhikes
If you only have a day or two, or want to check out the area before committing to a week or more of thru-hiking, try out one of several sections of the Wonderland Trail that are doable in a day.
Reflection Lakes
Start from the main parking lot in Longmire, paralleling the road until you cross the rushing Nisqually River on a series of log bridges. From there, wind through old-growth evergreen forest beside the Paradise River to Carter Falls, a 53-foot cascade named for the guide who built the first trail to Paradise. After the falls, switchback out of the river valley, catching glimpses of Rainier and its surrounding peaks between the trees. Not long afterward the trail reaches the shores of the Reflection Lakes at mile 5.5. Mt. Rainier soars above the water in all its glory, without a single ridge between; on calm days the lakes mirror the stratovolvano's glaciated cone.
Summerland-Panhandle Gap
The 12-mile round-trip out-and-back to Panhandle Gap follows the highest section of the Wonderland Trail, topping out at 6,800 feet.  The first section of trail is a nearly flat path through dense woods, but the elevation builds as the trail heads past the rapids of Fryingpan Creek and into Summerland's wildflower-filled meadows. Just after the snow melts, avalanche lilies are the most common flowers; later in the summer lupine, paintbrush, and white pedicularis. Beyond the meadows, the summit dome of Mt. Rainier is just visible. One-and-a-half miles and 900 vertical feet remain between Summerland and Panhandle Gap. Quickly leaving the flowers behind, the trail heads onto glacial moraine, dotted with tiny tarns that sport floating icebergs and chunks of snow late into the summer. From the gap itself, panoramic views sweep from Mt. Hood to Mt. Adams, with Rainier looming against the opposite horizon.
Multiday Hikes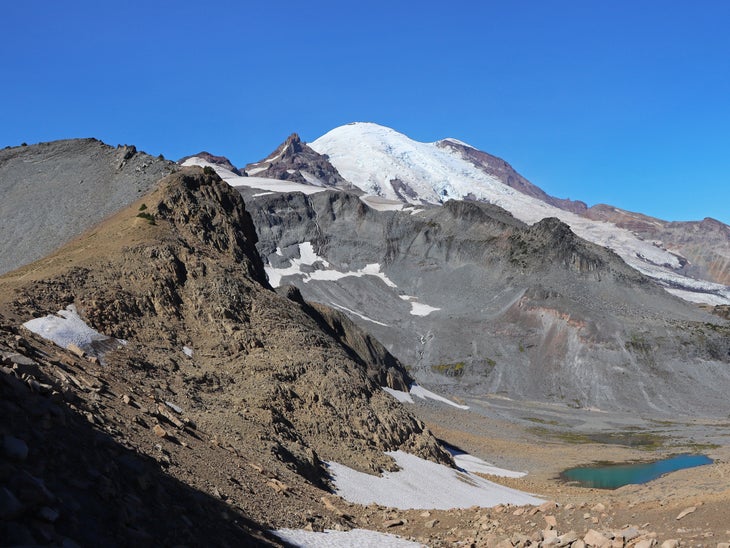 If you can snag a week, or even a weekend, away, the Wonderland Trail has an abundance of campsites to choose from along shorter sections of trail.
Week: Sunrise to Mowich Lake
This 57.5-mile point-to-point crosses ridges filled with mountain goats, wide rivers, several waterfalls, and huckleberry fields often frequented by black bears, and it packs it all into a single week. Leave a shuttle car at Mowich Campground, then head to to Sunrise Road, parking at the pullout at mile 4.3. The trail starts with almost 3,000 feet of elevation gain to Panhandle Gap, then drops to Indian Bar Camp just past mile 8.3.  On day two, trace the ridgeline of Cowlitz Divide, sleeping at Maple Creek Camp at mile 18. Day three passes three waterfalls; the last, and most spectacular, of the cascades is two-tiered Narada Falls, which drops 168 and then 20 feet into Paradise Valley. Camp at Paradise Camp. Day four brings two more waterfalls on the way to a 1,050 foot climb up Rampart Ridge, where you can gaze at Rainier just across the valley. On the fifth day, you'll pass through prime wildlife-spotting territory—keep an eye out for elk, bears, and foxes on your way to North Puyallup Camp. The last day packs in two more river crossings before heading uphill to Mowich Lake, a clear alpine pool tucked at the base of several rocky ridgelines.
Weekend: Mystic Lake
This 25.4 mile out-and-back climbs through meadows to a subalpine tarn in one of the most remote corners of the park. Start by following the abandoned last five miles of the Carbon River Road through fir and hemlock forest (you can bike this section, too, though only up to where the singletrack begins). From the end of the road, climb past the junction with the Spray Park trail to views of the 5.7-mile-long Carbon Glacier, the lowest elevation glacier in the lower 48, with a lower terminus at just 3,500 feet. From there, switchback across ledges and talus before returning to forest, now dominated by silver firs and Alaska cedar. At mile 7.8 the views open up at a broad expanse of meadow known as Moraine Park, with Rainier filling the entire horizon. Mystic Lake itself has no views of Rainier, but campers can sometimes hear icefall from the distant glaciers.
Thru-Hike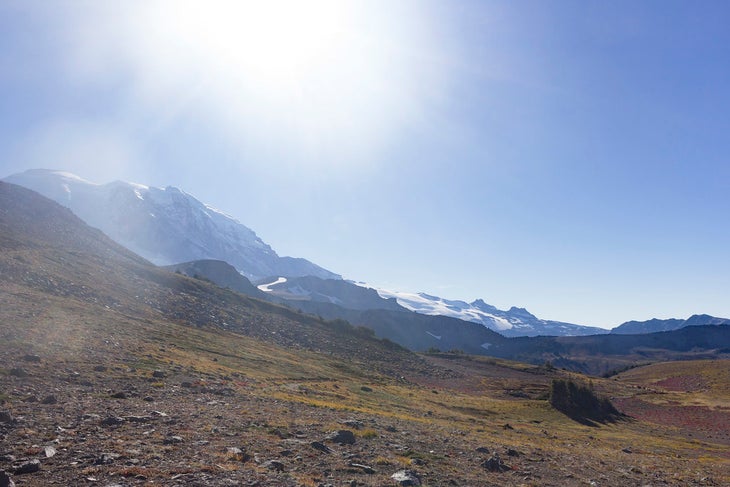 The National Park Service requires wilderness permits for every separate backcountry camping area each hiker visits, making a Wonderland Trail thru-hike a challenge of logistics as well as leg strength. There are 18 wilderness camps and three frontcountry camps along the trail, as well as two more wilderness camps along the alternate Spray Park route. Pick your direction—clockwise or counterclockwise—and a daily mileage goal, then reserve your nightly camps accordingly. Getting permits can be a challenge: If you planned far ahead enough, you can apply to the annual early access lottery in March. About one-third of the permits for the backcountry sites along the Wonderland Trail are first-come-first serve; you can apply for them no more than one day prior to the beginning of your trip.
As it is for any thru-hike, preparation is key: Trail days on the Wonderland Trail average around 3,000 feet of elevation gain, depending on your mileage. The payoff is worth it: Wonderland Trail thru-hikers get to experience every possible view, from every possible angle, of one of the country's most iconic mountains.
What to Pack
For the most part, you'll likely be able to use your normal backpacking kit to hike the Wonderland Trail. A few additional notes, though: Because of the daily gain and loss in elevation, temperatures can vary, so bringing a lightweight puffy isn't a bad idea. Most years, you'll want to bring full raingear—tops and bottoms— as well, or else risk getting soaked by storms. (Need a jacket? We've collected 7 of our favorite hardshells.)
As far as resupply goes, your options are slimmer than they would be on a longer trail: You won't be hitchhiking to the grocery store on this 5-to-7-day trek. Instead, you can mail or hand-deliver your food to Longmire Wilderness Information Center, White River Campground, Sunrise Old Gas Station, or the Carbon River Ranger Station (from where park staff will transfer your cache to the Mowich Lake Patrol Cabin. Some limited items may be available for purchase at the General Store at Longmire and the Day Lodge at Sunrise, but don't count on it.