Olympic National Park: Hoh River to Third Beach
Trace the rugged coastline past dozens of sea-carved rock formations on this five-star weekend trip along the Olympic Peninsula.
Heading out the door? Read this article on the new Outside+ app available now on iOS devices for members! Download the app.
Is it a hike or an Army obstacle course? Both, actually, which you'll find out as you negotiate ladders and ropes through upland rainforest and rocky beach on this 16.1-mile trek. At the Oil City trailhead, take the South Coast Trail along the river. Two rights lead to the coast; cruise past a bleached driftwood graveyard to Jefferson Cove. (Note: Cross the area at tides lower than two feet; get charts at the ranger station.)
Head inland near a small waterfall) and scale a 60-foot cliff on two fixed ropes. The 3.5-mile upland trail winds through a high-canopy forest, and begins a roller-coaster section up log steps and down into the mossy forest. Take the boardwalk over the marshy area to Mosquito Creek and camp on a bluff overlooking the Pacific.
Next morning, don your sandals and ford Mosquito Creek at its mouth. Walk the beach north for two miles past sea stacks ). At low tide, hike on the beach to the left side of the rocky sea stack. At high tide, clamber over driftwood on the right. Turn inland at bull's eye marker, head up a hillside, and hike through a leafy trellis of salal, salmonberry (edible but bland), thimbleberry (rich and juicy), and devil's club.
Stay straight to ford 20-foot-wide Goodman Creek, and re-enter the woods; pass massive red cedars to Falls Creek's low cascade. Descend a 30-foot trail ladder and head north to Toleak Point, watching for bald eagles. Traverse a rocky stretch, and head past Giants' Graveyard, a cluster of sea stacks and pinnacles.
Ford Scott Creek and traverse a forested hillside (use trail ropes, if needed) to the beach. At the bull's eye trail marker, climb 90 steps into the forest. After 14.2 miles, descend to Third Beach on stairs and ladders and pick up the dirt path to Third Beach parking area and your shuttle.
Permit Wilderness camping is $5 plus $2/person per night. Bear canisters ($3 rental at ranger stations) are required on the coast.
Shuttle Willie Nelson's All Points Charters and Tours: (360) 460 7131; goallpoints.com. Coastal shuttle service costs $150 for six.
Gear up Brown's Outdoor, 112 W. Front St., Port Angeles, WA; (360) 457- 4150; brownsoutdoor.com 
-Mapped by Kari Bodnarchuk
KEY SKILL: CROSS A RIVER
At miles 5.6 and 8.7, it's literally time to test the waters. Depths at Mosquito and Goldman Creeks vary from ankle-deep to thigh-high due to heavy rain and tidal shift. Ford them safely:
Pack right Wear sandals or athletic shoes rather than going barefoot; use trekking poles for balance.
Assess Cross streams at wide points where the current moves slower. Washboard ripples indicate shallow water. Use a hiking pole to test depth, or chuck a rock into the stream's middle—a hollow "ker-plop" indicates deep water. Never cross whitewater or at depths deeper than mid-thigh.
Prepare Unbuckle your pack's hipbelt and sternum strap, and loosen the shoulder straps to enable a quick exit. You want to jettison your pack if you get swept away.
Execute Face upstream with your trekking poles out front and sidestep across, yielding slightly to the current. Maintain two points of contact and a wide base; never cross legs.
SEE THIS: TIDE POOLS
At Toleak and Strawberry Points, receding tides leave islands of sea water, rich with life-sustaining nutrients from Pacific up-welling, a process that carries deep-sea particulates to the surface. Tide pools support an amazing diversity of sea creatures—including the sunflower starfish (right) the world's largest sea star, anemones, mollusks, multicolored sea slugs (nudibrachs), and plantlife—that you'd normally need scuba gear to view. Tip: The lower the tide, the more sea life exposed in tide pools. Consult a tide chart to find the lowest tides, and prepare to spend hours inspecting these natural aquariums. Don't forget to look up: Rogue waves can strike at any tide and drag unsuspecting hikers out to sea.
PIT STOP
Three Rivers Resort Restaurant is known for its "World Famous River Burgers." Lick your chops for the "Werewolf Burger," made with a half-pound patty and double ham, bacon, and cheese. 7765 La Push Rd., Forks, WA; (360) 374-5300
LOCALS KNOW
Local Quileute Native Americans describe a mysterious figure known as "Q'waeti," or the transformer, who wandered the Olympic Peninsula instructing tribes how to live—and morphing animals into humans. According to legend, the Quileute were transformed from wolves to people by the powerful medicine man, giving rise to the werewolf myth and legion creature flicks— most recently the Twilight series, which is set in coastal Washington.
NEAREST GROCERY STORE COUNTRY
Aire Natural, 117 E. 1st St., Port Angeles, WA; (360) 452-7175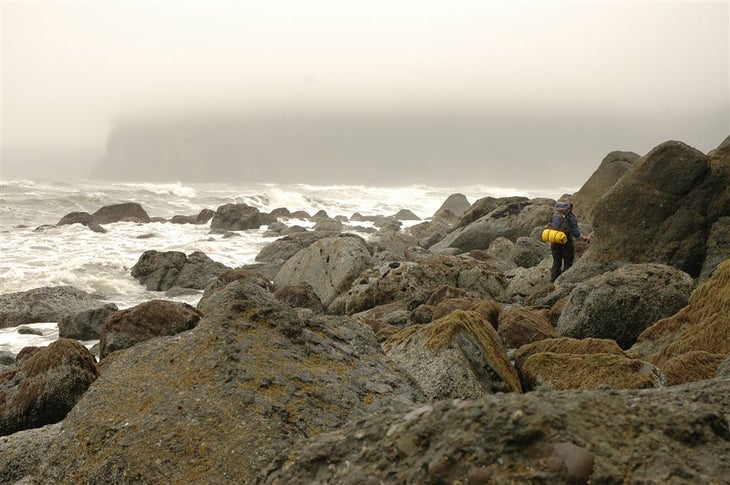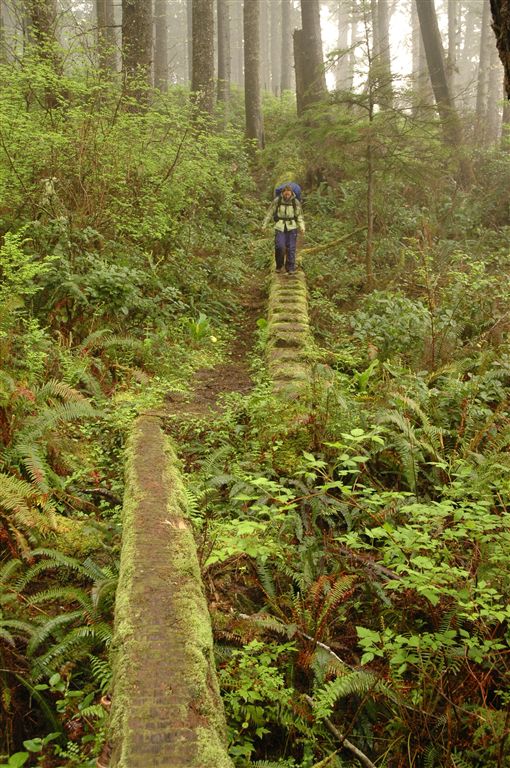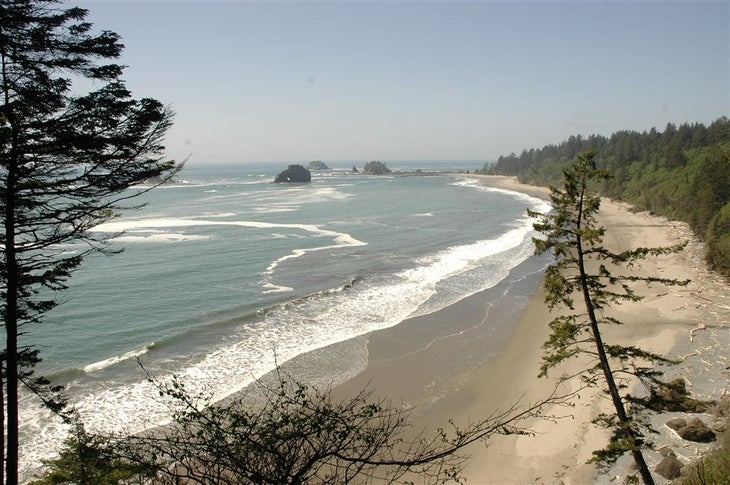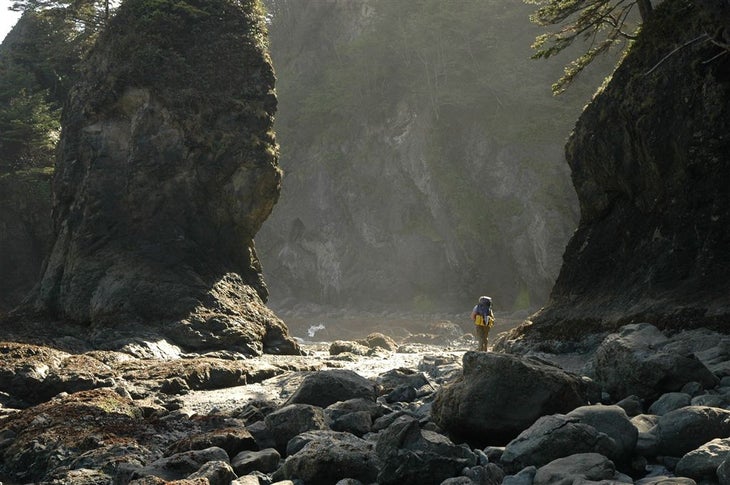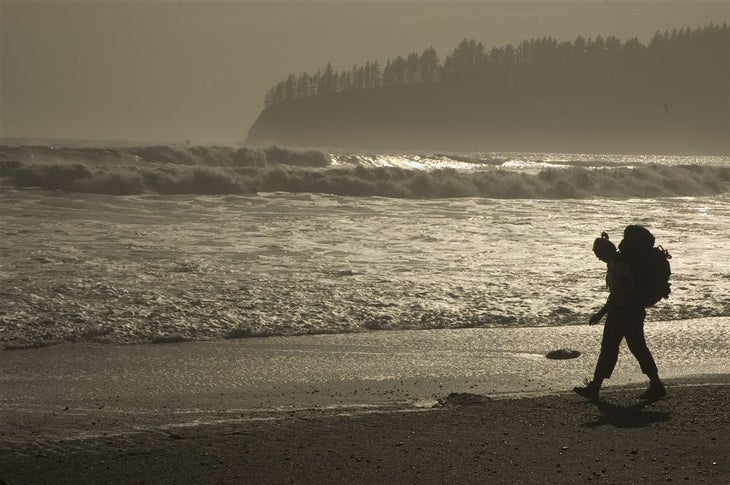 Trail Facts
Waypoints
HOH001
Location: 47.749164, -124.417832
From the trailhead on the northwest side of parking lot, follow dirt and pine needle-covered singletrack along river, and cross a bridge. In 0.1 mile, ford a small stream. Beautiful views of the Hoh River appear on left as trail climbs and traverses a hillside (steep cliff-like drop on left). Sea roses and purple hyacinth grow along trail.
HOH002
Location: 47.75, -124.430748
Trail emerges from forest next to the swift-moving Hoh River. Turn right and follow rocky, pebbly beach along riverbank to the ocean and turn right again, heading north. Crashing waves and four sea stacks can be seen in the distance on the left. Ahead: Hike along the beach beside a driftwood graveyard, where massive logs have washed up onshore; scramble over a boulder field of conglomerates as you round the first headland (you can walk along the beach during this stretch when tides are lower).
HOH003
Location: 47.7616, -124.450546
Trail skirts a headland marked by Diamond Rock, a triangular sea stack (caution: 2-foot tide). Next, enter Jefferson Cove and walk along beach blanketed in tiny pebbles (makes for difficult walking); more boulders and sea stacks offshore. Pass a small waterfall on steep hill to the right, and a cliff-like bluff straight ahead.
HOH004
Location: 47.766788, -124.456749
Trail veers inland for 3.5 miles at the end of Jefferson Cove; look for trail marker at the foot of the headland on right (near the waterfall and rocks). Pack away hiking poles and climb a vertical rope and wood ladder up cliff side. Caution: Wooden steps are extremely slippery when wet or muddy. Muddy path switchbacks up hillside several hundred vertical feet through a dense forest of pine, sitka spruce, and ferns; wild roses and salmonberry bushes dot the path.
HOH005
Location: 47.766899, -124.460052
Pass a campsite on the bluff surrounded by thick forest; pine needles blanket the ground and oxalis (a large, 3-leaf, clover-shaped plant with white flowers) lines the trails. Ahead: The trail levels off as it crosses the headland; downed trees carpet the ground; the sound of waves comes back into earshot.
HOH006
Location: 47.770935, -124.467865
Begin easy descent along rooty, pine needle-covered trail through areas with tall ferns, salmonberry bushes, and giant blowdowns. Cross small stream; trail turns to clay in sections and crosses a second stream before passing huge trees with flying buttresses at their base.
HOH007
Location: 47.7747, -124.470268
Cross stream (good water source), and then tackle a very steep, switchback climb up log steps; listen for an amazing variety of bird song. Next, descend through mossy forest with giant blow-downs; dogtooth violets blanket area flanking the narrow trail.
HOH008
Location: 47.79155, -124.480183
Admire views of the ocean and sea stacks, before tackling a short, steep climb (revealing more incredible views of a sea stack to the south and others offshore). Follow boardwalk over marshy area filled with skunk cabbage; hike down log steps and along muddy, rooty, clay-covered trail where ferns and oxalis line the path; you'll hear the crashing of waves.
HOH009
Location: 47.797344, -124.481213
Trail passes a level, shaded Mosquito Creek campsite on a wooded bluff overlooking the crashing ocean and sea stacks; established fire pits, and toilet; refill water reservoirs in nearby creek. From camp, head north through the woods past a rustic outhouse. In 0.1 mile: Drop onto the beach and ford Mosquito Creek.
HOH010
Location: 47.798832, -124.482414
Walk north along the beach for about 2 miles. Savor views of the flat-topped Alexander Island to the west, sea stacks and headlands to the north, and a hillside blanketed in dense vegetation and to east. Pass several triangular sea stacks-one of which is shaped like a shark's fin.
HOH011
Location: 47.814018, -124.487717
Depending on the tides, you'll either scramble over giant driftwood to the right of the tree-topped sea stack or hike along a sandy stretch to the left of the sea stack.
HOH012
Location: 47.824148, -124.503357
Turn right at bull's-eye sign located to the right of rocky bluff (you can see a hole in the rock at low tide). Leave the beach and begin a steep scramble that switchbacks up the hillside to an overlook with stunning views of beach, islands, and rock pinnacles. Ahead, tall ferns overhang narrow, rooty trail that opens up with views down into a gully. Cross boardwalk over a marshy area choked with skunk cabbage, rock-hop across a stream, and then hike through a tunnel of vegetation. Pass several giant Sitka spruce, whose lower trunks are encased in moss and lichen.
HOH013
Location: 47.828405, -124.507638
Ignore the trail on the right and continue straight; ford 20-foot-wide Goodman Creek. Re-enter woods and hike through dense forest alongside Goodman Creek (on left). The trail passes a small, plunging waterfall on right. Ahead, ford Falls Creek and continue hiking uphill past a small stream and area with skunk cabbage and giant fallen trees (look up and see ancient red cedar tree).
HOH014
Location: 47.831848, -124.521767
Descend 30 feet down a rock face on a vertical ladder (caution: slippery when wet). Head north along sandy beach with views of Alexander Island to the south, jagged sea stacks to the west. Continue north to Toleak Point.
HOH015
Location: 47.834332, -124.540947
Pass great camping spots above high-tide line at Toleak Point. From here, follow sandy beach around half-moon-shaped bay with views of at least a dozen spectacular sea stacks off the next point and dozens of seaweed- and barnacle-covered rocks dotting the bay. As you pass another shark fin-shaped sea stack, keep an eye out for bald eagles.
HOH016
Location: 47.845882, -124.550453
Strawberry Point: Gaze at fantastic views of the sea stacks around Toleak Point. The beach transitions from fine sand to rocks until the next (unnamed) headland.
HOH017
Location: 47.853668, -124.55825
Hike around headland on very rocky shore (caution: 4-foot tide); take in views of Giants' Graveyard, a cluster of sea stacks, islands and rock pinnacles. Halfway down the next bay, beach turns sandy again with giant driftwood trees pushed up against the hill on right.
HOH018
Location: 47.860016, -124.558107
Ford Scott Creek (good water source) on logs or by rock hopping, and then turn right at bull's-eye marker and head inland for a short, steep climb around Scotts Bluff. Travel through tall forest of sitka spruce and thick, head-high underbrush; giant roots break up the muddy trail.
HOH019
Location: 47.863529, -124.558139
Use the provided ropes to rappel down the steep hillside to the beach below; head north along the beach (alternates between soft sand and little pebbles).
HOH020
Location: 47.867382, -124.56752
Taylor Point: Plan to get into the cove at low tide (4½-foot tide area) to access the trail that heads inland (look for bull's-eye marker on tree). Climb up roughly 90 steps that lead out of the cove and into a forest of salmonberry bushes, clusters of ferns, oxalis, and tall old spruce. It's a steep and steady climb through humid forest; pass a clearing and campsite on the left, then cross a creek on a split log.
HOH021
Location: 47.874907, -124.57714
Pass a campsite on the hill before descending through forest; climb down two sets of stairs and ladders to the southern end of Third Beach. At the southern end of the beach, a waterfall and finger-shaped rock pinnacle are surrounded by sea stacks. Follow wide, sandy beach north along embankment on right. About two-thirds of the way down the beach, look for the bull's-eye marker indicating where the trail disappears inland again.
HOH022
Location: 47.878033, -124.588036
Turn right onto trail that crosses a small creek and heads inland. Switchback up wide, well-trodden dirt and gravel path; hillside on the right is blanketed in oxylis. Trail passes a small stream on left and levels out for an easy, gradual final ascent through forest of sitka spruce, hemlock and alder to the Third Beach parking area.
HOH023
Location: 47.890413, -124.599456
The trail ends at Third Beach. Shuttle back to Waypoint 1.
Boulders
Location: 47.761612, -124.450539
Mossy Ladders
Location: 47.775589, -124.47171
Views of the Coast
Location: 47.830199, -124.5165
Rocky Terrain
Location: 47.867451, -124.567097
Beach Walk
Location: 47.875015, -124.580358