Olympic National Park: Cape Alava Loop
Link rainforest, old-growth cedar stands, and a rugged sea coast peppered with isolated rock columns on this 8.7-mile loop in Olympic National Park.
Heading out the door? Read this article on the new Outside+ app available now on iOS devices for members! Download the app.
Explore Olympic National Park's rugged, wilderness coast on this 8.7-mile loop. From the Ozette Trailhead, cross an arched wooden bridge and enter old-growth red cedar forest. The trail alternates between boardwalk and a pebbly path as it passes through tall grassy meadows, fields of ferns, and lush, mossy forest. At mile 3.1, emerge from the forest and take in views of rocky, seaweed-covered shore, impressive sea stacks, and Ozette Island.
The next 3 miles travel along a sandy and rocky coastline peppered with giant driftwood logs. Before rounding the first headland, look for ancient Native American petroglyphs carved into the rocks. At mile 6, head back into the woods and maneuver through thick fern underbrush and sitka spruce—huckleberry bushes flank the trail in spots. Pass the only view of Ozette Lake before closing the loop at Waypoint 2, and retracing your steps to the trailhead.
Note: Wilderness Camping Permits are required for all overnight hikes on the Olympic Wilderness Coast. Do not try to round headlands without knowledge of tide heights and times. Carry a tide chart and a detailed topo map.
-Mapped by Kari Bodnarchuk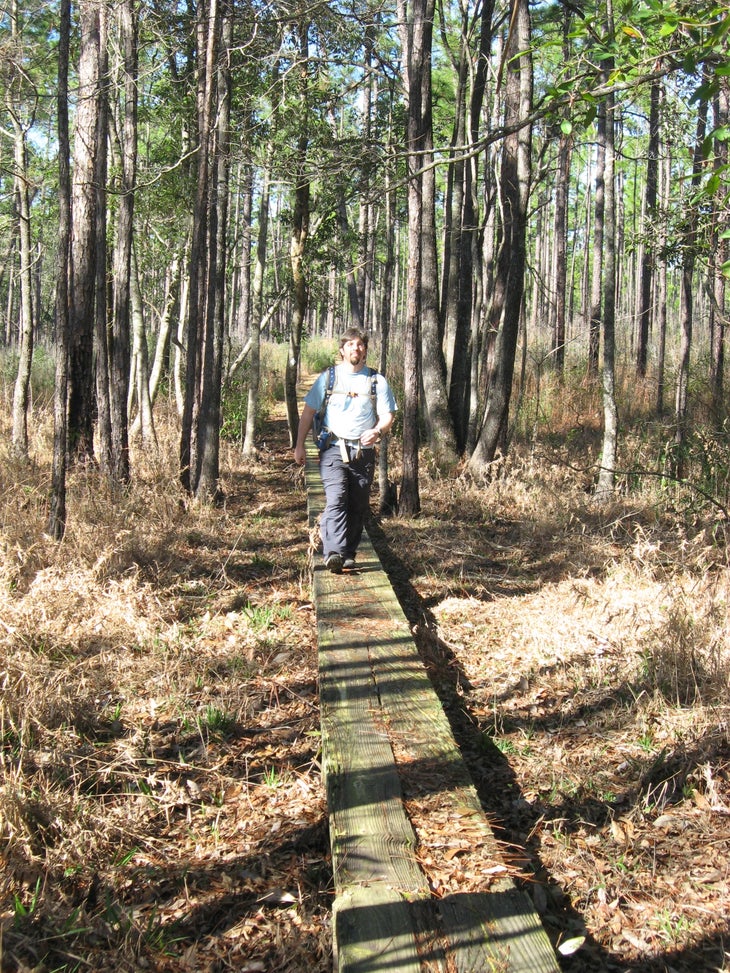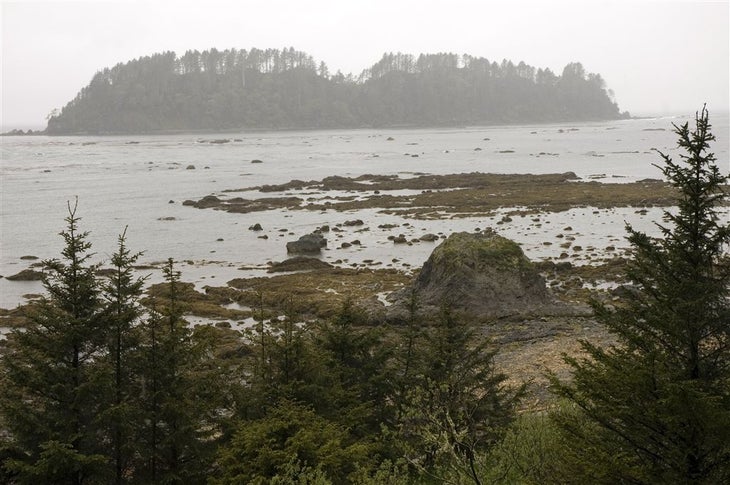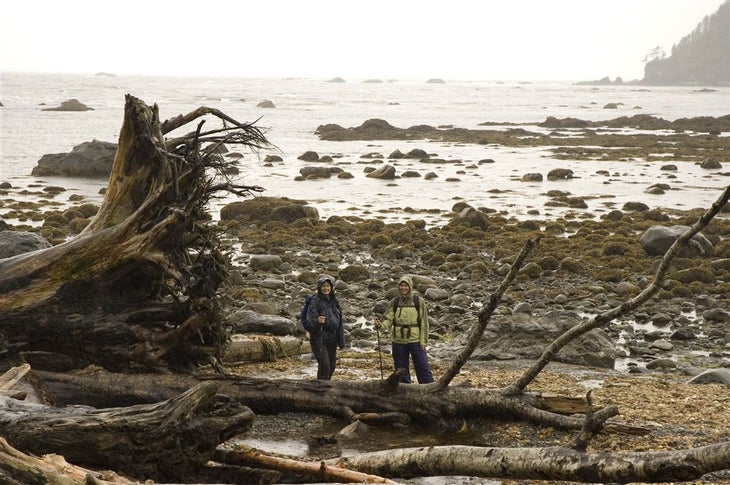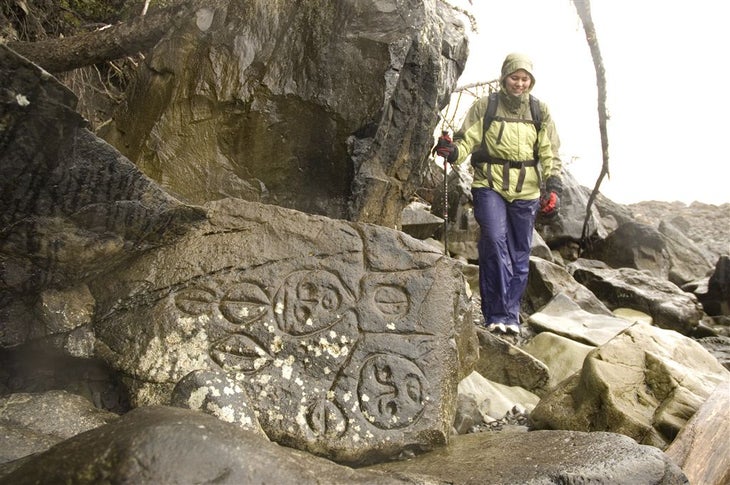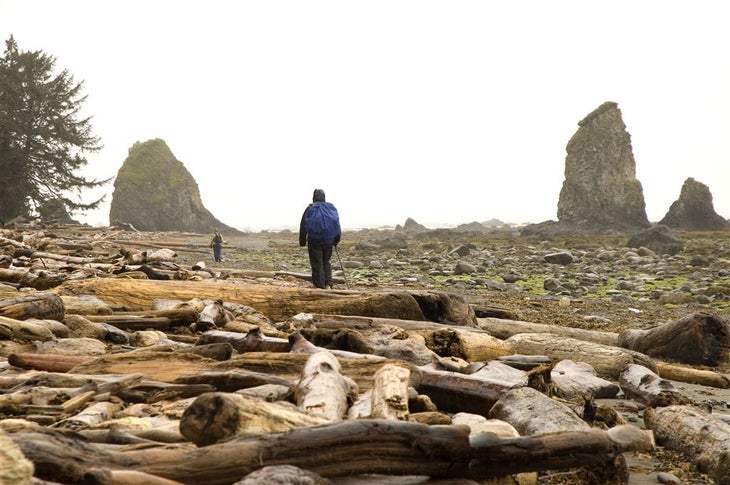 Trail Facts
Waypoints
WPT001
Location: 48.154232, -124.66935
From the Ozette Trailhead, cross an arched wooden bridge over the Ozette River, then follow the well-maintained pebble and stone path through the forest.
WPT002
Location: 48.152386, -124.671761
Bear right onto Cape Alava Trail @ Y-junction. Wide, pebbly trail meanders through dense old-growth red cedar blanketed in moss. Ahead, follow boardwalk that winds through marshy areas dotted with skunk cabbage; cross several wooden bridges and hike up and down cedar steps.
WPT003
Location: 48.153484, -124.696365
Cross a cool brook (tannin gives the brook its deep brown color) near downed trees carpeted in moss; ferns and branches covered in old man's beard. Hike through a tunnel of thick vegetation and through areas where old-growth cedars and hemlocks line the trail. The trail alternates from boardwalk to pebbly path and passes through tall grassy meadows, fields of ferns and through dense forest where spaghnum moss blankets the ground, 'butt rot' mushrooms cling to trees, and the potent smells of skunk cabbage fill the air. About 2 miles down the trail, pass through big grassy meadow called Ahlstroms Prairie, where Scandinavians settled in the late 1800s. Keep an eye out for deer.
WPT004
Location: 48.15995, -124.723282
Pass through a large area where old blowdowns are engulfed by moss; continue heading west.
WPT005
Location: 48.160633, -124.730782
Narrow dirt trail emerges from forest, passing through lush, grassy fields. Take in first views of rocky, seaweed-covered shore, impressive sea stacks and Ozette Island offshore. Next, follow muddy, dirt singletrack through a grassy field and past a stream; trail sharply descends to beach.
WPT006
Location: 48.160965, -124.73175
Turn left on beach, and hike south along the sandy and rocky coast. Walk past giant driftwood logs stacked up along shore; look for bull kelp, sea sponges, and crabs (you may also spot deer and bald eagles); huge sitka spruce and red cedar dot the coast. Optional: Turn right on the beach and hike 0.75 mile to see the remains of a log house from an old Makah settlement.
WPT007
Location: 48.149216, -124.720268
Wedding Rocks: Just before rounding the first headland, look for ancient Native American petroglyphs carved into the rocks to the right of the black and red circular marker. Use caution when rounding headlands. Bring a detailed topo map and a tide chart for tide heights and times.
WPT008
Location: 48.143185, -124.717087
A campsite (with wooden benches) sits on this level clearing at the edge of the woods, sheltered by old, giant sitka spruce and cedar trees. Look west for views of a triangular sea stack with a hole in one side.
WPT009
Location: 48.135418, -124.710869
Hike around rocky headland (caution: in high tides, use a rope to scramble up very steep path and pass over headland). Next, walk along a very long and wide wineglass-shaped bay (hard-packed sand makes walking easier here). Sea stacks rise offshore and seagrass flourishes in the woods to your left. Fish nets, buoys, rope and other debris are scattered among rocks.
WPT010
Location: 48.127632, -124.708199
Turn left into woods at bull's-eye trail marker that stands several hundred feet before the next headland (Sand Point). Pass a level campsite with downed trees for benches and a fire pit, then cut through shoulder-high scrub. In roughly 100 feet, turn left @ T-junction and follow pine needle and dirt trail toward Ozette Ranger Station; maneuver through thick fern underbrush and spaced-out sitka spruce; pass more skunk cabbage and mushrooms. Trail alternates between a pebbly path and a boardwalk made with hand-split cedar planks; huckleberry bushes flank trail in spots.
WPT011
Location: 48.151585, -124.671837
Trail passes a distant (and the only) view of Ozette Lake through trees on right.
Boardwalk
Location: 48.153496, -124.696251
Views of Rocky Coast
Location: 48.160675, -124.731026
Giant Driftwood
Location: 48.160786, -124.7313
Petroglyph
Location: 48.149178, -124.720314
Sea Stacks
Location: 48.14315, -124.717087