Olympic National Park: Bogachiel Peak, High Divide, and Sol Duc Loop
Pack a week's worth of classic Northwest scenery (coastal rainforest, glittering lakes, thundering falls, and toothy peaks) into just three days on this 23.1-mile loop.
Heading out the door? Read this article on the new Outside+ app available now on iOS devices for members! Download the app.
Prepare for sensory overload on this 23.1-mile loop. You'll travel through lush coastal rainforest, visit pristine mountain lakes, and crest alpine ridgelines. Start at the Mink Lake trailhead at Sol Duc Hot Springs Resort. You'll immediately climb a moderate slope through fir and cedar forest. (In late summer, fresh wild blueberries grow everywhere.) Roughly 2.5 miles in, take a break at Mink Lake before continuing to the junction with Bogachiel Trail. At the junction, bear left (east) for Deer Lake along the Low Divide. Views are scarce, and weather often bombards this ridge with moisture, so bring your rain gear. Continue through forest and occasional small meadows, then descend to Deer Lake and set up camp for the first night.
The next morning, pack up and climb out of the Deer Lake basin, munching on breakfast blueberries. The trail passes a couple of lakelets and switchbacks through hillside meadows before dropping over to the south side of the ridge for the gradual hike up to High Pass along steep ridges covered with summer wildflowers and spectacular views down Bogachiel Valley. Look for sneak peeks of Mt. Olympus over the ridge to the south. Roughly 10 miles in, hit the junction to Seven Lakes Basin. If you've made a reservation to camp at Lunch Lake, descend into the lake basin and spend the day exploring; if you're continuing on, explore a little if time allows. As you climb, the views get better and better. At High Pass, take a quarter-mile detour to bag Bogachiel Peak, a flat-topped mountain with grand views of Bogachiel and Hoh Valleys, the Seven Lakes Basin and Mt. Olympus.
From High Pass, descend through wide meadows, keeping your eyes peeled for black bears gorging themselves on summer berries, then begin another steady climb along the backbone of High Divide (spectacular views in all directions). At the junction with Heart Lake, hang a left and start descending. After 0.6 mile, several open campsites await around a small knob near Heart Lake, which presents the opportunity for a refreshing dip. A mile farther down the trail, several more forested campsites are available at Sol Duc Park. The former offers views, the latter nice shelter along rushing Bridge Creek. Drop your pack for the day, relax, and watch the sunset paint the steep slopes nearby.
After a good night's sleep, pack up for the return descent. You'll pass a few meadowy campsites near Bridge Creek, then descend to the Sol Duc River. From this point, the route down Sol Duc Valley is a leisurely amble along soft, forested trail. The views are scarce, and occasionally you'll get glimpses of Sol Duc River. The miles will tick by as you pass numerous river and hillside campsites, a junction with the Appleton Pass Trail, then finally Sol Duc Falls and the nearby shelter. From here, follow the forested Lover's Lane Trail to the end of the loop.
INFO: Olympic National Park, (360) 565-3130; nps.gov/olym/
-Mapped by Eli Boschetto, Bosco Mountain Photo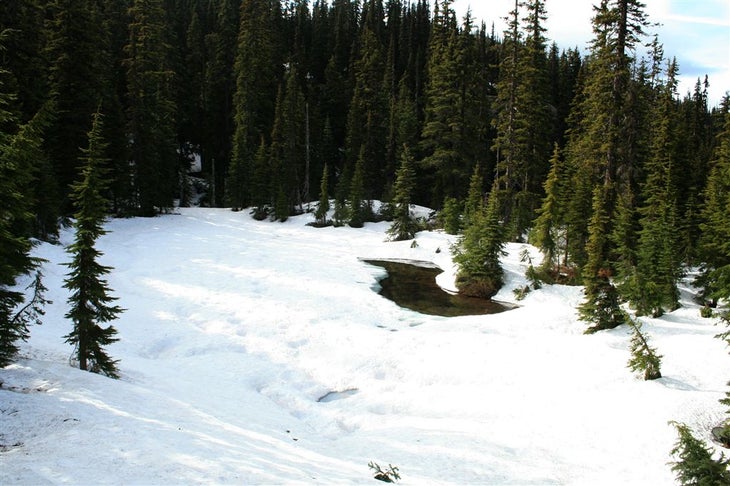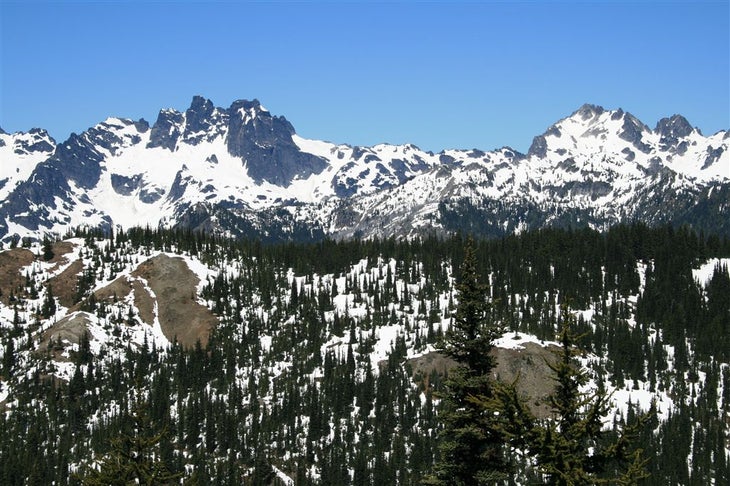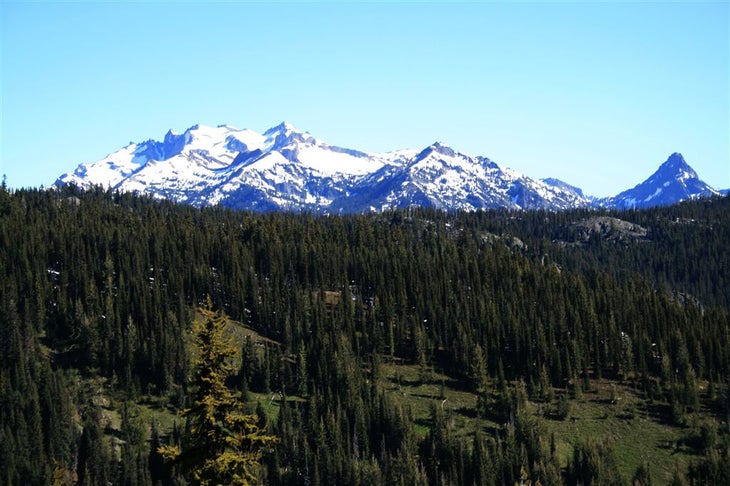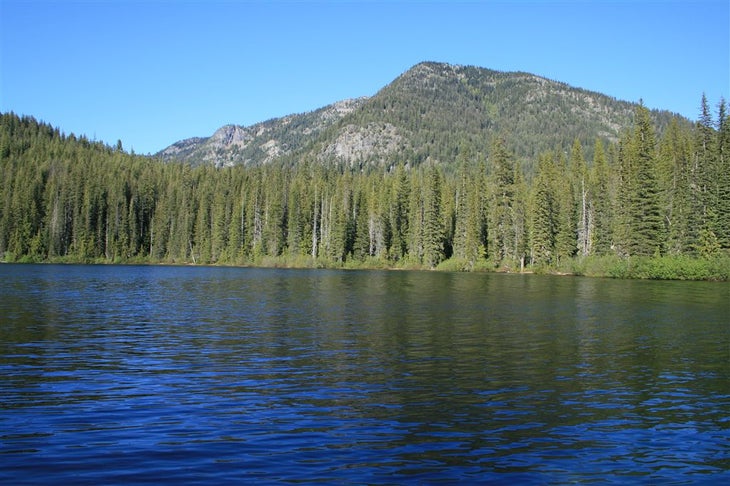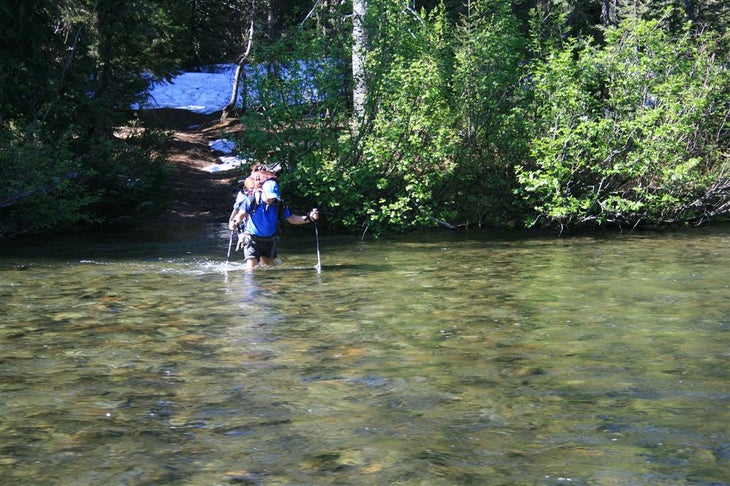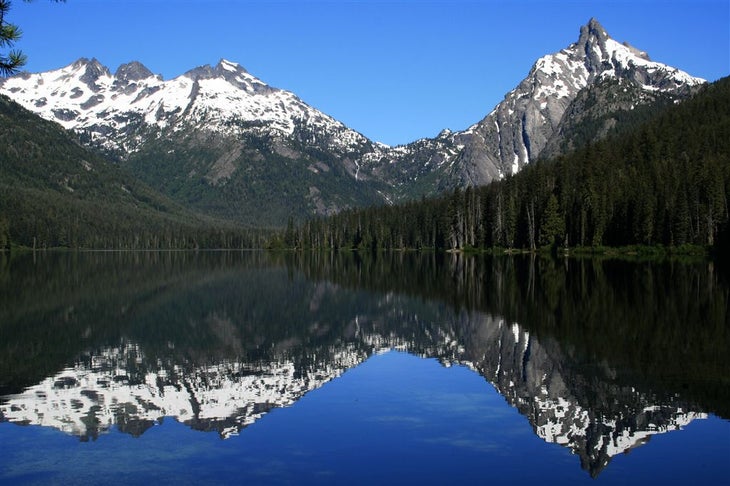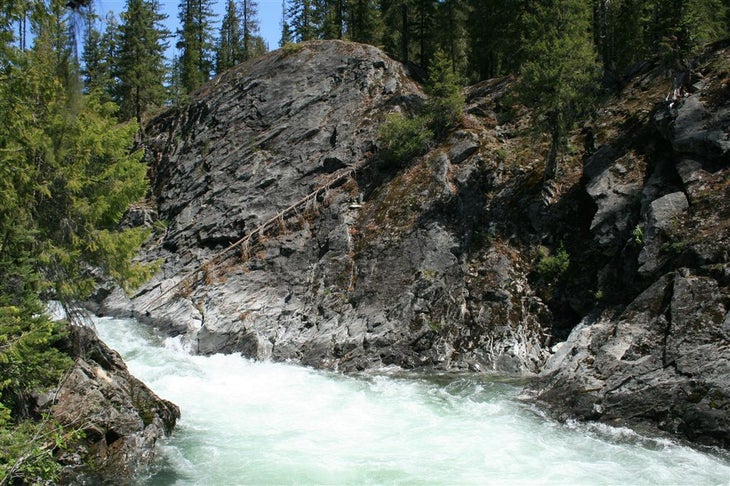 Trail Facts
Waypoints
POI 0
Location: 47.4436683654785, -121.158821105957
Our first night camp, at Diamond Lake. Was hard to see it under all the snow…
POI 1
Location: 47.4729461669922, -121.18049621582
Old look out tower
POI 2
Location: 47.4986305236816, -121.166870117188
2nd night's campsite
POI 3
Location: 47.492790222168, -121.159271240234
Horse crossing, here you have to wade. Hikers bridge further down is washed out.
POI 4
Location: 47.499080657959, -121.163162231445
campsite for the next two nights.
POI 5
Location: 47.5263748168945, -121.174285888672
Approximate destination. Where we ended up, shooting for Spade lake. Lots and lots of snow here!
POI 6
Location: 47.4514923095703, -121.132499694824
Waptus River narrows here, creating dramatic rapids.
POI 7
Location: 47.4377136230469, -121.156646728516
POI 9
Location: 47.4376754760742, -121.15650177002
Waptus Lake area w/ Cone Mt.
Location: 47.4377136230469, -121.156608581543
Looking towards Waptus lake, Cone mountain close, on the left, in the distance you can see Summit Chief and Bears Breast Mts.
Diamond Lake
Location: 47.4435081481934, -121.15894317627
The only part of Diamond Lake, poking through the snow. As you can see from this, there is no trail to follow for the moment.
Summit Chief
Location: 47.4735946655273, -121.180809020996
View of the surrounding mountain range from the abandoned lookout point. Great views in 270 degrees from this high point.
Summit Chief and Bears Breast
Location: 47.4629669189453, -121.172248840332
View from Pollalie Ridge
Waptus Lake
Location: 47.4987831115723, -121.166831970215
The view from the southern end of the lake, near our campsite. Little did we know that the view from the other side, would prove to be more dramatic.
Waptus River Crossing
Location: 47.4927253723144, -121.158966064453
This is the horse ford across the Waptus River, supposedly the lowest point to cross, as the hikers bridge lower down is washed out.
Waptus Lake reflections
Location: 47.499210357666, -121.16332244873
A calm and sunny day on Waptus Lake. The view from our campsite, at the southern end of the lake. Summit Chief and Bears Breast moutains reflecting off of the still waters.
Summit Chief
Location: 47.5265235900879, -121.174591064453
Our turn around point, not exactly where we hoped that we would end up, but after the long uphill struggle through the constantly softening snow, it seemed like a good spot to enjoy the stellar views, towards Summit Chief.
Waptus River
Location: 47.451488494873, -121.132392883301
The river narrows here, and pounds down through the rock.