Olympic National Park: Hike Mountains to Sea on These 6 Perfect Trails
On Washington's west coast, you can backpack through any landscape you can dream of—and you can do it all on the same trip.
Heading out the door? Read this article on the new Outside+ app available now on iOS devices for members! Download the app.
There are only a few places in the world where you can hike from spectacular ocean beaches to glacier-capped mountains in a day. US hikers travel long distances to visit some: Norway's fjords, New Zealand's dense bush. But why drop all your savings on a plane ticket when you can get the same experience in Washington State? At Olympic National Park, where lush temperate rainforest bridges the gap between peaks and sea stacks, you don't have to choose between a mountain vacation and a seaside one. No matter how much or how little time you have, this park won't disappoint. 
Best Dayhikes in Olympic National Park
Whether you're just taking a day trip from Seattle or prefer to spend your vacation nights in one of the Olympic Peninsula's many rental cabins (this is, after all, one of the rainiest places in the world), a dayhike can bring you to the ridgelines of the Olympic Mountains or send you wandering some of the most striking beaches of the Pacific Coast.
Best Coastal Hike in Olympic National Park:
Cape Alava Loop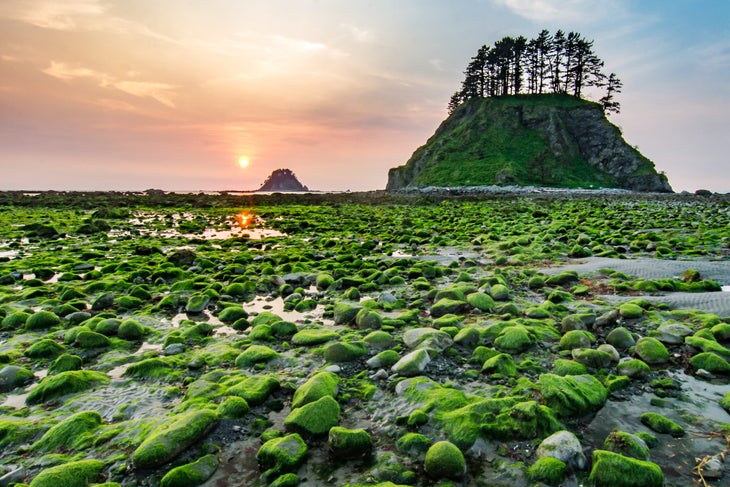 Head from old-growth forest to sea stacks and back again on this 8.7-mile loop. Starting from the Ozette trailhead, cross a wooden bridge to cedar forest, where enormous western red cedars hundreds of years old crowd the trail. These trees, the largest species in Washington, can live for up to 1,500 years. Continue through rainforest, meadows, and a dense understory of ferns until mile 3.1, when the trail leaves the forest for the coast. The edge of the land here alternates between sandy beaches and sheer cliffs, both scattered with giant driftwood logs tossed up by winter storms. Look closely at the rocks of the first headland to spot petroglyphs made by the Makah people.
Check it out on Gaia GPS here.
Best Mountain Hike in Olympic National Park: Mt. Townsend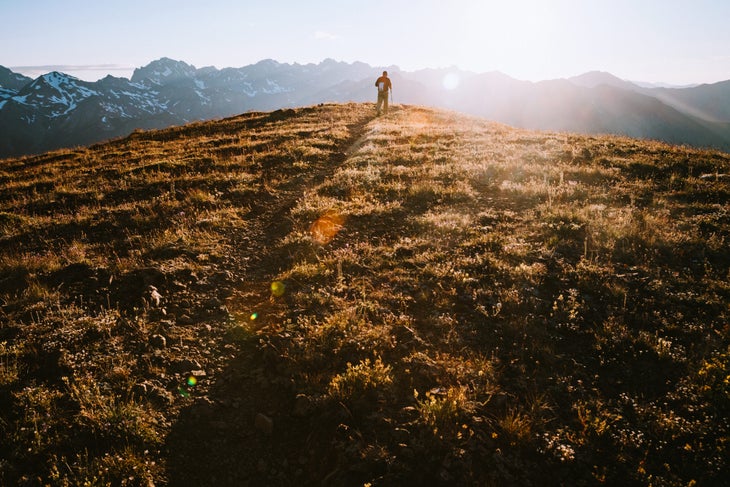 There are four trails to this summit to pick from, but our favorite is the route from the "upper trailhead," at only 8 miles round-trip. The path climbs through fir and hemlock to open meadows, providing better and better views the higher you climb; then in the last mile the trail emerges to the krummholz landscape of the subalpine. Once you get to the top, you might never want to leave, with views spreading from the San Juan Islands to the north to the Cascades across the Sound and, to the west and south, the wild heart of the Olympics.
Check it out on Gaia GPS here.
Best Weekend Hikes in Olympic National Park
For many hikers, a weekend trip is the sweet spot: No need to take days off work, but you still get to spend a full night or two in the woods. A whole weekend away opens up a lot more possibilities, too. You can go deeper, explore longer, and—at least in Olympic—maybe catch sight of a whale or two.
Best Hike in Olympic National Park for Beachcombing:
Hoh River to Third Beach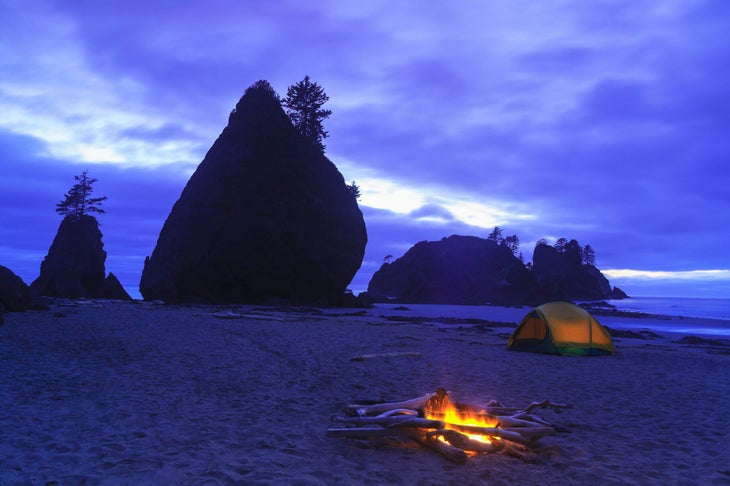 This 16.1-mile point-to-point combines hiking trails with the kind of ladders and ropes more often seen on obstacle courses. It's all part of navigating the extremely rough coastline, where centuries of storms, waves, and strong currents have carved away at the rock. Start by heading through mossy forests on the coastal uplands, then descend to ford Mosquito Creek and start two miles of beach walking. Another climb into the forest and creek crossing brings you to Third Beach. The best tidepools are at Strawberry and Toleak Points, where anemones, sea slugs, and the world's largest starfish, the sunflower sea star, linger in rocky pools at every low tide.
Check it out on Gaia GPS here.
Best Alpine Views in Olympic National Park:
Seven Lakes Loop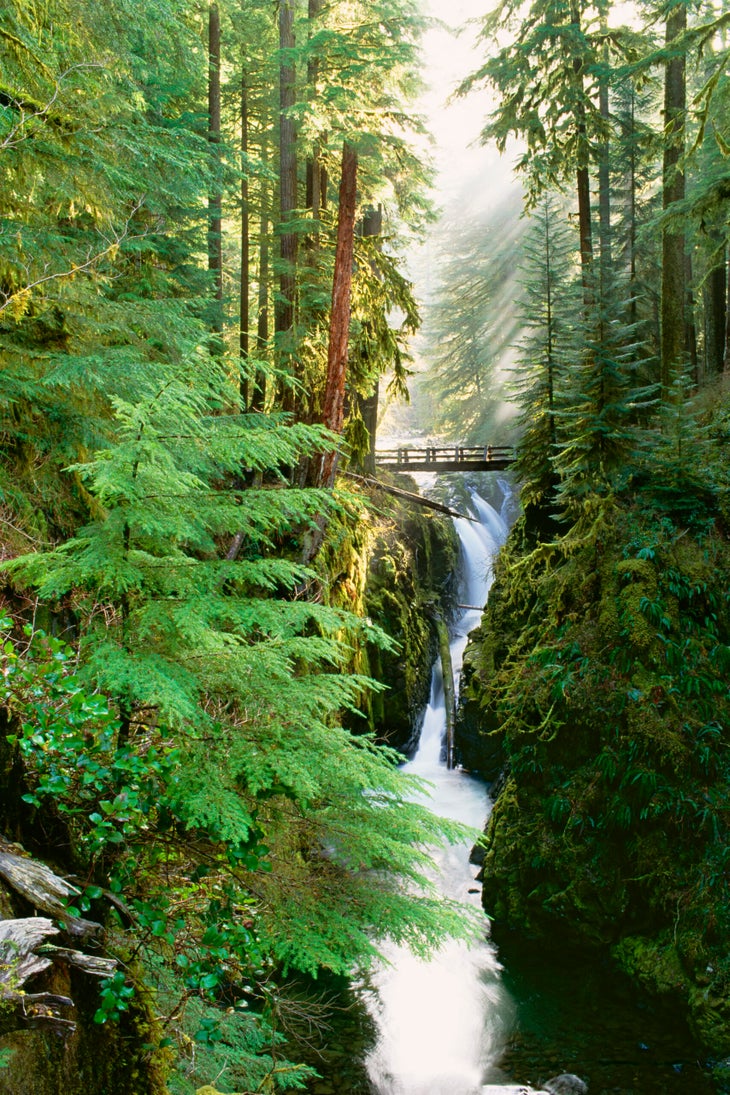 This 17.5-mile loop follows a ridgeline around a subalpine basin where the eponymous lakes are nestled, with matchless views of 7,965-foot Mt. Olympus from the ridge's 5,000-foot spine. On the way in you'll also pass Sol Duc Falls, where three 50-foot cascades drop into the same slot canyon, and two different lakes. To add yet another highlight to the weekend, take a quarter-mile-round-trip detour to the nontechnical summit of 5,474-foot Bogachiel Peak for another angle on Olympus.
Check it out on Gaia GPS here.
Best Multiday Hikes in Olympic National Park
Want to go deep? Like, really, really deep? You can burn a week in Olympic's backcountry without seeing everything the park has to offer. Whether it's heading into the rainforest or climbing to one of Olympic's glaciers, a few days will show you a side of Olympic National Park that not many get to see.
Best Trees in Olympic National Park:
Elwha River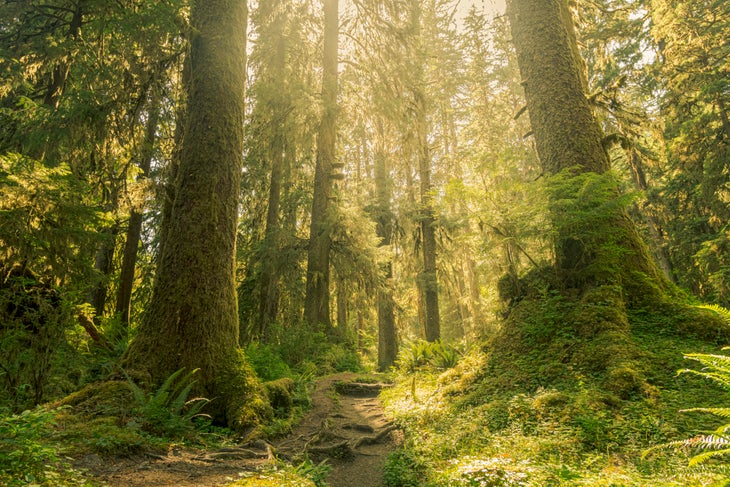 Between the bright blue river and the 700-year-old Douglas firs crowding the bank, you'll feel like you've stepped through a portal to another world. Twenty miles in, the moss, lichen, and other epiphytes of the canopy are so thick that sunlight doesn't even penetrate; all the illumination is diffuse, filtering green through layers of branches. Black bears and elk sometimes emerge from between the trees; salmon now return every year up the mineral-rich river's undammed flow.
Check it out on Gaia GPS here.
Best Trail for Glaciers in Olympic National Park:
Bogachiel Trail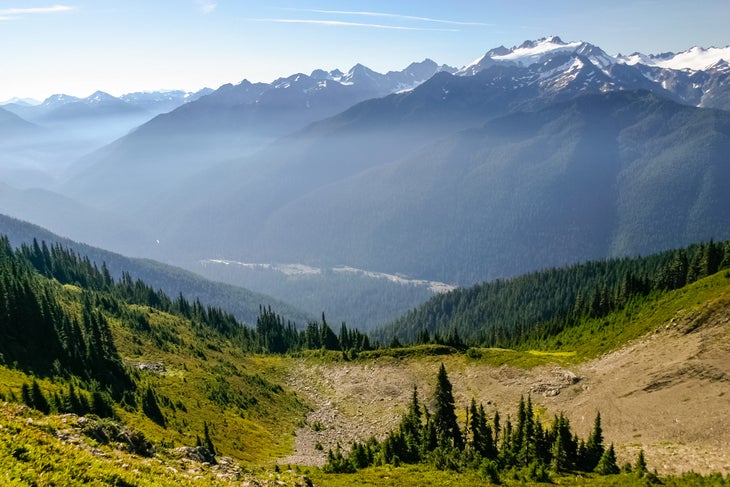 This 43.3-mile horseshoe route is relatively unknown; you won't find any crowds here. Start in the lowlands along the Bogachiel River, home to centuries-old Douglas firs, hemlocks, spruce, and the largest-known silver fir in the world. From there the trail transitions to more open woods and meadows, where huckleberries mingle with heather and Columbia lilies. The apex of the trail, both literally and for views: High Divide, where the horizon brims with the glaciated slopes of Mt. Olympus and its neighbors.
Check it out on Gaia GPS here.
When to hike in Olympic National Park 
Depending on what part of the park you want to visit, the best season will be different. Late spring, summer and early fall are best for the high mountains, as they are snowed under during the winter. The coast also gets the best weather during the summer, although you can visit during spring, fall or winter–just be prepared for some serious storms and little to no sunshine. The rainforest is wonderful year-round, but also gets its best weather in the summer; in spring, though, the wildflowers are blooming, and in winter you're far more likely to get a trail all to yourself. You'll want a really good set of rain gear (both jacket and pants) no matter when you visit, and sturdy sandals for beach hiking.
Olympic National Park Fees and Permits 2022
An entrance fee for the park is required, and can be purchased online ($30 per vehicle per week, or $55 for an annual pass). All backcountry trips require a Wilderness Camping Permit, which must be reserved in advance online. The wilderness permits for some areas of the park work on a quota system, so earlier (reservations open six months in advance) is better.