Oklahoma City, OK: Wichita Mountain Wildlife Refuge
Watch for bison, elk and other migratory species on this easy 3.7-mile lollipop loop through oak forests and grassland in southwest Oklahoma's Wichita Mountain Wildlife Refuge.
Heading out the door? Read this article on the new Outside+ app available now on iOS devices for members! Download the app.
This easy route combines the Longhorn and Buffalo trails for a trip to French Lake. Beginning at the Dog Run Hollow Trailhead, follow the Longhorn Trail east, crossing Fawn Creek and rolling uphill then down through an open oak forest. After a moderate descent, turn north onto the Bison Trail. Ahead, the path winds through grassy prarie and passes a stock pond before turning right at the next trail junction for an eastbound descent. The descent ends at Cache Creek—if the water is low, cross the creek to a 40-foot bluff offering great views of French Lake and Elk Mountain to the west. The trail skirts French Lake for 0.4 mile before gradually turning south past an alternative trailhead, closing this route's loop, and backtracking through the prairie.
The wildlife refuge is home to many species including bison and elk—look for signs of the park's 650-head herd of bison and listen for elk bugling in the fall. For more information visit the Wichita Mountains Wildlife Refuge.
-Mapped by Chris Jennings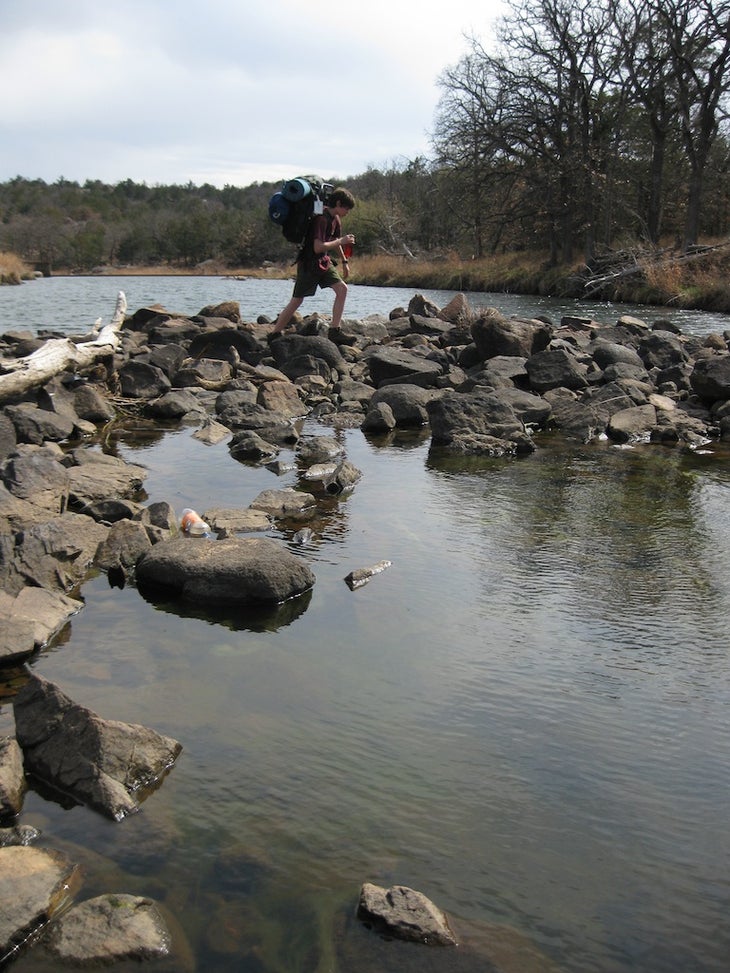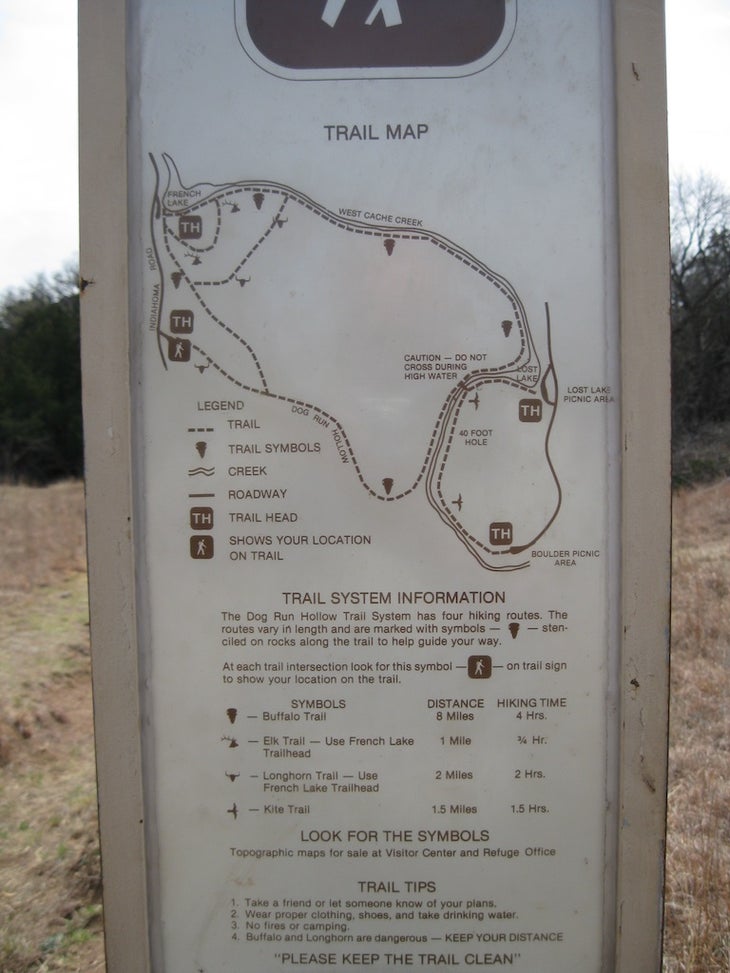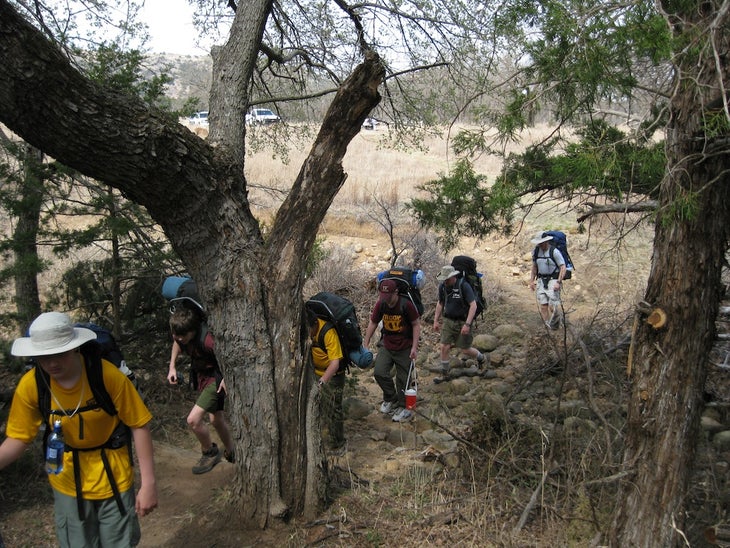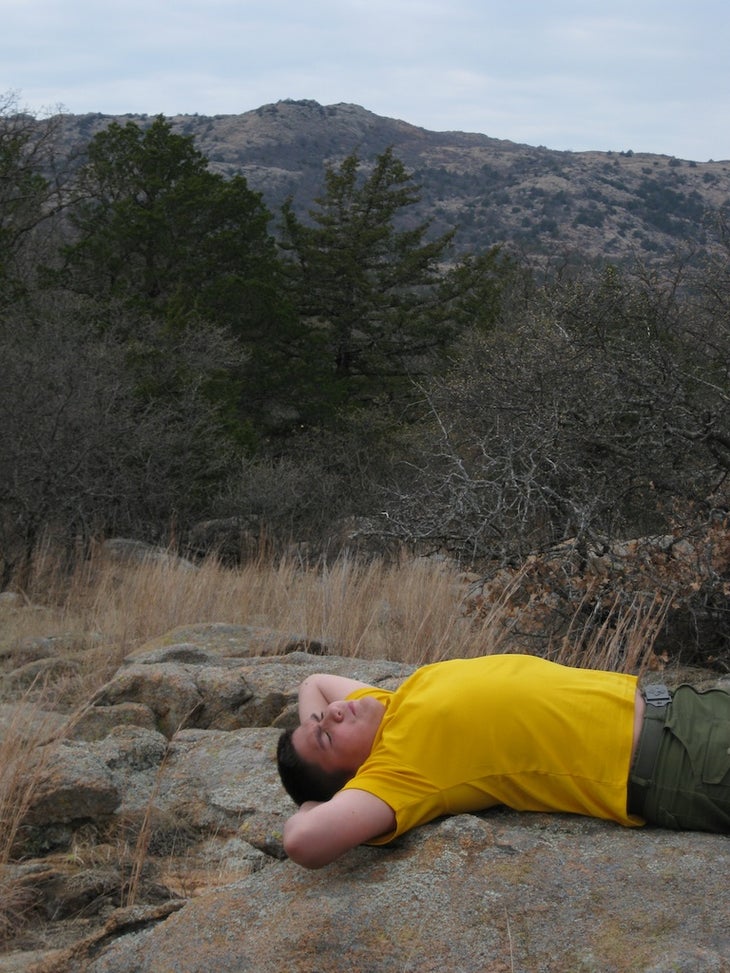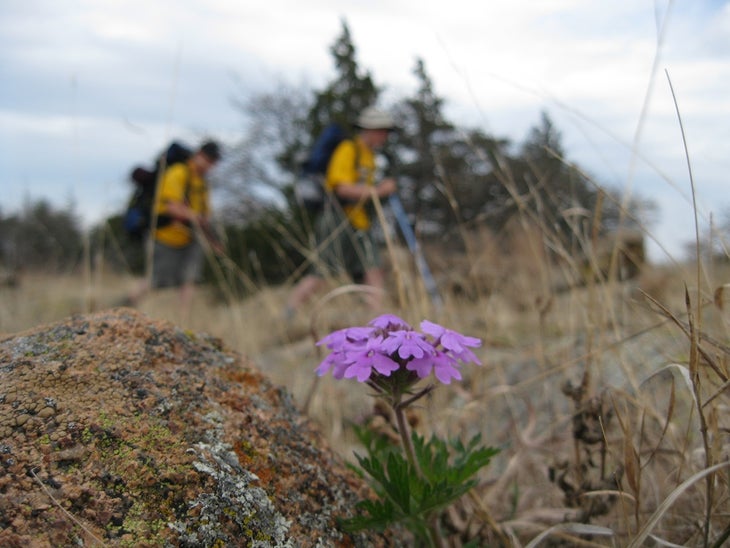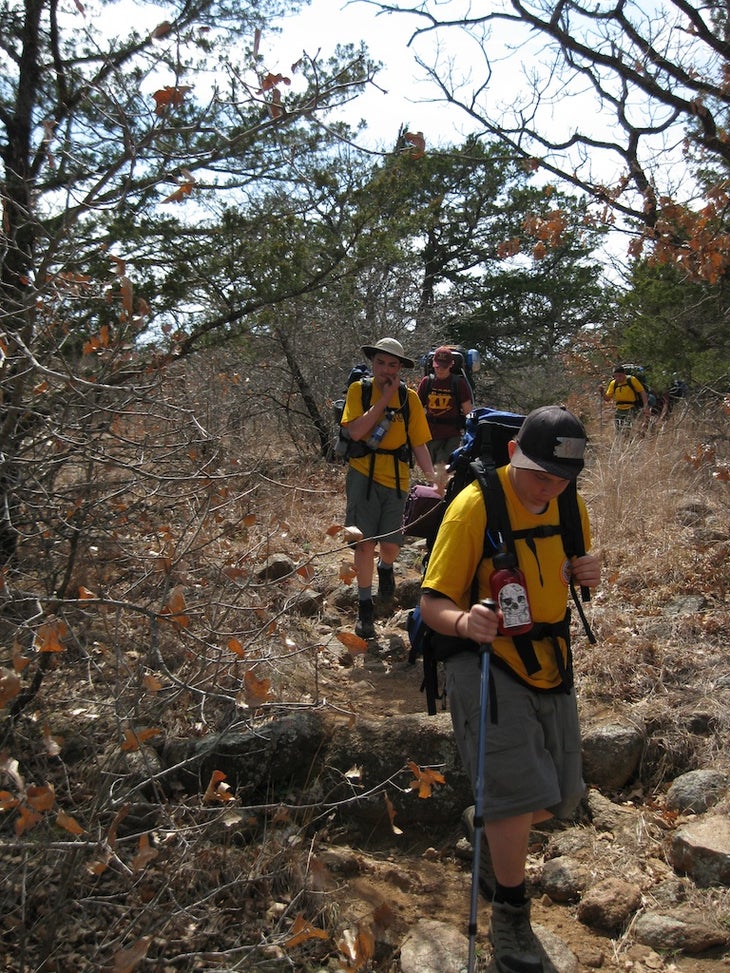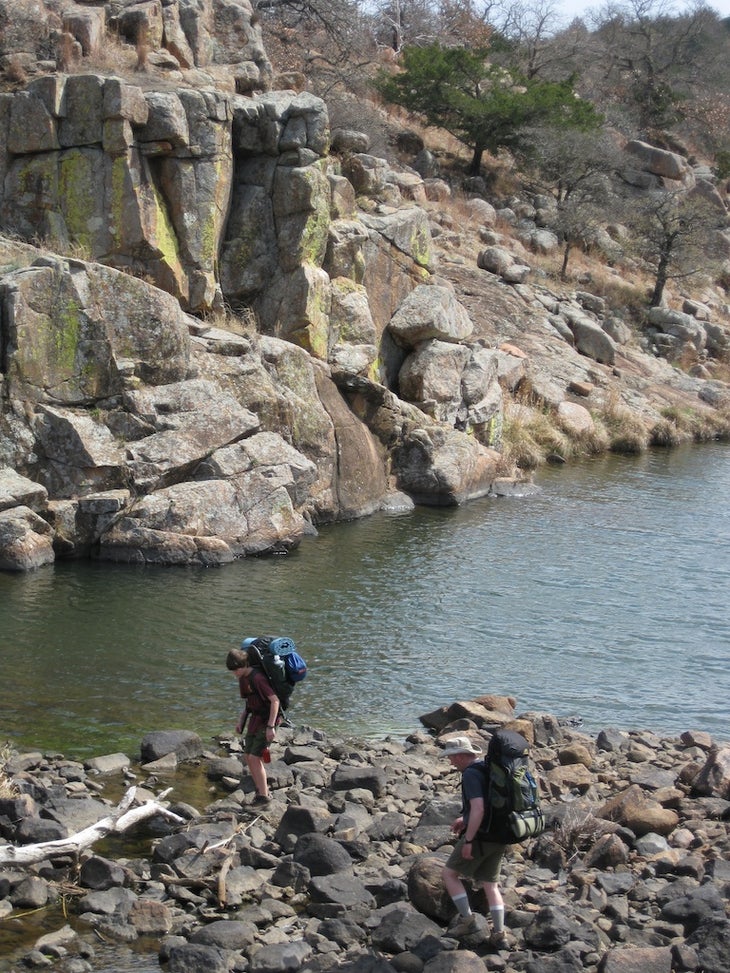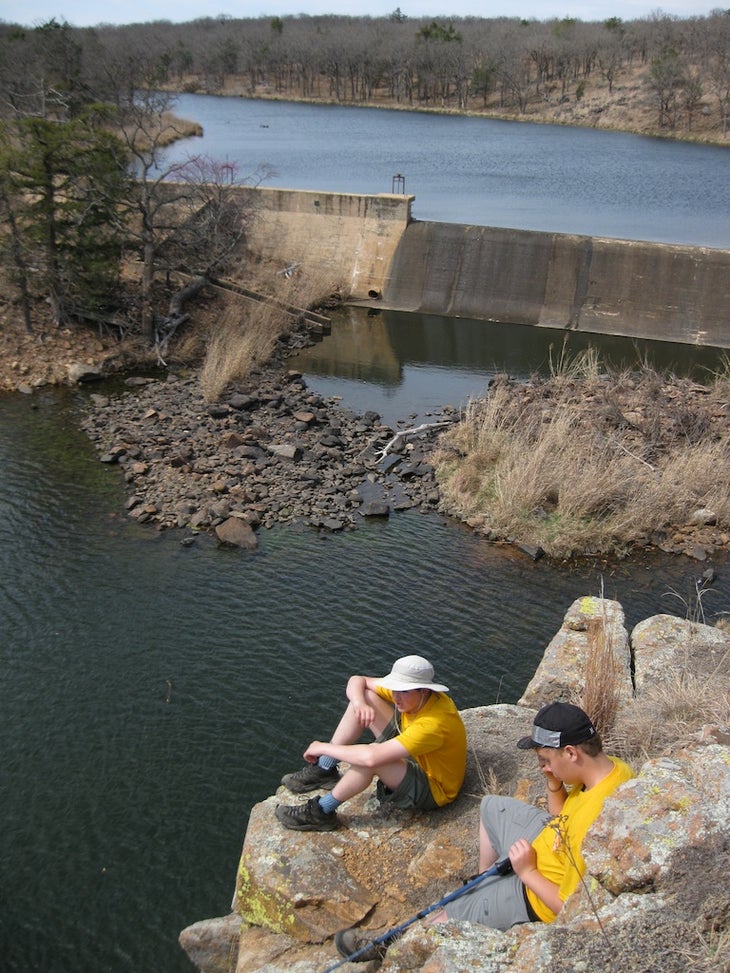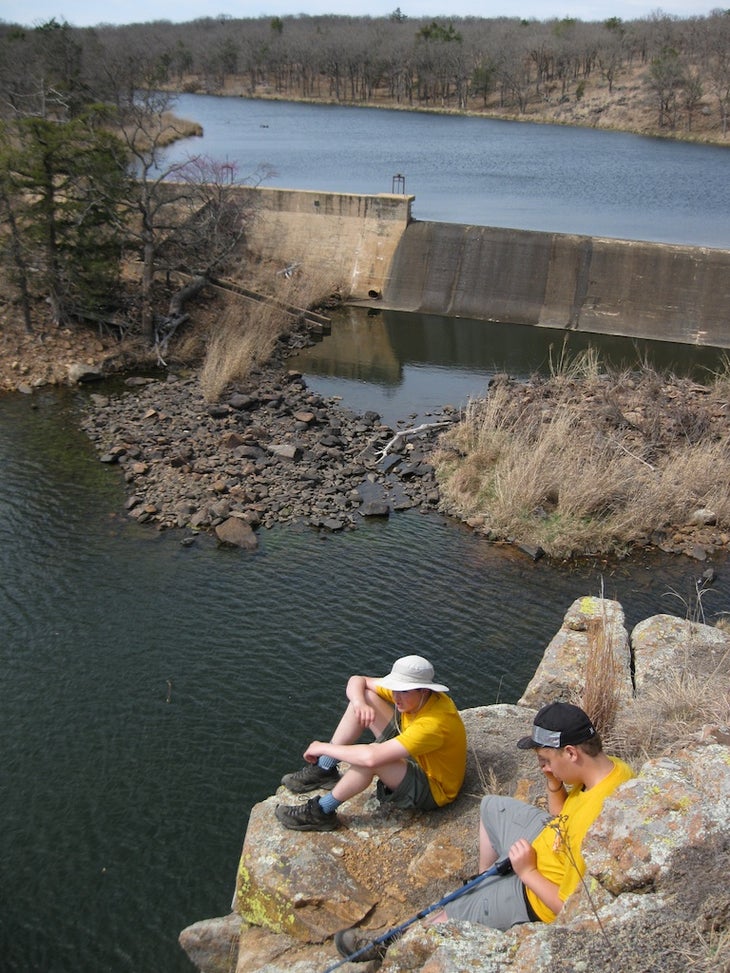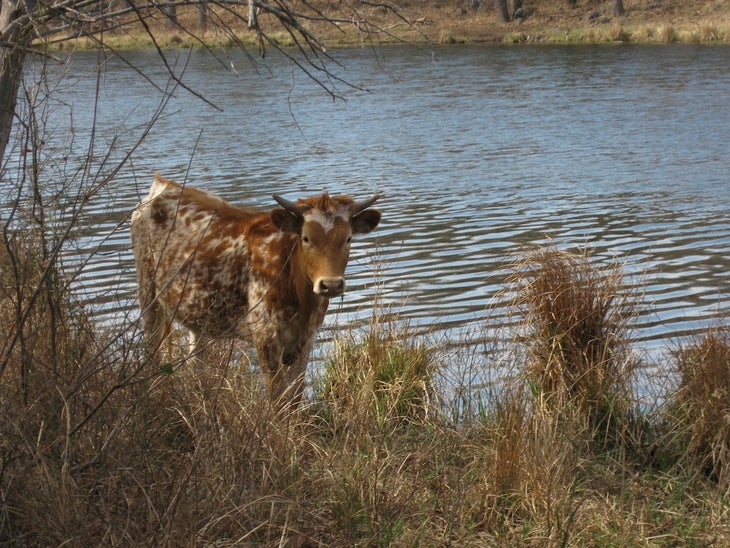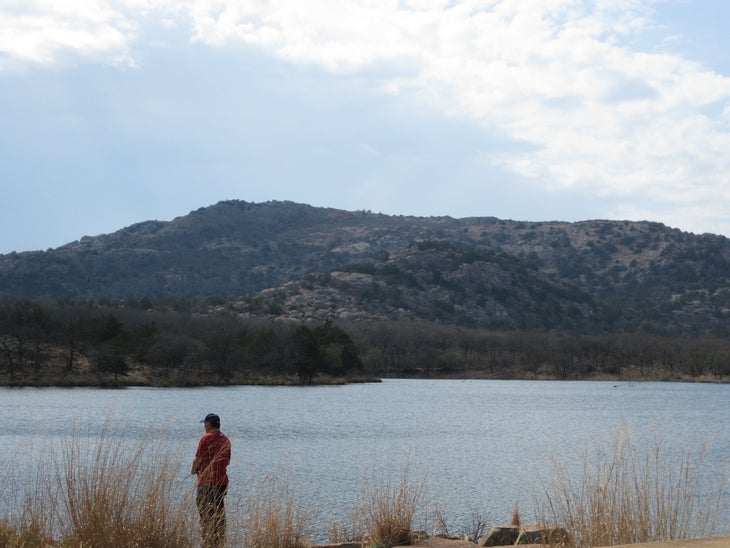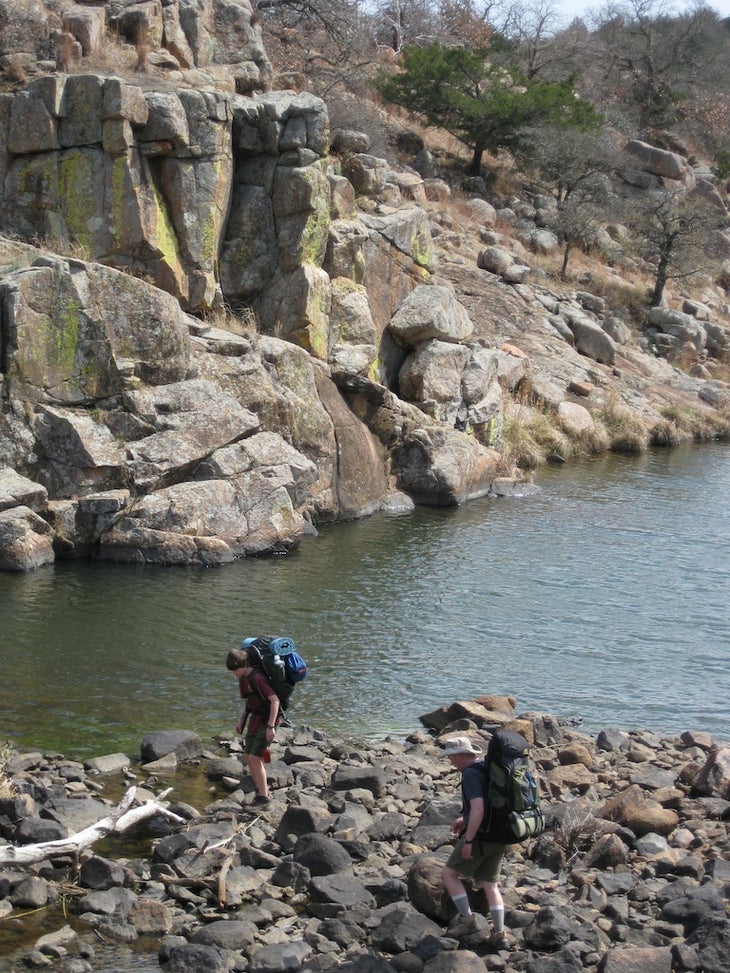 Trail Facts
Waypoints
WMT001
Location: 34.71615, -98.7061
This mapped route heads east on the Longhorn Trail from the Dog Run Hollow Trailhead. There is a quick dip to cross Fawn Creek before the trail begins a gentle climb.
WMT002
Location: 34.7156167, -98.70145
The first half-mile of this hike is a very gentle climb, but this outcropping at mile 0.3 is a good spot to stop for a rest or snack.
WMT003
Location: 34.7151333, -98.7007167
The red dirt and granite trail begins gradually descending towards the upper branch of West Cache Creek.
WMT004
Location: 34.7139955, -98.6983824
Turn left at this signed junction to merge with the Bison Trail and continue north.
WMT005
Location: 34.7149, -98.6984
The trail follows a dam near this small stock pond before traversing an open prairie. Rocky soil prevented farmers from utilizing this area and it is a good example of local native grassland.
WMT006
Location: 34.7193166, -98.7004833
Nearing the woods, turn right at this T-junction onto the Longhorn Trail. This spot marks the beginning of the route's 1.7-mile loop. The climb continues for another 300 yards before the trail begins dropping toward Cache Creek.
WMT007
Location: 34.722438, -98.6933398
At mile 1.5, this route turns left, merging again with the Bison Trail, just above Cache Creek.
WMT008
Location: 34.7231669, -98.6935759
Stop for some exploring: If the water's low, rock-hop across the creek and scramble up the 40-foot bluff that offers good views of Elk Mountain to the west.
WMT009
Location: 34.723355, -98.6988759
Stop on the eastern edge of French Lake to check out the drainage structure of the lake's dam. If you brought fishing gear, scout the south shore for good spots to cast.
WMT010
Location: 34.7212504, -98.7031889
After leaving the lake, the trail passes left of the French Lake Trailhead. Continue straight at the junction and begin the easy climb toward loop's end where you'll turn right to backtrack toward the trailhead.
Cache Lake
Location: 34.7235608, -98.6931145
Hopping across Cache Lake on a rocky bar allows access to the bluff top on it's eastern side.
Map
Location: 34.7161613, -98.7060843
A trail system map at the trailhead
Fawn Creek
Location: 34.7157417, -98.7054849
Crossing the Fawn Creek, which is often dry
Outcropping
Location: 34.7155888, -98.7014401
Flower
Location: 34.7155006, -98.7008822
Prairie
Location: 34.7145305, -98.6983287
The trail rolls through oak forests and this area of mixed-grass prairie.
Descent
Location: 34.7201569, -98.6980069
Hikers navigating the rocky, gradual descent towards West Cache Creek.
Shoreline
Location: 34.7230494, -98.6935008
Hikers exploring the rocky shoreline of Cache Lake
Bluff
Location: 34.7232786, -98.6925781
Atop the 40-foot bluff on the east side of Cache Lake
Bluff
Location: 34.7235079, -98.6927712
Bluff-top vegetation blooming in the spring
Cow
Location: 34.723843, -98.6967838
You never know what you'll see on the trail. The refuge is home to bison, elk and several other native, migratory–and domestic–animals.
French Lake
Location: 34.7232963, -98.6989725
Fishing in French Lake
Structures
Location: 34.7236666, -98.6991441
The river and lakes are controlled by a series of dams and concrete spillways. It's possible to wander around and explore this one.
Shoreline
Location: 34.7235608, -98.6991012
The rocky shore and bluffs above French Lake