Oklahoma City, OK: McGee Creek
Dip into the 8,900-acre McGee Creek Natural Scenic Area for an easy out-and-back that peeks into Bugaboo Canyon and some of Oklahoma's least-traveled territory.
Heading out the door? Read this article on the new Outside+ app available now on iOS devices for members! Download the app.
Perched on the northeast corner of McGee Creek State Park, this 8,900-acre Natural Scenic Area offers solitude and multi-use trails perfect for an easy weekend. Begin this route by self-registering at the trailhead ranger station across from the parking lot. The short, easy trail beelines north before bearing right on the South Rim Trail. One mile ahead, the trail splits again; continue left on the South Rim Trail to Box Spring Camp. Bordering Bugaboo Canyon you may spot treetops rising from the valley below. Make sure to stop for views from the lookout perched 200 feet above the canyon floor before stopping for the night at a signed backcountry campsite 0.25 mile past the viewpoint.
The return trip backtracks to Box Spring Camp and follows singletrack alongside Little Bugaboo Creek to a crossing 0.8 mile north of the trailhead. (The creek is probably dry during the summer, but it's a cool spot to stop when water is flowing.) You'll turn left at a 4-way junction then continue on the Little Bugaboo Trail, rejoining the South Rim Trail and backtracking the final 0.4 mile to the trailhead.
To make permit reservations and inquire about trail conditions, call (580) 889-5822.
-Mapped by Chris Jennings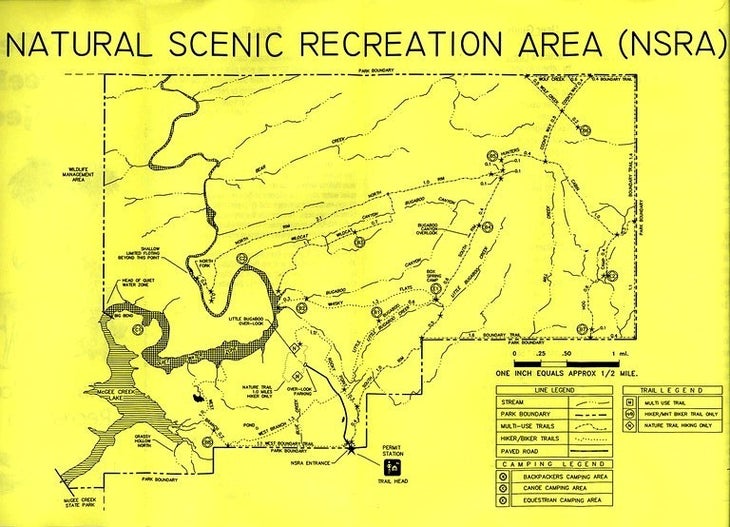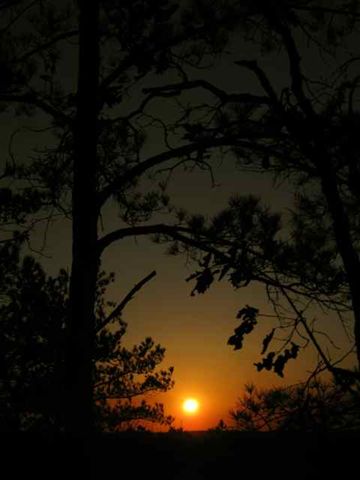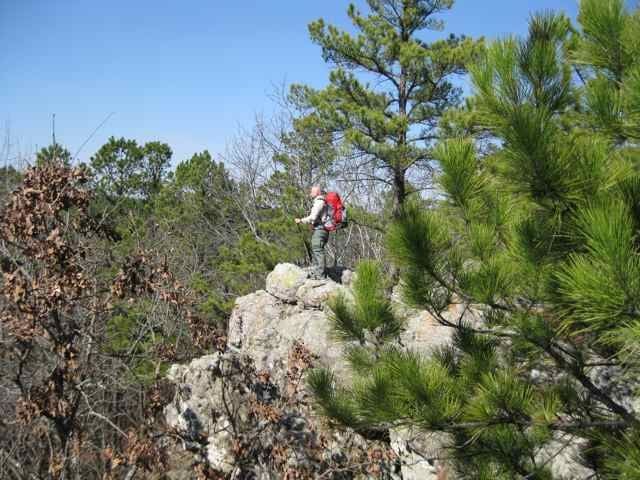 Trail Facts
Waypoints
MCG001
Location: 34.3895499, -95.8252673
The trail begins on the north side of this fenced-in parking area. Be sure to self-register at the ranger station before you begin hiking.
MCG002
Location: 34.3942788, -95.8247131
At mile 0.3, the trail splits. Bear right onto the South Rim Trail.
MCG003
Location: 34.4034383, -95.8142166
At mile 1.4, the trail splits again. Follow the left-hand, Boundary Trail. The easy-to-follow double track looses definition at this point and navigating becomes much more difficult.
MCG004
Location: 34.4086446, -95.8118105
The Boundary Trail all but disappears at its northern reaches. You have 2 options at this point: 1. Turn left to reconnect with the South Rim Trail. The return leg backtracks to the well-marked campsite at Box Spring, a reliable year-round water source, and follows the Little Bugaboo Trail south; 2. Turn right and continue north 1 mile to an overlook and backcountry campsite.
MCG005
Location: 34.417717, -95.8052766
There is a nice view into Bugaboo Canyon from a lookout just west of the main trail. Though you'll catch glimpses of the valley on your left-hand side, look for a signed spur trail to the lookout at mile 2.6.
MCG006
Location: 34.4194173, -95.8033212
A small sign marks the developed backcountry campsite where this route ends. Turn around, return to Waypoint 4, and continue straight.
MCG007
Location: 34.3978922, -95.8255649
Bog Spring Branch and Little Bugaboo Creek come together just above this creek crossing; prepare to get your feet wet when water is flowing after a spring or fall rain. Next, the trail reconnects with Waypoint 2; turn right toward the trailhead.
McGee Creek Scenic Recreation Area
Location: 34.389523, -95.8253717
Spring
Location: 34.3958619, -95.8234406
Two boys test the depth of a spring.
Sunset
Location: 34.4174603, -95.805223
Lookout
Location: 34.4177103, -95.8052847
Dinner
Location: 34.4194074, -95.8033133
Camp cooking at its finest.