No, Seriously—Go Hiking in Oklahoma
With both "eastern-style" and "western-style" mountains, Oklahoma is a little-known hiker paradise.
Photo: dhughes9 / E+ via Getty Images
Heading out the door? Read this article on the new Outside+ app available now on iOS devices for members! Download the app.
It was a last-second decision to load a daypack into my ancient Toyota 4Runner. You know—just in case. Business completely unrelated to walking through the woods had steered me to Oklahoma, a state that—how to say this tactfully?—does not normally register on the radar of most hiking aficionados. 
But as I came to learn by way of some simple detours, Oklahoma offers a wide variety of hiking opportunities. It is the only state I've visited that boasts "Western-type" mountains and "Eastern-type" mountains. The former offer long-distance vistas, arid, cactus-covered landscapes, and roaming bison herds, while the latter are home to dense hardwood forests, pristine rivers, and numerous lakes. Best of all, both offer public land latticed with trails perfect for shouldering a pack (like the one I had slipped into my car). And with just a few hours of driving, you can experience both on the same trip. 
This newfound knowledge is a godsend for a man who, because of work and family obligations, often finds himself driving—usually at an intemperate rate of speed—across the often-featureless Great Plains in hopes of reaching higher ground before dozing off behind the wheel. Sure, these peaks are a bit off the beaten path, but that's a big part of the allure.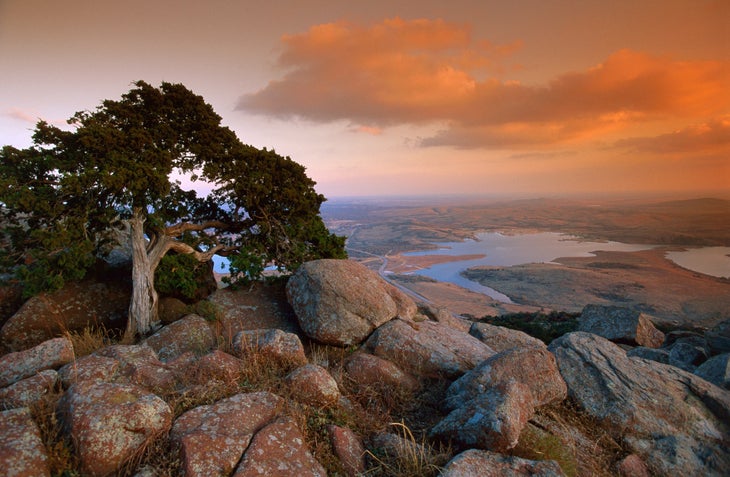 Part One: Western-type mountains
My first stop was in Lawton, where a soldier from nearby Ft. Sill who I met in a bar directed me toward the Wichita Mountains National Wildlife Refuge (WMNWR), about which I knew nada. I expected little more than a cursory drive while eyeballing whatever wildlife might call the refuge home.
The Wichita Mountains consist mostly of eroded granite some 500 million years old. The 59,000-acre WMNWR was established in 1901 as a federal forest reserve. In 1936, the U.S. Forest Service transferred it to the Bureau of Fisheries and the Bureau of Biological Survey, precursors of the U.S. Fish and Wildlife Service. It is considered the oldest managed wildlife facility in the USFWS system.   
According to environmental education specialist Randy Hale, visitors know the refuge for three things: wildlife viewing, hiking, and rock climbing. 
"We have 550 bison, more than 1,000 elk, and a herd of 100 longhorn cattle that is maintained to preserve the cultural and historical legacy of this breed," says Hale, who grew up in the area and has worked at the refuge for more than 30 years. "We also have more than 200 species of birds."
The refuge is home to about 22 miles of marked trails, with a couple vertical gains exceeding 1,000 feet. Off-trail hiking is allowed, too, though two-thirds of the refuge—including the area's highest point, 2,476-foot Mt. Pinchot—is a special-use area that's off-limits to visitors. ("Wildlife needs a place where they can take a break," as Hale notes.)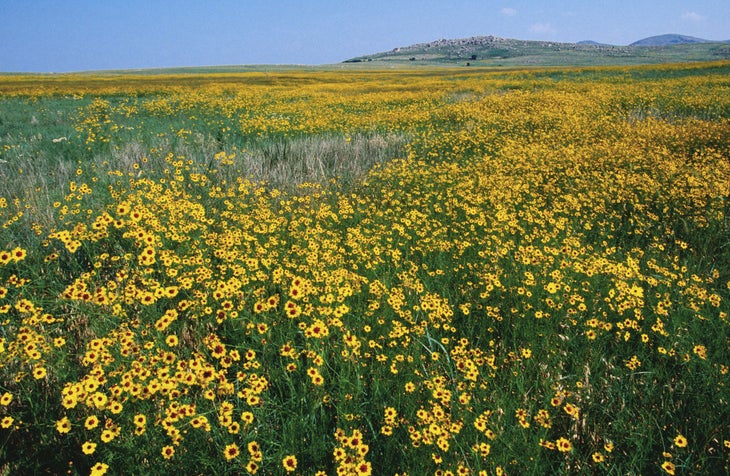 After a night spent at Doris Campground—where, during a late-spring visit, I was the only guest—I drove to the parking lot for the 1.1-mile Elk Mountain Trail and set out in search of a good bushwhacking route. I passed through a convoluted labyrinth of house-sized granite boulders and rock spires, which made routefinding more difficult than I had anticipated.
To the north, herds of bison—first introduced in 1905—roamed across the grasslands. To the south, the pink-and-tan rock formations reminded me of New Mexico's City of Rocks State Park, but much more varied and expansive.     
Finding this grandeur in what is essentially the middle of the Great Plains was disorienting. I thought of the lakes, streams, and slot canyons Hale had told me about, hidden somewhere in that scenery. But alas, tight scheduling demanded I move on. After a few hours wandering through what amounted to a geologic maze, I turned around and started back to the trailhead.
Part Two: Eastern-type mountains
During my pre-trip map perusal, I had noticed a stretch of blacktop called the Talimena National Scenic Byway, which traverses a part of the Ouachita National Forest (ONF) between Oklahoma's Talimena State Park and the town of Mena, Arkansas. When I arrived early enough on a Sunday morning, traffic was almost nonexistent, everyone else in this particular part of the Bible Belt apparently being otherwise occupied. The byway, which the Civilian Conservation Corps constructed in the 1930s, follows the crest of Winding Stair Mountain in a seemingly endless series of curves and undulations with grades that often exceed 13 percent. It was like driving on a roller coaster, but with more than 20 designated scenic overlooks along the way. 
Twenty-seven miles in, a sign advised me that I was crossing the 223-mile Ouachita National Recreation Trail. I pulled into the Winding Stair Trailhead, happily hoisted my pack, and hiked a couple sweaty miles up a steep hill. I was surprised, first, to come across an Appalachian Trail-style shelter (named Winding Stair) and, second, to observe thickly forested ridges that were more reminiscent of the Blue Ridge or the Poconos than what I would have expected to find in the Sooner State, especially after having recently visited the arid WMNWR. This section of the Ouachita National Forest offers vertical relief that approaches 1,500 feet. With precipitous drop-offs, jungle-like vegetation, and shockingly rocky terrain, bushwhacking was out of the question.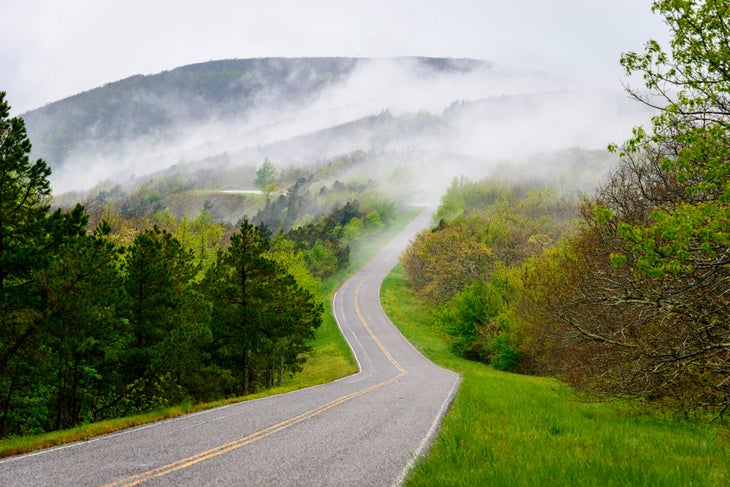 The Ouachita is the oldest and largest national forest in the south, covering 1.8 million acres,  most of which are in Arkansas. But more than 363,000 of those acres—an area larger than Rocky Mountain National Park—lie in Oklahoma.
According to Chris Ham, recreation, planning, heritage and wilderness staff officer for the ONF, the shale and sandstone dominated Ouachita Mountains are a geologic rarity in that they generally run east-west. As such, two distinct biomes exist there: The moist, north-facing slopes are home to dense southern hardwood forests, whereas pine and oak dominate the drier south-facing slopes. More than 60 species of trees and more than 200 species of birds dwell in the ONF. There are bears, mountain lions, a viable population of red wolves, and, as Ham casually dropped into our conversation, "the northernmost population of American alligators." 
"One of my favorite things is the abundance of water," says Matt Edwards, Oklahoma captain for the Friends of the Ouachita Trail, who has hiked the entire path. (The Friends of the Ouachita Trail estimate that as many as 1,000 people have thru-hiked the OT in the past three years.) "Hiking along the nearby waterways, like Big Cedar Creek, is wonderful, and you are unlikely to run into anyone else. The water here is some of the clearest and cleanest in the country."
According to Edwards, a 42-mile section of the OT in Oklahoma has five trail shelters. It passes through the 9,700-acre Upper Kiamichi River Wilderness, and there's a spur trail to the 13,000-acre Black Fork Mountain Wilderness.
"There's a lot of country to explore," Edwards adds.     
While sitting in the Winding Stair shelter, I found myself wondering what other surprises might be found farther along the OT as it snakes through a verdant, surprisingly rugged corner of the country that I had never before given a second's thought.
A return trip is clearly in order. Maybe I'll go searching for some of those alligators Ham mentioned.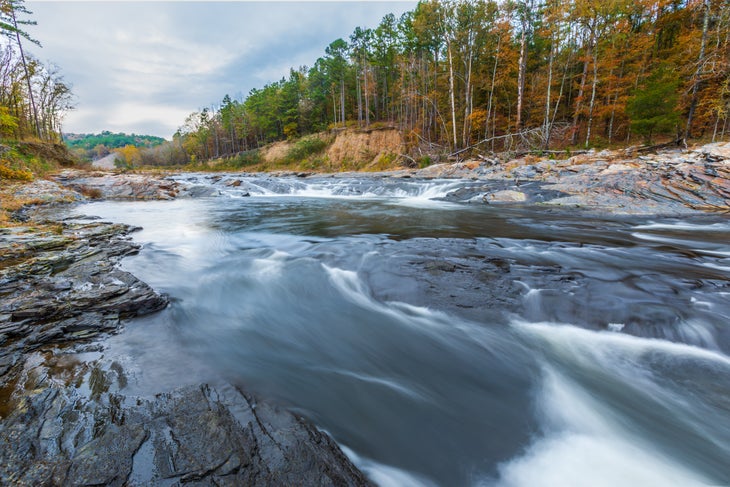 Oklahoma Hiking 101
Wichita Mountains National Wildlife Refuge
Ancestral home of the Kitikiti'sh
Location: North of Lawton, Oklahoma
Hiking: 22 miles of marked system trails, the longest of which is the 6-mile Bison Trail. Off trail hiking is allowed.
Camping: Doris Campground has 66 sites, many of which offer electricity. There is also a campground in the 5,700-acre Charon's Gardens Wilderness Area, located in the westernmost part of the refuge. Reservations are required and visitation is limited to 10 campers per night.
Climbing: The Wichita Mountains offer a plethora of rock climbing opportunities. According to the Wichita Mountains Climbers Coalition website, the WMNWR is home to hundreds of quality trad and sport routes. 
Need to know: Two-thirds of the WMNWF is a special use area closed off to most human visitation. The WMNWF is adjacent to the 94,000-acre Fort Sill army base, home to the Field Artillery Training Command. Consequently, it is not unusual to have your backcountry quietude interrupted by the sound of cannons firing. There are numerous varieties of venomous snakes residing in the WMNWR, including water moccasins, copperheads, and at least four species of rattlesnakes. Weekends can be very crowded. Daily high temperatures in July and August average 95 degrees, but can easily exceed 100.
Oklahoma Ranger District, Ouachita National Forest
Ancestral home of the Ouachita
Location: Southeastern Oklahoma, between the village of Talihina and the Arkansas border
Hiking: Many miles of trails, including a 42-mile section of the Ouachita Trail. Also popular is the 23-mile Boardstand Road & Old Military Road loop, 14 miles of trail in the Cedar Lake area and 80 miles of multi-use equestrian trail.
Camping: There are USFS campgrounds at Billy Creek Recreation Area, Cedar Lake, and near Winding Stair Trailhead, the latter of which is divided into two segments, one for RV-type camping and the other for backpackers. There are five primitive trail shelters along the Ouachita Trail in Oklahoma. Dispersed camping is allowed.
Need to know: It is not recommended to visit this area in the summer, when extreme temperatures, ticks, chiggers, and poison ivy will make any hike miserable. Fall colors are spectacular. Like the WMNWR, there are numerous varieties of venomous snakes in the Ouachita National Forest, including copperheads, water moccasins, and several species of rattlers.