Avoid Crowds on Fee Free Day
Reap the rewards without rubbing elbows.
Heading out the door? Read this article on the new Outside+ app available now on iOS devices for members! Download the app.
9 sites to hike for free without crowds
Pinnacles National Park, California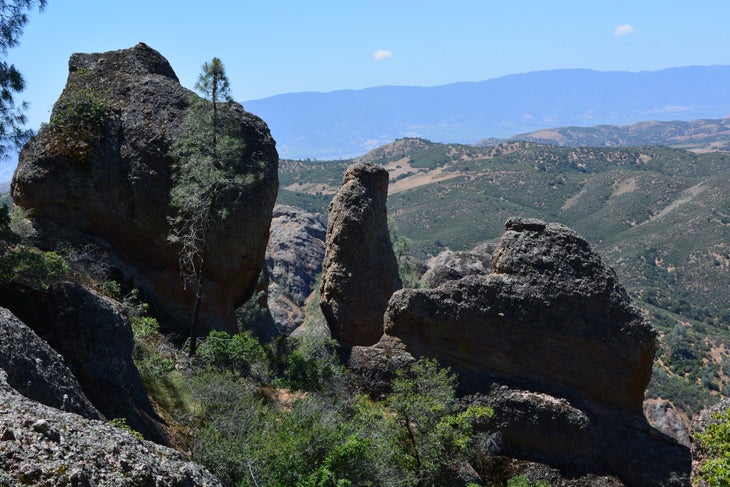 From the Chaparral Trailhead, take the North Wilderness Trail on a 9-mile loop through rocky chaparral with clusters of Johnny-jump-ups and purple bush lupine. Follow rock cairns to stay on this unmaintained trail, and look out for Gilbert's skinks and alligator lizards lounging on the exposed rocks. The trail gets its 1,020-foot elevation from the exposed ridgeline it climbs, where California condors and golden eagles seek out afternoon snacks, before descending to the Chalone Creek. Take a sharp right to follow the Old Pinnacles and Balconies Trails 2.3 miles back to the trailhead. Rocky cliffs dotted with gray pines rise over either side of the valley, and twisted coast live oaks provide shade below — a cooling relief after 7 miles of sunny, open trail.
Visitors in 2017: 233,334
How much you'll save: $25 per vehicle
Mileage: 9.3 (loop)
Get there: From the Bay Area, take Highway 101 South to Soledad. Turn left at 146 East and follow it 14 miles. 
Black Canyon of the Gunnison National Park, CO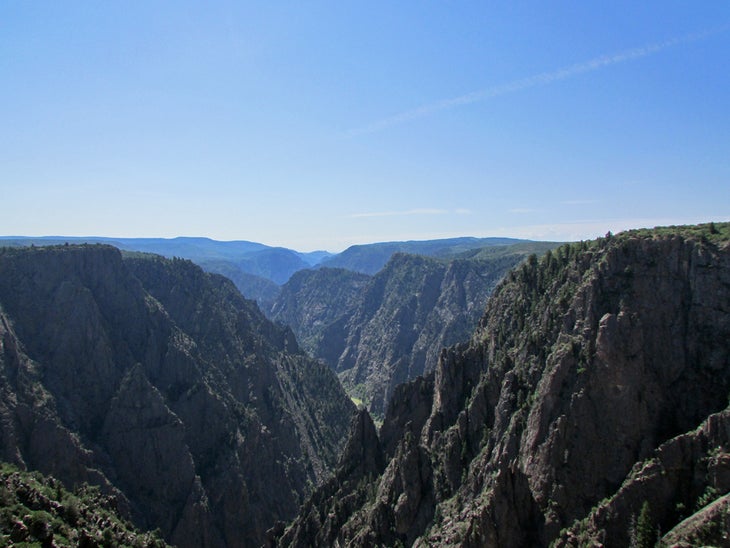 Looking for a quick Saturday summit? Home to some of the most underrated peaks in Colorado, Black Canyon of the Gunnison offers short day hikes to 360-degree canyon vistas. (And you won't find many other hikers.) Take the North Vista Trail through pinyon and juniper forests along the Black Canyon's north rim, where great horned owls hunt by night and canyon wrens perform musical, cascading whistles by day. Two miles of switchbacks and stairs take you up the steep ascent to Green Mountain (8,563 feet). The peak will reward you with unobstructed views of the San Juans, West Elks, Grand Mesa, and a new perspective of the jagged Black Canyon.
Visitors in 2017: 307,143
How much you'll save: $20 per vehicle / $12 per pedestrian or bicycle
Mileage: 7 (out-and-back)
Get there: Take Highway 92 to Crawford, then follow Fruitland Mesa Rd, turn right on A Rd, then left on Black Canyon Rd. Follow Black Canyon Rd 7 miles to North Rim Ranger Station. 
Sunset Crater Volcano National Monument, AZ
Take the Lava's Edge Trail along the edge of the Bonito Lava Flow, created when the monument's namesake volcano erupted about 900 years ago. It took about 500 years for vegetation to reappear in the area, as lichens transformed volcanic rock to soil. Today, the landscape features rolling yellow fields of cliffrose, rabbitbrush, and apache plume, with islands of pinyon and ponderosa. Pink-flowered Sunset Crater penstemon, endemic to the area, makes its home in the volcano's cinder fields.
Visitors in 2017: 119,816
How much you'll save: $20 per vehicle / $10 per pedestrian or bicycle
Mileage: 3.4 (out-and-back)
Get there: From Flagstaff, follow US 89 12 miles north to the Sunset Crater-Wupatki Loop Road, which goes right to the visitor center.
Craters of the Moon National Monument and Preserve, Idaho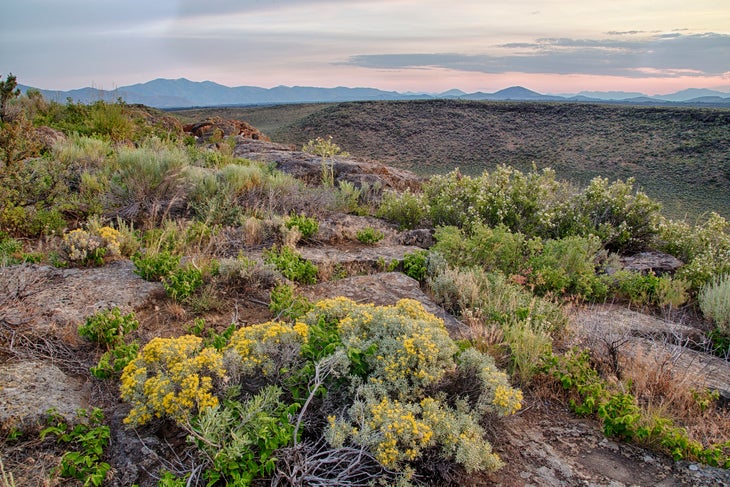 Knowing that the land has been riling itself up for an overdue volcanic eruption is part of the fun of this otherworldly hike. The 8-mile Wilderness Trail winds across a young lava flow, between cinder cones and eerie lava trees. A flat, straight section of trail passes through the trench mortar flats, where Coyote and Crescent Buttes guard Echo Crater. Camp at the crater's moon-like landscape with a free backcountry permit, which you can obtain from the visitor center.
Visitors in 2017: 285,227
How much you'll save: $15 per vehicle / $7 per pedestrian or bicycle
Mileage: 8 (out-and-back)
Get there: From Arco, take Highway 20/26/93 for 18 miles southwest to the Robert Limbert Visitor Center. 

Bighorn Canyon National Recreation Area, MT, WY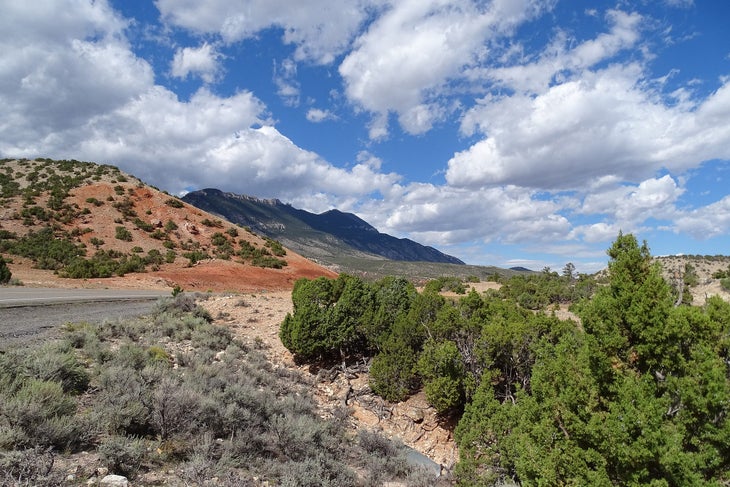 This park's variety of alpine and high desert habitats houses black bears, elk, bison, Bighorn sheep, Pryor Mountain horses, and 231 bird species. From the Horseshoe Bend access road sign, follow a small game trail to the first drainage. The trail crosses to the east side of the drainage and disappears. Keep following trail markers upward over the canyon. You'll gain 250 feet of elevation in a Class 2 scramble to the peak of a desert mountain.
Visitors in 2017: 231,836
How much you'll save: $5 per vehicle
Mileage: 4.6 (out-and-back)
Get there: From Billings, MT, take I-90 west to US 310 East to Lovell, WY. Drive through town to US 14 East and follow to Bighorn Canyon Visitor Center.
Guadalupe Mountains National Park, TX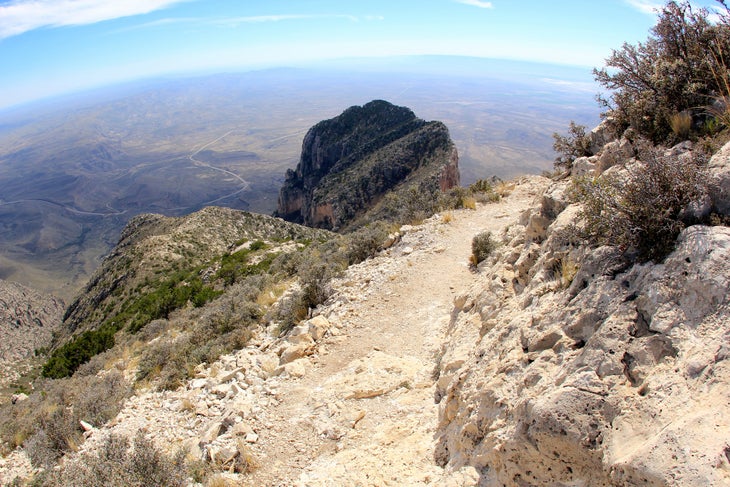 From the Pine Springs Trailhead, climb 3,000 feet on the Guadalupe Peak Trail through forested ridgeline to the top of Guadalupe Mountain. The trail starts in shrub and wildflower-studded lowlands, but as the switchbacks rise, the ponderosa and Douglas fir forest thickens. At the top, you'll enjoy views of the mountains to the west and the plains to the south. You may even encounter a Montezuma quail, reintroduced to these mountains in the 1980s.
Visitors in 2017: 225,257
How much you'll save: $5 per person
Mileage: 8.5 (out-and-back)
Get there: From El Paso, drive 112 miles east on US 180.
Pea Ridge National Military Park, AR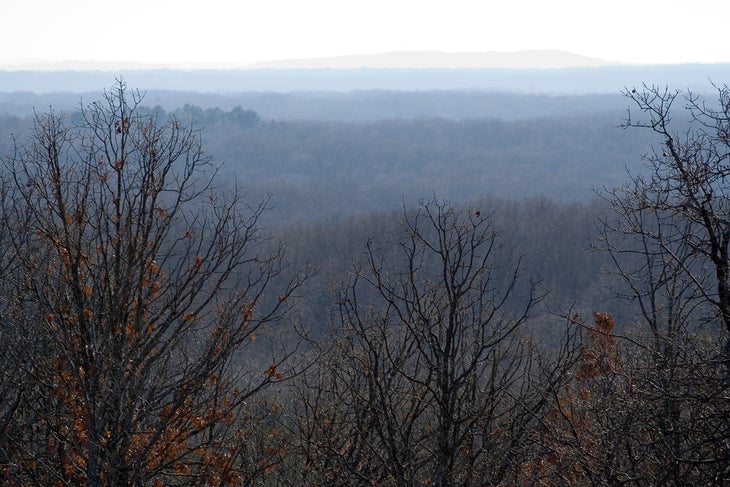 They don't call Arkansas "the natural state" for nothing. Even this historical military park is rich in Ozark forest and grasslands. The 7-mile walking road circles the historic Pea Ridge battlefield, where Union and Confederate forces clashed in 1862, before dipping into oak, maple, and elm forest. Hummingbirds hum and three types of vireo sing. Interpretive signs tell the soldiers' stories along the way. If you don't mind sharing the path with equestrian visitors, take the 9-mile horse trail loop through the park's remote northern forests. Walk among mulberry bushes, bloodroot, and jack-in-the-pulpit hiding on the forest floor. The grass houses friendly serpents aplenty, but look out for rattlesnakes and cottonmouths.
Visitors in 2017: 121,163
How much you'll save: $15 per vehicle
Mileage: 7 to 9 (loop)
Get there: From Fayetteville, take the I-49 to US 62 and follow signs for Pea Ridge National Military Park.
Isle Royale National Park, MI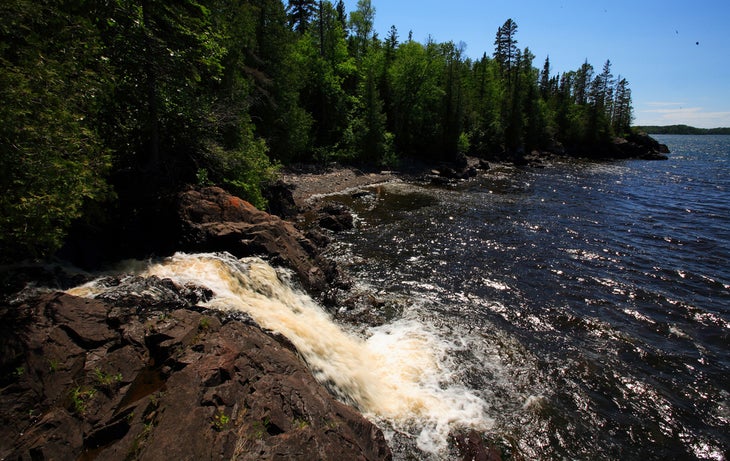 An island in Lake Superior, Isle Royale might be so little-visited because of the commute (check out the ferry and seaplane prices below). But if you can get there, you'll enjoy a classic northern solitude. From Windigo, follow the 9.4-mile Huginnin Cove Loop along rock cliffs, pebbled shoreline, and cedar swamps (planks keep your feet dry), with a pine woodland backdrop. To increase your chance of seeing one of the island's famous wolves and moose, make a backpacking trip out of it and stay at one of the park's 36 campgrounds. Hike the Greenstone Ridge, but be aware that some areas are closed to backcountry camping from April to September. Ask about closures and get the required, free overnight permit at the visitor center.
Visitors in 2017: 28,196
How much you'll save: $7 per person
Mileage: 9.4 (loop)
Get there: Take the Seahunter III ferry ($71 one-way) from Grand Portage, MN or an Isle Royale Seaplane ($320 round-trip) from Houghton, MI.
Prince William Forest Park, VA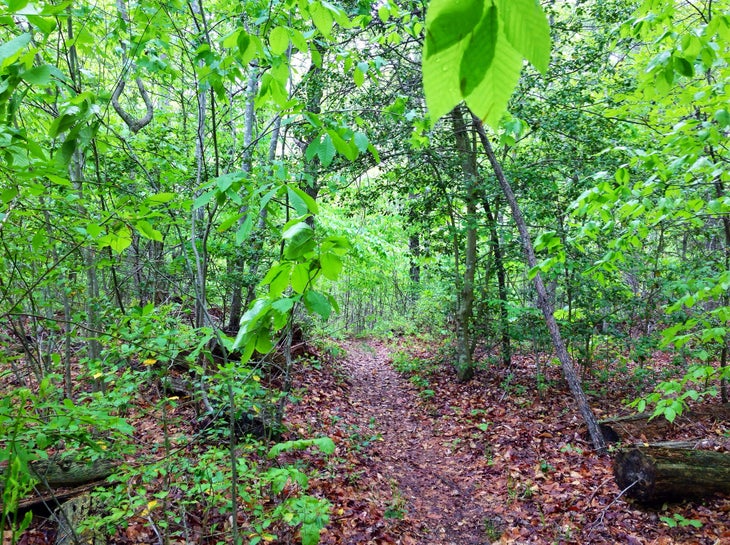 Follow the South Valley Trail along Quantico Creek, one of the most biodiverse streams in Northern Virginia, where beavers are hard at work. Pass a lake and several cascades under the shade of white oak, yellow poplar, and the occasional eastern hemlock. You'll pass a few cabins as well — the work of the Civilian Conservation Corps. Tackle this out-and-back in one day or stay at the Oak Ridge Campground for an easy overnight (reservation or first-come first-serve).
Visitors in 2017: 360,540
How much you'll save: $7 per vehicle / $5 per pedestrian or bicycle
Mileage: 17.4 (out-and-back)
Get there: Take I-92 South to exit 150-B (VA Route 619/Joplin Road). Take the second right to the park entrance.