New Zealand's Routeburn Track is an Epic Made Easy
Who says you have to work hard for the best scenery? New Zealand's great walks deliver life-list terrain with perks for beginners and experts alike.
Heading out the door? Read this article on the new Outside+ app available now on iOS devices for members! Download the app.
Ferns and beech forest dominate the first part of the Routeburn Track (starting from the west side). (Rachel Zurer)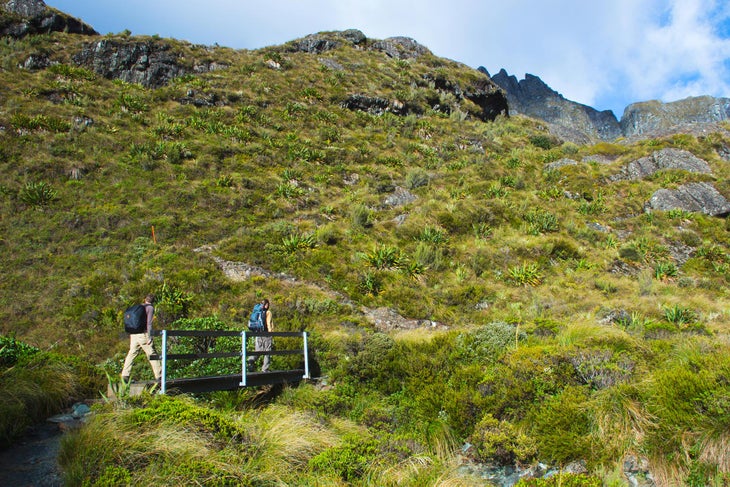 After spending at night at the Routeburn Falls Hut, our crew continues to climb through sub-alpine tundra. (Rachel Zurer)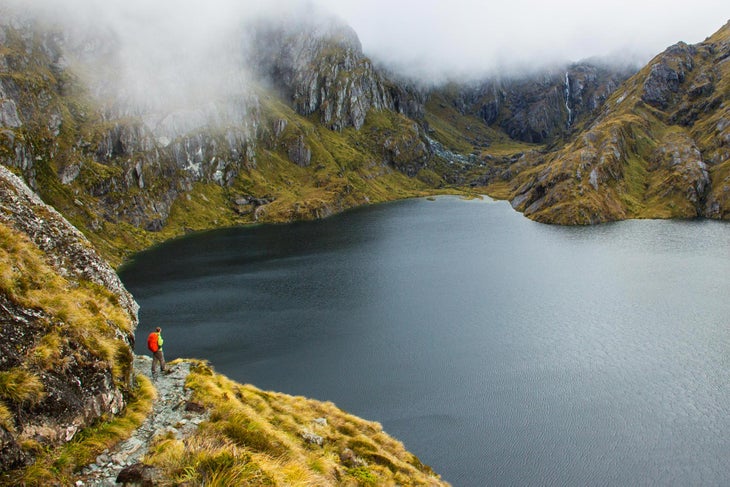 The track passes above Lake Harris, with a view to the Valley of Trolls beyond. (Rachel Zurer)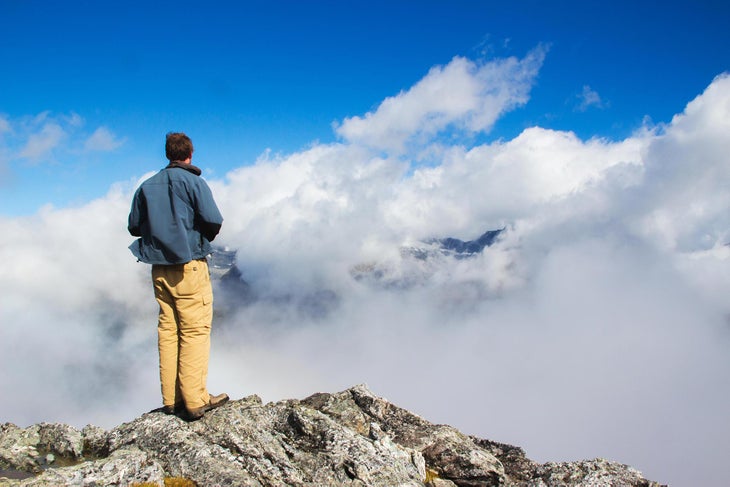 From the Harris Saddle, take the short, steep side-trail up Conical Hill for views of the surrounding high peaks (assuming the clouds cooperate). (Rachel Zurer)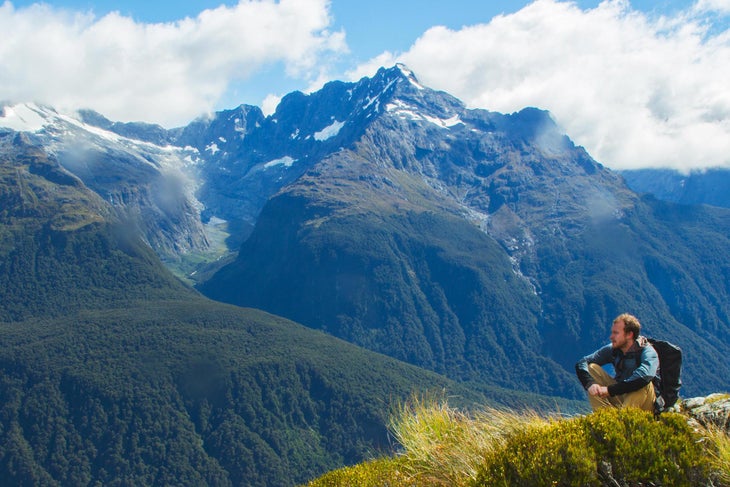 Snag views of these imposing peaks across the Hollyford Valley as you enter Fiordland National Park on day two. (Rachel Zurer)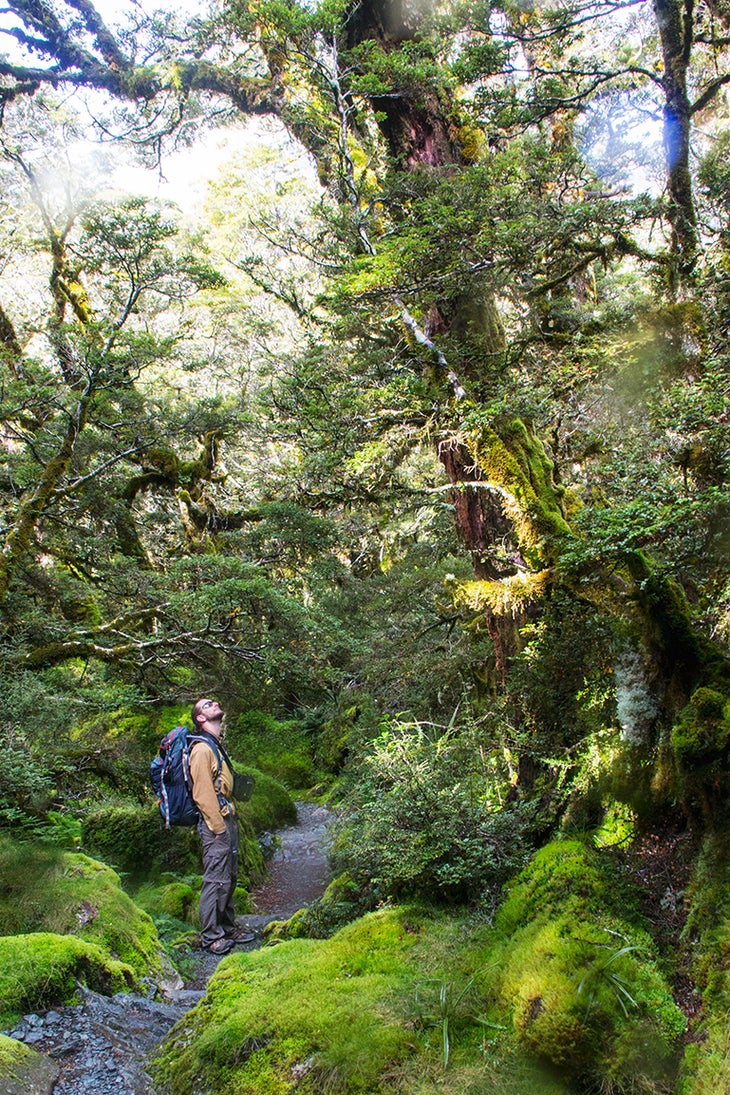 You'll return to a mossy wonderland as you descend toward Lake Mackenzie at the end of day two. (Rachel Zurer)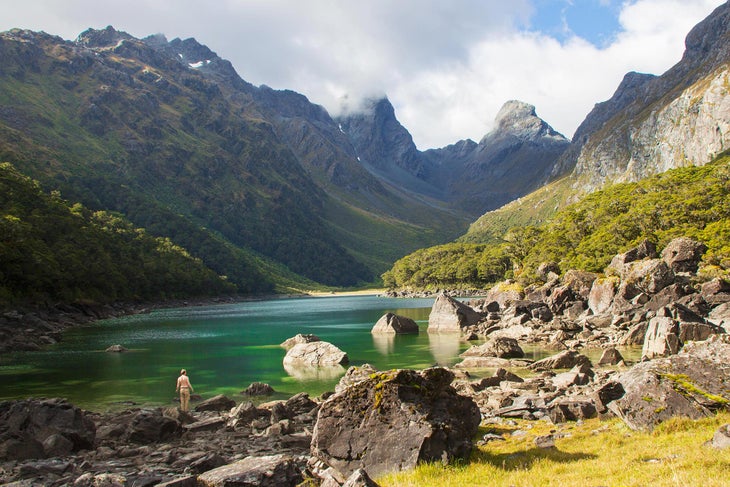 This large lake is an emerald jewel set below 5,900-foot Emily Peak (center). The Lake MacKenzie Hut is just 100 yards away. (Rachel Zurer)
THIS FEELS LIKE CHEATING. As I shoulder my pack to set off on the 20-mile Routeburn Track, near Queenstown on New Zealand's South Island, I can't shed the nagging sense that I'm missing something in my unfamiliarly light bag. But I'm not. My 15-pound load is the gift of this country's nine marquee backcountry routes—the Great Walks—with their impeccably maintained trails and cozy huts. I'd worried this level of hand-holding might feel Disney-esque to an experienced trekker like me, but really, it just makes everything easier. My companions—BACKPACKER's Ultimate Dream Trip contest winners—and I practically skip along the trail.
As we climb nearly 2,000 feet, with misty hills rising from wide river valleys, it feels like we're ascending into a Japanese silk painting: Ragged-edge ridgelines tower above moss-draped forests, and the clouds occasionally reveal patches of snow clinging to imposing, stony peaks. The Routeburn connects two of the country's finest national parks via high ridges and a mountain pass. And despite the hike's popularity, a strict permit system keeps the crowds in check, so we go an hour or more with only the sounds of creeks and waterfalls urging us on. If this is cheating, I don't feel guilty. I set a new life goal: Become a hut warden here when I retire, so I can hike this path every day.
The hardest part about the Routeburn? Convincing yourself it's OK to leave your heavy gear at home. Here's what to bring—and what to skip.
SKIP Guidebook
PACK Extra memory cards
➔You'd pretty much have to try to get lost along this well-traveled route, with its wide, gravel tread, orange-triangle-blazed trees, and regular signage. Rangers patrol frequently, keep track of who's made it to the huts each night, and seek out stragglers. That makes it ideal for beginners who don't want to think about navigation—and for anyone who wants to spend more time on photography and less on map reading. Our favorite spots were the narrow path along sheer cliffs above Lake Harris and Lake Mackenzie, a cerulean gem set in lush forest at the base of sharp, 5,900-foot Emily Peak (see right).
SKIP Stove, fuel, and freeze-dried mush
PACK Gourmet food, cookware, a lighter
➔The Routeburn's four public huts are each equipped with gas burners. Take advantage of light loads, mellow hiking days, and indoor kitchens to eat really well. Kiwi grocery stores offer plenty of local options (read: fresh ingredients). BYO cocktails as well—enough to share with a few new friends you're guaranteed to make.
SKIP Tent, sleeping pad
PACK Earplugs, warm sleeping bag
➔Each hut's unheated bunkhouse sleeps at least 20 on beds with cushy mattresses. Defense against snorers is a must, as is a warm-enough bag (lows average in the 40s even in summer).
SKIP Water filter
PACK Rain gear and layers
➔Kiwis tend to drink straight from their crystal-clear streams. We did the same and had no issues. But all that lovely water comes from somewhere; expect to face rain and cold any time of year.
SKIP TP & trowel
PACK Camp shoes
➔Don't call the route's flush-toilets "outhouses." But don't doom yourself to barefoot midnight potty runs or fumbling with trail shoes in the dark; no boots are allowed inside the huts, so bring something else for max comfort.
TRIP PLANNER
Get there Air New Zealand flies direct from LAX to Auckland; it's a two-hour flight to Queenstown. Reservations $54 NZ (about $45 US) per person/night for huts or $18 NZ for campsites; reserve in advance; greatwalks.co.nzSeason October to April Shuttle Tracknet ($119 NZ/person round-trip from Queenstown); tracknet.netInfodoc.govt.nz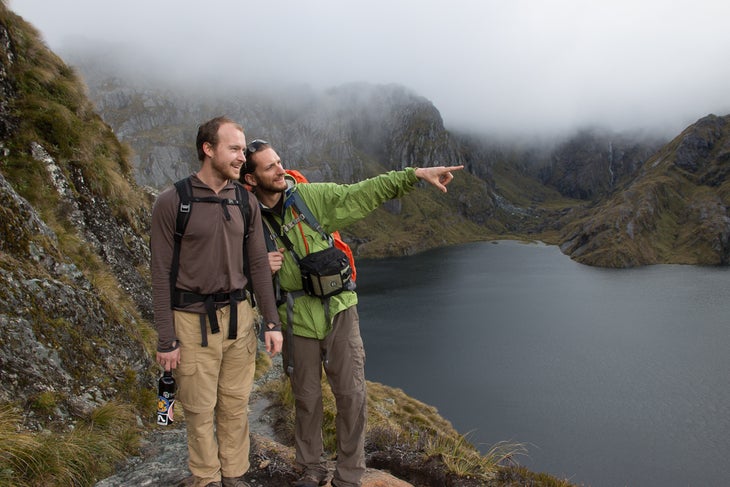 BIG WINNERS
Jeff Ruhle, 26, a BACKPACKER reader from Winter Park, Colorado, won our 40th Anniversary Ultimate Dream Trip contest (thanks to sponsor Air New Zealand for making it possible). Jeff and his guest, Jonathan Rand, hiked the Routeburn Track with Senior Editor Rachel Zurer in March 2014. To join a BACKPACKER trek on New Zealand's Milford Track in March 2015—and for a chance to win a free spot on the trip—go to backpacker.com/newzealand2015.