New York, NY: Southern Harriman Loop
Breath easier in over 50,000 acres of protected forest, located just a short train ride from Manhattan.
Heading out the door? Read this article on the new Outside+ app available now on iOS devices for members! Download the app.
Use public transportation to reach this 16-mile overnight loop that skirts undeveloped lakes, unique boulder formations, open ledges, and a waterfall. Take in views of New York City while keeping your eyes peeled for deer, wild turkey, and if you're lucky a black bear or timber rattlesnake.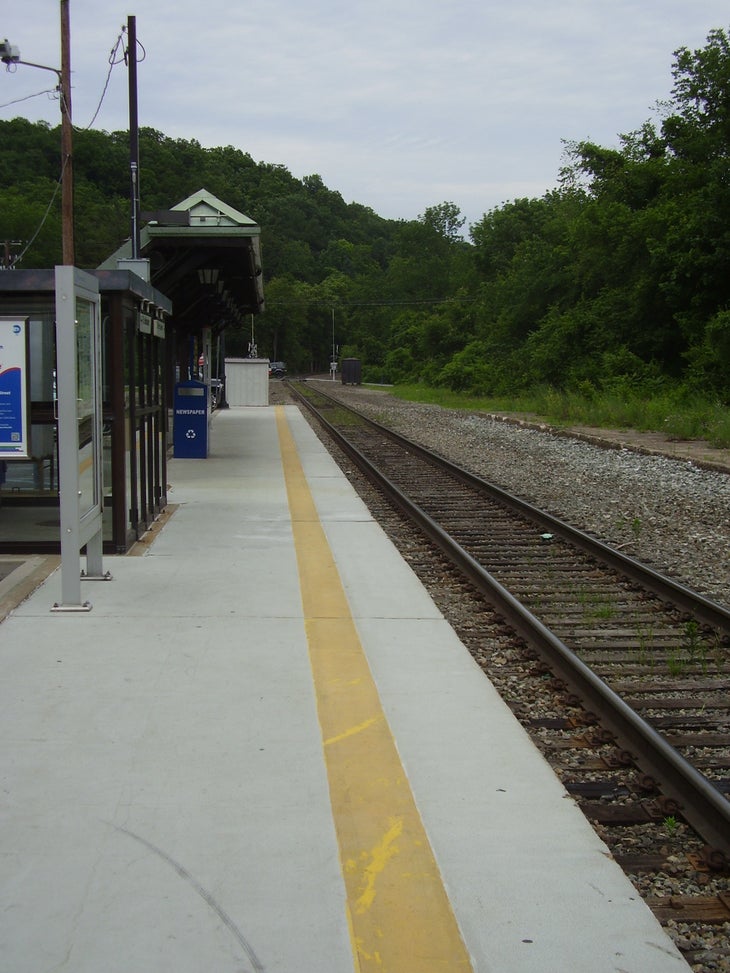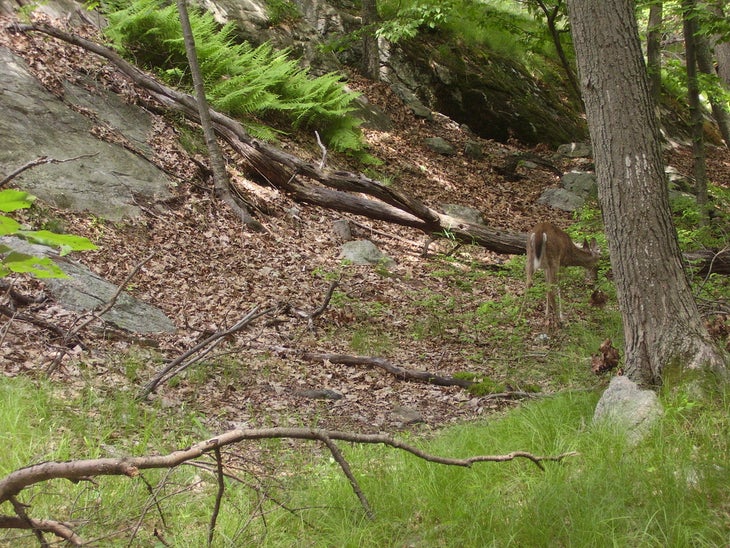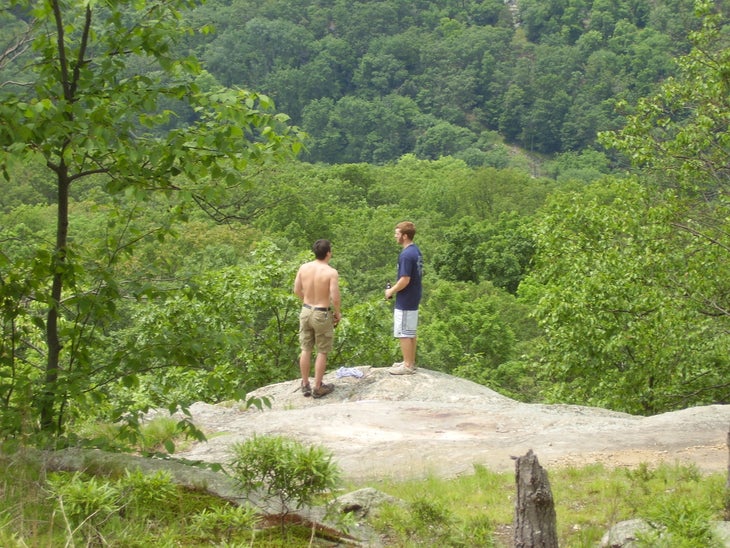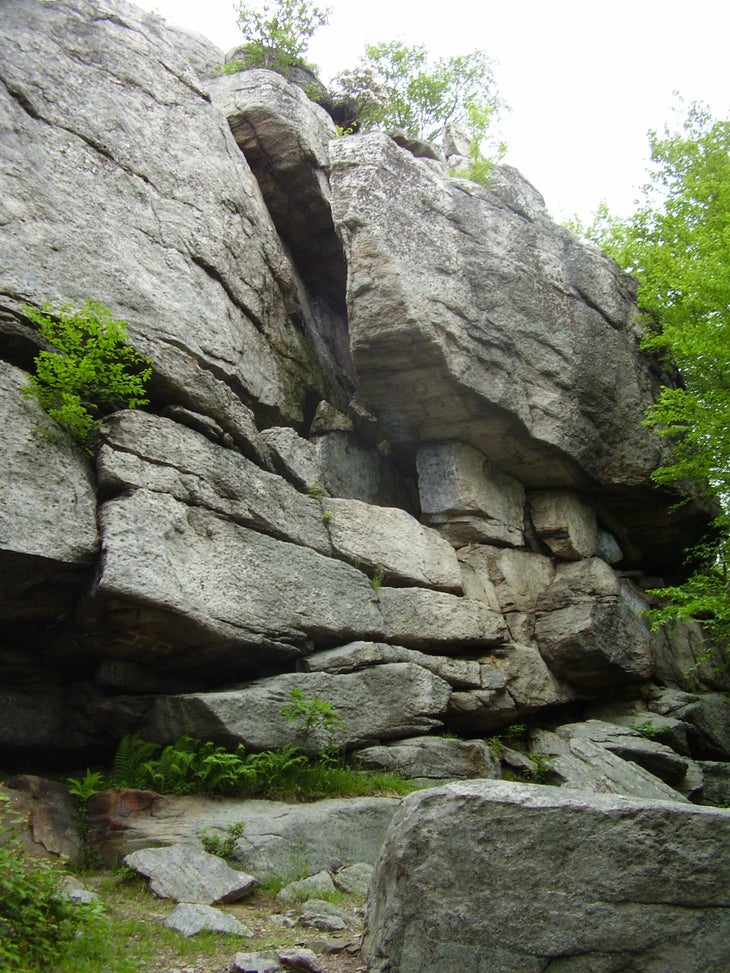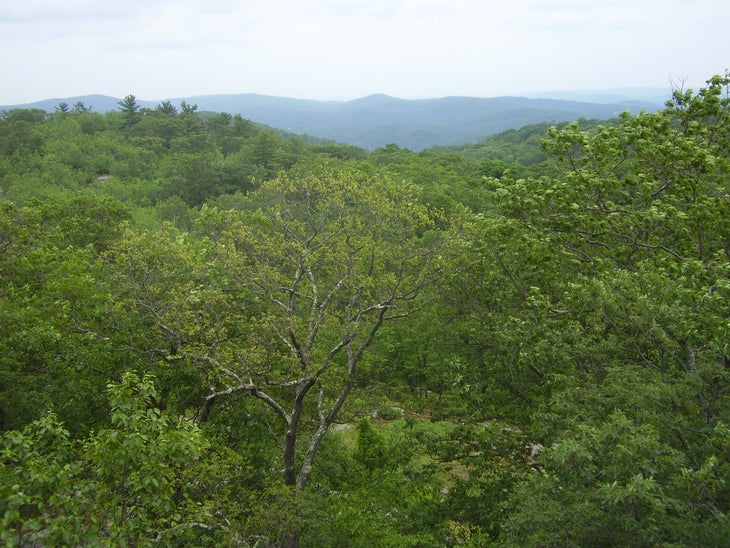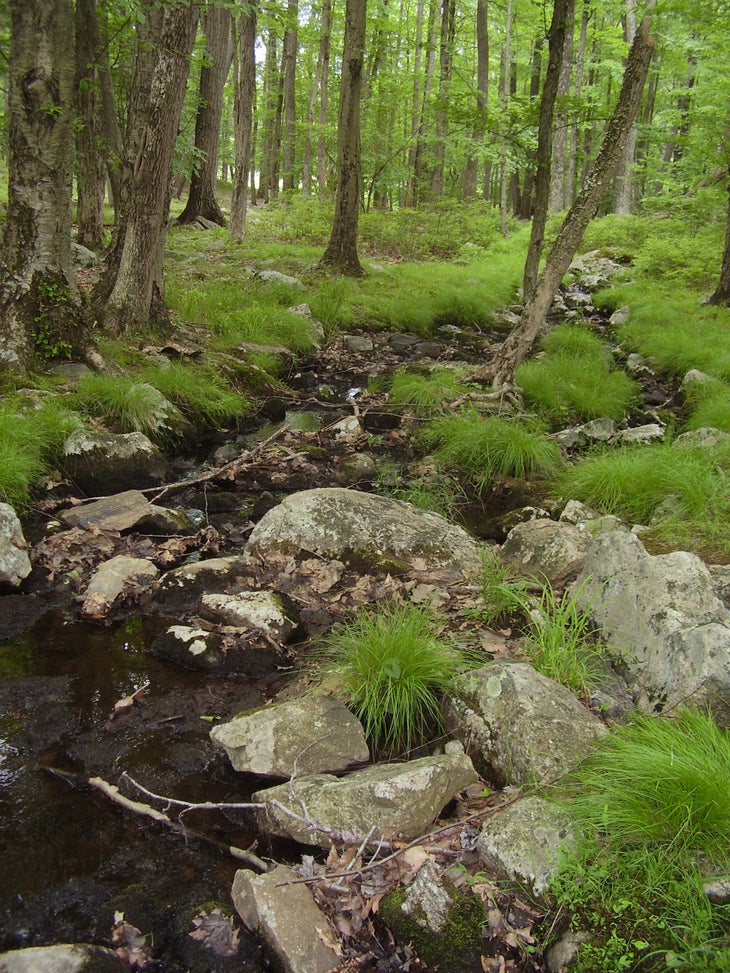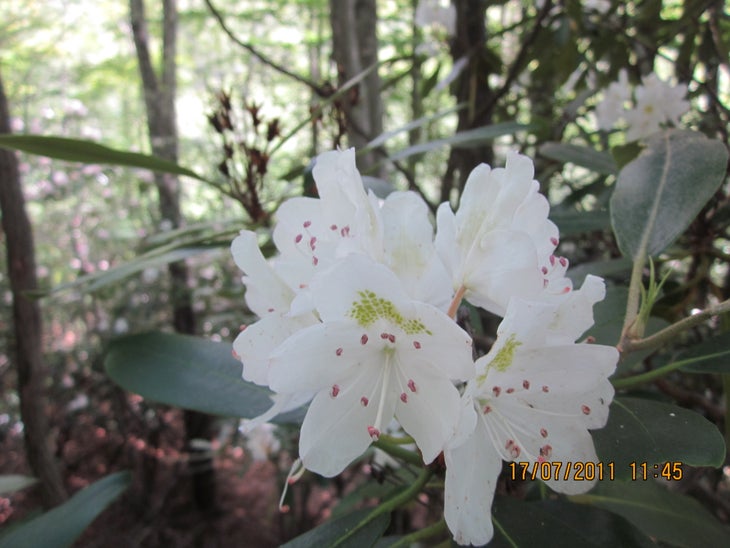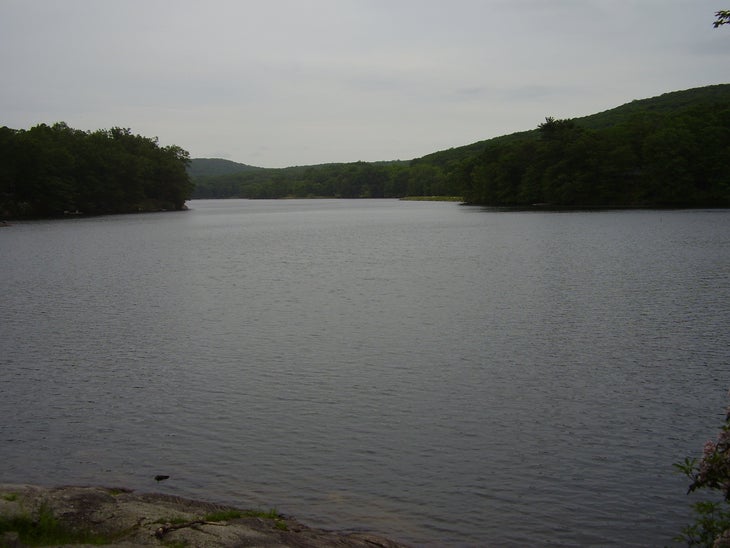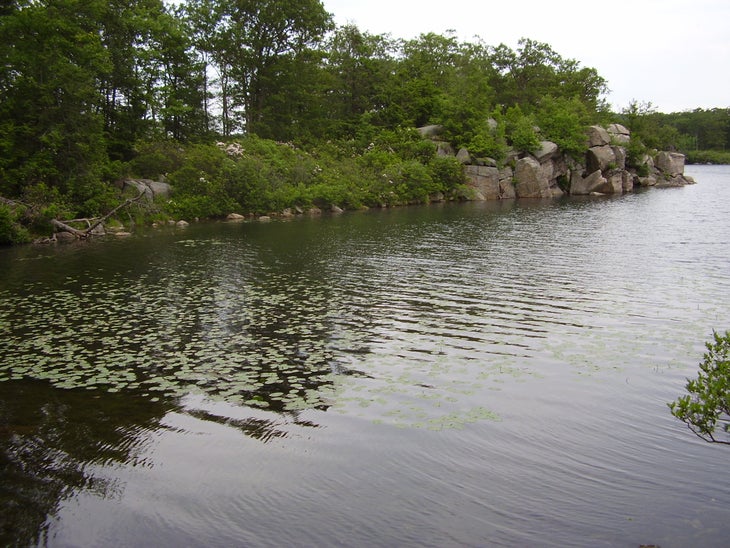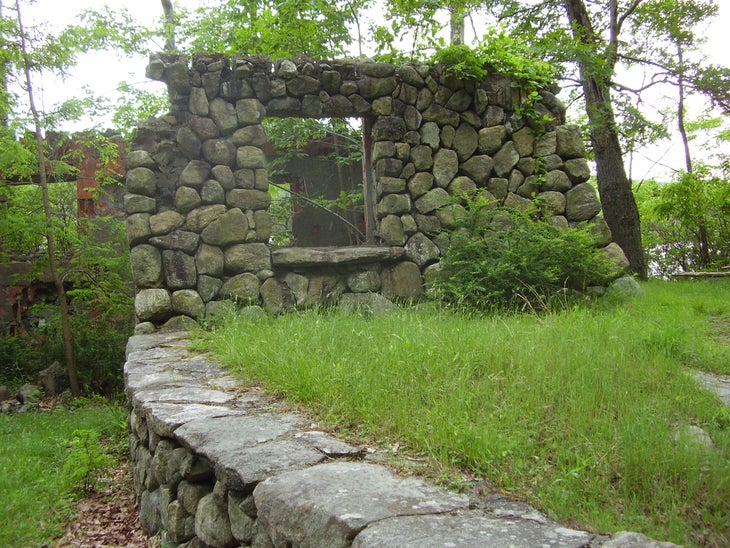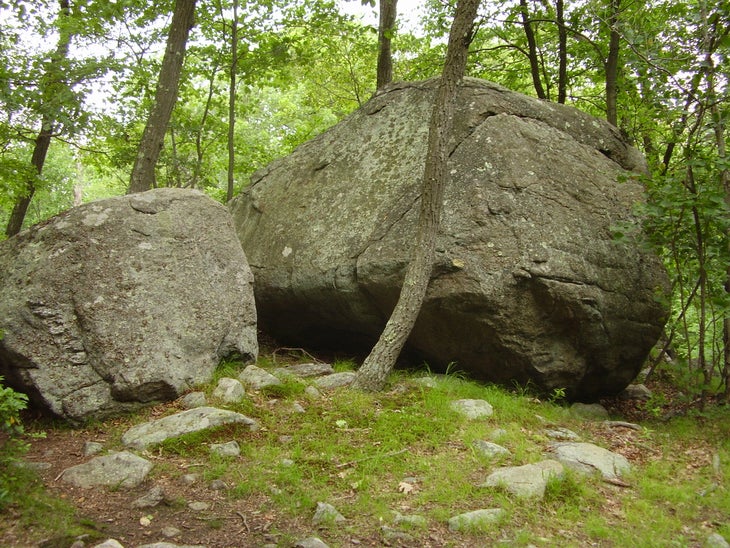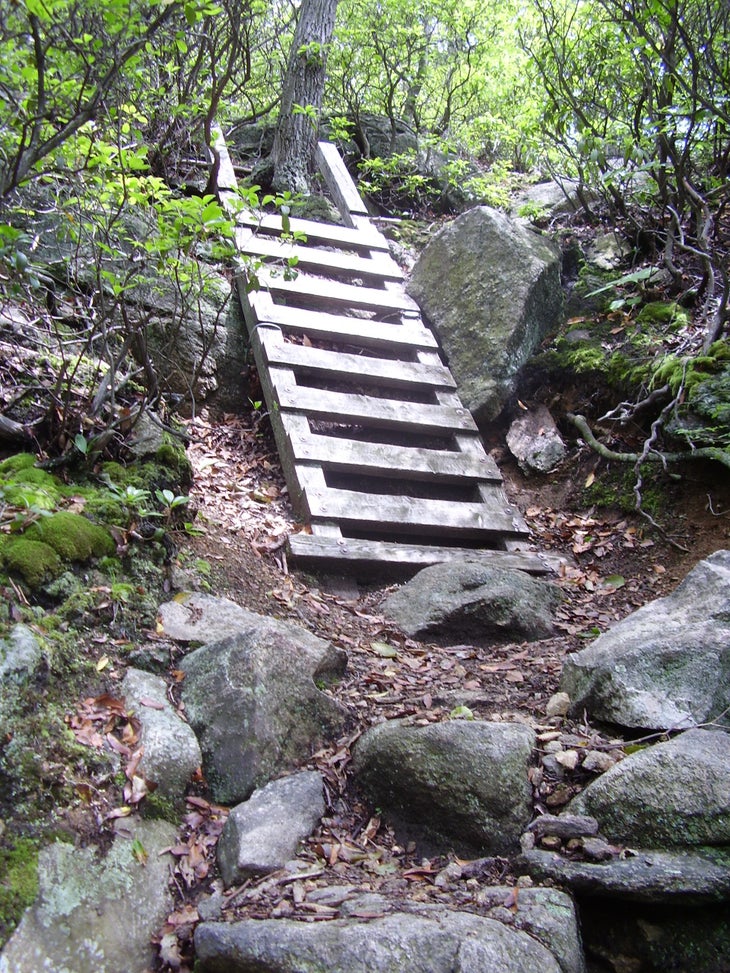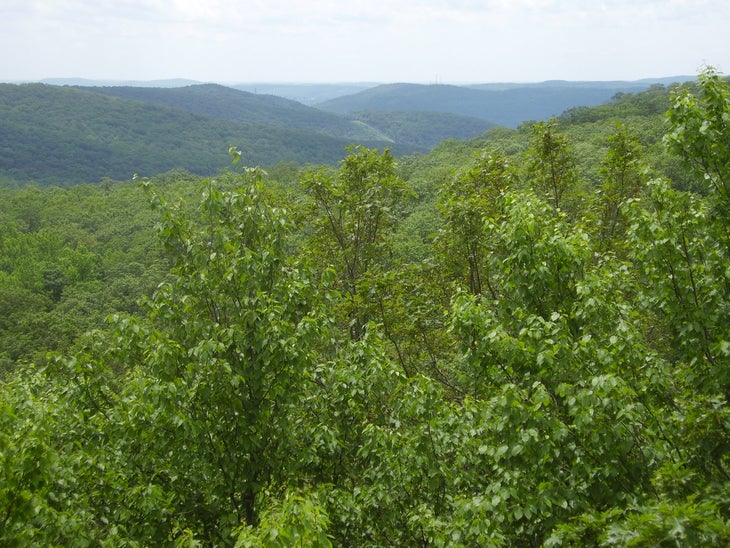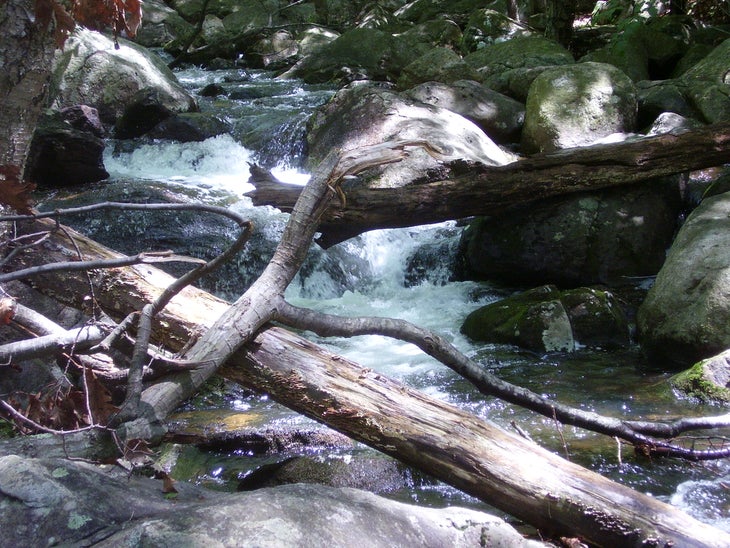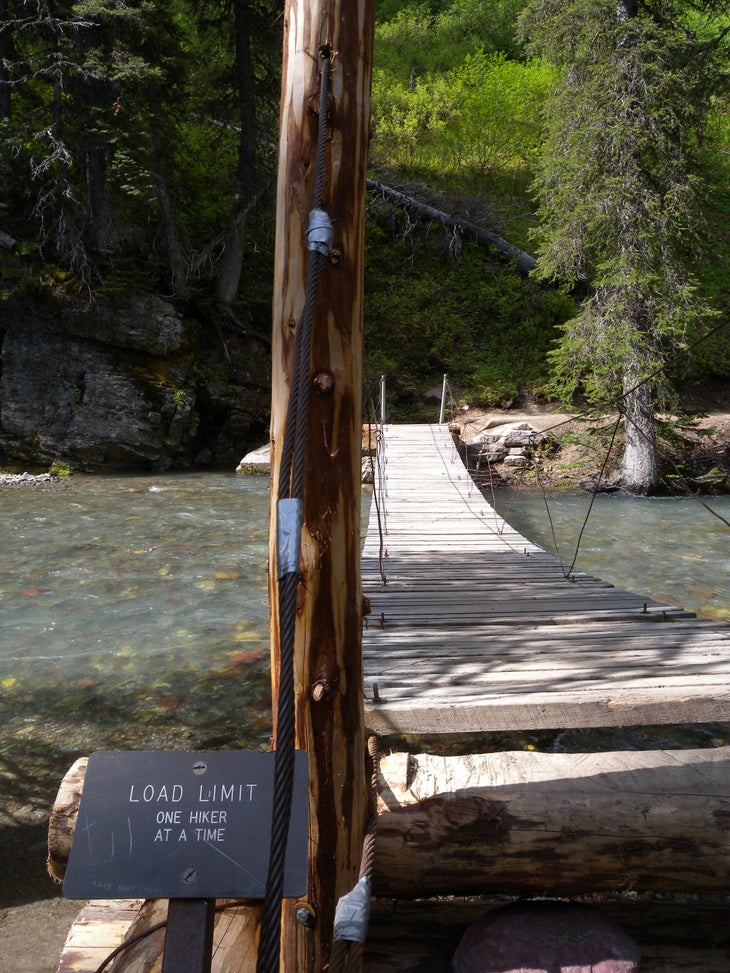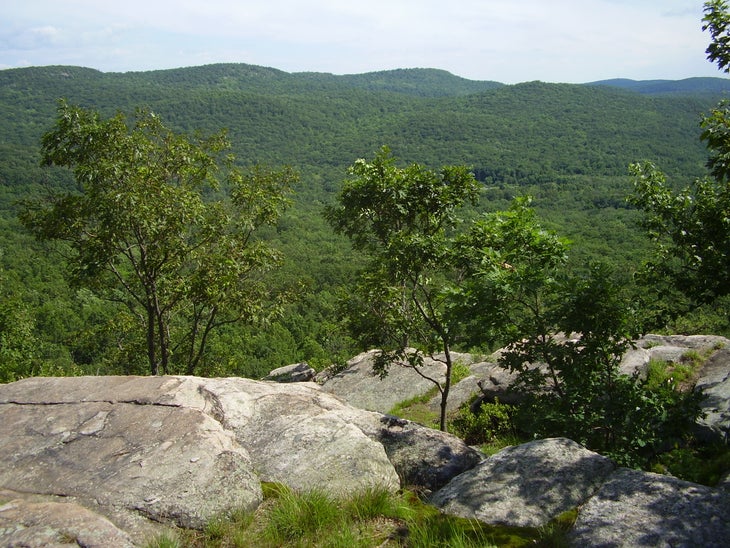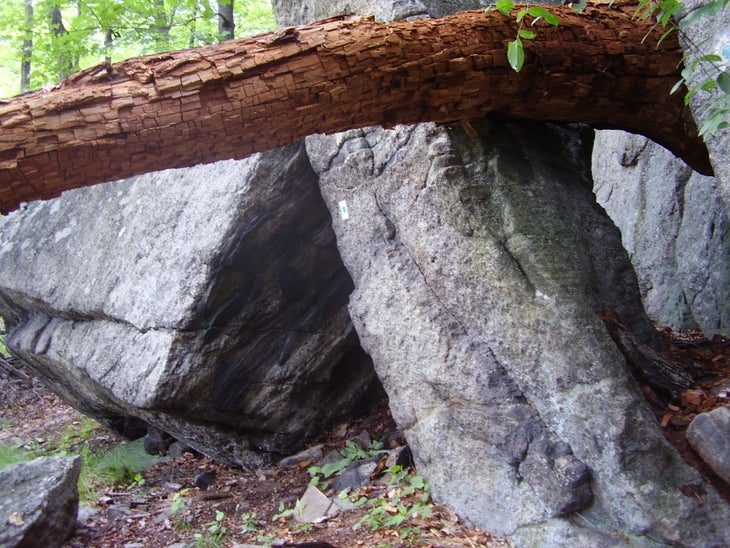 Trail Facts
Waypoints
Ha001
Location: 41.194199, -74.184341
Cross the train tracks just north of Tuxedo station. Follow East Village Road under I-87 and make a left onto Grove Drive.
Ha002
Location: 41.194931, -74.180374
See the trailhead on your right. Take the red-blazed Ramapo-Dunderberg trail, passing under maple, birch, hickory, and other deciduous trees.
Ha003
Location: 41.199057, -74.172929
Turn right onto the red-blazed Tuxedo-Mt. Ivy trail.
Ha004
Location: 41.198193, -74.168937
Come upon the Claudius Smith Den, an overhanging rock cave named for a notorious Revolutionary War-era thief.
Ha005
Location: 41.19233, -74.143059
Touch down on the southern shore of Lake Sebago – swimming is prohibited but fishing is allowed with a New York state license.
Ha006
Location: 41.190914, -74.140313
Cross over the bridge on Seven Lakes Drive and duck under the guardrail, remaining on the Tuxedo-Mt. Ivy trail.
Ha007
Location: 41.18984, -74.138282
Make a right onto the orange-blazed Hillburn-Torne-Sebago trail, which contains vast patches of mountain laurel.
Ha008
Location: 41.180632, -74.13644
Slight detour to the top of Diamond Mountain.
Ha009
Location: 41.180843, -74.136243
Look for blueberry bushes and soaring turkey vultures. Descend on the yellow-blazed Diamond Mountain-Tower trail.
Ha010
Location: 41.178933, -74.133399
Skirt Pine Meadow Lake on the red-blazed Pine Meadow trail.
Ha011
Location: 41.174324, -74.119286
Bear right onto the white-blazed Conklins Crossing trail.
Ha012
Location: 41.169044, -74.112611
Go left on the yellow-blazed Suffern-Bear Mountain trail.
Ha013
Location: 41.169028, -74.110272
Views of New York City from the aptly named Egg.
Ha014
Location: 41.170207, -74.107912
Spend the night in or around the Stone Memorial shelter.
Ha015
Location: 41.16546, -74.11686
More views of New York City.
Ha016
Location: 41.159496, -74.1207
After going south on the Suffern-Bear Mountain trail, make a right onto the white-blazed Kakiat trail.
Ha017
Location: 41.165646, -74.138076
Detour up a boulder field and onto the ledges of the black-blazed Raccoon Brook Hills trail.
Ha018
Location: 41.17168, -74.138006
Hang a right back onto the Kakiat trail.
Ha019
Location: 41.175441, -74.148092
Eat lunch or relax by a waterfall.
Ha020
Location: 41.176494, -74.15207
Traverse the stream on a wooden bridge.
Ha021
Location: 41.175883, -74.153992
This time, prepare to ford the stream without the help of a bridge (it was destroyed during Hurricane Irene).
Ha022
Location: 41.18309, -74.158914
Cross Seven Lakes Drive again. Stay on the Kakiat trail rather than the similarly marked White Bar trail.
Ha023
Location: 41.182994, -74.171462
Summit Dater Mountain on the blue-blazed Blue Disc trail.
Ha024
Location: 41.193072, -74.168456
Remove your pack for the so-called Elbow Brush. Crawl under a pair of boulders and then squeeze through a narrow crack in the rocks.
Ha025
Location: 41.197628, -74.167821
Intersect with the Tuxedo-Mt. Ivy trail and exit the way you came in.
Tuxedo Station
Location: 41.19489, -74.184515
The train and bus drop you off just a short distance from the trailhead.
Deer
Location: 41.197257, -74.178379
A white-tailed deer forages along the Ramapo-Dunderberg trail.
Ledge
Location: 41.197838, -74.175889
Two hikers look out onto the valley below.
Claudius Smith Den
Location: 41.198216, -74.168744
This rock formation once housed a Revolutionary War-era outlaw.
View1
Location: 41.197877, -74.167585
A view from the top of the Claudius Smith Den.
Stream
Location: 41.197683, -74.152694
A small stream crosses the Tuxedo-Mt. Ivy trail.
Mountain Laurel
Location: 41.191725, -74.14263
Mountain laurel blooms along the southern shore of Lake Sebago.
Lake Sebago
Location: 41.191661, -74.142609
Clouds fill the sky over Lake Sebago.
View2
Location: 41.180858, -74.136161
A view from the top of Diamond Mountain.
Pine Meadow Lake
Location: 41.177547, -74.129734
Lily pads dot the shallows of Pine Meadow Lake.
Stone Structure
Location: 41.175666, -74.123254
An abandoned stone structure remains standing on the shore of Pine Meadow Lake.
Two Boulders
Location: 41.169052, -74.112487
Two boulders mark the intersection of the Conklins Crossing trail and the Suffern-Bear Mountain trail.
Ladder
Location: 41.168058, -74.134884
A ladder helps to navigate a particularly steep section of the Raccoon Brook Hills trail.
View3
Location: 41.167872, -74.134498
A view from Raccoon Brook Hill.
Rapids
Location: 41.175327, -74.147608
Pine Meadow Brook begins to speed up before it goes over a waterfall.
Bridge
Location: 41.176464, -74.151878
A wooden bridge goes over Pine Meadow Brook right before it intersects with Stony Brook.
View4
Location: 41.184539, -74.171298
A view from the top of Dater Mountain.
Elbow Brush
Location: 41.19313, -74.168165
Hikers must take off their packs to crawl underneath these two boulders.