New York City's Best Local Hikes
Like your favorite neighborhood watering hole, you can count on New York City's best local hikes to deliver exactly what you need, where you need it.
Heading out the door? Read this article on the new Outside+ app available now on iOS devices for members! Download the app.

Central Park's North Meadow. Photo by ISTOCKPHOTO.COM / JOHNANDERSONPHOTO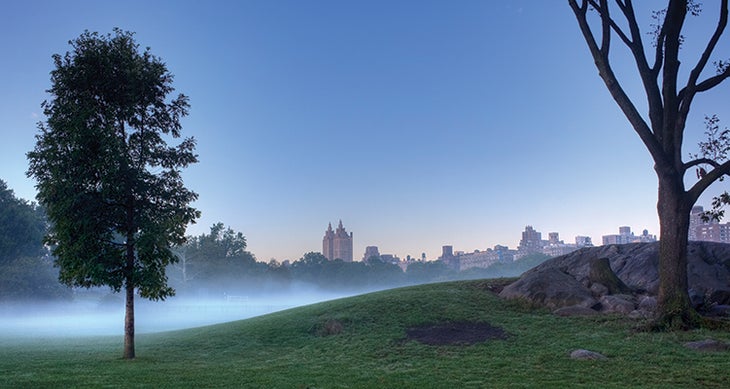 Camping in the City that Never sleeps
Spend a wild night under the stars—without leaving the city.
By Dennis Lewon
It was after 10 p.m. and pitch dark under the trees. No streetlights, no car lights, no neon lights. Just a forest, inky black, and the soft chirp of an unidentified bird breaking through the low hum of the city.
The city. It was out there, just beyond the bubble of darkness, a metropolis of almost 9 million souls, impossibly close yet very, very far away. I'd never thought of going into the heart of the city in order to escape it, but that's exactly what a night in Central Park promised.
By the light of headlamps, we walked along a trail that wound through the secluded North Woods. The trees seemed taller at night. Denser. It felt like we'd hiked for miles—not blocks—to get here. Central Park was still open, technically, but no one was around to witness this odd procession of hikers skirting The Pool, our lights reflected in the mirror-calm water. Most prudent walkers, joggers, and bikers had long since departed. Soon, the 843-acre park would officially close for the night, leaving only squirrels, lawbreakers, and us.
I was there with a few dozen other lucky campers. When we'd pitched our tents on the Great Hill earlier, before sunset, some passersby turned their heads—which is saying something in New York—but we weren't worried about getting busted. A crew of Urban Park Rangers had helped us pick the site. Now our uniformed guides led the late-night hike through the dark forest. One had brought speakers on which he played a recording of a great horned owl, hoping to elicit a response from the real thing. He encouraged us to turn off our headlamps and listen for the reticent birds. No luck tonight.
When we returned to the tents and crawled into our sleeping bags, I lay awake for a long time. At first, worry kept me up. I confess I was a little nervous about midnight visitors—the two-legged kind—so I listened for footsteps the way one might listen for a bear in Yellowstone. Nothing. Eventually, I simply stayed awake because of a change I hadn't expected. By focusing so narrowly on nearby sounds—a cricket, the wind—I detected silence where before the city intruded.
And I realized something else. To borrow from a popular song: If you can find peace and quiet here, you can find it anywhere.
Trip Planner
The New York City Department of Parks and Recreation hosts camp nights in all five boroughs. The popular overnight in Central Park accommodates 30 campers, and spots are allotted by lottery through an online registration system (free). The next Central Park campout is June 13, 2015. Register for the lottery on June 3.
Infonycgovparks.org
More New York City Local Hikes
Dayhike: Long Path/Shore Trail, Palisades Interstate Park
There are 2,000 miles of trails within 30 minutes of Manhatttan, but none have more continuous scrambling than this 4.5-mile loop tracing the 500-foot Palisades cliffs. Head south on the Long Path from State Line Lookout toward the Forest View Trail. After descending to the river, tackle class 2 and 3 scrambling through the Giant Stairs. At 50-foot Peanut Leap Cascade, ascend the bluffs and loop back. Trailhead40.988418, -73.907390Drive time 35 mins. Infonjpalisades.org
Overnight: Slide-Cornell-Wittenberg, Catskills
Bag a trio of peaks via airy ridges, trail ladders, and scrambling on this classic 10-mile out-and-back in the Catskills, the New York area's best backcountry destination. Head east on the Phoenicia-East Branch Trail, climb 4,180-foot Slide Mountain, then descend on ladders. Camp at the designated spot between Slide and Cornell (mile 3.5). Next day, bag Wittenberg for a view of green rollers. Trailhead42.008675 -74.427475Drive time 2 hrs. 30 mins. Infobackpacker.com/slide-co-witt
See the rest of the country's best local hikes