New York City: West Pond Trail
Discover New York City's best birding on this 2-mile loop along bay shores and wetlands at Jamaica Bay Wildlife Refuge.
Heading out the door? Read this article on the new Outside+ app available now on iOS devices for members! Download the app.
An oasis hidden in vast metropolis, the expansive salt marshes and sandy beaches at Jamaica Bay Wildlife Refuge seem a world away from city life. Terrapin lay eggs along southwestern end of West Pond. Coastal bushes bud with fluorescent pink wildflowers. Thousand of migratory birds flock to nest at the park's shorelines and uplands. Birders and naturalists are also frequent visitors to the refuge, recording more than 300 species in the past thirty years.
The gentle, two-mile-long West Pond Trail circles a 45-acre brackish pool dotted with bird boxes and observation benches. The gravel path cuts through sunlit shrubbery with occasional bay views to the left. After about 1,000 feet, catch close-up views of lofty osprey nests. Tree swallows with strikingly blue and white coats fly rapidly from branch to branch, feasting on insects in mid-air.
If it's open, continue west onto the Terrapin Trail to see more shorebirds and turtles. Otherwise, turn north along West Pond. The Pumpkin Patch Channel winds through grassy wetlands to the left of the trail.
After heading south, pass through a shaded woodland area. Spur trails provide access to North and South Gardens, where observation blinds allow hikers to watch warblers and various migratory songbirds. Close the loop at the Visitor Center.
*Editor's Note: This map contains the route from the Broad Channel subway station to Jamaica Bay Wildlife Refuge.
-Mapped by MacKenzie Ryan
Mass Transit: From Manhattan: Take the A subway to Broad Channel Station. Walk on Noel Road, then turn R onto Cross Bay Boulevard. The Refuge Visitor Center is three-quarters of a mile down the road on the lefthand side.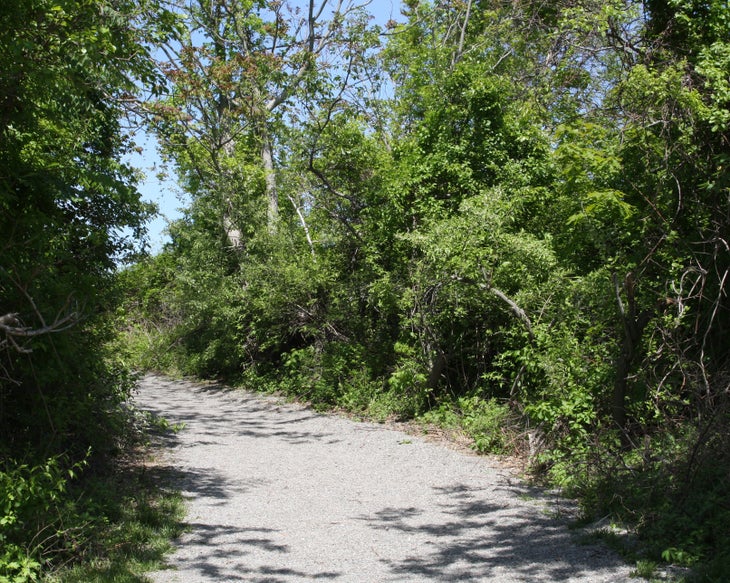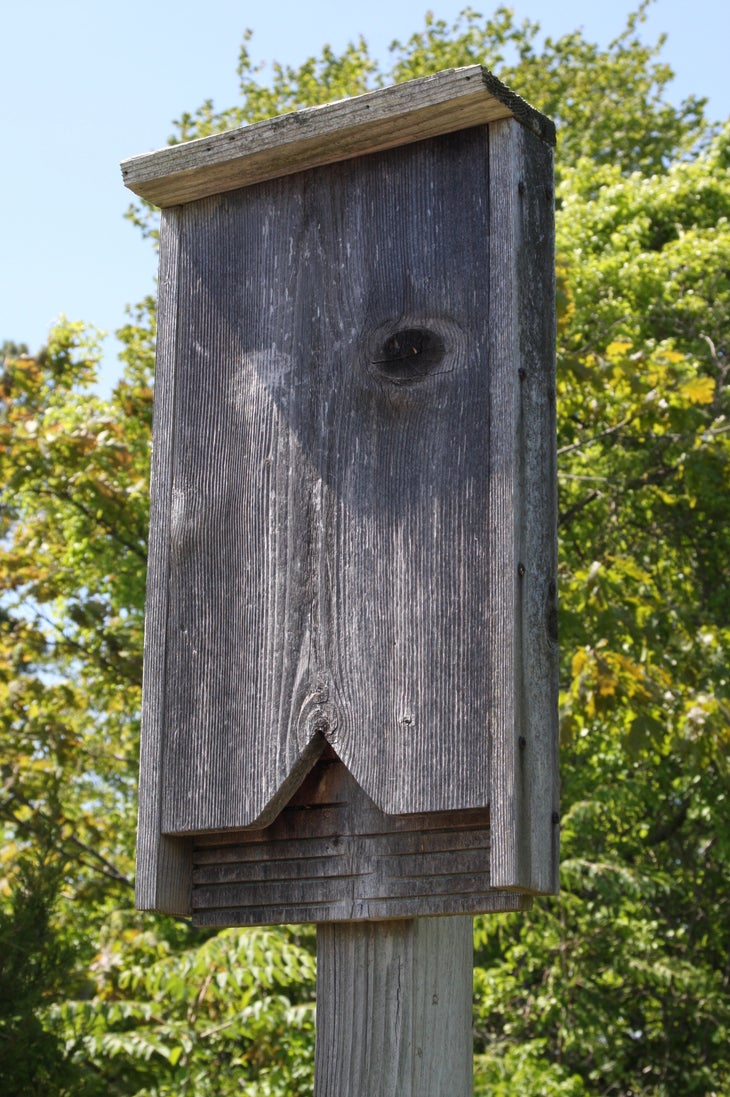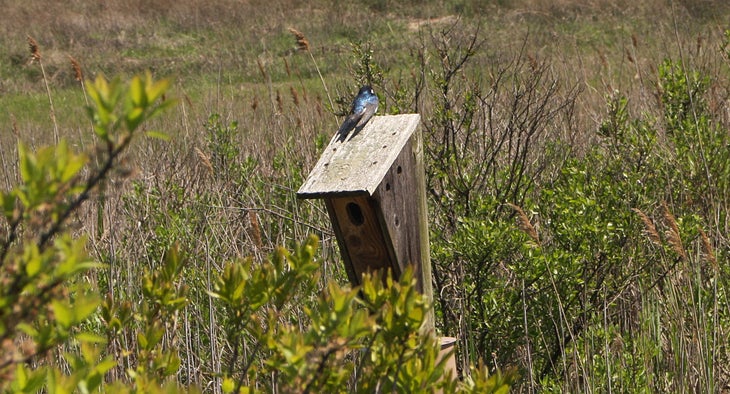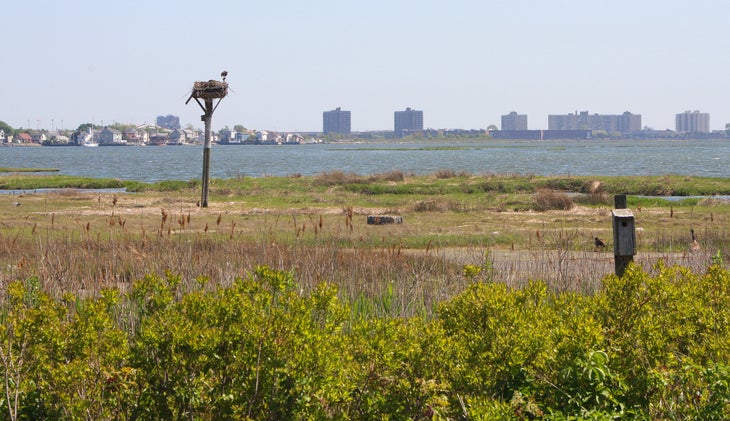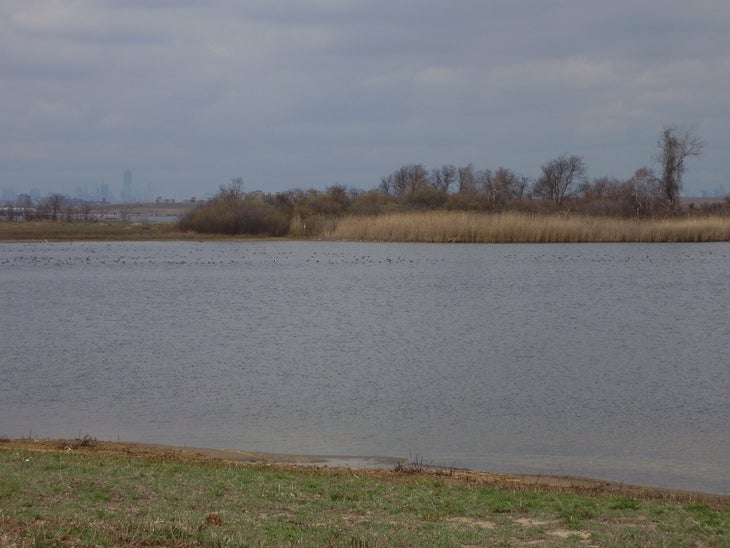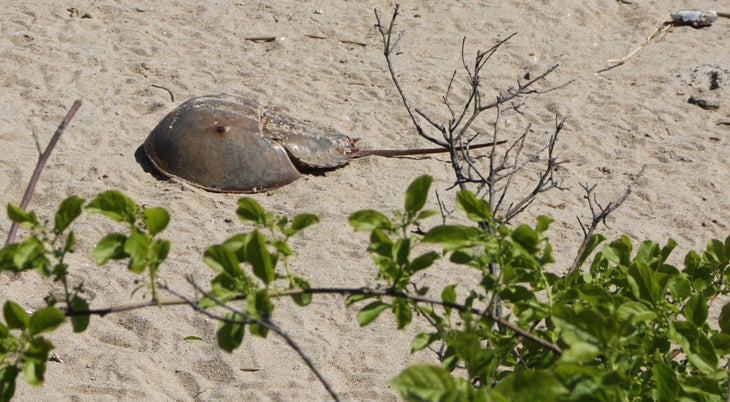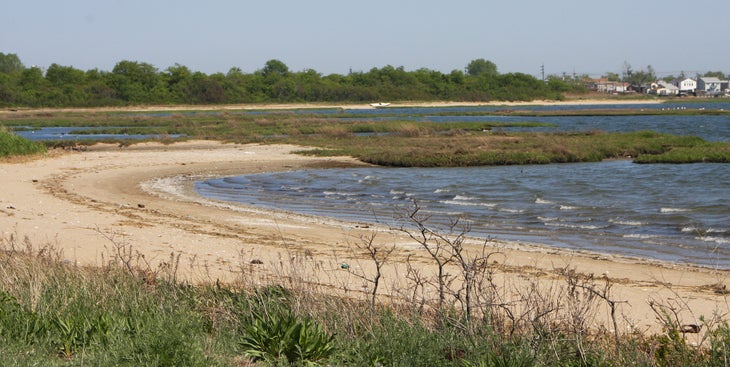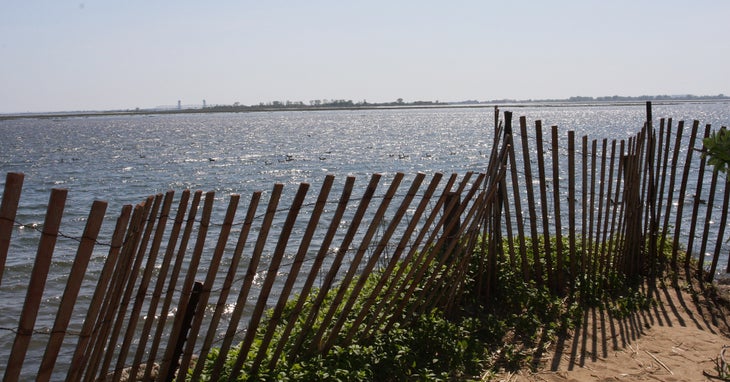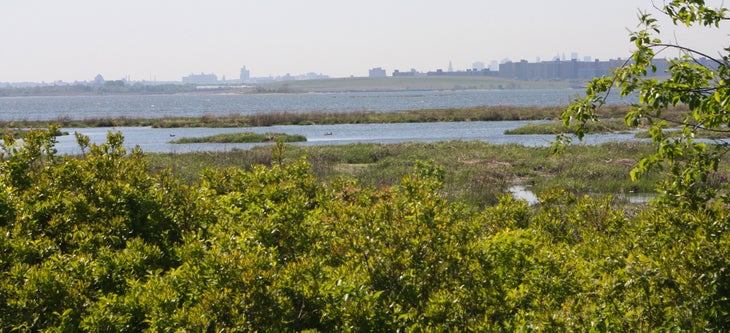 Trail Facts
Waypoints
JAM001
Location: 40.616814, -73.824824
Obtain a free use permit at the Visitor Center. Walk out the back door to access the trail system directly.
JAM002
Location: 40.616826, -73.825096
Bear R out of the Visitor Center then make the first L onto the gravel path.
JAM003
Location: 40.616556, -73.825519
Stay straight @ three-way.
JAM004
Location: 40.616451, -73.8263258
Pass bat box on right side of trail.
JAM005
Location: 40.616387, -73.826615
Reach first lookout on left.
JAM006
Location: 40.616294, -73.827674
Pass House Wren Box on right.
JAM007
Location: 40.616117, -73.8287408
Reach Osprey Platform on left. To the right is the Tree Swallow Box.
JAM008
Location: 40.6159898, -73.829606
Reach West Pond.
JAM009
Location: 40.615788, -73.830297
Bear L @ Y-junction, merging onto the Terrapin Trail. It is closed seasonally for nesting.
JAM010
Location: 40.6145628, -73.8343918
Bear L @ second Y-junction. The path is sand here.
JAM011
Location: 40.6145022, -73.8342243
Reach beach full of gulls geese and horseshoe crabs. When finished with scenery, retrace steps to last Y-junction and bear L.
JAM012
Location: 40.614658, -73.835275
Reach end of Terrapin Trail. Retrace steps to West Pond Loop and walk north.
JAM013
Location: 40.622949, -73.827894
Reach Owl Nest Box.
JAM014
Location: 40.623012, -73.827053
Bear R @ Visitor Center sign. On the way back to the building, pass a series of grassy singletracks which provide access to North and South Gardens.
JAM015
Location: 40.619041, -73.825829
Continue straight @ four-way.
JAM016
Location: 40.6175458, -73.824999
Keep straight Y-junction and continue to the Visitor Center to end hike.
West Pond Trail
Location: 40.6167948, -73.825298
Bat box
Location: 40.6164609, -73.8263655
Tree swallow
Location: 40.616298, -73.8275993
Another swallow
Location: 40.6161555, -73.8284576
Osprey nest
Location: 40.6160985, -73.8287312
West Pond
Location: 40.6160007, -73.8295037
Horseshoe crab
Location: 40.6144737, -73.8341814
Bay shore
Location: 40.6153614, -73.8327062
Coastal plants
Location: 40.614999, -73.8335377
Near terrapin nesting grounds
Location: 40.6146488, -73.8352168
Pumpkin Patch Channel and Black Bank Marsh
Location: 40.6201093, -73.8328242