New York City: Orchard Beach – Twin Island Loop
Sample sylvan forests, a beachside boardwalk, and rocky island shores on this 5.6-mile dayhike in New York City's largest park, Pelham Bay.
Heading out the door? Read this article on the new Outside+ app available now on iOS devices for members! Download the app.
From quiet, lush woodlands to brackish wetlands, Gneiss islands and isolated, rocky coastline, Pelham Bay Park showcases some of the most diverse scenery in New York's five boroughs. The 5-mile route from Orchard Beach to the park's northern islands is no exception.
From the Bx29 bus stop, take the Mosholu-Pelham Greenway through a corridor of deciduous forest. The route curves around a lagoon with stunning salt marshes. It then slices through secluded woodlands on the Siwanoy Trail. Shortly thereafter Orchard Beach and the Long Island Sound stretch across the landscape. Cruise the boardwalk from jetty to jetty, finishing on the north side of the public beach.
A dirt path traverses East Island's forests and bay shores. Continue over the thin, sandy barrier to Two Trees Island. Egrets fish along the waterfront. An abandoned sailboat rests partially capsized in the bay. Looking eastward, tiny, rock islands dot the Sound's waters. After enjoying the vistas at Two Trees Island, head back to the promenade along Orchard Beach.
Turn right immediately after the Nature Center to explore West Island. The trail traces salt marshes, ending at the cove between Hunter and the Twin islands. Horseshoe crabs and other shellfish nearly cover the sands during low tide.
When finished, retrace steps back to the start of the hike.
-Mapped by MacKenzie Ryan
Mass transit from Manhattan: Ride the 6 to Parkchester, then transfer to the 6 extension to Pelham Bay. Take the Bx29 to the start of the hike. During summer, Bx29 bus also goes directly to the bus terminal at Orchard Beach.
From Manhattan: Take 9A North to exit 14 for I-95. Keep right at the fork to merge onto I-95 North. Stay left at the fork, following signs for I-95/Cross Bronx Expressway, and merge onto I-95 North. At 8.1 miles, take exit 8B for Pelham Parkway. Continue straight onto Shore Road. Turn right at City Island Road. The start of the hike is across the street. To continue to parking, follow City Island Road around the traffic circle. Merge onto Park Drive. The parking lot is on the right.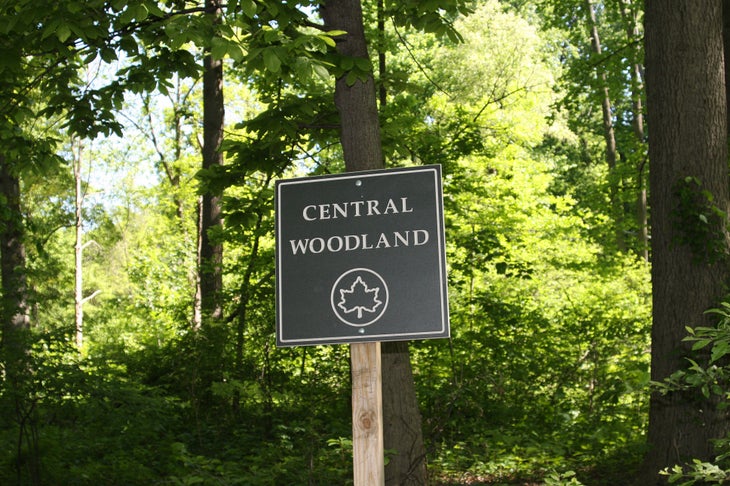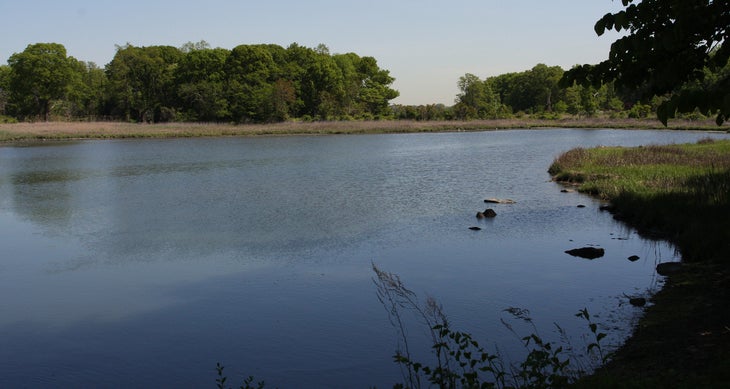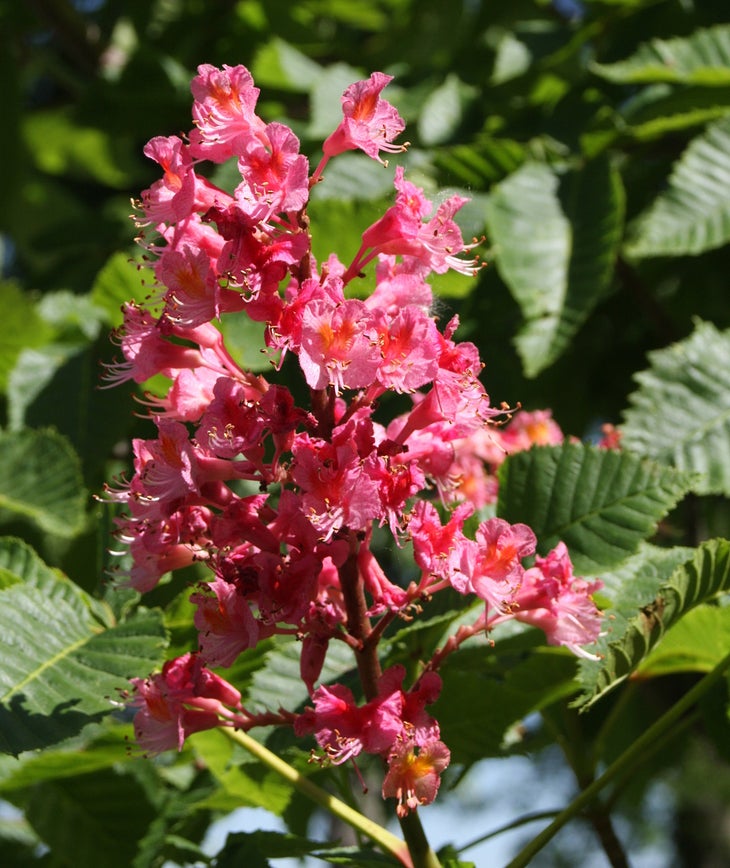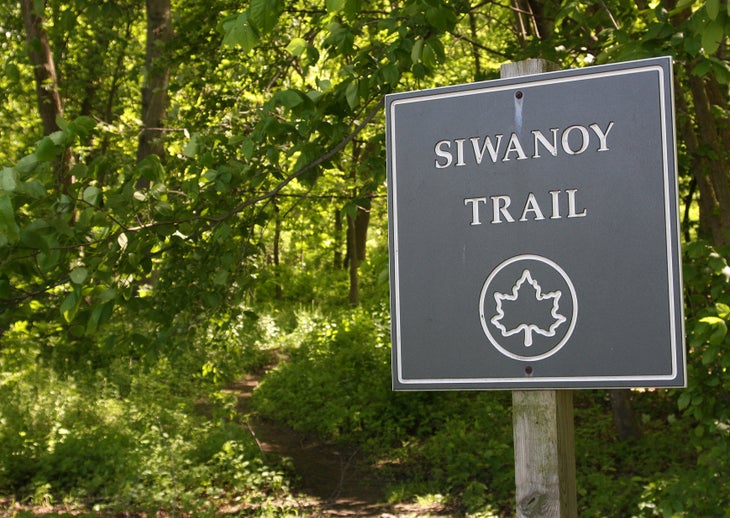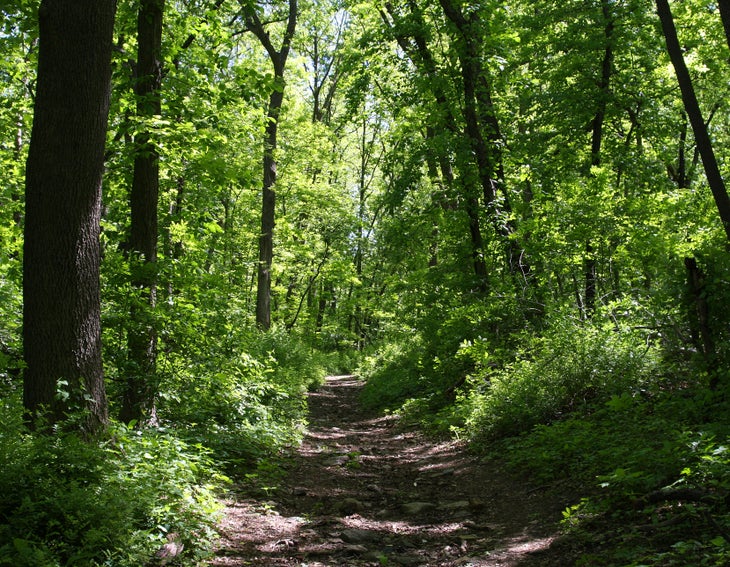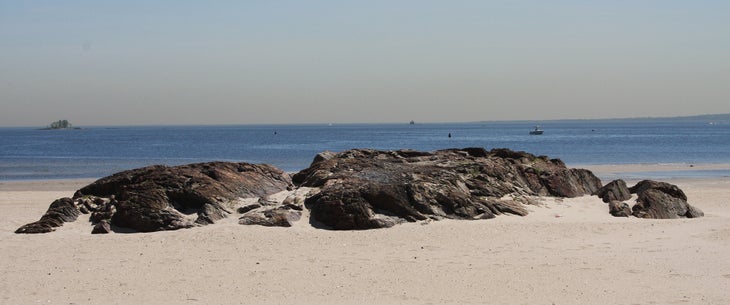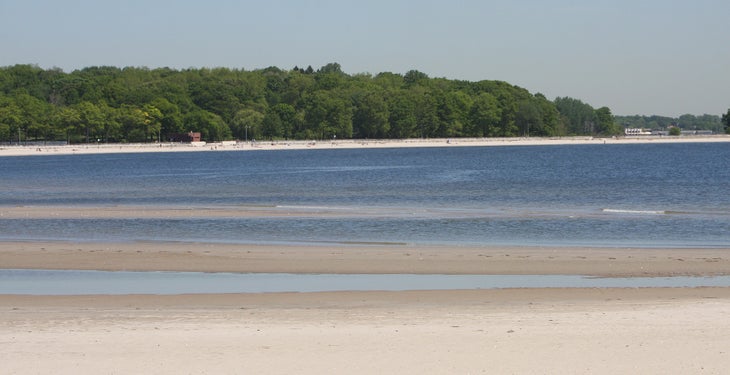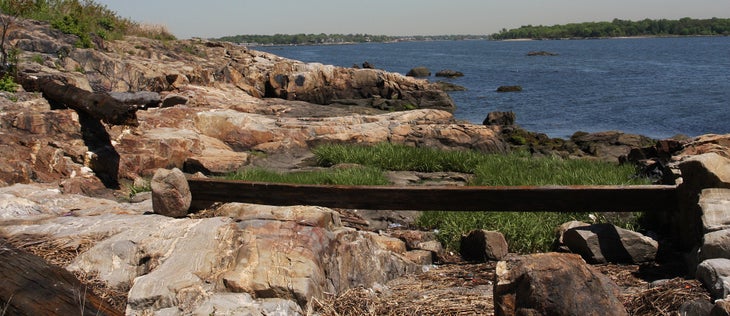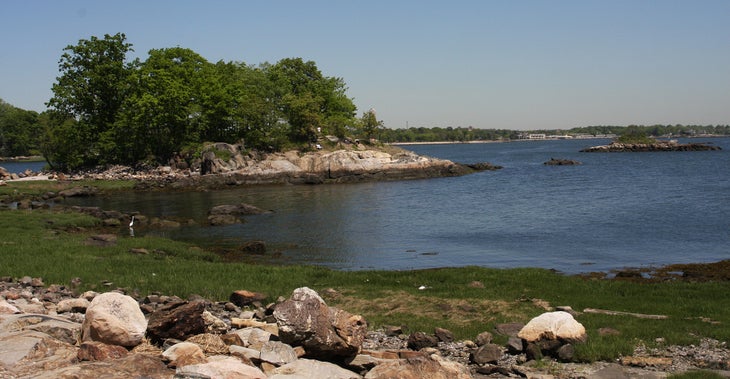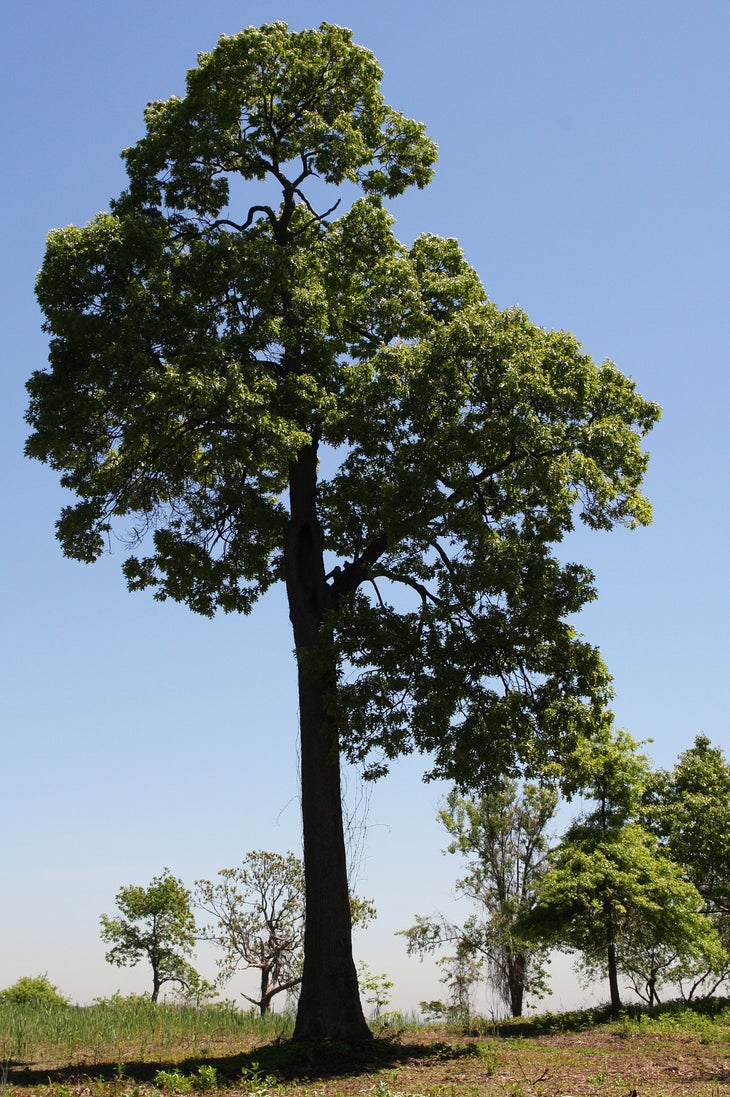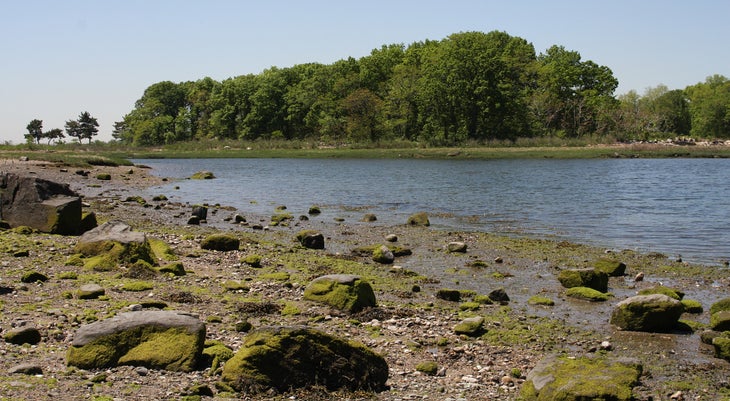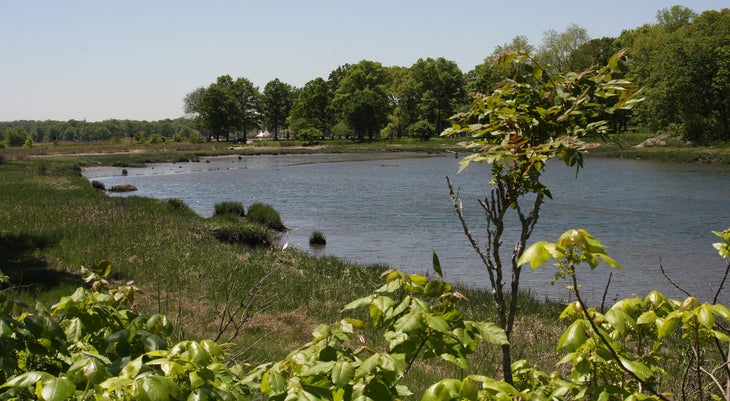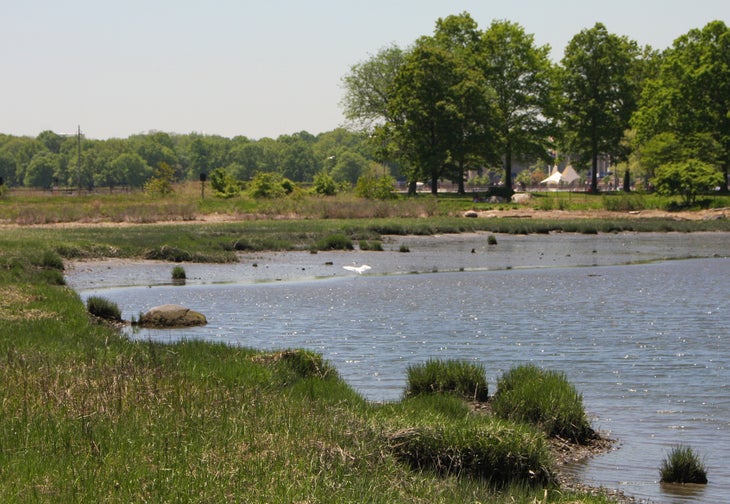 Trail Facts
Waypoints
PEL001
Location: 40.864232, -73.812888
From Bx29 bus stop, cross street and go R at the sign for Central Woodland.
PEL002
Location: 40.862431, -73.802331
Cross Park Drive and continue north on the greenway.
PEL003
Location: 40.864826, -73.80118
Reach Siwanoy Trailhead and turn R onto the dirt singletrack.
PEL004
Location: 40.865302, -73.797178
End Siwanoy Trail. Bear R @ Y-junction. Pass bus stops on the left.
PEL005
Location: 40.8646978, -73.794739
Turn R @ T-junction, merging onto the boardwalk at Orchard Beach.
PEL006
Location: 40.861194, -73.791934
When after reaching the south end of the boardwalk, walk to the northern end.
PEL007
Location: 40.865623, -73.7943558
Pass pavilion on left. Services available during summer only.
PEL008
Location: 40.8699718, -73.784854
Reach opposite end of promenade where the Long Island Sound unfolds. Turn around and bear R @ first trail to the Twin Island Preserve.
PEL009
Location: 40.870229, -73.785376
Turn R @ sign for Twin Island Preserve. Enter East Island.
PEL010
Location: 40.872497, -73.784315
Bear R @ sign for Two Trees Island.
PEL011
Location: 40.8734602, -73.7835467
Reach Two Trees Island. When finished with the scenery, retrace steps back to East Island.
PEL012
Location: 40.871191, -73.7842298
Turn R onto second spur trail.
PEL013
Location: 40.871255, -73.784953
Turn L @ T-junction.
PEL014
Location: 40.871222, -73.784913
Bear R @ Y-junction.
PEL015
Location: 40.870996, -73.784909
Bear R @ four-way.
PEL016
Location: 40.870284, -73.785383
Turn R onto boardwalk.
PEL017
Location: 40.87037, -73.786545
Pass Orchard Beach Nature Center.
PEL018
Location: 40.8703688, -73.7870438
Turn R @ sign for Twin Island. Enter West Island.
PEL019
Location: 40.8719168, -73.7859875
Bear R @ T-junction.
PEL020
Location: 40.8722535, -73.7861565
Reach jetty on Twin Island. Retrace steps back to start of the hike.
PEL021
Location: 40.870284, -73.788393
Option: Bear R onto trail to Hunter Island for an additional 2.5 miles.
Central Woodland
Location: 40.8644261, -73.8126969
Lagoon
Location: 40.8625437, -73.8061309
Flowers
Location: 40.8641503, -73.8015282
Siwanoy Trail
Location: 40.8647913, -73.8011956
Secluded woods
Location: 40.8650996, -73.8006485
Orchard Beach
Location: 40.8637486, -73.7945759
Long Island Sound
Location: 40.8624707, -73.7939537
East Island
Location: 40.8707952, -73.7835521
Two Trees Island
Location: 40.8721094, -73.7835681
Heading toward Two Trees
Location: 40.871647, -73.7838471
View of Hunter Island
Location: 40.8723366, -73.7842655
Egret
Location: 40.8729775, -73.7841904
More egrets
Location: 40.8711116, -73.7849844
Marshland on West Island
Location: 40.8718985, -73.7859285
More salt marshes
Location: 40.8722068, -73.7861323