New York City: Devil's Path
This 25-mile  hike climbs six significant peaks in the northern Catskills, accumulating about 8,000 feet each of elevation gain and loss in steep, rocky terrain. This country looks and feel wild, and the views from its many lookouts easily rival those from the more-crowded high peaks.
Heading out the door? Read this article on the new Outside+ app available now on iOS devices for members! Download the app.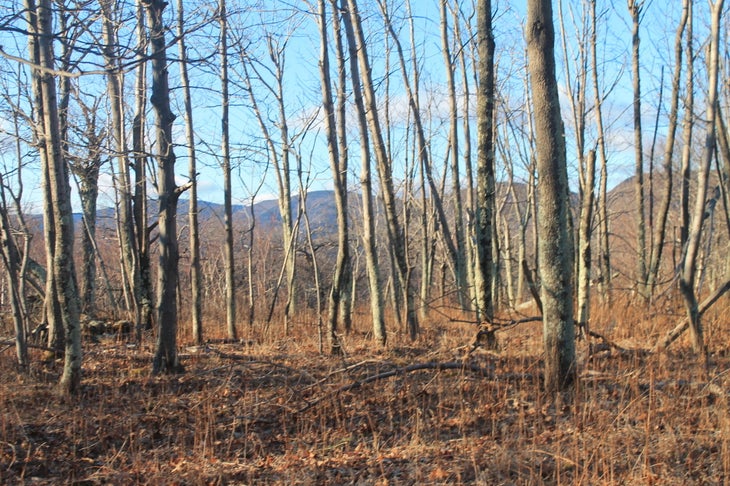 The hardest dayhike in America? You decide. I'd call it the second-toughest in the East after the Great Range in the Adirondacks, but the Devil's Path will certainly instill a huge amount of respect in you for how rugged and unforgiving Eastern trails can be. On July 3rd, I hiked the Devil's Path with 3 friends, and we saw as many deer as people, plus one black bear that followed me through the woods. But more on that later. A couple pieces of advice if you want to do the DP as a dayhike (it's also a fine 3- or 4-day backpacking trip): 1) Bring plenty of water, because the route can be very dry. We started with 3.5 quarts each. 2) Start at first light and pack a headlamp–you could easily be out for 16 hours. 3) Wear trail shoes or boots with stiff, well-cushioned soles to protect your feet from the rock pounding they'll receive on the trail. From trailhead, begin hiking along a branch of Schoharie Creek, following red blazes.
In about half a mile, go straight at a 3-way with the Jimmy Dolan Trail. Turning R is a shortcut that lops off about 30 minutes of hiking, but Jimmy Dolan is not considered part of the "real" Devil's Path, so we continued straight. From here, the trail climbs a bit, then contours around to the east side of Indian Head Mountain. Almost immediately, you're hiking on Catskill Crud, the infamously rocky jumble that people around here call a footpath. By the end of the day, you may agree with me that the tiring part of the Devil's Path is not the mileage or elevation gain, but the rough footing.
At 1.6 miles, a side trail leads down to Platte Cove Road (.9 mile). Veer R at this intersection. The path widens for a bit as it follows an old roadbed.
In 200 yards, turn R at a 3-way intersection and begin climbing more steeply. Indian Head's summit is 1,345 ft. up. Straight leads to the Devil's Kitchen lean-to (.1 mile), which is a decent place to stage for an early-morning assault on the Devil's Path.
Location: 42.115219, -74.101921
Sherman Lookout, which is named for General George Tecumseh Sherman. Killer views of Indian Head, Plattekill, Roundtop, Kaaterskill, and the Escarpment, which is the obvious ridge to the N.
Location: 42.115898, -74.106247
Scramble up a steep, 4th-class chute (yes, this is part of the trail) to yet another great lookout, this one prow-shaped with views E and S. The Gunks and Skytop are just visible to the south on a clear day.
Location: 42.116402, -74.110336
Climb up another short, steep chute with 5.3 moves. This is near the 3,500-foot level, so you're getting close to the ridge that includes Indian Head.
Location: 42.11793, -74.120893
After crossing the viewless summit of Indian Head and descending slightly to a col, stay straight at 3-way with the Jimmy Dolan Trail at the notch of the same name.
Location: 42.11828, -74.125743
First summit of Twin Mountain, which has splendid 180-degree views to the W/SW.
Location: 42.12549, -74.129391
Second (true) summit of Twin Mountain.
Location: 42.126572, -74.130402
Scramble down one of the Devil's Path's legendary rock chutes on the day's first steep descent. Unfortunately, the drop from Twin may be the easiest you'll face on this route.
Location: 42.128796, -74.132339
Another tricky downclimb in the middle of a difficult downhill section that's very rocky with lots of loose footing and wet, often treacherous surfaces. In winter, these slabs get iced up and become skating rinks; don't even bother without crampons.
Location: 42.129071, -74.135356
Pecoy Notch at 2,800 feet. Stay straight at 3-way and begin (you guessed it) a steep, 1,000-foot ascent of Sugarloaf. You might want to rest here for a few minutes; it's a nice, breezy gap. Take care to avoid the stinging nettle that lines the trail for the first 150 yards when you get started again.
Location: 42.129021, -74.139175
Excellent rest stop with partial views halfway up Sugarloaf.
Location: 42.131171, -74.150162
Viewless summit of Sugarloaf (3,800 feet).
Location: 42.131171, -74.151406
Stay straight at 3-way. Spur leads left to a decent lookout.
Location: 42.134561, -74.158316
Seasonal spring is located to the L of trail at the big switchback. This is the toughest part of the Path so far, because you're in the midst of 3 arduous climbs and descents with infrequent views (and no good ones since West Twin). And now you're tackling a long, grueling descent just as your feet and knees are starting to feel the pounding. But cheer up, because after a big climb at the bottom up the opposite side of this valley, you'll have a long, high, flat stretch of long-striding atop Plateau Mountain, then a short, stiff descent to a great lunch spot.
Location: 42.134831, -74.161363
Stay straight at 3-way. Spur leads right to Roaring Kill parking area.
Location: 42.135786, -74.162242
Go straight at 4-way with Mink Hollow Rd., which is really a foot trail. To the left in .1 mile is a lean-to. To the R in about .25 mile is a spring. Rest here, then start 1,240-foot climb to Plateau Mountain.
Location: 42.137552, -74.164109
Reliable spring on left. Climb goes vertical from here, or so it seems.
Location: 42.138157, -74.17428
Abruptly, the grueling steep climb ends and the trail levels out. Just ahead is the summit of Plateau Mountain (3,800 feet), though no views in sight quite yet.
Location: 42.160229, -74.187248
Partial view to the R just before your descent begins in earnest.
Location: 42.160294, -74.189217
Fabulous lunch ledge with broad views and afternoon exposure. Even if you don't eat here, take a break, because the trail turns into a long ladder just below here.
Location: 42.159389, -74.203949
Reach NY 214 and Devil's Tombstone parking lot at Notch Lake. We left a car here with extra water and lunch. If you do the same, pay the $4 daily parking fee at the campground office about .1 mile S on NY 214. This completes the first half of your hike, and definitely the tougher half. More than two-thirds of the elevation is behind you now, in addition to the steepest climbs and descents. In any event, you'll want to be here with at least 5 hours of daylight to spare if you don't fancy hiking by headlamp.
Location: 42.159294, -74.204071
Cross footbridge below the dam and head uphill, following red blazes.
Location: 42.1591, -74.206131
Caution: Don't miss the sneaky L-turn switchback here. We inadvertently followed the phantom trail that goes straight and wound up lost for 20 minutes.
Location: 42.164803, -74.226766
Spring on R.
Location: 42.165248, -74.22977
Stay straight at 3-way. R leads to Hunter Mountain observatory and summit.
Location: 42.165407, -74.230843
Pass a cramped but dry 6-person lean-to with a nasty privy and piped water.
Location: 42.175262, -74.257851
Turn L at T, cross bridge, drop your pack, and scramble down to the base of Diamond Notch Falls for a quick dip or foot-soak. Aw hell, make it a long soak–you deserve it.
Location: 42.168835, -74.287888
Arrive at Buck Ridge lookout and its awesome views in three directions. You'll see Hunter, Hightop, and the Gunks.
Location: 42.168045, -74.289368
Viewless summit of Westkill Mountain (3,880 feet). I had an unsettling bear encounter just beyond here in a pleasant winding stretch of level forest on the plateau below the summit. I'd stepped a few yards off the trail to pee, and in the middle of going I heard a crashing noise in the trees about 50 yards directly in front of me. I immediately knew from the sound that it was a bear–once you hear the sound, you never forget it–and a second later I saw a full-grown adult black bear come into the open. Unfortunately, I wasn't done peeing, so I had to stand there for a couple seconds more watching the bear come towards me. It didn't seem to see me at first, but when I zipped up and starting move back down the trail, it's head picked up and it snorted a bit. I kept going, but was disconcerted to hear the bear moving, too. When I turned to look, it was striding through the undergrowth parallel to my position, now a bit closer. This went on for what seemed like 5 minutes, but was probably only 45 seconds. Just about the time I was really getting worried and ready to turn around and shout, it stopped and went back to grazing. Phew.
Location: 42.191917, -74.324806
Hikes ends after beautiful 1.5 miles coming down through wide-open mature forest. Reach your car at the small parking lot on Spruceton Rd.