New Paltz, NY: Mohonk Lake and Sky Top Tower
Trace the shoreline of Mohonk Lake before scrambling through limestone crevices to a memorial tower with views of the Shawangunks on this 3-mile lollipop.
Heading out the door? Read this article on the new Outside+ app available now on iOS devices for members! Download the app.
Imagine trading every step on the trail for hand-over-hand scramble between towering crags. Now picture that doing that scramble for 45 minutes to an hour. That's the Mohonk Mountain House's Labyrinth, a combination of ladders and knee-scraping, unassisted climbs through gaps between mammoth rock slabs. Without question, the feature earns its name.
Hikers will know when they're through the Labyrinth: the Shawangunks begin to appear and the trail goes over a comparatively mild boulder field. But there is one last push to the real views. A skinny split between cliff faces reveals the Crevice: a claustrophobia-inducing ladder climb to a 1,500-foot ridge.
Enduring the tight fit is worth it. Mountains, rolling hills, miles-long ridges, and farmland fill the landscape. Only the vistas from the Sky Top Tower, another hundred feet or so higher, are better.
Keep climbing to top of the stone tower, where visitors enjoy 360-degree views of the Gunks, the Mountain House's grounds, and the mid-Hudson Valley.
When finished, follow the foot path down to Mohonk Lake and stroll around the shore for a cool-down. Wooden benches and tiny pavilions provide plenty of seating and resting opportunities. Boat rentals are also available back at the Mountain House. Close the loop there.
-Mapped by MacKenzie Ryan
From New York City: Take I-87 North toward Albany and get off at Exit 18 toward New Paltz. At 0.8 miles, turn left at Main Street/NY-299/State Route 299 West. At 1.7 miles, turn right at Springtown Road/County Route 7. At 0.5 miles, make a slight left at Mountain Rest Road/Country Route 6. Continue 0.9 miles to Mohonk Mountain House. Fee is $18.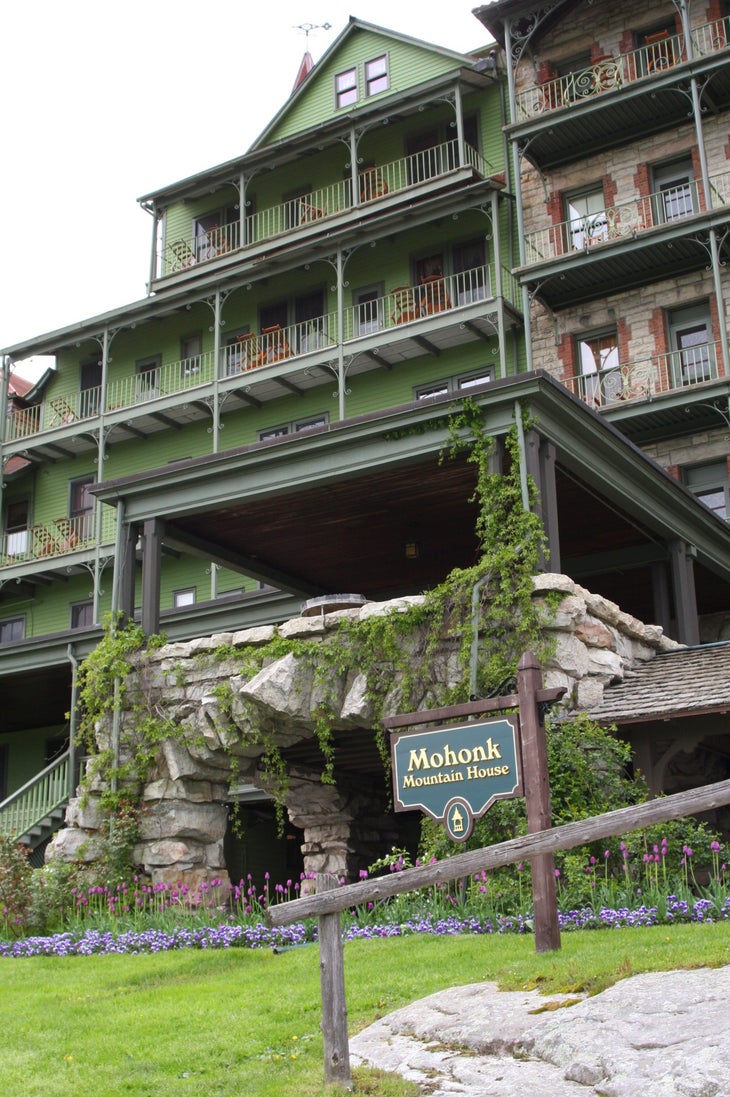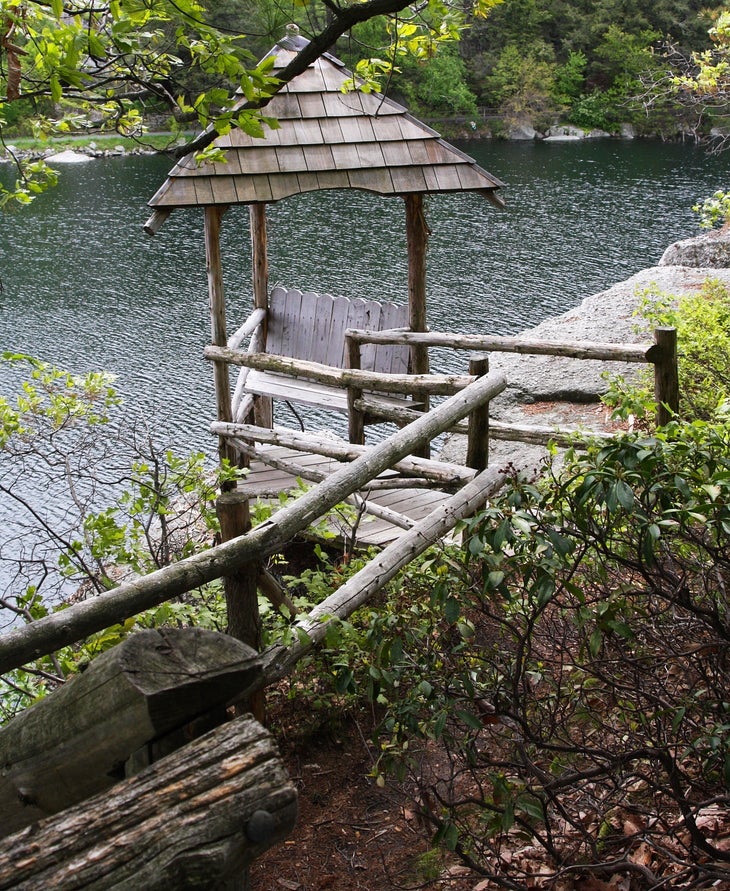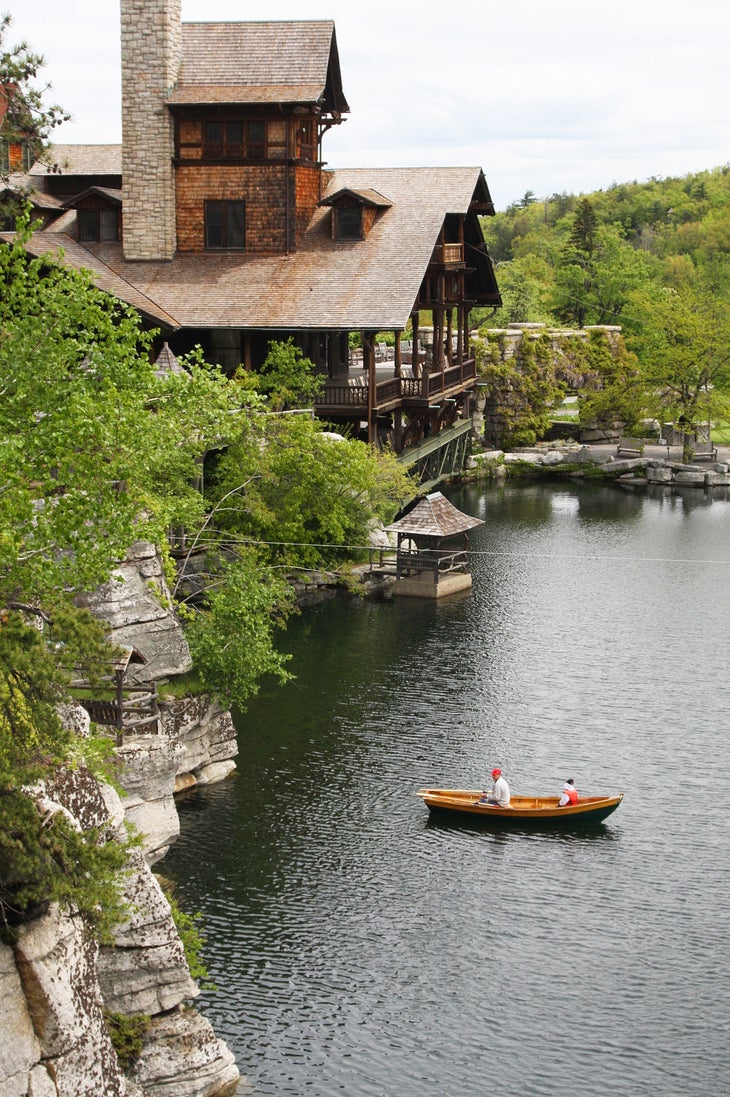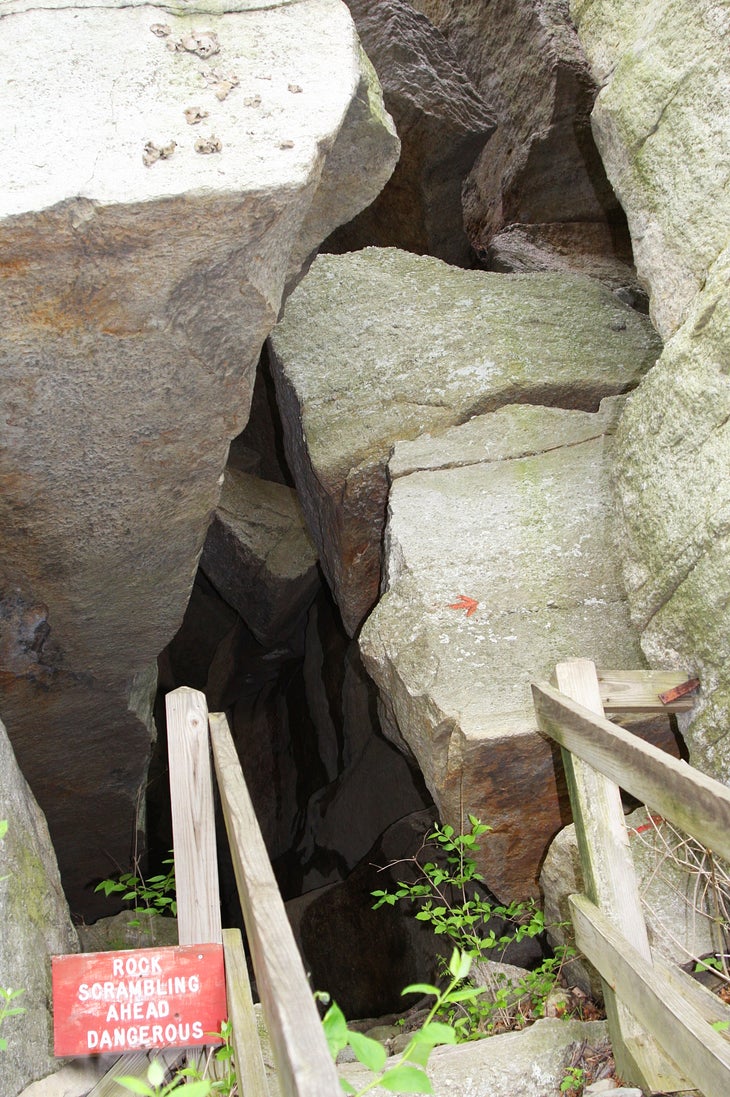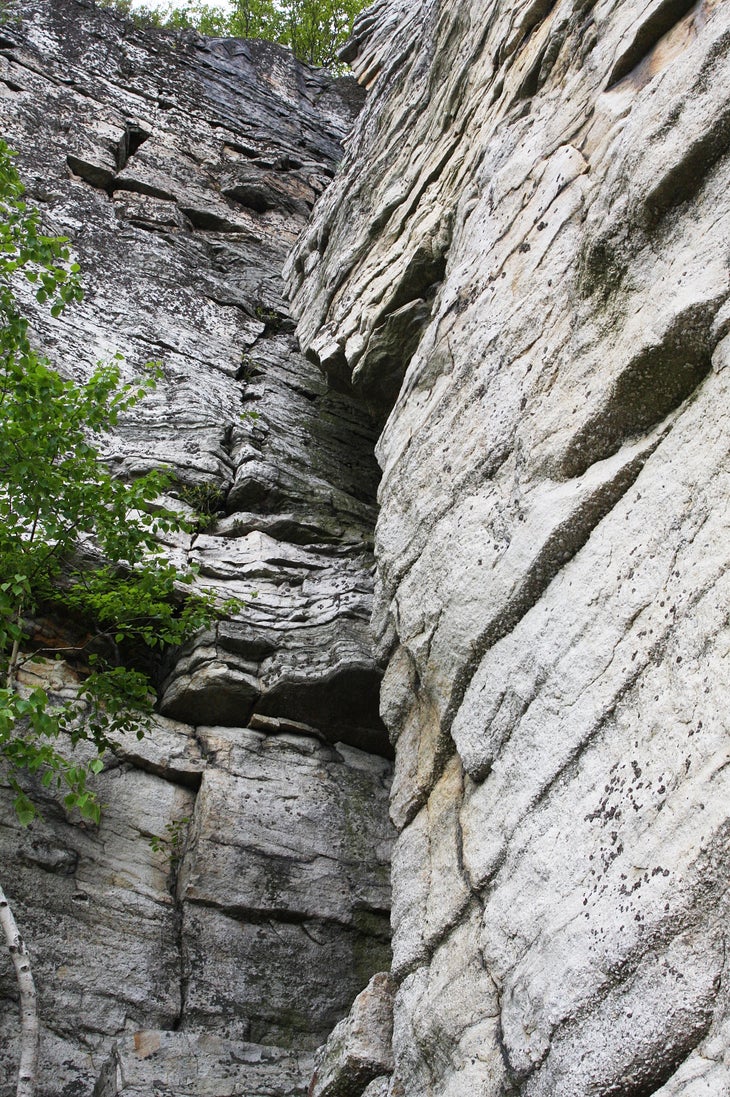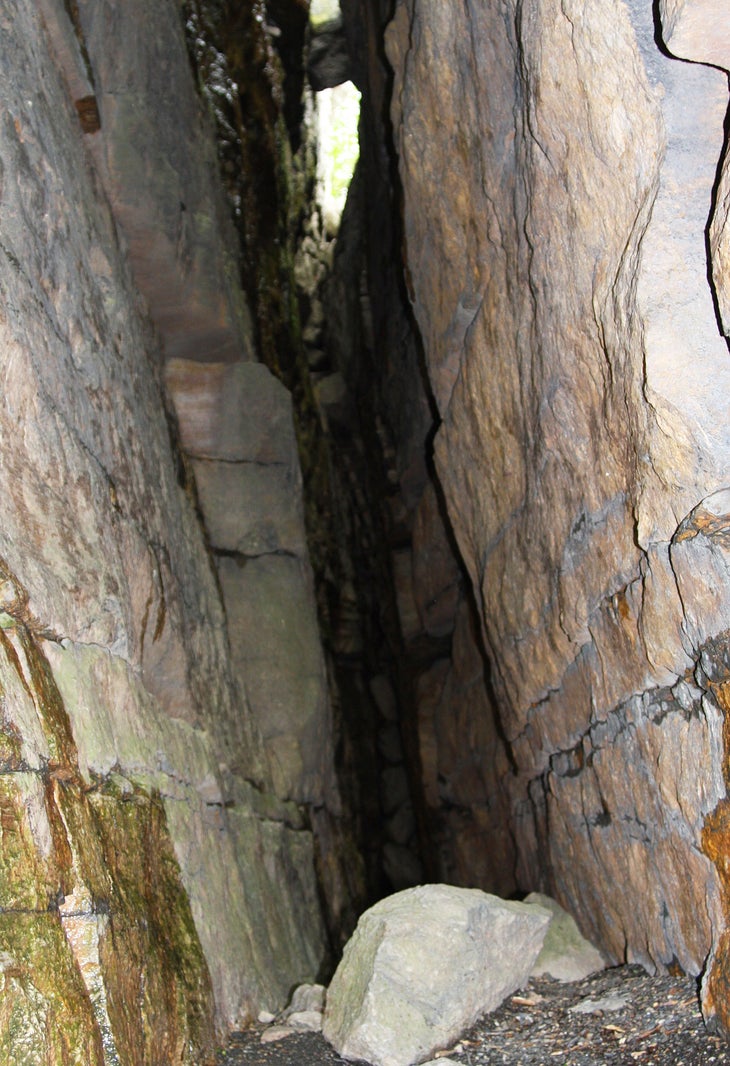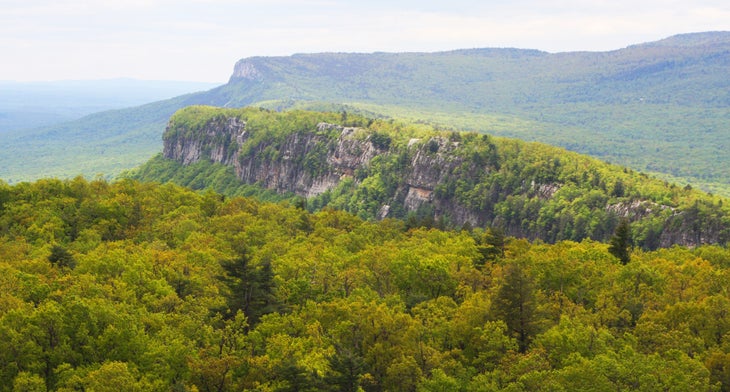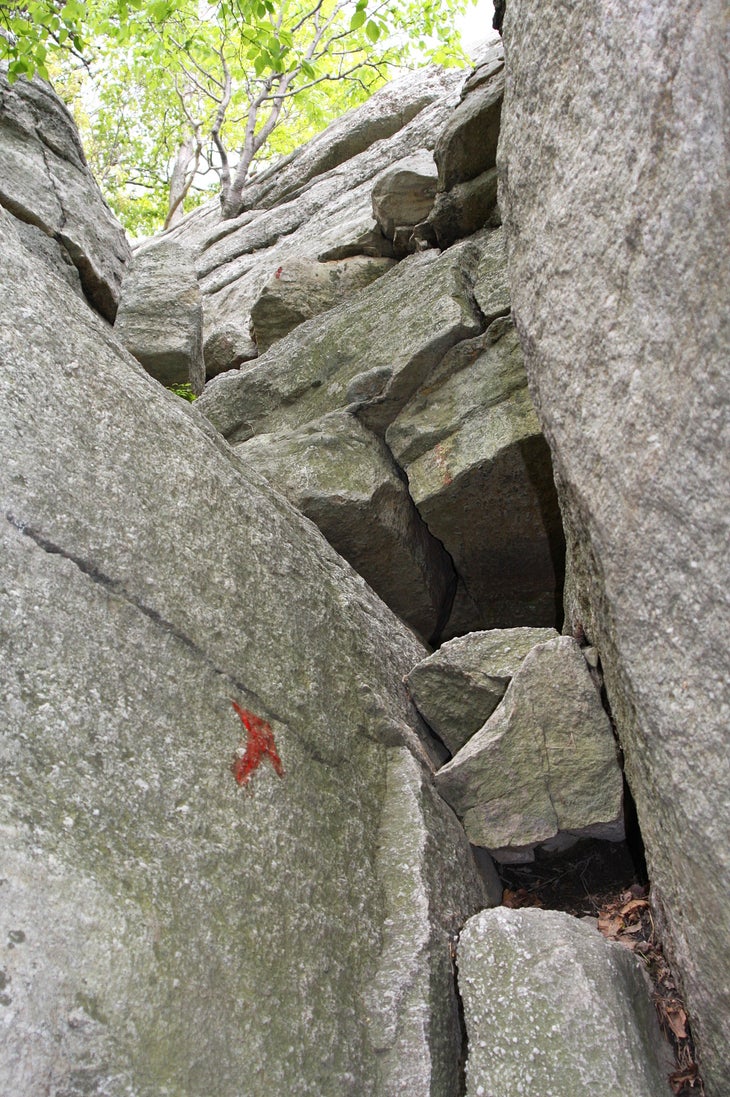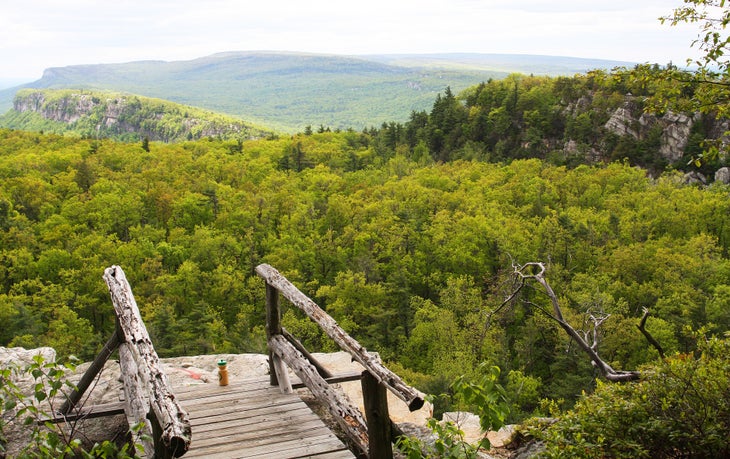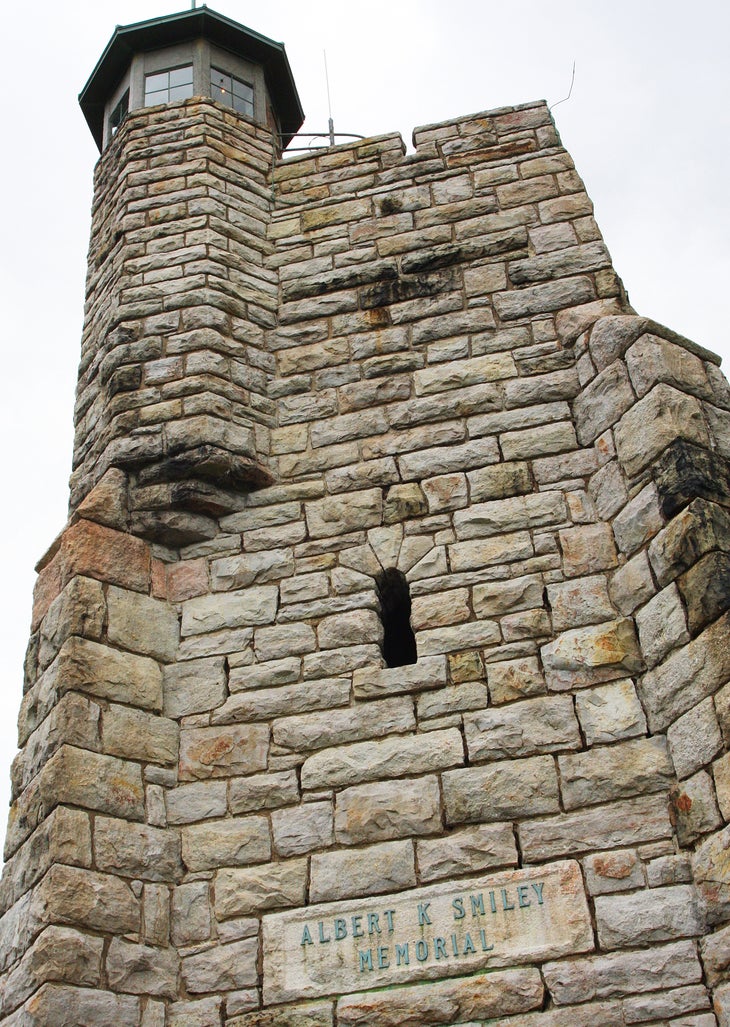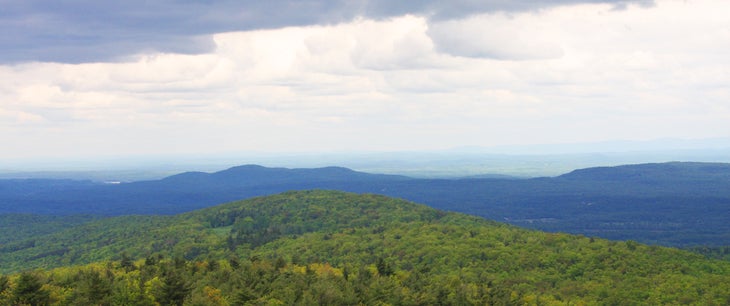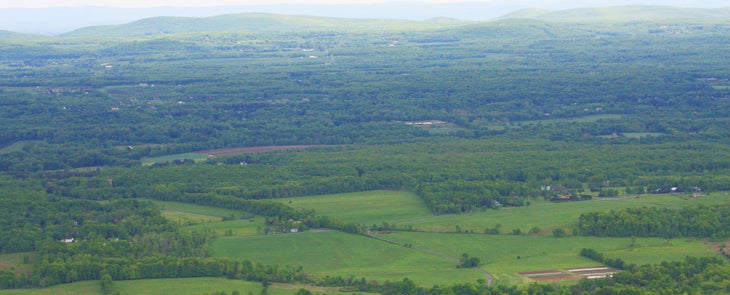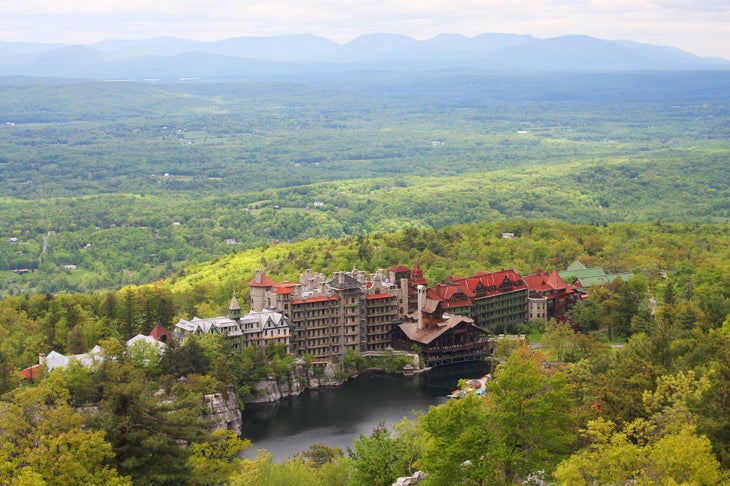 Trail Facts
Waypoints
MOH001
Location: 41.768612, -74.156215
From the Mohonk Mountain House, head southwest along Garden Road.
MOH002
Location: 41.767905, -74.157215
Go left @ Y-junction, heading toward Cope's Lookout Path and Eagle Cliff Road.
MOH003
Location: 41.767223, -74.157471
Turn left @ sign for Pine Bluff and Washington Profile.
MOH004
Location: 41.767265, -74.156703
Option: Turn right down steps and ladder to hidden lookout.
MOH005
Location: 41.767694, -74.156597
Bear right @ Y-junction behind Mohonk Mountain House.
MOH006
Location: 41.768144, -74.15587
Bear left down stairs.
MOH007
Location: 41.768137, -74.155401
Turn right onto the gravel path that climbs a ridge around Mohonk Lake. A dock with canoes for rent is on the right.
MOH008
Location: 41.76795, -74.154916
Bear right @ Y-junction, merging onto Lake Shore Road.
MOH009
Location: 41.767236, -74.154831
Turn left @ sign for the Labyrinth
MOH010
Location: 41.762965, -74.15613
After a difficult scramble through the Crevice reach an amazing vista with 180 degree views of the Shawangunks.
MOH011
Location: 41.763157, -74.15612
Turn left @ Y-junction and head towards the steps.
MOH012
Location: 41.763278, -74.156167
Turn right @ T-junction and walk uphill toward the tower on Sky Top Road.
MOH013
Location: 41.763438, -74.155668
Veer left onto one of the two singletracks that access the tower's yard.
MOH014
Location: 41.763512, -74.156147
Reach the Albert K. Smiley Memorial a stone tower that offers 360 degree views. Enter the building and climb the stairs to the top.
MOH015
Location: 41.763543, -74.156023
Reach the top of the tower, which has amazing views of the Mohonk Mountain House grounds and surrounding peaks. When finished retrace steps down the memorial and turn R onto the road.
MOH016
Location: 41.763898, -74.156202
Turn left @ sign for Sky Top Path and walk down the stairs. The sign indicates that hikers will be heading toward the Mountain House.
MOH017
Location: 41.76417, -74.156336
Continue straight @ four-way and descend the gravel path.
MOH018
Location: 41.764512, -74.156246
Reach Hayes Lookout and the option to turn left toward Thurston Rock.
MOH019
Location: 41.764302, -74.156527
Stop at Thurston Rock for a bit of privacy and great views of the surrounding mountains. When finished, retrace the way back to Sly Top Path.
MOH020
Location: 41.765238, -74.155817
Bear left @ Y-junction, heading towards the Labyrinth Spring Path and Lake Shore Road.
MOH021
Location: 41.765082, -74.156197
Turn right @ Y-junction and walk toward the Spring Path.
MOH022
Location: 41.765276, -74.156325
Turn right @ T-junction after taking connector trail to Spring Path.
MOH023
Location: 41.766059, -74.155866
Veer left @ Y-junction, merging onto Lake Shore Path.
MOH024
Location: 41.76541, -74.157141
Go straight @ the four-way, continuing left on Lake Shore Path. Look for the wooden fences and follow the trail around the lake.
MOH025
Location: 41.76389, -74.158453
Stay right @ three-way, skirting the shore.
MOH026
Location: 41.763225, -74.159458
Bear right, merging onto the Undercliff Trail. The path climbs a ridgeline above the lake and goes back toward the Mohonk Mountain House.
MOH027
Location: 41.765987, -74.158836
Stay right @ Y-junction with Lambdins Glen, which offers access to Eagle Cliff Road. Pass the beach and a dock on the right.
MOH028
Location: 41.76692, -74.157722
Bear right @ Y-junction with stairs. Continue along skinny trail next to water.
MOH029
Location: 41.766963, -74.157135
Reach bench under cliff with views of lake. When finished turn back and bear R up first set of stairs.
Mohonk Mountain House
Location: 41.768401, -74.156317
Shawangunk Panorama
Location: 41.767339, -74.157457
One of many lookout benches along the lake
Location: 41.767263, -74.156642
Paddle boating beneath the cliffs
Location: 41.767863, -74.156256
The dock
Location: 41.768115, -74.155306
The Labyrinth
Location: 41.766947, -74.154775
Entrance to the Crevice
Location: 41.763013, -74.156226
Crevice
Location: 41.762991, -74.15617
Vista after the climb out
Location: 41.762951, -74.156148
Still a little more scrambling
Location: 41.763085, -74.156162
The bridge to Sky Top Tower
Location: 41.763261, -74.156167
Sky Top Tower
Location: 41.763518, -74.156162
Summit views
Location: 41.763548, -74.155985
More summit views
Location: 41.763556, -74.156044
The house and Gunks from summit
Location: 41.7635, -74.156108
Bench on Undercliff Path
Location: 41.766943, -74.157162