Necklace Valley, Alpine Lakes Wilderness
Spend a few days wandering through Necklace Valley's chain of lakes on this 18-mile trek through a remote section of the Alpine Lakes Wilderness. For more adventure, peak bag nearby Mt. Hinman and Mt. Daniel.
Heading out the door? Read this article on the new Outside+ app available now on iOS devices for members! Download the app.
The Necklace Valley is named for a set of lakes closely linked together, like precious gems on a chain. Their names echo the valley's, paying homage to how the waters here sparkle in the sun: Locket, Jade, Emerald, Opal.
Start at the Necklace Valley trailhead (trail #102) about 4.1 miles up FSRD #68, just east of the Skykomish Ranger Station. The trail begins easily, following an old railroad grade for the first 1.5 miles through second growth timber. Along the trail you'll see the ghosts of giants past, large cedar stumps with springboard notches chopped in the massive trunks. At mile 3.1 the trail meets the East Fork Foss River, following the bank past a campsite. The trail continues through interspersed second-growth and old-growth forest until  a clearing at mile 4.2, below a massive face of sheer granite. The trail here winds around large car sized boulders that have broken off the cliffs. In another quarter mile, you will see a nice campsite, complete with a toilet, in a bend in the river at mile 4.5.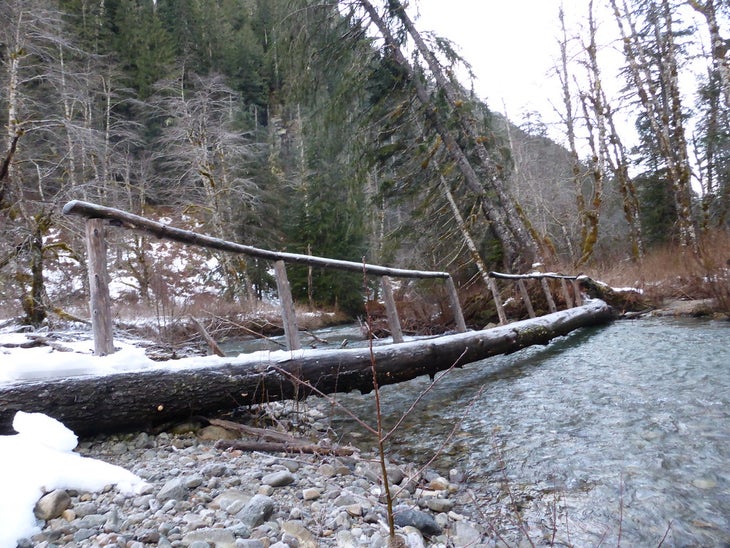 At mile 5 the trail crosses the river to head uphill through a large boulder field; look for cairns and surveyors ribbon if the way is not obvious. The next 2.7 miles gains over 2400 feet in elevation to the first lake. From here on out, the trail is not well maintained, often crowded by brush and vine maple. At mile 6.1, the trail finally re-enters the forest, following a stream past small falls over tumbled granite and on to the upper lakes. Reach the first of the Necklace Valley lakes at mile 7.7. It's surrounded by granite cliffs on either side, and the trail keeps to the eastern shore, hugging the rock. In the distance, you can see peaks above the tree line. The trail continues through Necklace Valley,  through a string of small meadows between the lakes that stretches all the way to the far end of Opal Lake at mile 9 before surrendering to shattered granite, calved off the sheer granite cliffs at the end of the valley. You could spend days here, wandering from lake to lake, and, if you are an experienced off route scrambler/climber, you can scale the peaks of nearby Mt. Hinman and Mt. Daniel.