Natural Wonders: Ice Caves, Bison, and Huckleberries
Three treks to life-list phenomena
Heading out the door? Read this article on the new Outside+ app available now on iOS devices for members! Download the app.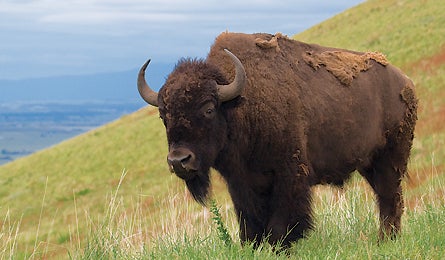 (Photo by Ken Archer)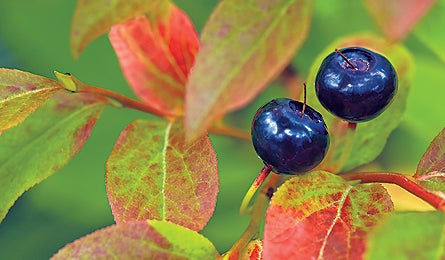 (Photo by Chuck Haney)
Bison | Huckleberries | Ice Caves
MONTANA'S HEAD-BUTTING BISON

See North America's largest terrestrial animal.
The Wonder

The National Bison Range, one of the oldest wildlife refuges in the nation, protects 350 to 500 American plains bison, a species whose population once totaled 50 million. The breeding season from mid-July through August is one of the best times to visit, when bulls walk to within 20 feet of each other, lower their heads, and charge. The result is a circus of roaring, head-butting, and horn-locking surrounded by a mini tornado of churned-up dust. Their thick foreheads allow them to collide without apparent injury, and they do so until one of them decides enough is enough and loses the girl.
The Way

The 18,500-acre range, 50 miles north of Missoula, lies in the shadows of the glacier-carved Mission Mountains. From the visitor center, take Red Sleep Mountain Road 19 miles to a turnout on the right. Pick up the High Point Trail here for a one-mile out-and-back to the range's high point, atop a bluff. You'll get expansive views of the bison (most active in early morning and late afternoon) roaming 2,000 feet below. fws.gov/bisonrange
Bison | Huckleberries | Ice Caves
OREGON'S WILD HUCKLEBERRIES

Eat from the vine in Mt. Hood National Forest.



The Wonder

These tangy-sweet berries, ranging in color from deep red to blue-black, were a staple for Northwest and Rocky Mountain Native American tribes for thousands of years. Hucks are finicky, though, requiring the right mix of warmth and soil chemistry to fruit abundantly. Researchers hope to have the first commercial huckleberry plants available in 2010. For now, pick wild from late summer to early fall, between 3,500 and 7,200 feet. Bears love huckleberries, too, so pay attention: You may be grazing in someone else's favorite patch.
The Way

Drive 17 miles south from the Hood River Ranger Station on OR 35 to FS 3545. Turn right to access the 4.1-mile Umbrella Falls-Sahalie Falls Loop. You'll trace the Hood River to splashy Umbrella Falls. Look for pale green huckleberry leaves in open, sunny spots. The bushy plants can be as short as two inches, and as tall as six feet. fs.fed.us/r6/mthood
Bison | Huckleberries | Ice Caves
NEW MEXICO'S ICE CAVES

Cool off in the Southwest's natural freezer.
The Wonder

Though they lie beneath a sun-scorched desert, the 10,000-year-old Bandera Ice Caves never get warmer than 31°F. Ice, 20 feet thick and glistening blue-green, forms when rain and snowmelt seep into the collapsed lava tube and freeze in the winter air that sinks into the cave. The result: a 60-degree temperature drop as you climb down a ladder into the maw of the pit.
The Way

From the visitor center, 100 miles southwest of Albuquerque, take a half-mile trail lined with twisted cedars to the rim of Bandera Volcano, where you can look into its 800-foot-deep crater. Then, circle back to the visitor center and follow the Cinder Trail .7 mile to the cave. A person-size hole in a jumble of rocks reveals a wooden staircase that drops 75 feet to the frozen floor. icecaves.com