National Parks: North Cascades
Come for the sheer, glaciated peaks, but be mesmerized by rain-fed waterfalls that pour down on all sides.
Heading out the door? Read this article on the new Outside+ app available now on iOS devices for members! Download the app.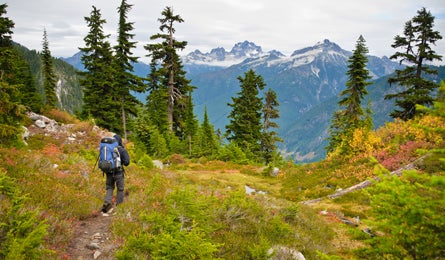 Copper Ridge Trail in North Cascades (Kim Phillips)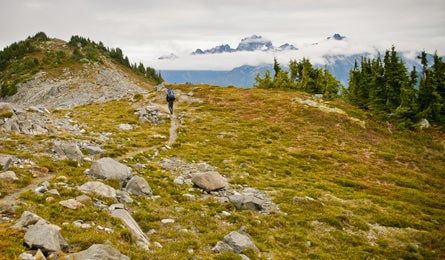 Copper Ridge Trail in North Cascades (Kim Phillips)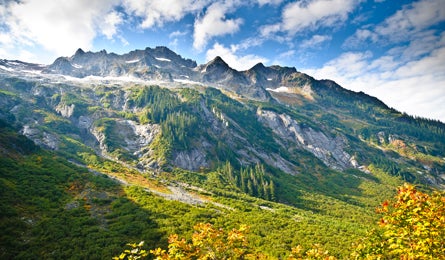 The Nooksack Ridge (Kim Phillips)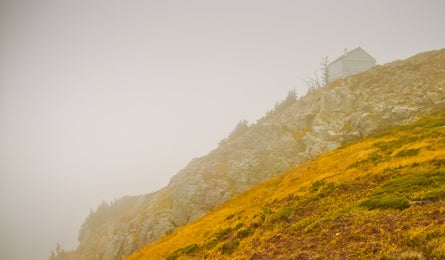 Copper Mountain Lookout (Kim Phillips)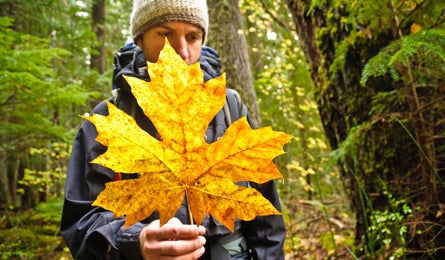 A maple leaf on Big Beaver Trail (Kim Phillips)
Scores of mountains that rise 3,000 feet in the last horizontal mile to their summits. At least 77 peaks that tower 6,000 feet or more above adjacent valleys. The highest concentration of glaciers in the Lower 48. These are just a few of the stats cited by those who believe North Cascades is the wildest park in the continental U.S. We only need one to make the case: The combination of vertical relief, remote location, and rugged approaches rebuffed exploration for so long that the heart of the park wasn't mapped by the USGS until 1989. Think about it: We landed men on the moon two decades before we finished mapping this park.
Still not convinced? Consider the famously stormy weather. As the legendary climber Fred Beckey, who made hundreds of first ascents in the region, once wrote, "Weather in the Cascades is actually highly predictable: Either it is raining, or it will be shortly." That, plus the wild topography, yields the perfect recipe for life-list scenery and zero crowds. My boyfriend, Matt, and I encountered both last October. Initially, the cold, relentless rain made me feel like an early North Cascades cartographer must have felt: daunted. Up until day three, in fact, I'd believed that any successful backcountry trek required bluebird skies and bright sunshine. But after 30 miles here, I stopped wishing for a string of cloud-free days. Sure, wet weather makes a hard hike harder, but it also transforms these mountains in ways I'd never imagined.
I stopped dreading and started embracing rain when Matt and I were slightly more than halfway through a 51-mile point-to-point in the park's 293,124-acre North Unit. I chose this route specifically because it offered the chance to traverse the most secluded part of the park, an area completely cocooned by Mt. Baker-Snoqualmie National Forest, Ross Lake National Recreation Area, and British Columbia. It takes a bit more logistical effort to cross this remote expanse (see Trip Planner, at right), but the payoff is clear: In less than a week, we'll connect high alpine ridgelines to glacier-scoured river valleys to mossy rainforests guarded by 200-foot-tall western red cedars. And we'll do it in near total solitude.
Almost immediately after leaving the trailhead, the route runs below nine glaciated peaks that punctuate the Nooksack Ridge. By mile five, we're ascending Copper Ridge on one of the park's rare high-elevation trails (most hug valley bottoms). The path climbs to 6,268 feet and arrows northeast roughly eight miles on the open ridge. On the way up, we spot a honey-colored black bear and her two cubs—one is light brown and one is jet black. They ignore us, concentrating instead on the blueberries and huckleberries that will help sustain them through winter. We hike on for two miles, through an intermittent mist that dampens our descent into the basin cupping Egg Lake, our first night's camp.
The curtain of clouds lifts temporarily the next day, and sporadic sunshine breaks through as we crisscross the exposed back of Copper Ridge. One minute the sky clears to reveal exhilarating, eye-level views of toothy peaks cloaked with hanging glaciers. The next moment, the clouds drop again, draping the ridge in an impenetrable fog.
Like in the Olympics, the forest here is lush even by Pacific Northwest standards. I get a glimpse of what 84 inches of annual rainfall can do for the landscape on day three, when we hike along the Chilliwack River. The cedar and fir canopy is so dense it repels the drops like a thatched roof. Thick carpets of cushy moss, frilly ferns, and an Alice in Wonderland variety of mushrooms grow in profusion.
When we leave the forest shelter for the final, exposed miles to our camp at 5,206-foot Whatcom Pass, the staccato tapping of raindrops ricochets off my hood and reverberates in my ears. That night, recurring blasts of wind and sleet pelt the tent for hours.
The next morning, we descend scores of switchbacks that drop into the Little Beaver Creek Valley. The trail crosses half a dozen streams ferociously swollen with runoff. Because each crossing makes my heart rate spike, and because I'm concentrating so intently on keeping my balance, I'm caught off guard by the next sight.
The low-hanging clouds suddenly lift, unveiling a profusion of waterfalls flanking the valley. I'm awed by the scene's fairy-tale quality, and the way it materialized out of nowhere to glitter like something from a dream. The silvery ribbons sparkle on all sides, tumbling down sheer, 7,000-foot peaks. It's like nothing I've ever seen, in any mountains anywhere. I imagine the peaks have just been created before our eyes, born this very morning and still dripping with the raw materials of creation. Now I understand that the Cascades only reach their full potential when they're covered in, well, cascades.
I realize something else when we finally move on. We still have 21 miles to go to reach Ross Lake. And I hope the rain returns, making every mile as glorious as this one.
TRIP PLANNER
The Way Western trailhead: From Marblemount, go 39 miles west on WA 20. Turn right on WA 9 N. In 22 miles, turn right on WA 542 E. In 32 miles, bear left on NFD 32. Go 5.3 miles to trailhead. Eastern trailhead: From Marblemount, drive east on WA 20. In .9 mile, turn left on WA 20 and go 28 miles.
Route Connect Hannegan Pass, Copper Ridge, Chilliwack, Brush Creek, Little Beaver, Big Beaver Trails. Camp at Egg Lake, Indian Creek, Whatcom, Luna.
Shuttle Ross Dam to Hannegan Campground. Mountain Transporter, $425 (up to four people), (509) 996-8294; methownet.com/mountaintransporter.html
Water taxi Go from Big Beaver to Ross Dam with Ross Lake Resort, $50 (up to six people), (206) 386-4437; rosslakeresort.com
Season The park is open year-round, but the best months for hiking are May through October.
Maps USGS quads: Mt. Sefrit, Mt. Shuksan, Copper Mountain, Mt. Blum, Mt. Challenger, Mt. Prophet, and Pumpkin Mountain ($8 each, store.usgs.gov)
Permit Required; free
Contact (360) 854-7245; nps.gov/noca
ASK A BEAR

Q: Do grizzlies still live in the North Cascades?
A: The last confirmed griz sighting was in 1996 near Glacier Peak. A buddy of mine shot down from BC on a huckleberry binge. We'll reintroduce ourselves anywhere for good eats! Right now, we're far outnumbered by our diminutive cousin, the black bear. However, rumor of our presence is so strong that an interagency tech team is attempting to collect our DNA using 189 hair snag corrals—debris piles scented with fermented cow blood and fish, surrounded by barbed wire. They're hard to resist—I'm planning to swing by a few myself. If you see me, or my tracks, take photos and be sure to tell a ranger. They get excited about that stuff.
ASK A RANGER

Q: I only have a weekend. Where should I go?

The North Cascades' rough and remote reputation keeps even the hint of crowds away, making it a cinch to score big-ticket solitude and scenery even on a short schedule. Here's your plan, says Wilderness Ranger Rosemary Seifried. Beeline to the easier-access South Unit for this 25-mile highlight reel that weaves past electric wildflower displays in July, climbs to an airy, 6,525-foot alpine pass, and tracks through giant western hemlock and Douglas fir. Drop a car at the Thunder Creek trailhead before starting at the Easy Pass trailhead (20 minutes southeast of Ross Dam). The trail zigzags along its namesake creek, then scales the eastern flanks of Ragged Ridge, gaining nearly 3,000 feet of elevation to the misleadingly named Easy Pass. At the top, pause for front-row views of Mt. Logan's glaciated slopes framed by stands of subalpine larch (golden in fall). Next, descend roughly 30 switchbacks into Fisher Creek Basin—home to black bears and the occasional moose. Just past Fisher Camp, the route dips back into forest on the 11.3-mile stretch to Junction Camp. The next day, descend 10.2 miles north through Thunder Creek Valley to your shuttle car.