National Parks: Great Smoky Mountains
For guaranteed solitude in the park's southwest reaches, explore this quiet loop during the off-season.
Heading out the door? Read this article on the new Outside+ app available now on iOS devices for members! Download the app.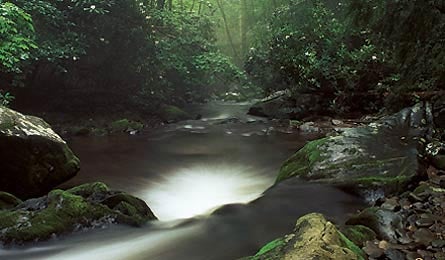 Crystal Clear Twenty Mile Creek (Photo by Brett Siminson)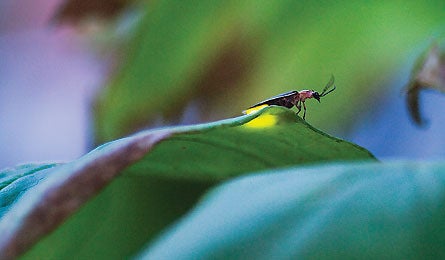 An illuminated firefly (Photo by Rick Lieder)
Fact: Almost 9.5 million people visited the Smokies last year, making it by far the most popular park in the country. Fiction: You can't find wilderness solitude among the crowds. Even in summer, you can avoid the highest concentrations of dayhikers—who mass at some of the best-known mountain swimming holes and azalea-covered balds—by simply traveling just a few miles from the trailhead. But I wanted more than uncrowded. I wanted to prove that real solitude—I-could-be-the-last-person-on-Earth solitude—exists in America's busiest national park. My friends were skeptical when I told them of my quest, so I wish they could see me now—with my girlfriend, Anna—on Gregory Bald at dusk. We're the only people standing at this prized overlook, and we haven't seen another human for the last two days.
Of course, this kind of solitude doesn't happen by accident. We scoped one of the park's quietest corners and planned our trek for the slowest season, winter. Our planned two-day, 15.5-mile loop links four trails (the Twentymile Loop, Long Hungry Ridge, Gregory Bald, and Wolf Ridge Trails) and tops out on 4,949-foot Gregory Bald, one of the Smokies' most spectacular highpoints. We arrived at the Twentymile trailhead just as the sky darkened, the temperature dropped into the 40s, and it stopped threatening to rain and just did. Our spirits remained high, though: We're both longtime backpackers, but this was our first trip together as a couple.
The Twentymile Trail—actually five miles long—leads us north on faded logging roads fringed by rhododendron, mountain laurel, and its namesake creek. Two miles in, the rain relents. We stop for the night at Campsite 93 and pitch our tent beneath a leaden sky tickled by tall hardwoods. Rushing water lulls us to sleep. We wake to a dusting of snow and a slowly clearing sky, then continue north, crossing Twentymile Creek back and forth on bridges, rocks, and logs as it cascades over small drops into deep pools. Anna spies one of the park's 30 species of salamanders, a pencil-length, salmon-red Gyrinophilus porphyriticus, the spring salamander, whose courtship season is underway.
Farther up the trail, we find flipped mats of forest floor, a telltale sign of wild hogs rooting around the dense understory. There are bear tracks, too, etched into the snow. But none from boots. The rigorous, more-than-2,000-foot climb to Gregory Bald begins on the Long Hungry Ridge Trail just past mile four. It's a circuitous path that crests its namesake ridge before jogging northwest toward the 4,949-foot bald. Soon we'll break through the trees to the open summit.
Gregory Bald is well-known for its electric displays of flame azaleas that peak in late June, but it's equally stunning covered in a snowy meringue at dusk. As we emerge into the silent, ridgetop meadow, we could be on another planet, if not for the faint, flickering lights of Gatlinburg, 24 miles to the northeast. We spend our last night camped just below the summit. The temperature drops into the low teens, and Anna and I joke nervously about getting stuck here. Later, as we zip up our bags, I resist telling her that being marooned—in our very own national park—actually sounds pretty good.
TRIP PLANNER
The way From Fontana Dam Rd., head west on NC 28. In 7.8 miles, turn right; drive .1 mile to parking.
Maps USGS quads Fontana Dam, Cades Cove, Calderwood, and Tapoco ($8 each, store.usgs.gov)
Permit Required for overnight stays; free. Pick up in person at the Twentymile Ranger Station. Reservations are required for Campsite 13 (make them up to one month in advance).
Contact Backcountry Information Office, (865) 436-1297; Backcountry Reservation Office, (865) 436-1231; nps.gov/grsm
SEE THIS NOW

Believe it or not, the country's most spectacular light show is not on July 4. For a two-week period in mid-June, male Photinus carolinus fireflies (one of the park's 14 firefly species) synchronize their flashes for mating season. Get front-row views—and bypass the crowds that flock to the popular Elkmont viewing area—on Porters Creek Trail in the northern reaches of the park. The mile-long (one-way) route, wide and manageable in the dark, leads to a clearing at Porters Flat where clouds of fireflies blink in unison. Watch closely: The short bursts of synchronous lights form distinct patterns, which vary among the species. Target your arrival to Porters Flat for 9 p.m.
ASK A BEAR

Q: Why do you love the Smokies so much?
A: For the same reason you humans love your all-you-can-eat buffets. The Smokies have a smorgasbord of savory delectables, like acorns, blueberries, raspberries, insects, and squawroot. My mouth is watering just thinking about it. Food's a pretty big deal when there are 1,500 other black bears competing for grub. Plus, I can eat 20 hours per day and consume 15,000 to 20,000 calories to prep for my winter nap. Think I'm exaggerating? Watch me at Cades Cove or in the oak trees that line the road. One more thing: We're opportunistic eaters, so leave the acorn-patterned sweater at home.
HOW TO PHOTOGRAPH A SUNSET

Adding a Smoky Mountain sunset to your shot list is a no-brainer. But, actually capturing the rose- and amber-colored rays that filter across the layered ridgelines can be tricky. If you expose for the darkening landscape, you'll likely blow out the colors of the sunset, and if you meter for the sky, the rest of the scene may be underexposed. To nail the shot, keep these tips in mind.
» Use a wide-angle lens, like a 20-35mm zoom, to capture the hills in the foreground and the setting sun in the background.
» If possible, shoot RAW files. This format works the best with photo-editing software when you want to darken skies and open up shadows. Remember: It's easier to recover details in the highlights (the sky) than the shadows (mountains), so overexpose by a stop or two to keep landscape detail.
» Don't own Photoshop? Then attach a graduated neutral density filter to your lens (it darkens the exposure of the sky by a few stops) to properly expose for the sky and the landscape.
» Shoot at an aperture of f16 or higher to hold sharpness throughout the image.
Next step: Practice your sunset shots on these trails.
1. Follow the Appalachian Trail 3.6 miles north from Fontana Dam to Shuckstack fire tower, a 1930s lookout with views across the entire park. 
2. Climb two steep miles up Chimney Tops Trail, 10 miles south of Gatlinburg, to rocky outcrops overlooking Mt. Le Conte, Mt. Mingus, and Sugarland Mountain. 
3. It's paved, but the half-mile trail to Clingmans Dome ends with 100-mile views (on clear days) from the highest point in the park and Tennessee.