Multisport Maniac Skills
Learn these skills for trips that involve more than just hiking.
Heading out the door? Read this article on the new Outside+ app available now on iOS devices for members! Download the app.
Learn to self-rescue with a paddle float. (Supercorn)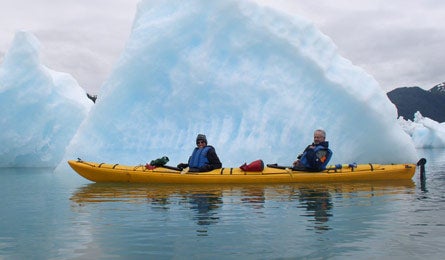 Kayaking can be a great way to experience the backcountry. (by Cheryl Botts)

Manage a Kayak In Rough Weather

Prep for paddling into big seas, stay stable, and know how to self-rescue.
>> Plan for rough seas

Select a wide (more stable) boat and always bring a paddle float, a self-rescue device that turns your paddle into an outrigger. (Store safety gear in an easy-access spot in the cockpit.) Before venturing into surf, hone your paddling technique in calm water: Power your stroke from your core and flex your hips to maneuver the boat. Also, learn how to wet exit (lean forward, grip your paddle under your arm, loosen your spray skirt, and somersault completely out of the kayak before surfacing). Practice your self-rescue (see below).
>> Face waves head-on

Don't venture into frothy seas unless you've mastered kayaking essentials, including an Eskimo roll. Hit big rollers perpendicular to their crests and maintain your speed to power over them (instead of slipping backward down the wave's face). Be alert to avoid colliding with other boaters, and use a low brace to avoid flipping: With a pushup-like arm position, turn the paddle blade parallel with the water. Slap the water's surface to steady the kayak as you snap your hips and pull up with your lowest knee.
>> If you capsize, self-rescue

Hold on to your boat and paddle, and position yourself on the boat's downwind side. Use your paddle float it to selfrescue: Retrieve your float and inflate it around a blade of your paddle. Flip your kayak (turn the cockpit toward you so it scoops less water), secure the shaft to the deck rigging behind the seat, and use your floating paddle as an outrigger (A). Climb into the cockpit, one leg at a time, facing backward (B). Weight the float so the boat doesn't flip toward the unsupported side. Continue weighting the paddle while you adjust and turn into the seat (C). Remove the paddle, restow your float securely, and use a bilge pump to empty the boat before continuing. Pretrip, practice other self- and assisted-rescue techniques like the reentry roll and T-rescue.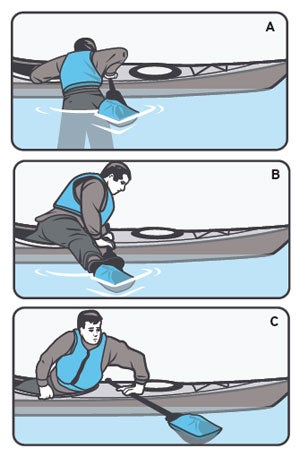 Get Rescue Insurance

How to pick wisely
Medical evacuations can cost more than $100,000, and many insurance plans don't cover international trips or injuries sustained while practicing "adventure sports." Check with your insurer before departing to see what coverage they offer. Ask specifically about "international emergency medical clauses." If you're not covered, purchase accident insurance from a provider like Global Rescue (globalrescue.com) which has comprehensive extraction plans starting at $119 (annual plans start at $329).

—


Pack Smart for Every Sport

What key parts of your kit should you bring overseas? Use this chart to decide.
Sport: Climbing

Gear to Take: Unguided trips: harness, helmet, belay device, rope, shoes, protection. Weight: 19 lbs.

Why: If you're going on your own, bring all of your gear; it may be impossible to rent. Guided? Reputable companies will provide equipment (bring your shoes). Find certified guides and outfitters at the International Federation of Mountain Guides Associations or through the American Alpine Club. Inspect gear for fraying and fading indicative of UV damage, and request replacements if anything looks old or worn.
Sport: Skiing/snowboarding

Gear to Take: Boots, goggles, gloves, transceiver, helmet. Weight: 6.5 lbs.

Why: Leave your skis/boards at home; carrying them is nearly impossible if you plan to take public transport, and all big mountain destinations will have well-equipped rental shops. Always bring your boots (as a carry-on), and arrange rentals online ahead of time for discounts of up to 30 percent.
Sport: Kayaking

Gear to Take: PFD, dry top, spray skirt, helmet Weight 4.5 lbs.

Why: Contact boat shops in your destination and rent from the shop with the best brands. Inspect boats and paddles carefully (and check for emergency gear) before committing. Option B: For casual floats, consider taking an inflatable boat like Alpacka Raft's Yukon Yak ($850; 4 lbs. 15 oz.; alpackaraft.com).
Sport: Scuba diving

Gear to Take: Regulator, buoyancy control device, safety knife. Weight: 12 lbs.

Why: Rental gear O-rings and valves aren't always inspected, and gear failure on dives below 30 feet can be fatal. Bring your own breathing apparatus (and safety gear), but rent bulky and heavy items like fins, a wetsuit, air tanks, and weight belt.
Sport: Mountain biking

Gear to Take: Helmet, gloves, padded shorts, shoes, pedals, seat. Weight: 3.5 lbs.

Why: Some airlines tack on $200 for bike transport (check airlinebagfees. com), and frames are susceptible to irreparable damage in the cargo hold. Bikes are also easy targets for theft and not usually covered by insurance abroad. Unless you're on a bike-specific trip, pack comfort essentials but rent the bike.