Mount St. Helens National Volcanic Monument: Plains of Abraham
Hike into a vast, volcano-crafted moonscape in the (much-reduced) shadows of Mount St. Helens on this 10-mile out-and-back.
Heading out the door? Read this article on the new Outside+ app available now on iOS devices for members! Download the app.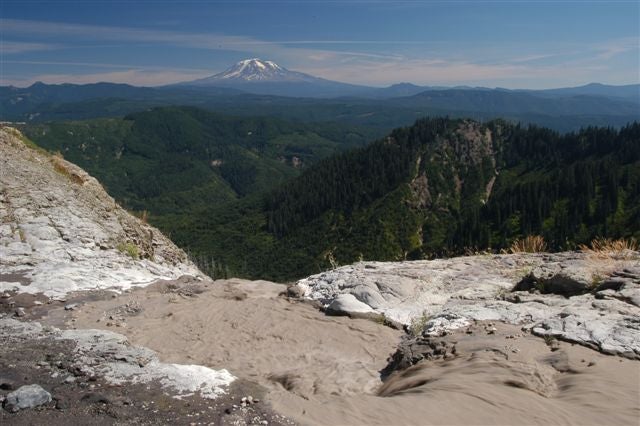 Trail Facts
Waypoints
Ash swollen creek flowing off falls into Ape Canyon.
Location: 46.2002182006836, -122.133674621582
©Alan Bauer
ABR001
Location: 46.2491302490234, -122.136177062988
Go SE up gated Forest Service road
ABR002
Location: 46.2446098327637, -122.136909484863
Stunning views to NW of Spirit Lake. Since St. Helens' eruption in 1980, the once lifeless lake has rebounded to support more fish and plants than ever
ABR003
Location: 46.2396621704102, -122.137962341309
Continue upward on a grassy carpet lined with foxglove, Indian paintbrush, and other wildflowers
as St. Helens reveals a full-frontal view of the eastern crater
ABR004
Location: 46.2336311340332, -122.15030670166
Go L on Trail 216D, leaving dirt road for steep, treeless ridgeline
ABR005
Location: 46.2304306030273, -122.148498535156
Follow gnarly pumice ridge; ascend steep hill on cable-supported ladder
ABR006
Location: 46.2229232788086, -122.148666381836
Stay L @ Y
ABR007
Location: 46.21826171875, -122.142486572266
First views S of Plains of Abraham, an ashen, boulder-strewn expanse created by avalanches and mudflows
ABR008
Location: 46.2176895141602, -122.140815734863
Following switchback, go R @ unmarked Y into a chalky and desertlike landscape
ABR009
Location: 46.213321685791, -122.139320373535
Straight @ 3-way
ABR010
Location: 46.2005424499512, -122.134353637695
Overlook: Ash-swollen creek disappears hun-dreds of feet into Ape Canyon's 1,000-ft. walls. Splendid views of Mts. St. Helens and Adams; retrace steps to car