Mount Rogers National Recreation Area: Iron Mountain Loop
This well-trodden route passes fishermen, cyclists, and AT thru-hikers before ascending the quiet, sun-dappled slopes of southwest Virginia's Iron Mountain.
Heading out the door? Read this article on the new Outside+ app available now on iOS devices for members! Download the app.
Autumn-color insiders head here come October for a 13.5-mile weekend with huge scenery and no crowds. The loop links four trails–Beartree Gap, Appalachian, Feathercamp Branch, and Iron Mountain–on a rugged circuit with a little bit of everything. You'll swoop past views of Virginia's highest peaks, peer over a glacier-carved gorge, then wrap up with a stream-hopping push over Iron Mountain.
Pick up the Beartree Gap Trail beside the kiosk at Beartree Lake and cross the 14-acre, trout-stocked lake via a short dam. Then follow the trail across US 58 to link to the AT southbound at mile .5. You'll work up a sweat ascending the wide path up 3,500-foot Straight Mountain. On top, pan east to see Mt. Rogers (5,729 feet) and Whitetop (5,520 feet), Virginia's two highest peaks. Continue along the ridgeline through mixed hardwoods.
Pass a spur to Saunder Shelter at mile 2.7, a good campsite for late starters. Take a sharp right shortly after to stay on the AT. Pass views into glacier-carved, 1,000-foot deep Whitetop Laurel Creek Gorge. At mile 3.7, begin a switchbacking descent to Whitetop Laurel Creek.
Cross the highway again to pick up blue-blazed Feathercamp Branch Trail and make a 1,500-foot ascent to Iron Mountain's 4,000-foot ridgeline. At mile 8.6, find a tent-perfect clearing, or turn right onto the yellow-blazed Iron Mountain Trail to continue to the six-person Sandy Flats Shelter.
The next day, savor the views and silence along the lightly traveled IMT, part of the AT until a 1972 rerouting. The peak drops its leaves earlier than the lowlands, so by mid-October you'll have unobstructed views of the blazing slopes below. Descend and turn right at Shaw's Gap to close the loop with the Beartree Gap Trail.
Gear Up: Mt. Rogers Outfitters has it all. 110 Laurel Ave., Damascus, VA; (276) 475-5416
Season: Get the best foliage from mid-October to mid-November. In late November, be prepared for snow at upper elevations.
Map: Mount Rogers NRA ($10, natgeomaps.com)
Contact: Mount Rogers National Recreation Area, http://www.fs.fed.us/r8/gwj/mr/
-Mapped by Amy C. Balfour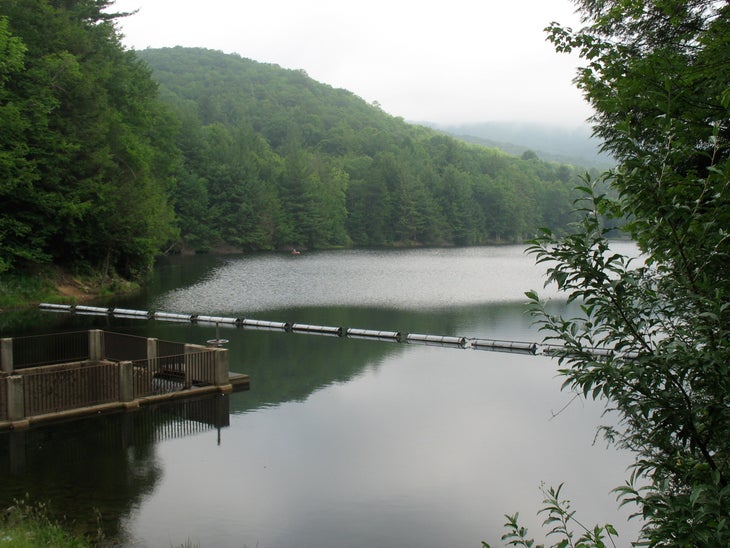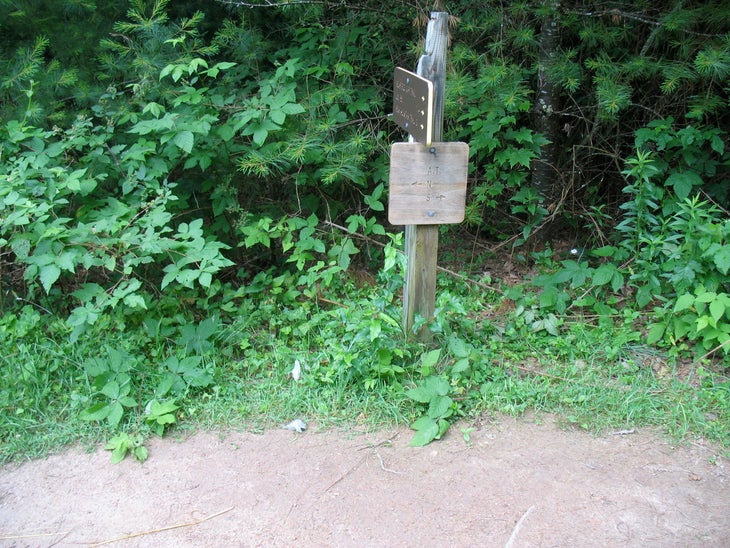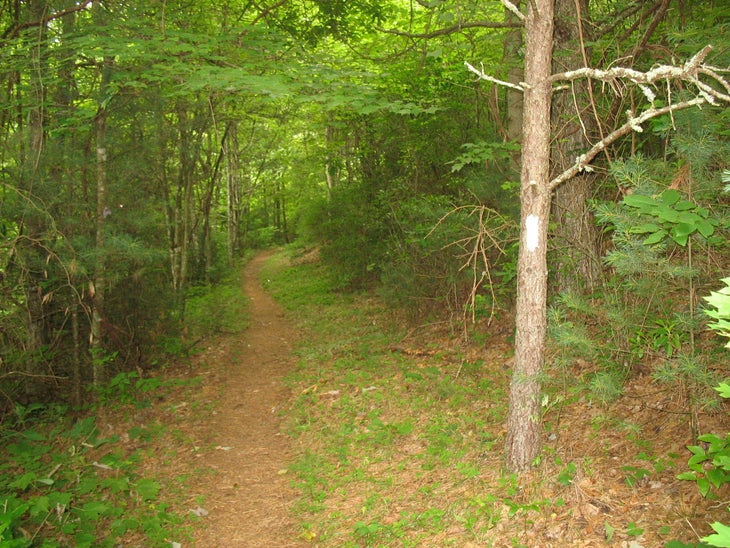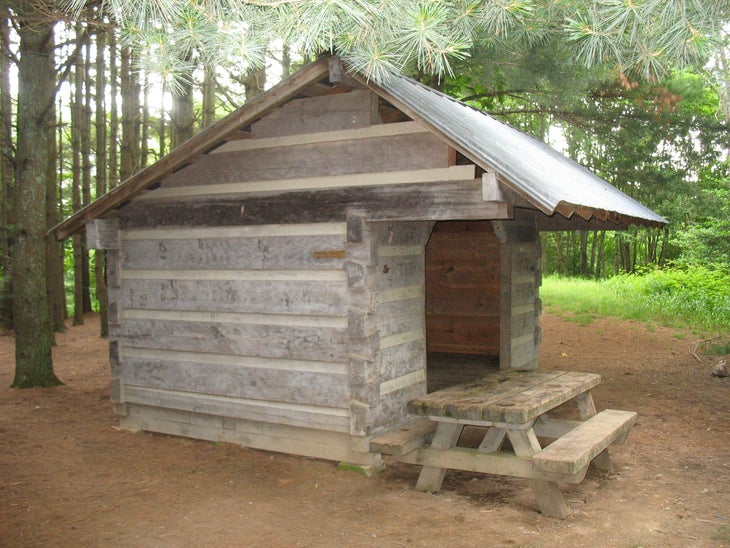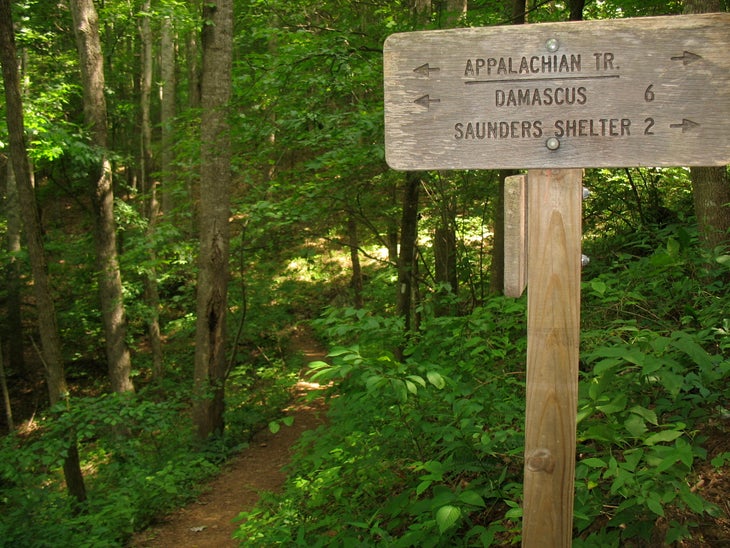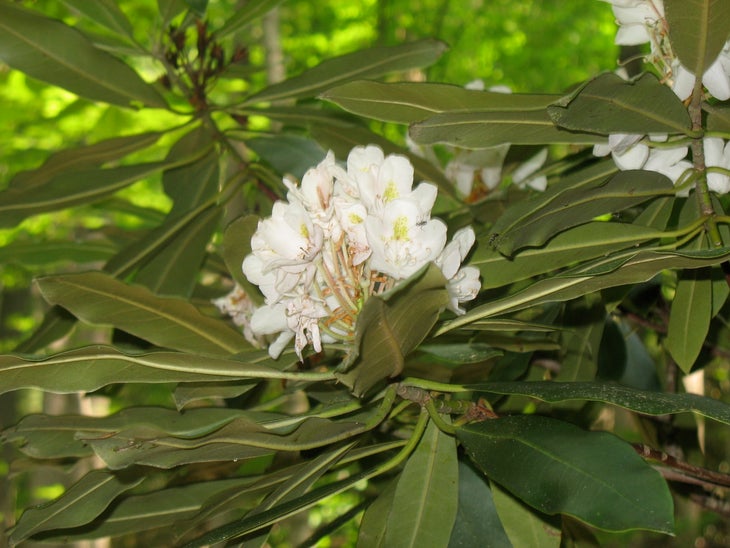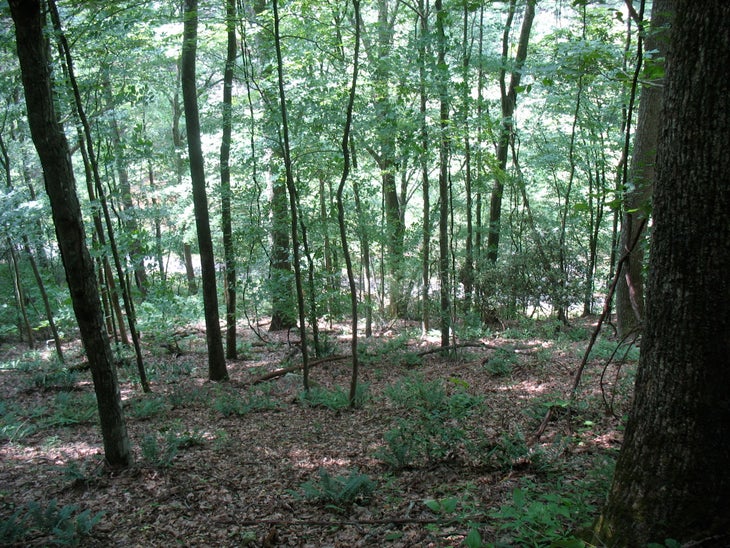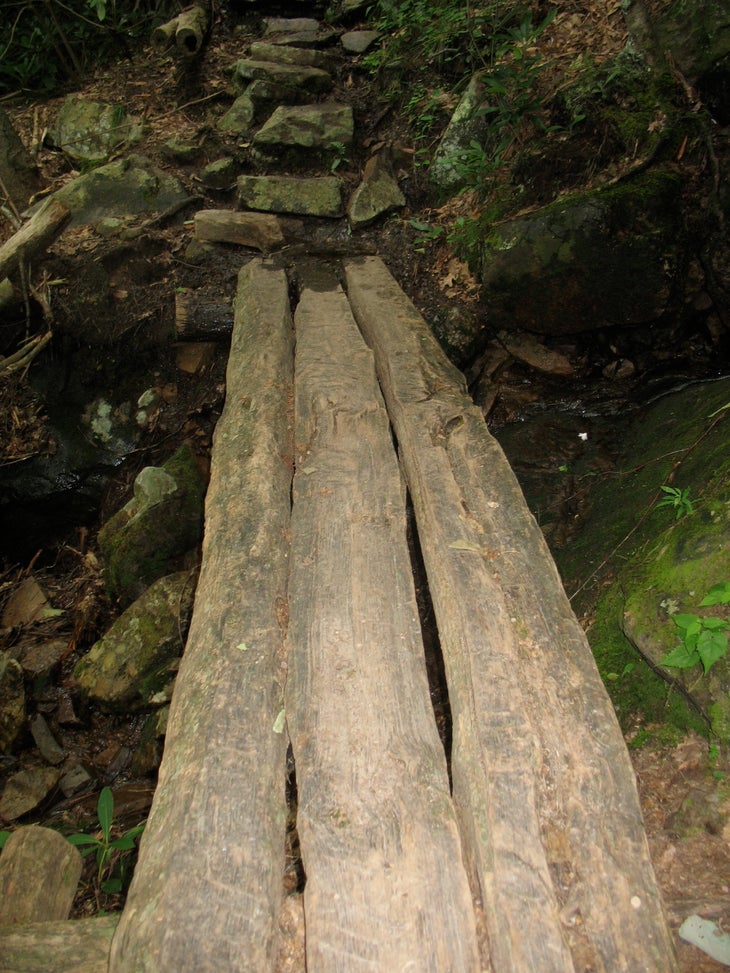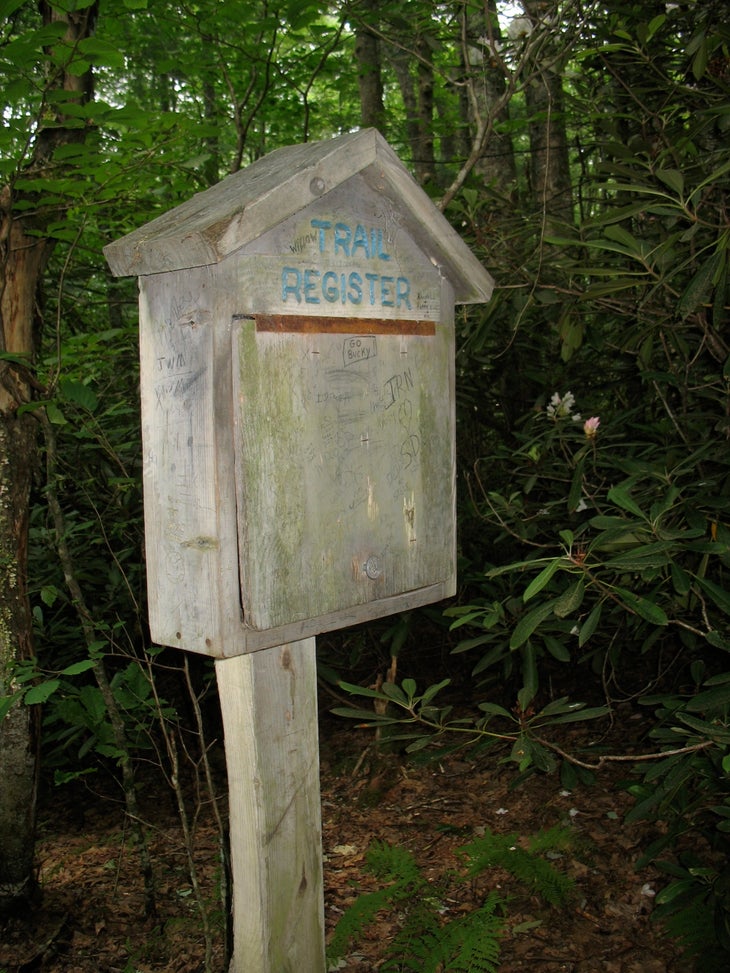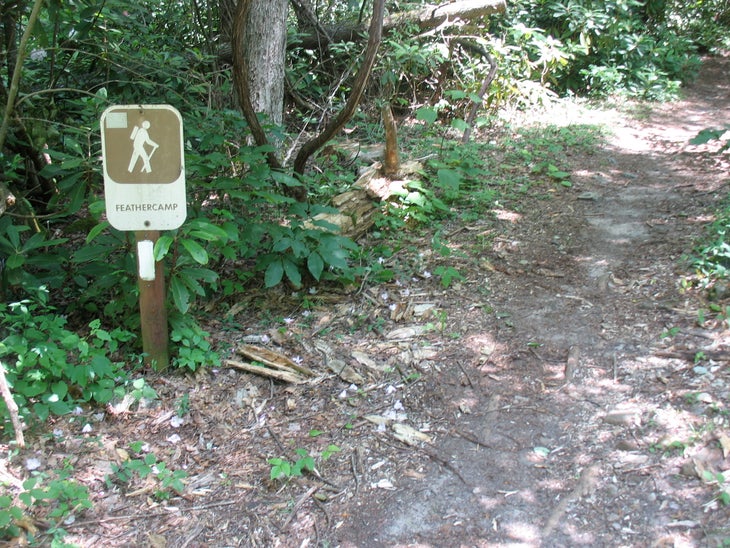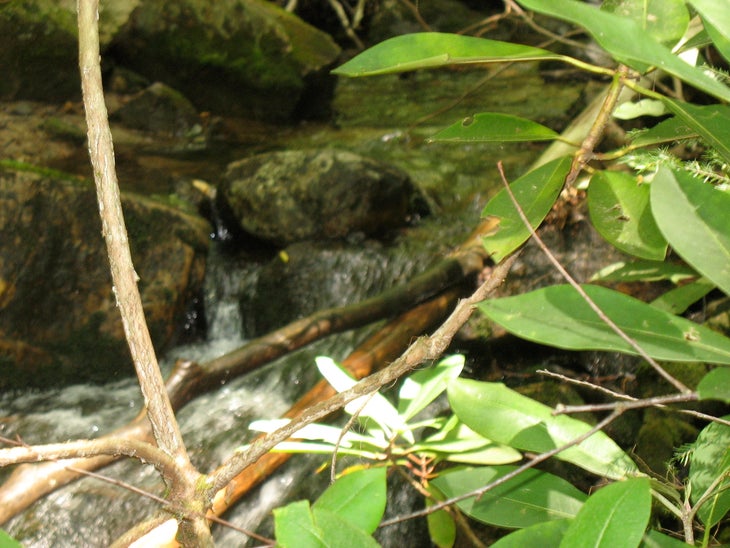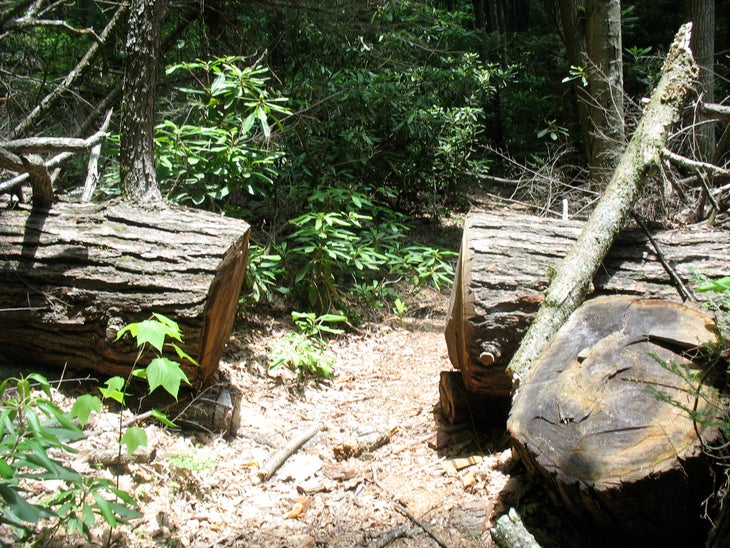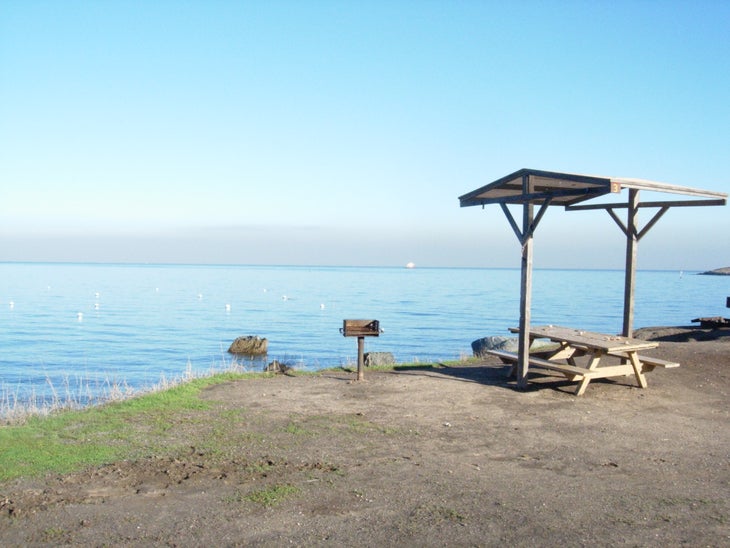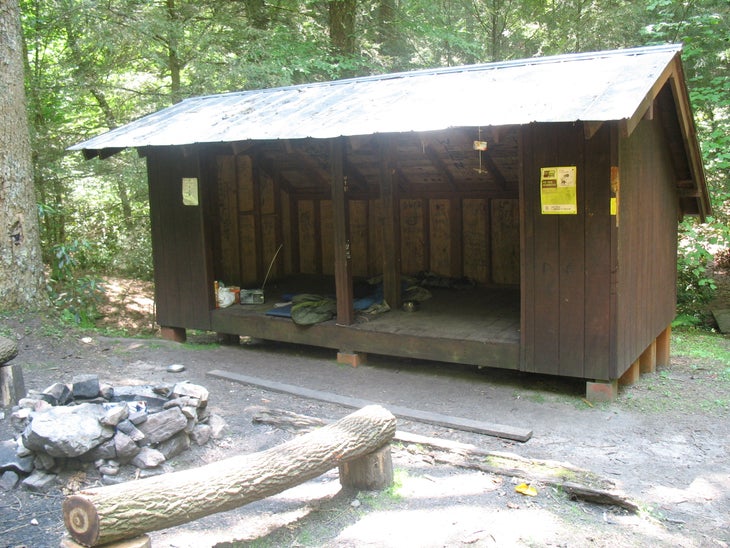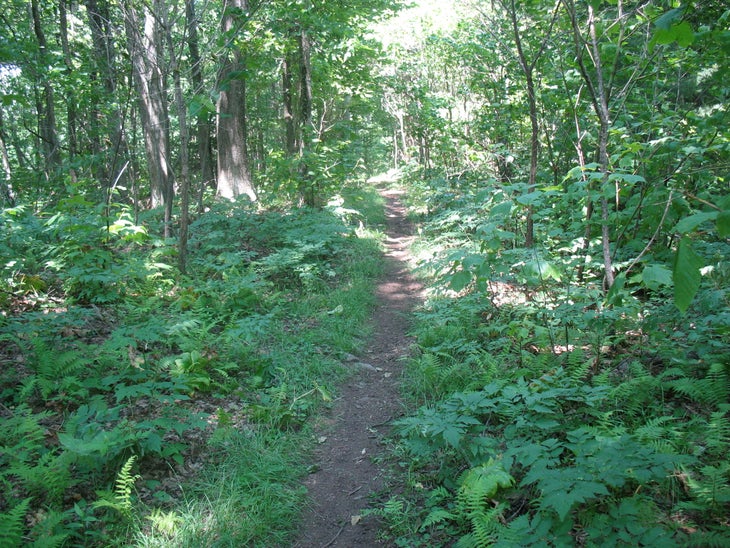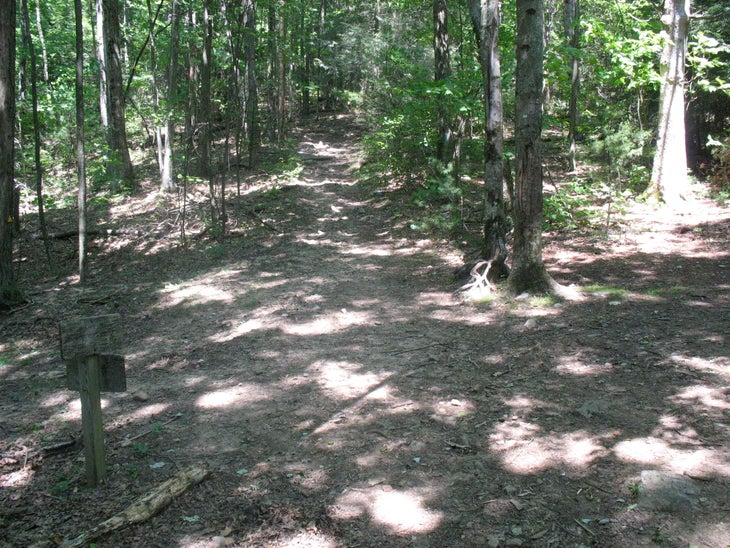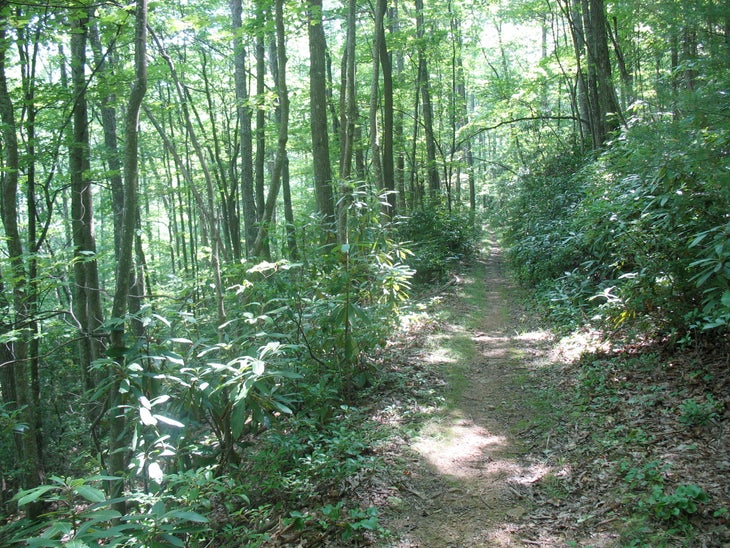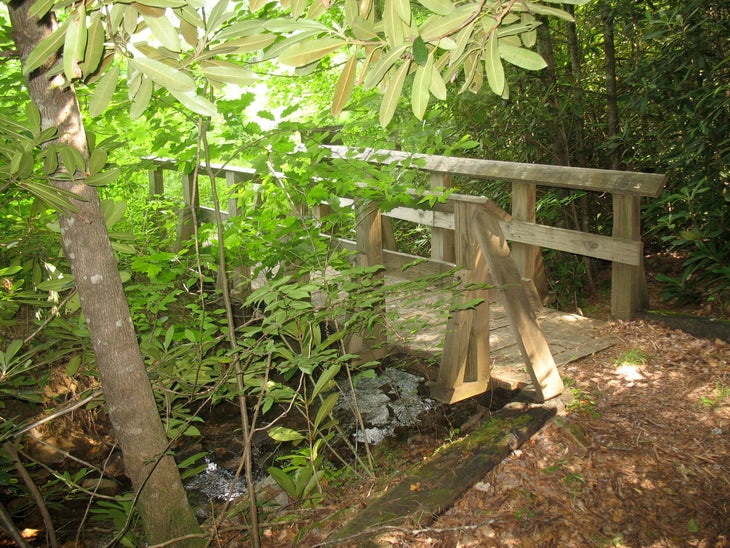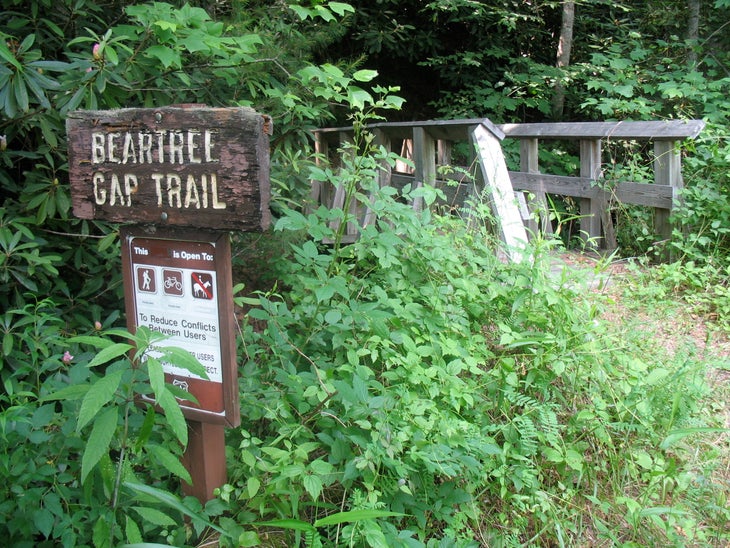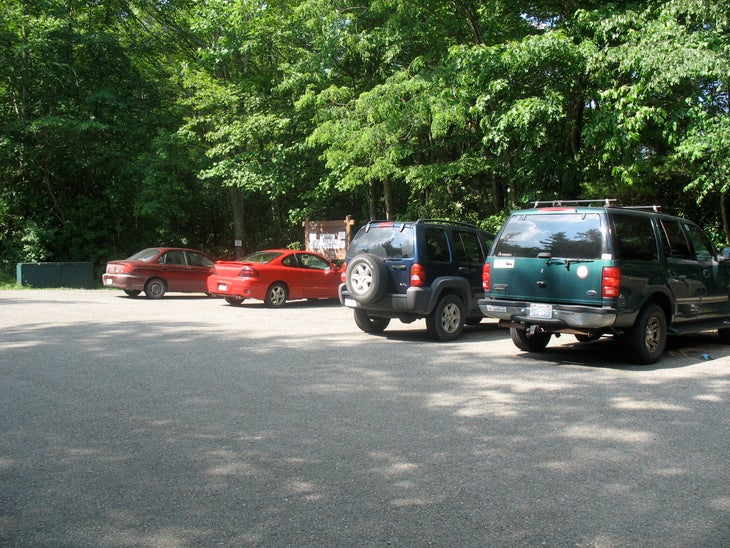 Trail Facts
Waypoints
IRN001
Location: 36.655325, -81.690211
From the parking area, follow Beartree Gap Trail to the north.
IRN002
Location: 36.656284, -81.689704
Cross Beartree Lake, a trout-stocked pool (the fishermen show up early here).
IRN003
Location: 36.656055, -81.689176
Turn right at junction onto the Beartree Gap Trail.
IRN004
Location: 36.65507, -81.688827
Continue straight; ignore the spur trail to the left.
IRN005
Location: 36.654386, -81.688269
Cross US 58.
IRN006
Location: 36.651197, -81.689181
Turn right and head south on the white-blazed Appalachian Trail (AT).
IRN007
Location: 36.651309, -81.691021
Begin the ascent of Straight Mountain.
IRN008
Location: 36.650318, -81.695239
Take in the views north and south while hiking the spine of Straight Mountain.
IRN009
Location: 36.644698, -81.699786
Cross a small bridge at the bottom of the gap, then continue climbing. In summer, look for rhododendron blooms lining the trail as you ascend.
IRN010
Location: 36.639012, -81.709626
Stay left at junction with fire road.
IRN011
Location: 36.638723, -81.710079
Stay left; watch for white blaze.
IRN012
Location: 36.637183, -81.711652
Pass a spur trail to Saunders Shelter.
IRN013
Location: 36.634815, -81.716319
Turn right onto the second spur trail to access Saunders Shelter, a good campsite for late starters.
IRN014
Location: 36.637777, -81.713251
Saunders Shelter. Turn around, return to Waypoint 13, and bear right at the Y-junction.
IRN015
Location: 36.633963, -81.71559
Tackle a long series of switchbacks that descend the mountain.
IRN016
Location: 36.630286, -81.718723
Turn right at the junction with Virginia Creeper Spur Trail to continue on the AT. The Virginia Creeper Trail and Whitetop Laurel Creek are frequently visible to the left.
IRN017
Location: 36.633179, -81.728969
Pass a potential camping spot on the left.
IRN018
Location: 36.644943, -81.736436
Cross US 58. Look left for the sign for Feathercamp Trail.
IRN019
Location: 36.644935, -81.736634
Pick up the Feathercamp Trail. Ahead, pass two possible campsites on the right (close to US 58).
IRN020
Location: 36.645886, -81.736264
Stay right and continue on the blue-blazed Feathercamp Trail (AT veers left). The trail will cross Feathercreek Branch at least 10 times as it ascends Iron Mountain.
IRN021
Location: 36.662039, -81.713461
Pass a clearing for a campsite.
IRN022
Location: 36.664021, -81.711051
Turn right onto yellow-blazed Iron Mountain Trail.
IRN023
Location: 36.663057, -81.707908
Turn left to reach Sandy Flats Shelter and to continue on Iron Mountain Trail. Turn right to use the privy.
IRN024
Location: 36.66304, -81.707572
Sandy Flats Shelter.
IRN025
Location: 36.663111, -81.707209
Cross Bushwacker Trail.
IRN026
Location: 36.665092, -81.703094
Cross FS 90 and continue straight ahead on the yellow-blazed Iron Mountain Trail.
IRN027
Location: 36.677971, -81.681869
Shaw's Gap: Turn right and walk a short distance beyond the clearing to merge onto the Beartree Gap Trail at the signed junction.
IRN028
Location: 36.677583, -81.681901
Turn right onto Beartree Gap Trail at a marked junction a few steps to the right of Shaw's Gap. The Beartree Gap Trail is marked by yellow diamonds.
IRN029
Location: 36.664319, -81.691153
Turn right to continue on Beartree Gap Trail at the marked junction with Yancy Trail.
IRN030
Location: 36.65461, -81.693317
Cross wooden footbridge.
IRN031
Location: 36.654455, -81.693268
Cross FS 837 and pick up trail on other side. Follow back to the parking area.
Beartree Lake
Location: 36.65628, -81.689637
Junction of AT and Beartree Gap Trail
Location: 36.651197, -81.689068
Appalachian Trail South
Location: 36.651102, -81.689615
Saunders Shelter
Location: 36.637768, -81.713144
Junction with Virginia Creeper Spur Trail
Location: 36.630269, -81.718583
Rhododendron Bloom
Location: 36.630924, -81.719398
View of Virginia Creeper Trail
Location: 36.63101, -81.72384
Wooden Bridge Over Small Cascades
Location: 36.632707, -81.726459
Trail Register
Location: 36.644457, -81.7365
Feathercamp Trail Joins AT
Location: 36.644935, -81.736575
Feathercamp Branch
Location: 36.650621, -81.732503
The Feathercamp Trail Doesn't Stop for Trees
Location: 36.657928, -81.719602
Campsite
Location: 36.66205, -81.713326
Sandy Flats Shelter
Location: 36.663057, -81.707468
Iron Mountain Trail
Location: 36.668669, -81.697844
Shaw's Gap
Location: 36.677953, -81.68173
Beartree Gap Trail
Location: 36.665702, -81.689069
Wooden Footbridge
Location: 36.654614, -81.693258
Looking Back at Footbridge
Location: 36.654532, -81.693295
Return to Fishermen's Lot
Location: 36.655118, -81.690248