Mount Rainier National Park: Tatoosh Range
This 8-mile backcountry trek serves up two mountain lakes, intimate views of Mount Rainier, and some off-trail scrambles in the Tatoosh Range.
Heading out the door? Read this article on the new Outside+ app available now on iOS devices for members! Download the app.
The mileage is minimal on this route—only about 8 clicks roundtrip—but they're steep miles with huge vistas of Mt. Rainier to the north and neck-craning views of the Tatoosh Range's jagged spires all around you. The best time to visit is from mid-August through September when the huckleberries are ripe and the weather is most stable. The best way to experience this country is to keep hiking past the designated campsites at Snow Lake (they're beautiful, but lack Rainier views) and camp high in the backcountry zone below Unicorn Peak or The Castle.
These are two of the major summits in the eastern half of the Tatoosh Range, and their ridges and drainages offer plenty of exploring on faint climbers' paths and through sparse forest pocked with wildflower meadows. With solid navigation and scrambling skills, you can also complete a full traverse of the Tatoosh Range; usually done east to west, it's a high, spectacular, and very arduous hike that's worthwhile (and safe) only with a good forecast. Note: Use caution when climbing the talus-filled gulley that leads from Snow Lake into the Unicorn Creek bowl; the footing is steep and loose, and it's easy to dislodge rocks onto hikers below you.
INFO For information on permits, current trail and camp conditions, and wilderness guidelines, go to nps.gov/mora/planyourvisit/wilderness-camping-and-hiking.htm.
PERMIT A wilderness permit is required for all overnight camping in the backcountry. Reservations requests accepted by fax or mail, starting on March 15th of each year ($20/reservation). Download form at nps.gov/mora/planyourvisit/wilderness-reservation-information.htm.
ROAD CONDITIONS Go to nps.gov/mora/planyourvisit/road-status.htm, or call (360) 569-2211, then press 1.
CONTACT Mt. Rainier National Park, (360) 569-2211; nps.gov/mora
Multiday Gear List
Wear
Waterproof/breathable jacket and pants
Fleece and down jackets
Synthetic pants
Midweight baselayers
Synthetic T-shirt (2)
Hat and gloves
Hiking boots
Camp footwear
Wool/synthetic socks (3)
Pack
32 oz. water bottle (2)
Water treatment
Multitool/knife
Bear-bagging rope
Headlamp and batteries
Three-season tent
Down bag (15° to 40°F) and sleeping pad
Compass, map, GPS unit
Gas stove and fuel bottles
Lighter and matches
Cookset, bowl, insulated mug, eating utensils
Trekking poles
Stuff sacks
Toilet paper and trowel
First-aid kit
Local Links
GROCERIES
SAFEWAY
611 S. Meridian Ave.
Puyallup, WA
(253) 845-2010
PLAZA MARKET
203 Center St. E
Eatonville, WA
(360) 832-6151
RESTAURANT
SCALE BURGERS
54109 Mountain Hwy. E
Elbe, WA
(360) 569-2247
GEAR
WHITTAKER MOUNTAINEERING
30027 SR 706 E
Ashford, WA
(800) 238-5756
whittakermountaineering.com
GAS
BARNEY'S CORNER MINI MART
40512 Meridian Ave. E
Eatonville, WA
(360) 832-8822
-Mapped by Jonathan Dorn
TO TRAILHEAD: From the Longmire entrance to Mt. Rainier National Park near Ashford, Washington, follow signs to the Longmire Visitor Center. Follow signs to Paradise, but stay straight at the final left-hand turn to Paradise on Stevens Canyon Road. You'll soon pass Reflection Lakes, a spot that rivals Rainier's summit as the most-photographed scenic point in the park. Just beyond, turn right in the parking area for Bench and Snow Lakes.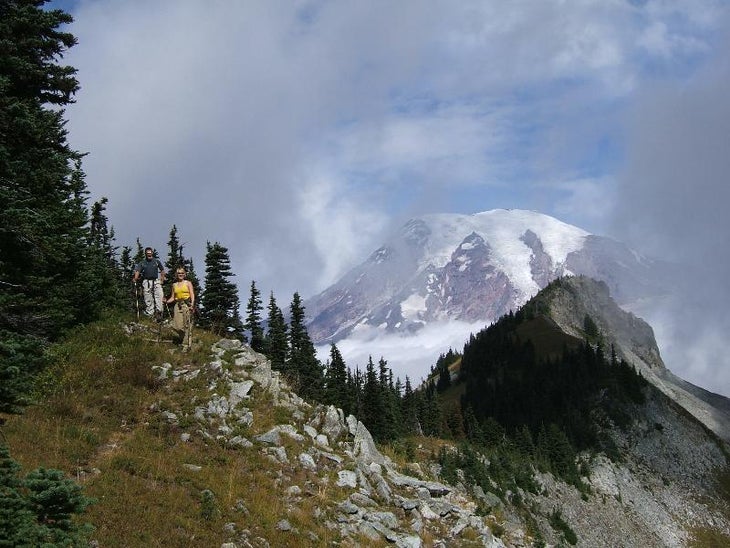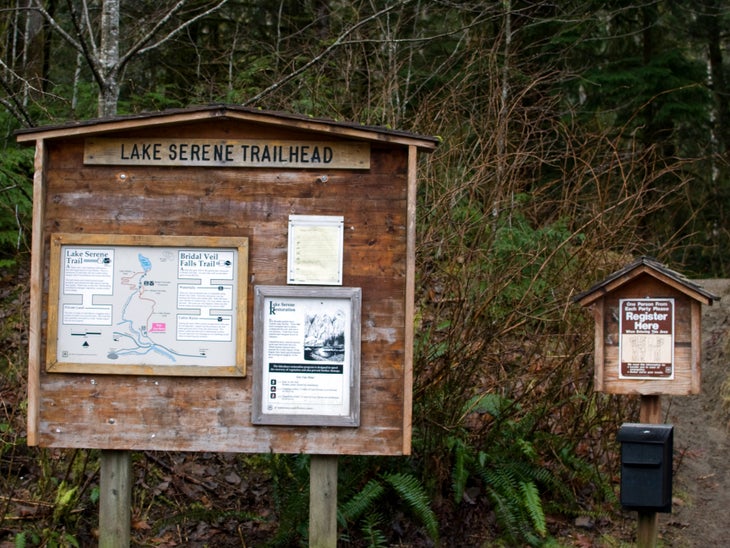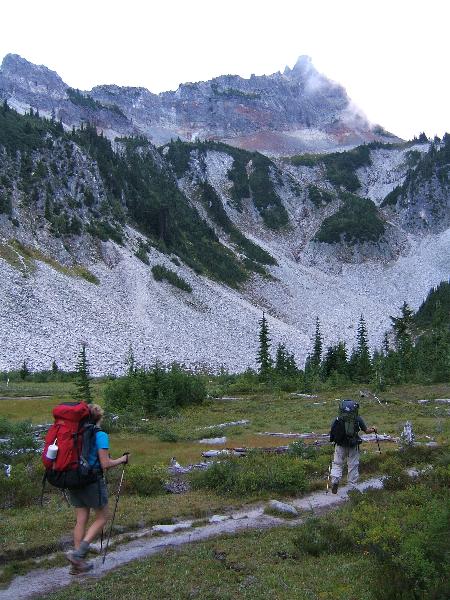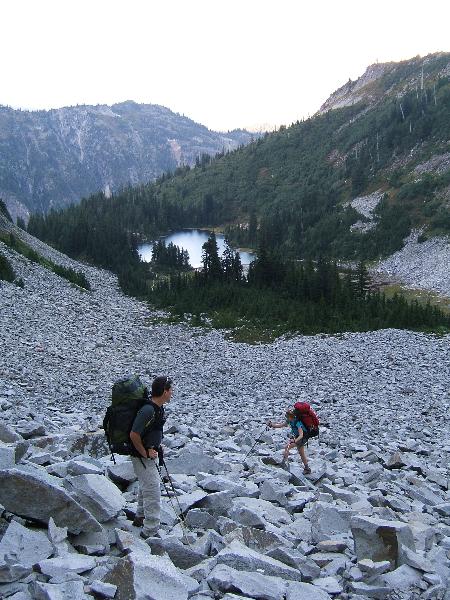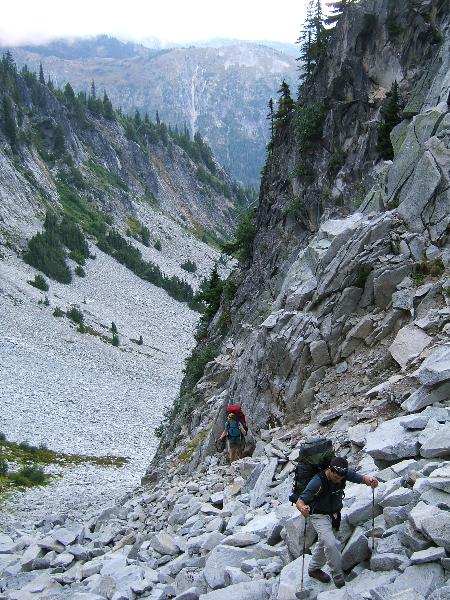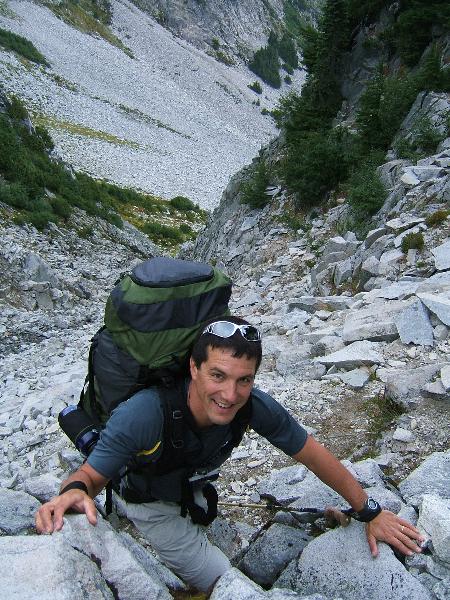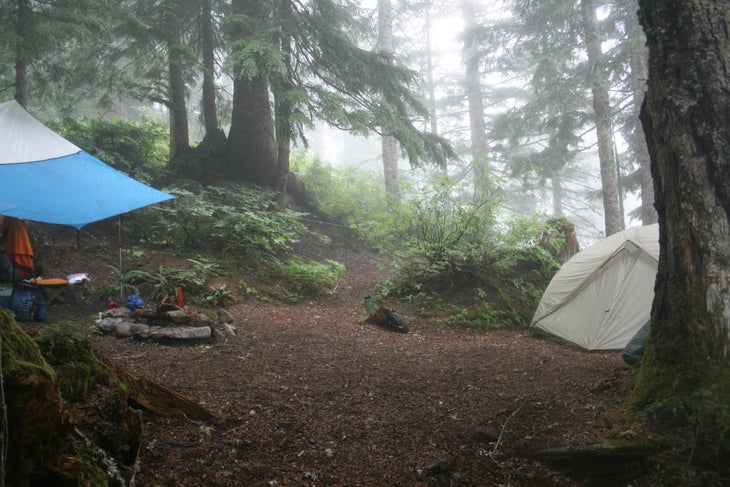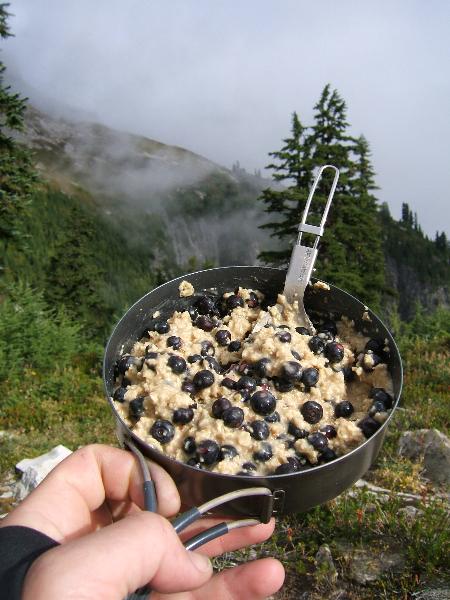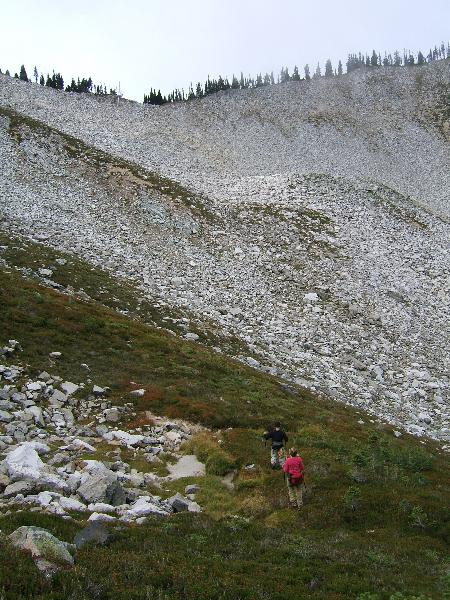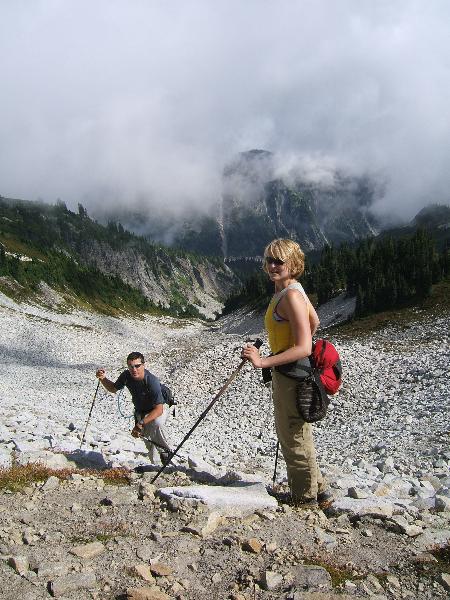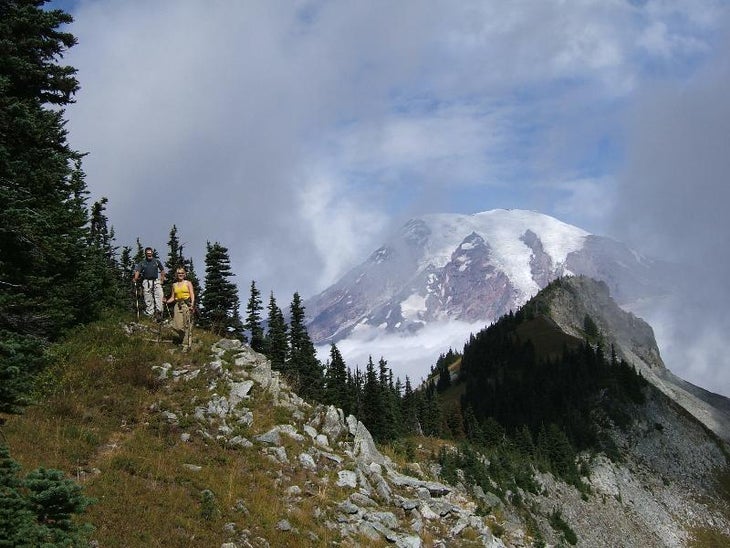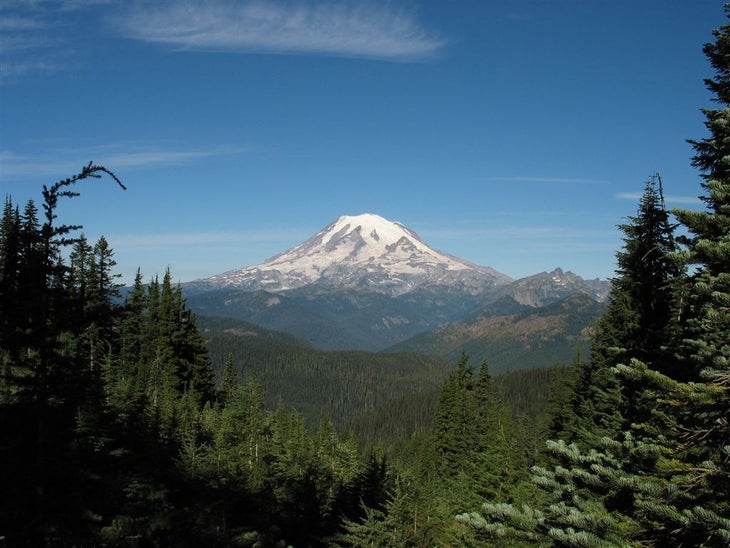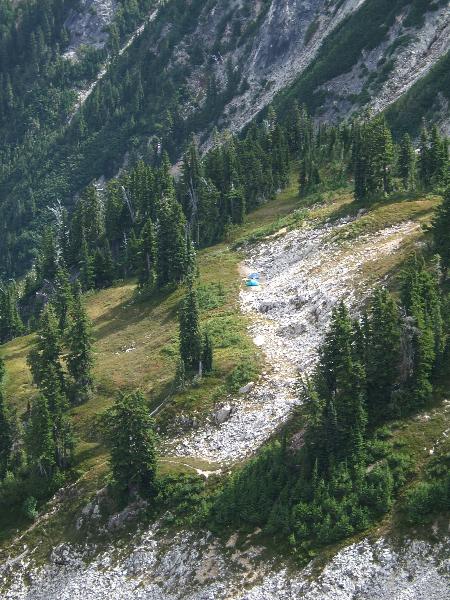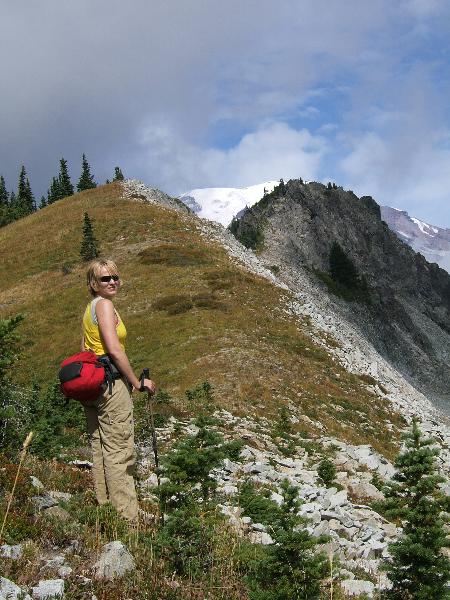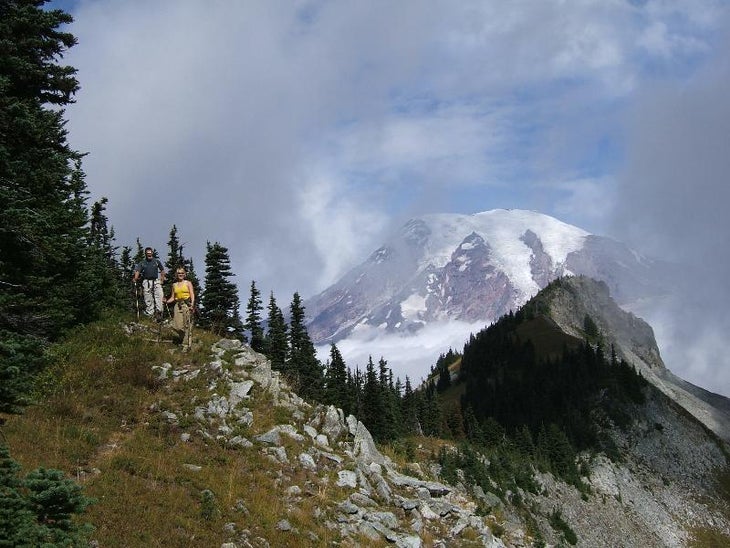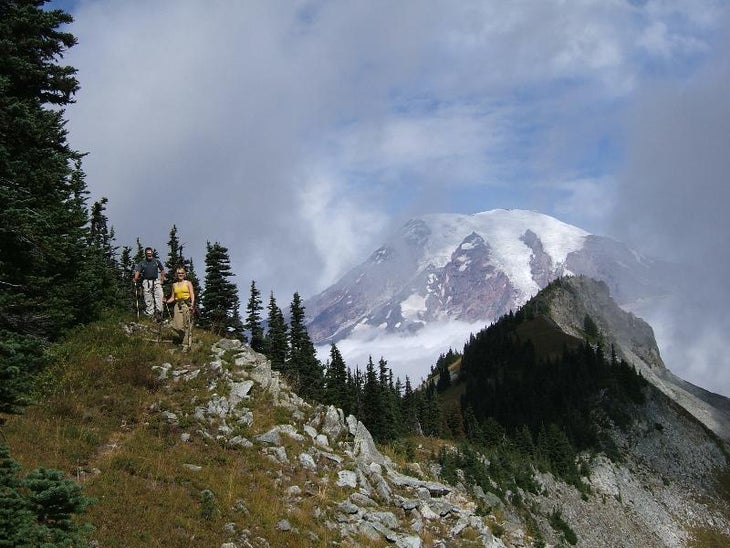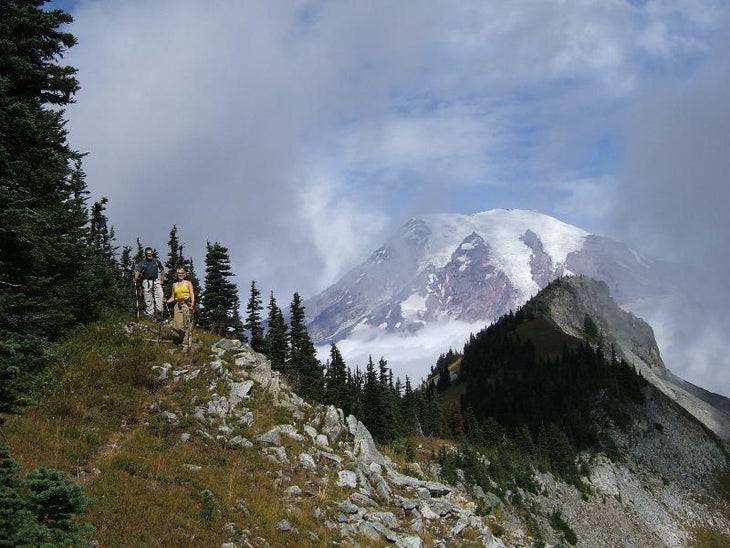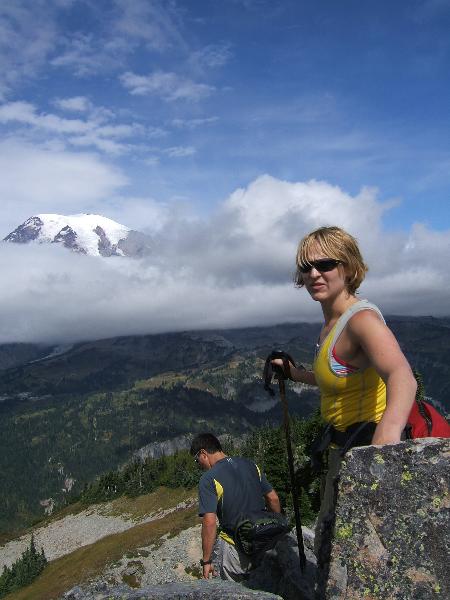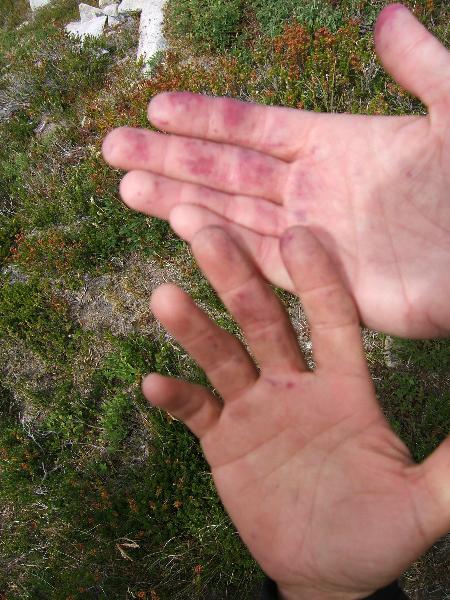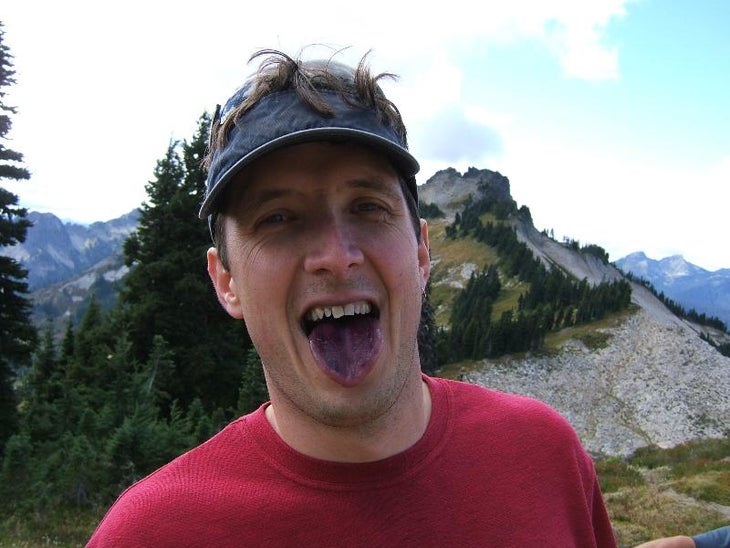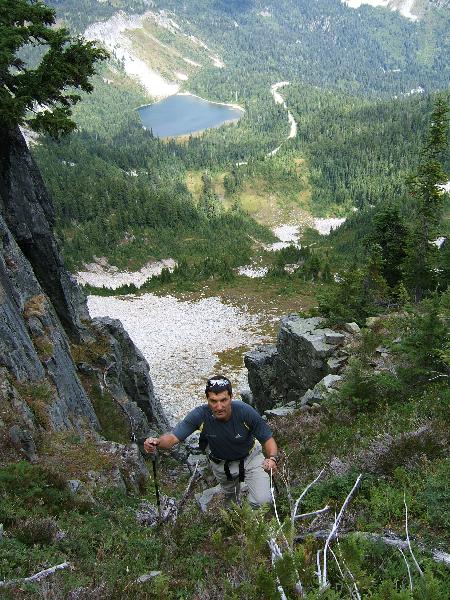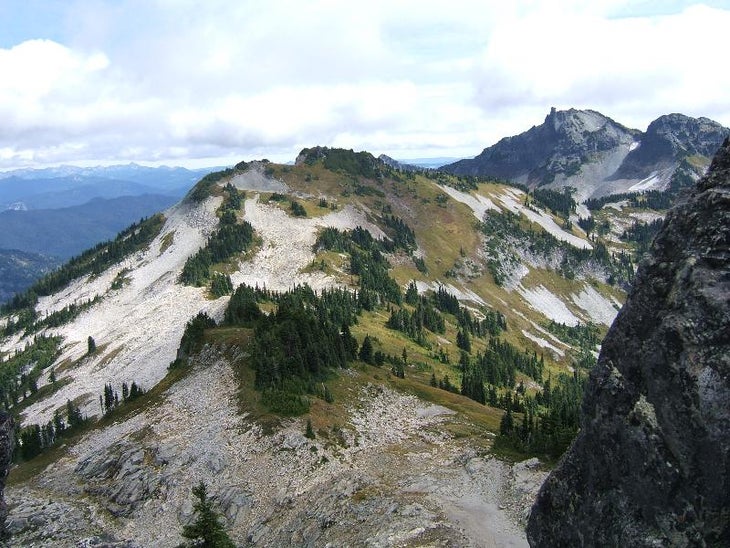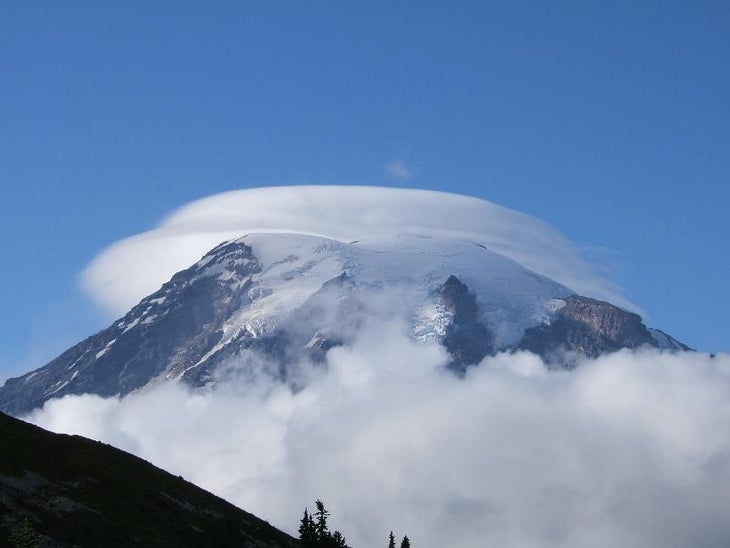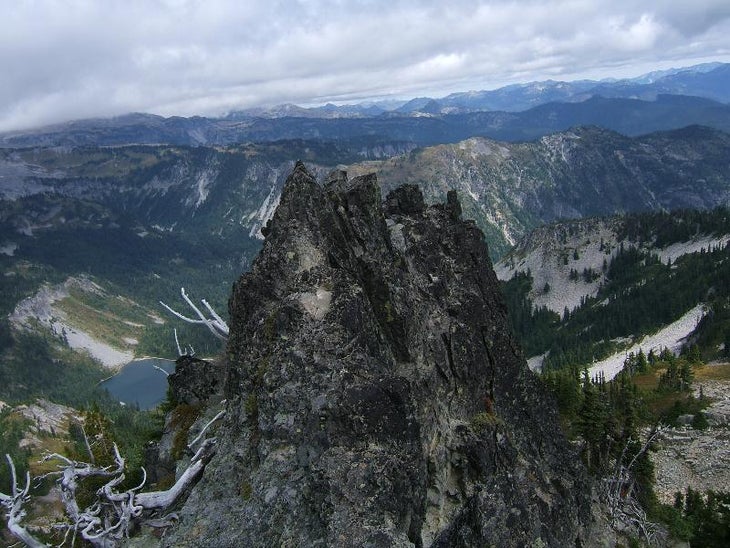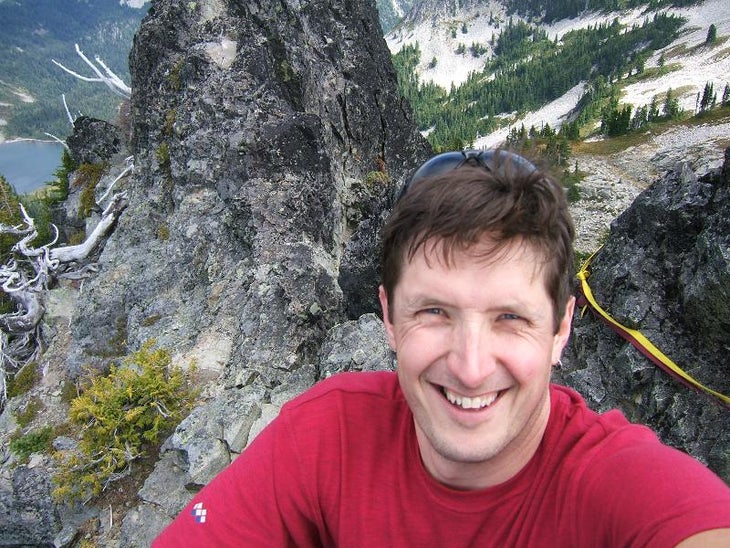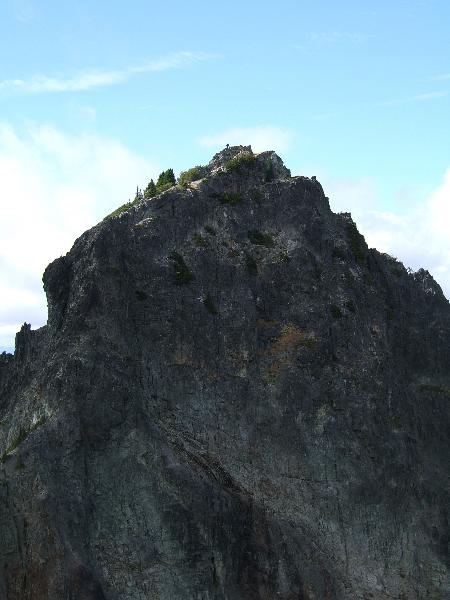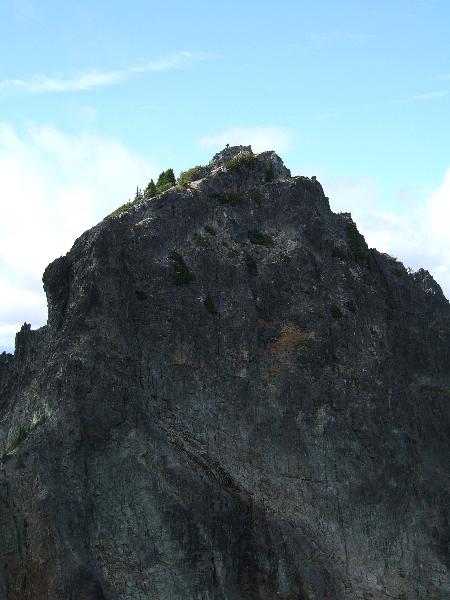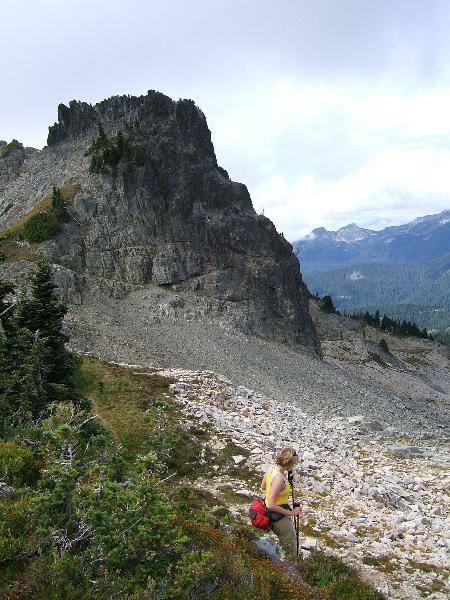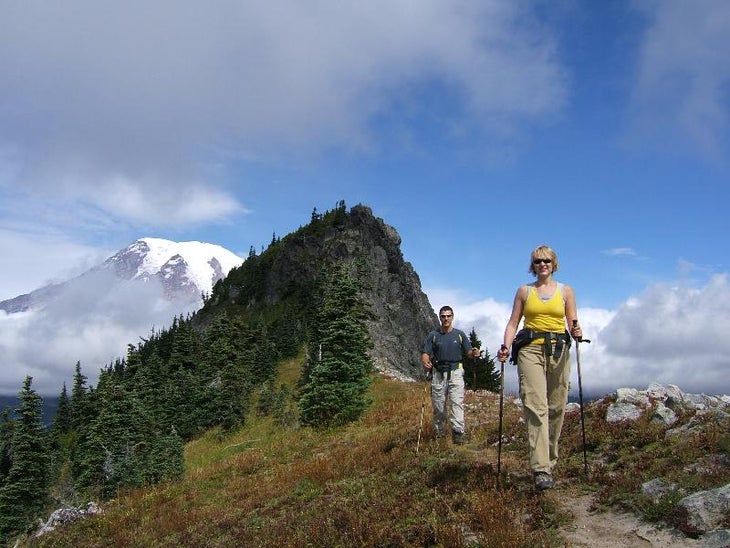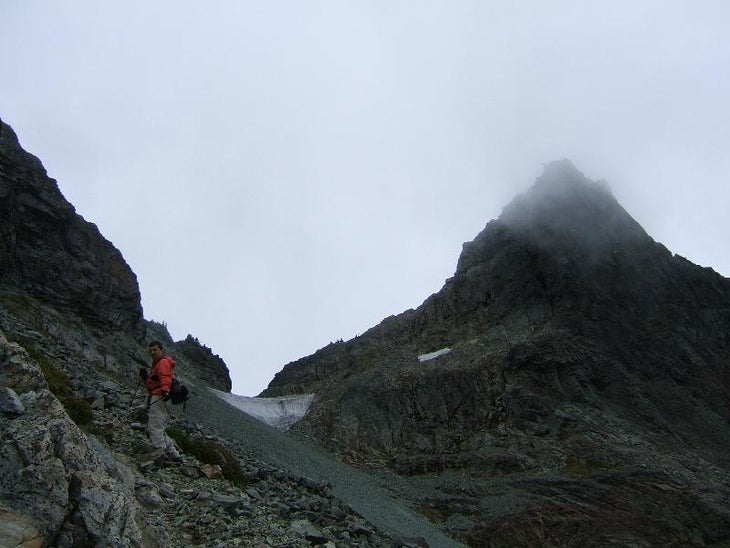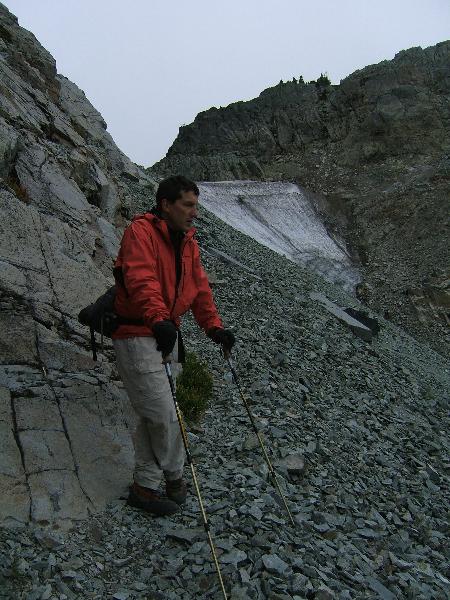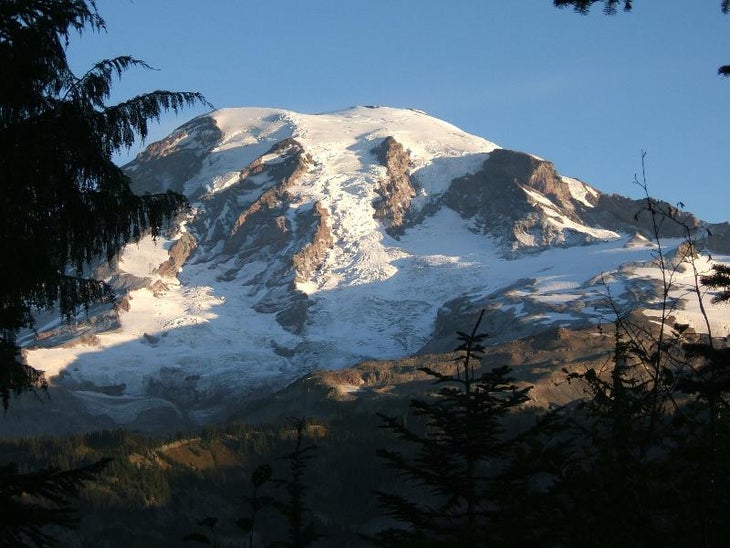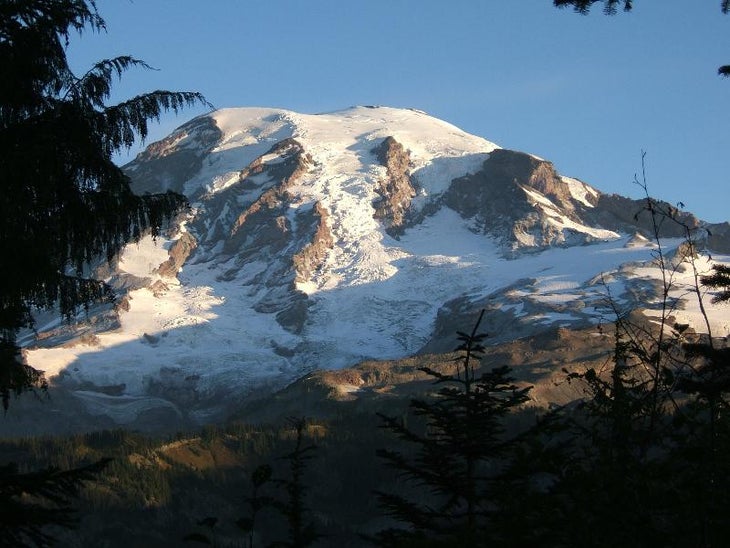 Trail Facts
Waypoints
TAT001
Location: 46.767617, -121.707981
Begin hiking SE from Snow Lake trailhead
TAT002
Location: 46.762013, -121.699604
Veer R @ Y. Going a few yards L leads to the first views of Rainier. Farther on, Snow Lake sits in a forested bowl below the trail.
TAT003
Location: 46.758664, -121.698715
Stay R @ T where trail reaches Snow Lake. Trail leads to 2 designated campsites that must be reserved at Longmire, plus a toilet with a million-dollar view of the mountain. In about 100 yds., great views of Unicorn Peak and a series of immense talus bowls beneath it open up. In early summer, the bowl is filled with snow. By autumn, there's just a stream trickling from a few remnant snow patches and a small hanging glacier. Route continues straight up toward first talus field beyond Snow Lake; a narrow climbers' path picks up where official maintained trail ends. Follow it along L edge of talus until directly below obvious chute leading up to the second bowl.
TAT004
Location: 46.754665, -121.702386
Climbers' path ends. Use caution crossing the rocks to the bottom of the chute, as many are precariously balanced and big enough to do some damage to a fallen hiker.
TAT005
Location: 46.751774, -121.705685
Bottom of chute. Stay R for the first half of the 200-ft. climb up, then pick side that looks most promising for the top half. The chute is only a 3rd class walk-up, but be careful not to climb directly below other hikers to avoid falling rocks.
TAT006
Location: 46.751581, -121.705812
Top of chute. Be prepared for a blast of wind, which can either feel great (after a stiff ascent on a hot day) or chilling (any other time). This is a good photo, lunch, and water spot. From here, get the best views yet of Rainier's snowy dome. Scout for the climbers' path leading up steep switchbacks of L wall. After reaching the first plateau, continue either straight up toward Unicorn Peak and numerous campsites, or veer L and contour around the base of the small, steep hill.
TAT007
Location: 46.750748, -121.704549
This location could well be one of the best campsites in the park. Ground may be wet early in the summer because of poor drainage, but there's room for 2-3 tents and plenty of flat rocks for lounging. Best of all, there are unobstructed views of Rainier looming heavenly on the horizon. If camping here, keep a strict LNT camp. From this camp, there are several options for exploring the E part of the Tatoosh Range. If indecisive, try going W first.
TAT008
Location: 46.74839, -121.706189
After climbing a few hundred feet above camp on the steep hillside behind it, turn R and traverse down the talus bowl through which Unicorn Creek flows. Then pick a route and tiptoe up and across boulders through the main draw.
TAT009
Location: 46.746885, -121.709145
Saddle. There are a couple good tent spots here and in lower, sheltered spots off the ridge. All are scenic but waterless; remember to tote full bottles from below if camping here. From saddle, head due N on thin, dirt trail that follows the crest of a knife-edge ridge, enjoying vocabulary-defeating views of Rainier along the way.
TAT010
Location: 46.755178, -121.712783
Summit of unnamed peak. From here, enjoy insane views of Rainier and the entire Tatoosh Range, plus Snow and Bench Lakes. Descend the peak's W slope, carpeted with huckleberry bushes, to a broad saddle with a snowmelt pond that was dry in early September. More camping options here, too. Climb opposite slope, rising steeply through grass and rock toward The Castle.
TAT011
Location: 46.757747, -121.728449
Reach obvious notch in The Castle's crenellated summit ridge and exquisite views of the Pinnacle. A short 4th class scramble to the R around the backside of The Castle's upper ridge leads to its airy summit. Return to WPT 12 the same way.
TAT012
Location: 46.749314, -121.70512
Bear right at this point on the descent back to camp for an out-and-back toward Unicorn Peak. A climbers' path appears now and again while threading through rock and huckleberry bushes, and past marmot holes.
TAT013
Location: 46.747889, -121.704054
Continue following climber's trail, heading straight up hill and avoiding band of talus to R.
TAT014
Location: 46.74708, -121.703968
Reach a firmly packed trail through talus that lies above the hillside's last vegetation. Turn R and follow path as it contours beneath the W face of Unicorn Peak toward the saddle.
TAT015
Location: 46.744866, -121.703302
Farthest point to proceed safely without climbing gear.
L wall, although featuring easy 5th class climbing, could be a death fall and would be very difficult to downclimb. Retrace steps along Snow Lake Trail to car. Caution: Rockslide danger.
Tatoosh Ridgeline
Location: 46.747977, -121.710835
©Jonathan Dorn
Trailhead
Location: 46.767646, -121.70768
Nick and Susan talk trash at the trailhead. They were soon sucking wind into their sea-level lungs as the trail climbed sharply.
©Jonathan Dorn
Unicorn Peak
Location: 46.765677, -121.705792
Near the end of the official maintained trail, with Unicorn Peak in the distance.
©Jonathan Dorn
Talus Field
Location: 46.753402, -121.704891
Climbing the talus field towards the chute. Notice how the trash-talkers are starting to fall behind.
©Jonathan Dorn
The Chute
Location: 46.751767, -121.70561
©Jonathan Dorn
4th Class Climbing
Location: 46.751587, -121.705674
There's a little bit of 4th class climbing in the chute, but the main challenge is not dislodging rocks onto your companions.
©Jonathan Dorn
Campsite
Location: 46.75078, -121.704273
Now that's a campsite! This is the view we woke up to after a misty night.
©Jonathan Dorn
Huckleberries
Location: 46.750654, -121.704198
Some huckleberries with your oatmeal?
©Jonathan Dorn
Climbing toward the saddle
Location: 46.747727, -121.707959
Climbing toward the saddle and ridge to the southwest of camp.
©Jonathan Dorn
Nearing the saddle
Location: 46.747492, -121.708603
Nearing the saddle. The clouds will soon part.
©Jonathan Dorn
Tatoosh Ridgeline
Location: 46.747683, -121.710448
©Jonathan Dorn
Undulating Ridge
Location: 46.749712, -121.711349
The route from the saddle threads along this undulating ridge to the unnamed peak in front of Rainier.
©Jonathan Dorn
Views of Mt. Rainier
Location: 46.750293, -121.711349
The views just keep getting better.
©Jonathan Dorn
Looking down onto camp
Location: 46.752373, -121.711972
Looking back at camp from the ridge.
©Jonathan Dorn
Ridgeline Views
Location: 46.752954, -121.712294
Bring lots of film – this is one of those places where you keep shooting and shooting as, astonishingly, the views get better and better.
©Jonathan Dorn
Tatoosh Ridgeline
Location: 46.75316, -121.712433
©Jonathan Dorn
Tatoosh Ridgeline
Location: 46.753322, -121.712497
©Jonathan Dorn
Tatoosh Ridgeline
Location: 46.753469, -121.712637
©Jonathan Dorn
Tatoosh Ridgeline
Location: 46.753755, -121.712809
©Jonathan Dorn
Unnamed Summit
Location: 46.755181, -121.712637
Unnamed summit. There's enough room for three to sit comfortably, but just barely.
©Jonathan Dorn
Huckleberry-stained hands
Location: 46.756269, -121.714847
Huckleberry-stained hands.
©Jonathan Dorn
Huckleberry-stained tongue
Location: 46.756254, -121.715083
Huckleberry-stained tongue.
©Jonathan Dorn
Short Gulley
Location: 46.757489, -121.722293
One of several short gulleys along the ridge to The Castle.
©Jonathan Dorn
Views near The Castle
Location: 46.757607, -121.723666
The view of where we came from.
©Jonathan Dorn
Rainier
Location: 46.757622, -121.725082
By mid-afternoon, a beautiful lenticular cap had formed over Rainier.
©Jonathan Dorn
Looking down towards Reflection Lakes
Location: 46.757618, -121.726181
Looking down towards Reflection Lakes from a few steps below the summit of The Castle. Note the dark, craggy typical of the Tatoosh Range.
©Jonathan Dorn
Self Portrait
Location: 46.757629, -121.728237
The obligatory author self-portrait just below the summit. Note the slings on the right. Below was a beautiful 2 or 3-pitch face that made me wish I'd brought climbing gear.
©Jonathan Dorn
The Pinnacle
Location: 46.757724, -121.728312
The Pinnacle. Note the two hikers on the summit.
©Jonathan Dorn
The Pinnacle
Location: 46.757791, -121.728365
The Pinnacle. Note the two hikers on the summit.
©Jonathan Dorn
The Castle
Location: 46.757313, -121.726992
Susan descending briefly with The Castle behind.
©Jonathan Dorn
Descending Ridgeline
Location: 46.752594, -121.712079
©Jonathan Dorn
Climbing toward Unicorn Glacier
Location: 46.746594, -121.704002
Climbing toward the scree path that leads to the hanging glacier.
©Jonathan Dorn
Below Unicorn Peak
Location: 46.745772, -121.703668
The end is near. In about 30 yards, we found we could go no further without climbing gear due to rockslide that obliterated the trail ahead. To the right of that spot was a nasty fall into a moat beneath the bottom lip of the glacier.
©Jonathan Dorn
Mt. Rainier
Location: 46.755431, -121.701436
Parting views of the mountain on our dawn walk out.
©Jonathan Dorn
Mt. Rainier
Location: 46.755475, -121.701179
©Jonathan Dorn