Mount Rainier National Park: Spray Park
Hike to prolific wildflower displays and up-close views of Mount Rainier on this 8.4-mile out-and-back in Mount Rainier National Park.
Heading out the door? Read this article on the new Outside+ app available now on iOS devices for members! Download the app.
Rainier is known for its spectacular wildflower displays, and this trail puts on one of the best shows in the park. The 8.2-mile hike begins at Mowich Lake, passes a half-mile side trip to Spray Falls, and climbs to broad meadows carpeted with pink heather, lilies, and Indian paintbrush. Turn around at mile four on a rocky, 6,400-foot spine with big-screen views of Mount Rainier seven miles to the southeast.
INFO For information on permits, current trail and camp conditions, and wilderness guidelines, go to nps.gov/mora/planyourvisit/wilderness-camping-and-hiking.htm.
PERMIT A wilderness permit is required for all overnight camping in the backcountry. Reservations requests accepted by fax or mail, starting on March 15th of each year ($20/reservation). Download form at nps.gov/mora/planyourvisit/wilderness-reservation-information.htm.
CONTACT Mt. Rainier National Park, (360) 569-2211; nps.gov/mora
-Mapped by Alan Bauer, Alan Bauer Photography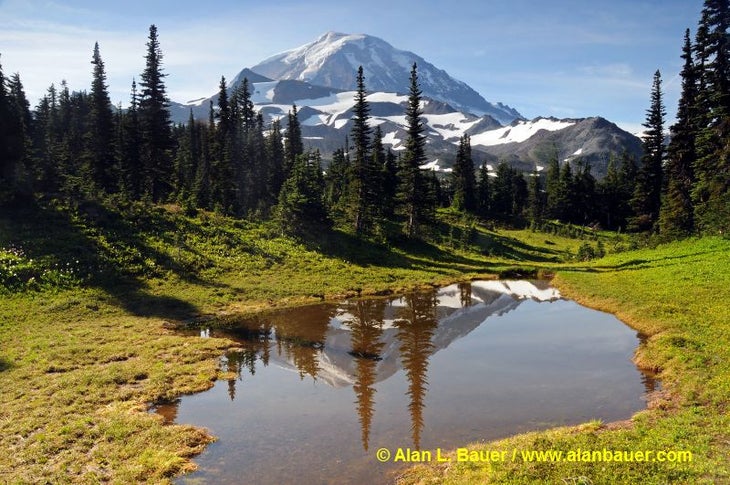 Trail Facts
Waypoints
SPR001
Location: 46.93342, -121.865536
Leave the trailhead parking area, cross the outlet of Mowich Lake by the bathrooms, and head straight to find the Wonderland Trail.
SPR002
Location: 46.930836, -121.862648
Go left at the junction to leave the Wonderland Trail and begin the hike toward Spray Falls and Spray Park. Huge old growth forest and a few beautiful mossy creeks make this a gentle easy stroll ahead.
SPR003
Location: 46.924463, -121.858895
Cross a small bridge over Lee Creek. Walk through moss-covered landscapes, then pass an open avy slope filled with columbine and other lovely wildflowers.
SPR004
Location: 46.915853, -121.84735
Pass Eagle Camp here on your right. Stay straight.
SPR005
Location: 46.916153, -121.845076
Pass a junction on the right that leads to Spray Falls, a stunning view of likely the biggest waterfall in the park makes this a very worthwhile half-mile trip. Stay straight to continue on to Spray Park, and be ready to start a very steep climb up switchbacks in less than a mile.
SPR006
Location: 46.917471, -121.844531
The first view of Rainier appears as you cross the first meadow on a wooden set of steps. Hike past magenta paintbrush and lupines.
SPR007
Location: 46.920471, -121.837728
The trail levels. Pass a small tarn, then hike through meadows with avalanche lilies. The route passes a faint bootpath that likely heads up to Knapsack Pass, which is the gap in the Hessong Mountain ridge to the north. Keep an eye out for bears wandering across these slopes and meadows.
SPR008
Location: 46.923239, -121.82942
Photo op: Stop in the first meadows of Spray Park, vibrantly colored with avalanche lilies, lupines, magenta paintbrush. Various tarns reflect Mount Rainier in their still waters.
SPR009
Location: 46.92289, -121.825198
Pass a few more tarns (and millions of wildflowers). Turn left to check out a small viewpoint with tremendous views to the east across Seattle Park.
SPR010
Location: 46.921587, -121.816663
Crest this highpoint, and turn left for a short climb (don't begin the descent into Seattle Park). Other options: Turn right and follow boot paths for a climb toward Observation Rock.
SPR011
Location: 46.923483, -121.818132
This knob offers new views down on Seattle Park; scan the landscape for bears.
Mount Rainier
Location: 46.923306, -121.828932