Mount Rainier National Park: Laughingwater Creek to Chinook Pass via Pacific Crest Trail
This 18.5-mile point-to-point in the eastern fringes of the park follows the Pacific Crest Trail across Cascade ridgelines to picture-perfect views of Rainier.
Heading out the door? Read this article on the new Outside+ app available now on iOS devices for members! Download the app.
INFO For information on permits, current trail and camp conditions, and wilderness guidelines, go to nps.gov/mora/planyourvisit/wilderness-camping-and-hiking.htm.
PERMIT A wilderness permit is required for all overnight camping in the backcountry. Reservations requests accepted by fax or mail, starting on March 15th of each year ($20/reservation). Download form at nps.gov/mora/planyourvisit/wilderness-reservation-information.htm.
CONTACT Mt. Rainier National Park, (360) 569-2211; nps.gov/mora
-Mapped by Jack Haskel
TO TRAILHEAD: Shuttle car: From Greenwater, drive southeast on WA 410 E/Chinook Pass Hwy. for nearly 25 miles to parking on Chinook Pass.
To trailhead: From Chinook Pass, drive south on WA 410 W/Mather Memorial Pkwy. In roughly 4 miles, turn left onto WA 123 S. Go 11.1 miles to parking near the Laughingwater Creek trailhead.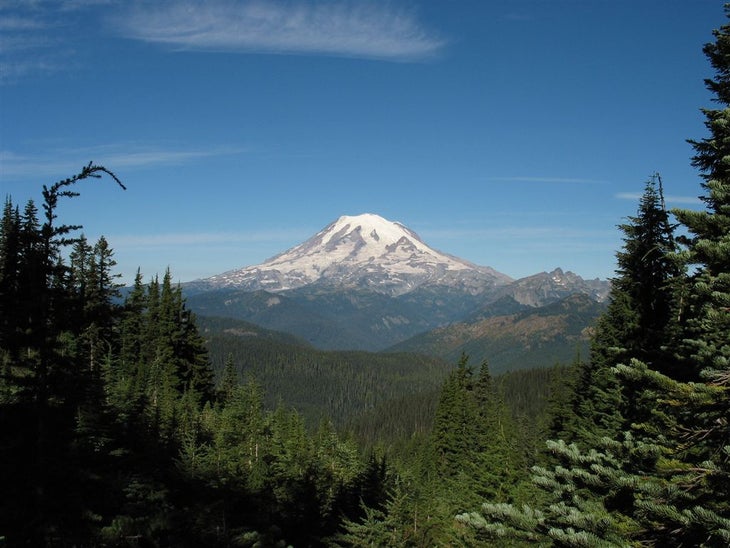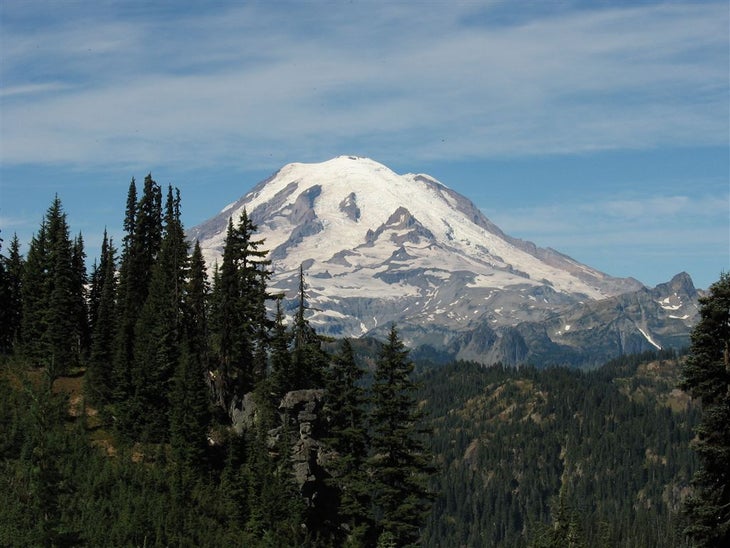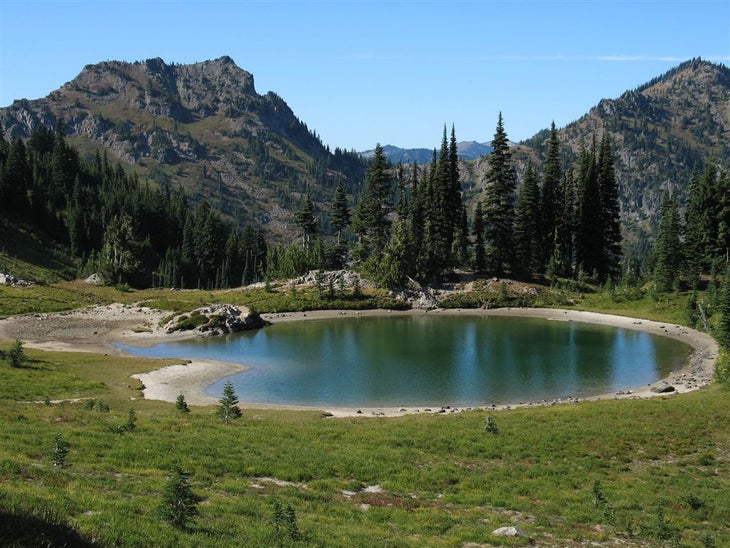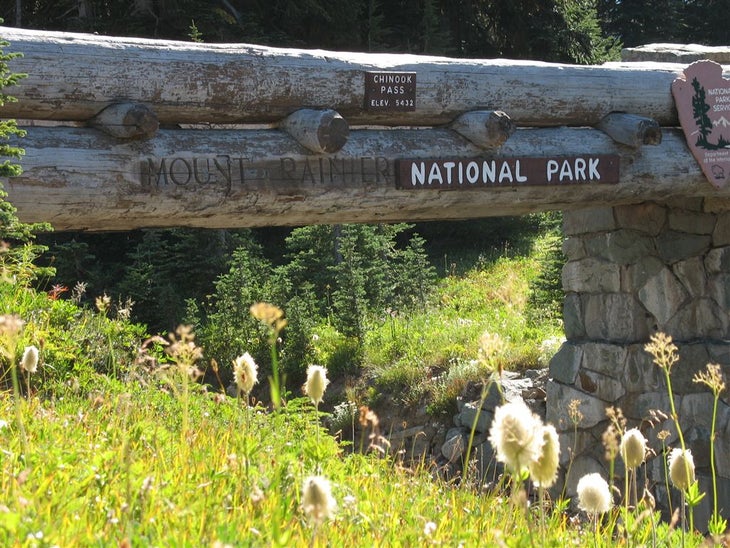 Trail Facts
Waypoints
CHN001
Location: 46.751623, -121.557455
From the highway, hike east on Laughingwater Creek Trail.
CHN002
Location: 46.75474, -121.545568
The trail crests a small bench above the Ohanapecosh River valley. Head northeast along Laughingwater Creek.
CHN003
Location: 46.75674, -121.538143
The climb steepens here.
CHN004
Location: 46.760297, -121.513681
Cross a creek that flows into Laughingwater Creek.
CHN005
Location: 46.763942, -121.483254
Continue straight at the 3-way junction.
CHN006
Location: 46.764971, -121.479993
Keep straight at this 3-way intersection.
CHN007
Location: 46.763237, -121.4748
The trail passes Three Lakes.
CHN008
Location: 46.767999, -121.460338
The climb steepens at this small lake. Climb the ridgeline to join the Pacific Crest Trail (PCT).
CHN009
Location: 46.77185, -121.449995
Turn left near the top of the ridge, heading north on the PCT. Look to the northwest for views of Mt. Rainier.
CHN010
Location: 46.79102, -121.447742
You have two options at this 3-way junction: 1) Go straight to continue along the PCT; 2) Turn right for a .8-mile out-and-back to Two Lakes.
CHN011
Location: 46.787029, -121.447163
Two Lakes
CHN012
Location: 46.817169, -121.468513
Continue straight
CHN013
Location: 46.831749, -121.473915
Set up camp at a designated site near Anderson Lake (mile 13.4). Next day: Continue north on the PCT.
CHN014
Location: 46.840526, -121.47274
Creek crossing
CHN015
Location: 46.849508, -121.477332
Cross creek
CHN016
Location: 46.852737, -121.480422
Stay left at the trail fork; walk around the southwest banks of Dewey Lake, passing many campsites.
CHN017
Location: 46.855568, -121.48703
Pass a campsite overlooking Dewey Lake.
CHN018
Location: 46.862232, -121.496384
Continue straight (north) at the 3-way junction. The trail on the left leads west to Tipsoo Lake.
CHN019
Location: 46.871881, -121.515539
Cross bridge over highway and turn left for the last stretch to the parking area.
CHN020
Location: 46.875081, -121.518011
The route ends at Chinook Pass. Want to go farther? Download more PCT section hikes at backpacker.com/pct.
Views of Mt. Rainier
Location: 46.807521, -121.46111
Rainier from the PCT
Location: 46.813101, -121.465402
Tarn below Naches Peak
Location: 46.867395, -121.500678
Chinook Pass
Location: 46.87203, -121.514813