Mount Rainier National Park: Glacier Basin
This 8-mile out-and-back, less than four miles northeast of Mount Rainier, leads to stunning views of glaciers, expansive valleys, and Washington's signature mountain.
Heading out the door? Read this article on the new Outside+ app available now on iOS devices for members! Download the app.
Start at the Glacier Basin trailhead in the White River Campground, and hike west on a wide, smooth trail that was reconstructed after the 2007 washout. At mile one, fork left at the junction with Emmons Moraine Trail for a .4-mile (one-way) detour to a viewpoint overlooking the 4.3-square-mile Emmons Glacier (the largest glacier in the Lower 48). Backtrack to the main trail and turn left for a gradual climb up the valley. At mile 3.2, continue straight at the 3-way junction with Burroughs Mountain/Sunrise Trails, and continue another 0.7 mile to the Glacier Basin Camp. In summer and fall, black bears forage for huckleberries in these meadows. A half-mile walk farther up the valley leads to five-star views of The Wedge and the entire basin.
INFO For information on permits, current trail and camp conditions, and wilderness guidelines, go to nps.gov/mora/planyourvisit/wilderness-camping-and-hiking.htm.
PERMIT A wilderness permit is required for all overnight camping in the backcountry. Reservations requests accepted by fax or mail, starting on March 15th of each year ($20/reservation). Download form at nps.gov/mora/planyourvisit/wilderness-reservation-information.htm.
CONTACT Mt. Rainier National Park, (360) 569-2211; nps.gov/mora
-Mapped by Eli Boschetto, Bosco Mountain Photo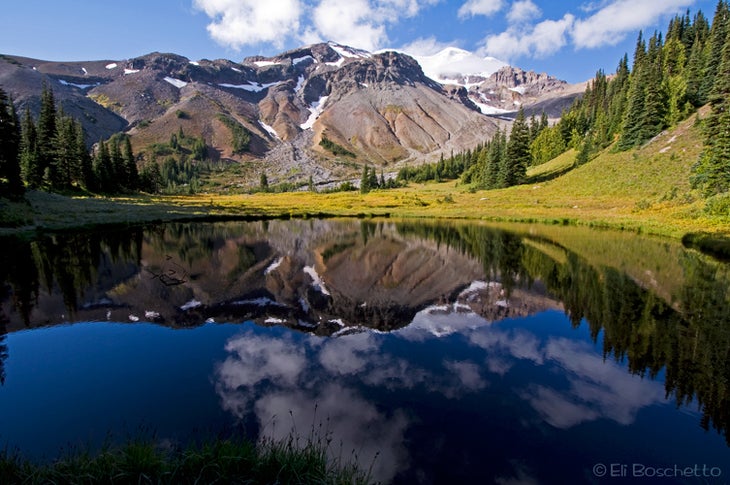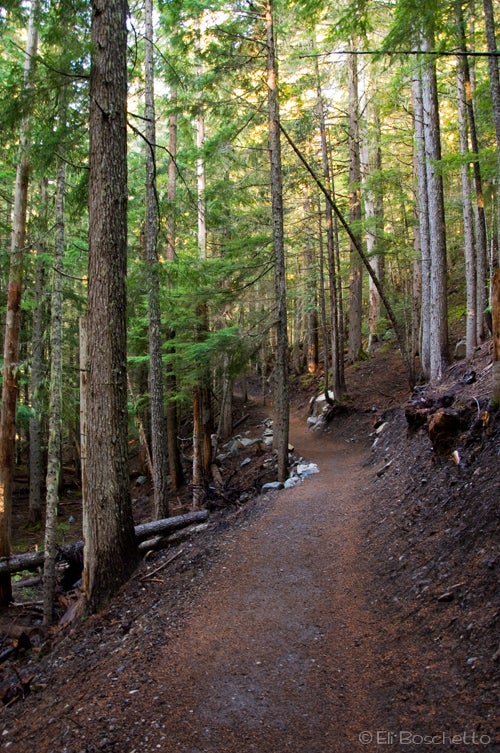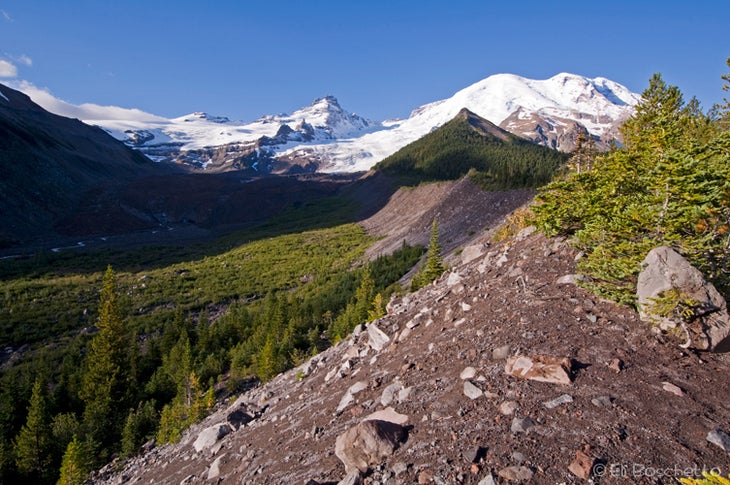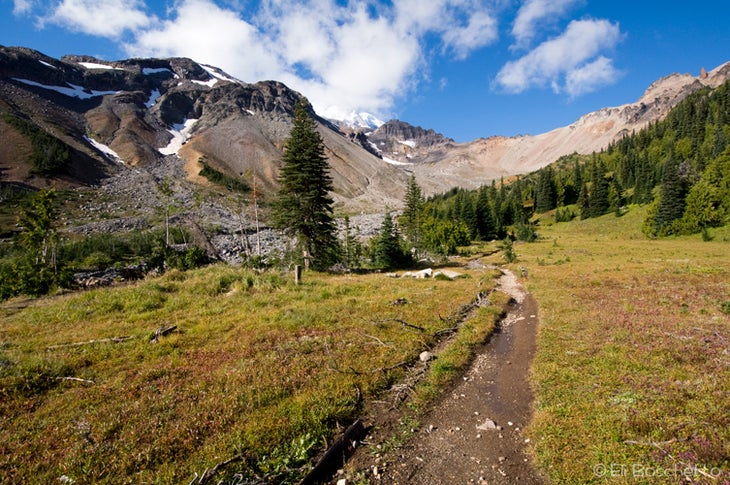 Trail Facts
Waypoints
GLA001
Location: 46.901595, -121.645968
The loop begins at the White River Campground. Hike west up the valley on the newly rebuilt Glacier Basin Trail, a smooth, wide path (based on 1930's CCC standards).
GLA002
Location: 46.900939, -121.658156
Stop at this switchback to watch a cascading waterfall through the trees.
GLA003
Location: 46.900561, -121.66307
Cross a cascade.
GLA004
Location: 46.9, -121.665234
At mile one, bear left on Emmons Moraine Trail to a viewpoint of the Emmons Glacier. At 4.3 square miles, it's the largest glacier in the Lower 48.
GLA005
Location: 46.899363, -121.664684
Turn right to reach the viewpoint of Emmons Glacier. Look down for views of a milky blue lake.
GLA006
Location: 46.898047, -121.670752
Stop for more wide-open views of Emmons Glacier. The trail continues up the moraine, then descends to the toe of the glacier; explore at will, then return to the Glacier Basin Trail to continue the loop.
GLA007
Location: 46.89987, -121.668136
Cross a rockfall slope and a wide creek.
GLA008
Location: 46.896859, -121.678471
Pass debris from leftover mining ruins.
GLA009
Location: 46.894515, -121.692298
Continue straight at the 3-way junction with Burroughs Mountain Trail for an out-and-back into Glacier Basin.
GLA010
Location: 46.894059, -121.694462
Cross several cascades on wooden bridges.
GLA011
Location: 46.888862, -121.700265
A side trail on the right (north) leads to a Glacier Basin restroom.
GLA012
Location: 46.888854, -121.700774
Glacier Basin Camp: Use designated sites; water is accessible via side trails.
GLA013
Location: 46.888811, -121.702002
The maintained trail ends here. In summer and fall, black bears munch huckleberries in the subalpine meadows of Glacier Basin. Optional: Hikers can pick up the use trail, which continues 0.5-mile to The Wedge, and beyond to Inter Glacier and climbing camps. Follow the same route back to the trailhead.
Lakelet in Glacier Basin
Location: 46.889821, -121.701387
A small lakelet on the west side of Glacier Basin presents dramatic reflections of Mt. Rainier in the morning's still water.
Glacier Basin Trail
Location: 46.901169, -121.649278
Emmons Glacier
Location: 46.898571, -121.668735
From the Emmons Moraine Trail, get wide-angle views of the Emmons Glacier, Little Tahoma, and Mt. Rainier.
Glacier Basin
Location: 46.888819, -121.701923
The official trail ends in Glacier Basin, but a climber's route continues up the valley to The Wedge, and higher climber's camps.