Hiking in Glacier National Park, Montana
Lose yourself in the Lower 48's wildest park.
Heading out the door? Read this article on the new Outside+ app available now on iOS devices for members! Download the app.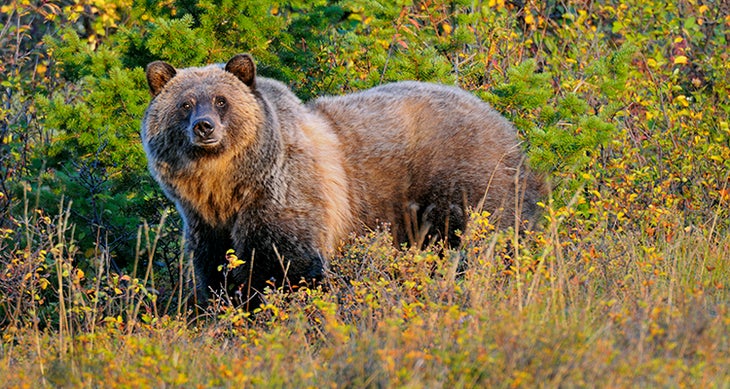 Photo by Tom & Pat Leeson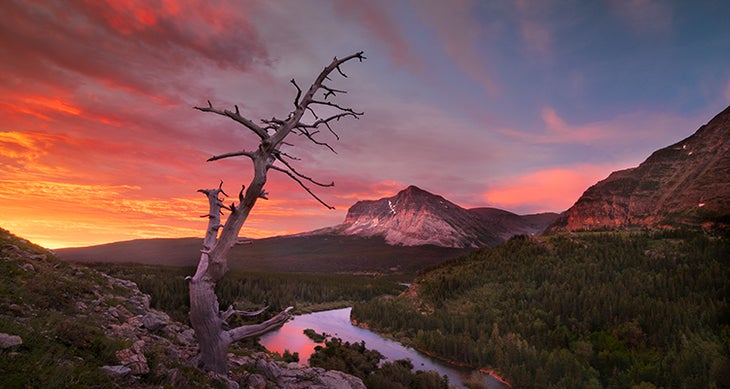 Photo by Michael Bolino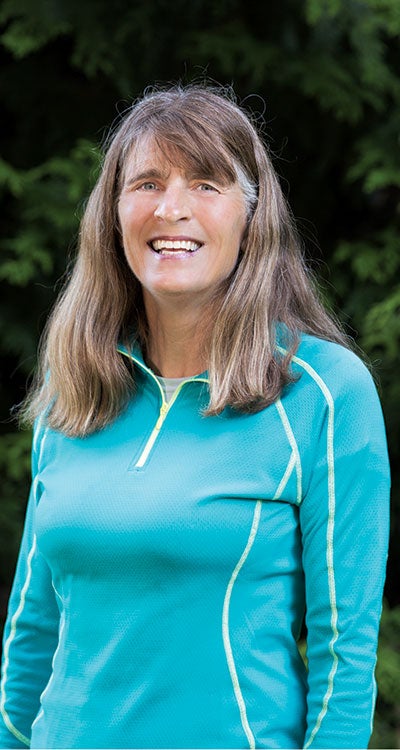 Photo by Kirkendall-Spring Photography
Big country: One of the park's 1,500 mountain goats perches above Hidden Lake. Reach this spot via a 3-mile (round-trip) jaunt from Logan Pass.
The Payoff
We dare you to shrug at these vistas. The sandpaper of time has yet to mellow Glacier's summits; pair them with waterfalls, wildflower meadows, vast valleys, and azure lakes, and you've got surefire awe and wonder. Wildlife sightings only add to the drama, with grizzlies, black bears, and mountain goats roaming these slopes. And Glacier's peaks top out at 10,500 feet, meaning adventurers enjoy high-alpine splendor without the strained lungs. Seem too good to be true? There's only one way to find out: Better see these marvels for yourself.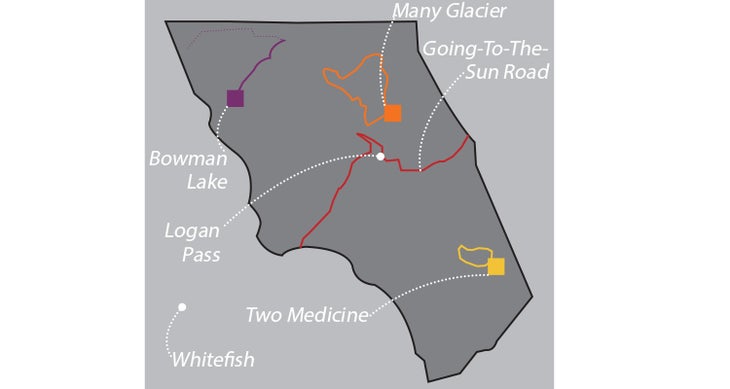 Your guide Vicky Spring, 61, of Edmonds, Washington, wrote a Glacier guidebook and has hiked 95 percent of the park's 740-plus miles of trails. "Glacier's rewards are hard to match," she says. "On a scale of one to 10, every possible hike here rates at least a nine."
Flexibility required "I highly recommend reserving your permits [see right]," Spring says, "But you should still expect to be flexible with your plans." That's because wildlife concerns (ranging from aggressive bears to birthing goats) regularly result in trail closures. "Build a day of wiggle room into your schedule."
September splendor Visitation plummets after Labor Day, making September prime time for Glacier's classics: Walk-up permits may be available for campsites that require lottery luck midsummer (queue up before the ranger station opens, and have your campsite codes and plan B ready to go). Temps are generally mild (highs in the 60s), and although snow may fall, a puffy and 15°F sleeping bag should suffice. Route plan wisely: The park shuttle stops on September 8 this year, and by month's end, staff start removing 25 seasonal bridges. Ripe huckleberries may nourish hikers—and bears. "Be extra cautious and chatty whenever you're hiking through bushes where grizzlies may be feeding," Spring warns.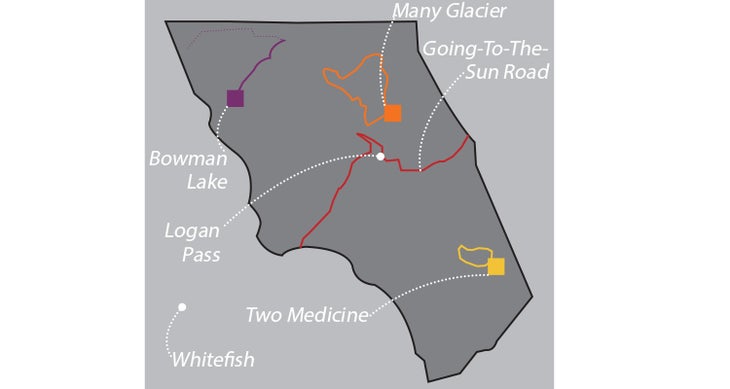 Best weekend Spring's favorite overnight is the 18-mile Dawson Pass loop out of the Two Medicine area. "You're on or just below ridgelines for most of the way, so you get continuous views," she says. Follow the Pitamakin Pass Trail for 6.5 miles northwest through meadows and huckleberry thickets to bean-shaped Oldman Lake. Camp here, with views of striated, 9,225-foot Flinsch Peak. Next morning, continue 1.5 miles to Pitamakin Pass, where lakes glitter on both sides of the ridge. Take the Dawson Pass Trail along high-alpine crests, then descend past 70-foot Twin Falls to Two Medicine Lake, where you can catch a boat back ($6; glacierparkboats.com; through September 7) or hike 3.3 miles east to close the loop.
You-only-live-once epic "The northern loop is Glacier's most thrilling hike," Spring promises. You'll squeeze through Ptarmigan Tunnel (a 250-foot pipeline hacked through the cliffs separating the Many Glacier and Belly River valleys) and cross Stoney Indian and Swiftcurrent Passes, which overlook Glacier's toothiest ridgelines and its receding ice. The five-day, 56-mile circuit starts at Swiftcurrent Lake, then climbs past Ptarmigan Falls and the famed tunnel before descending 2,300 feet to Elizabeth Lake, your first camp. Next morning, continue north and use a cable to help ford the thigh-deep creek below Cosley Lake before ascending into the alpine zone at Stoney Indian Pass; camp at Stoney Lake for a 14.5-mile day. Day three follows the Continental Divide Trail south for 8.2 miles, allowing hikers to savor scads of above-treeline panoramas before camping at Fifty Mountain. Enjoy more alpine splendor along the 12 miles to Granite Campground, then hike east over Swiftcurrent Pass, passing Redrock Falls on the return to Swiftcurrent Lake.
Best Plan B Should trail closures wreak havoc on your plans, try a 16-mile (one-way) hike out of Bowman Lake in the park's northwest corner. The twisty, unpaved access road deters crowds (and prohibits trailers), so you stand a chance of nabbing a walk-in permit for the four-day (round-trip) hike to Hole In The Wall, Glacier's most dazzling backcountry campsite. Perched in a hanging valley atop 1,200-foot cliffs, the site overlooks 8,528-foot Boulder Peak and hulking Thunderbird Mountain. And getting there is just as splendid: Hike 7.1 miles north with views of cool waters and steely peaks on the Bowman Lake Trail, then camp by the inlet. Next day, hike 6.7 miles to Brown Pass, which Spring ranks among Glacier's best vistas: Its grandstand affords views of 800-foot-tall Hole In The Wall waterfall,
nestled among chiseled peaks. Continue across sheer cliffs 2.2 more miles to the three Hole In The Wall campsites, which share bear storage. Backtrack to Bowman Lake, or continue hiking 23 miles west to Kintla Lake (shuttle or hitch required).


Trip Planner Go July (for the best wildflowers) through September (for easier stream fords, thinner crowds, and active wildlife). Get there Drive 2.5 hours from Missoula. Or ride the train, and rent a car at the depot (amtrak.com). Permit Required year-round, with advance reservations available June 15 to Sept. 30: Half are awarded via lottery beginning April 16 for the following summer ($30 plus nightly fees, submit requests Jan. 1 to April 15); the rest are held for walk-ins ($5/person/night). Guidebook Glacier-Waterton International Peace Park ($18; mountaineersbooks.org) Contact nps.gov/glac; (406) 888-7900

Hike On: Get route details and more treks at https://www.backpacker.com/trips/montana/Glacier-National-Park/