Glacier National Park: Swiftcurrent Pass
A classic trek in Glacier National Park, this 14.7-miler crosses the Continental Divide, skirts turquoise pools, and skims wildflower fields.
Heading out the door? Read this article on the new Outside+ app available now on iOS devices for members! Download the app.
This one-way route in Glacier National Park—which traces the Continental Divide and then a glacial stream—should be on every hiker's life-list. It crosses fields of glacier lilies (grizzlies love the bulbs) and steep terrain favored by bighorn sheep and mountain goats. From Logan Pass trailhead, take the Highline Trail and connect to Swiftcurrent Pass, then descend through Many Glacier Valley, past turquoise icemelt pools.
SEASON: July-September
PERMIT: Overnight camping in Glacier National Park requires a backcountry permit. Check out the latest fees and more details at nps.gov/glac/planyourvisit/backcountry.htm.
MORE PARK INFO: Glacier National Park, (406) 888-7800; nps.gov/glac/.
-GPS data provided by the National Park Service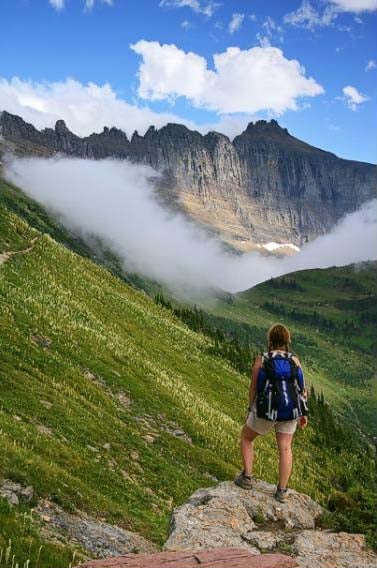 Trail Facts
Waypoints
SWF001
Location: 48.6965551, -113.7181199
The route begins at Logan Pass across from the visitor center parking lot. Follow the Highline Trail north.
SWF002
Location: 48.7086716, -113.7158966
Mountain goats abound near small waterfall plunging into valley.
SWF003
Location: 48.7343138, -113.72298
Brief break in switchbacks; cross creek; often capped by small snowfield.
SWF004
Location: 48.7450403, -113.7398028
Hike along corridor sprinkled with beargrass, Indian paintbrush, and asters with striking views of Garden Wall.
SWF005
Location: 48.763912, -113.7545657
Bear right @ T-junction.
SWF006
Location: 48.7676318, -113.7579346
Slight left @ intersection. Option: Turn right and hike to Grinnell Glacier overlook, a steep yet rewarding
sidetrip.
SWF010
Location: 48.7778279, -113.7652731
Swiftcurrent Pass straddles the Continental Divide. Keep right for a switchback descent into the Many Glacier valley.
SWF009
Location: 48.7762159, -113.7678051
Peer at the sheer ledges of the Garden Wall to the east.
SWF007
Location: 48.7712664, -113.7708521
Bear left, staying on Granite Park Trail.
SWF008
Location: 48.7731738, -113.7709426
Bear right @ Y-junction, heading north toward Swiftcurrent Pass.
SWF014
Location: 48.7853362, -113.7410461
Walk along banks of hourglass-shaped Bullhead Lake on right; look noth to see Mount Wilbur's prominent, sawtoothed ridgeline.
SWF012
Location: 48.7785632, -113.7539864
Look northeast across valley to see string of glacial lakes.
SWF017
Location: 48.8017757, -113.6942482
Trail swings southeast for final stretch to Swiftcurrent.
SWF011
Location: 48.7860286, -113.752656
Trail cuts right, heading south. Ahead, a series of switchbacks hug the cliff walls.
SWF016
Location: 48.7975693, -113.7076645
Trace the grassy banks of trout-filled Redrock Lake, rimmed by dwarf conifers. Mount Grinnell's fin-shaped ridge looms to southwest.
SWF018
Location: 48.7983977, -113.6825752
Stay straight @ 3-way near Fishercap Lake (mostly hidden from trail by foliage).
SWF013
Location: 48.7800865, -113.743103
The steep descent ends here. Hike northeast through the valley.
SWF015
Location: 48.7953446, -113.7115216
Redrock Falls: Tiered cascade pours over boulders and reddish cliff bands on the right.
SWF019
Location: 48.7975001, -113.6785734
The route ends at Swiftcurrent. Pick up shuttle car and return to Waypoint 1.
The Garden Wall at Grinnell Glacier Overlook
Location: 48.7676459, -113.7575698
The Garden Wall from the Grinnell Glacier Overlook at Glacier National Park.