Moab, UT: Cameltoe Canyon
Put your route-finding skills to the test on this 5-mile trek that ascends rock ledges, skirts slickrock pools, and traverses sandy-bottomed washes.
Heading out the door? Read this article on the new Outside+ app available now on iOS devices for members! Download the app.
This 5-mile out-and-back into Cameltoe Canyon is a perfect introduction to canyoneering—the route requires scrambling and route-finding skills, but ropes, harnesses, and hardware aren't mandatory. Plus, the canyon has a few slickrock pools to cool your feet on a hot day. From the trailhead, hike north along ATV tracks. The route passes petroglyphs after .4 mile, then roughly follows the wash north and northeast to round a knob and descend a gully on the other side. Scramble northwest through dry and wet sections of the wash for .3 mile to slickrock slabs that make for a more secluded overnight stay than the campground at the trailhead. Continue up canyon through a keyhole, passing more slickrock pools, before turning around at mile 2.6 and retracing the route back to the trailhead.
Mapped by Steve Howe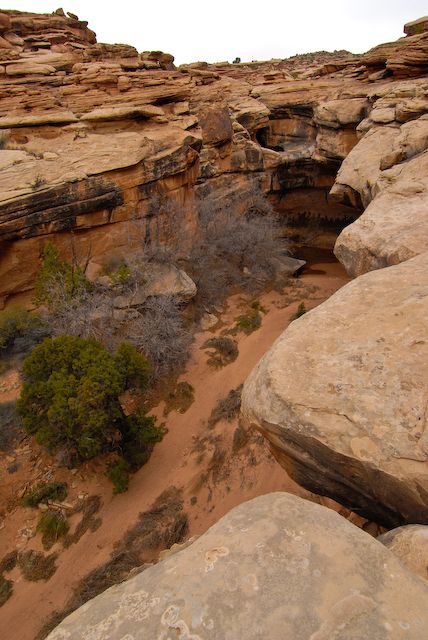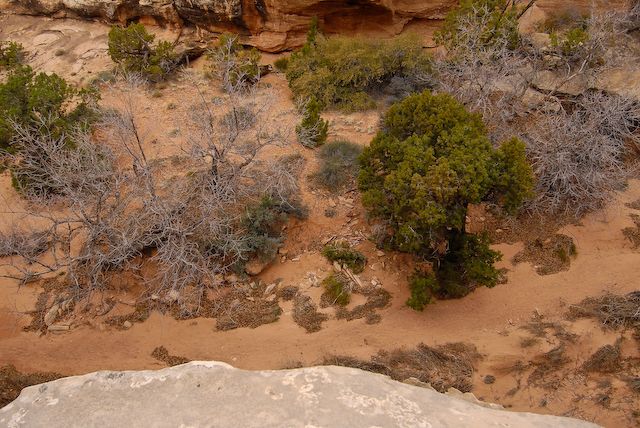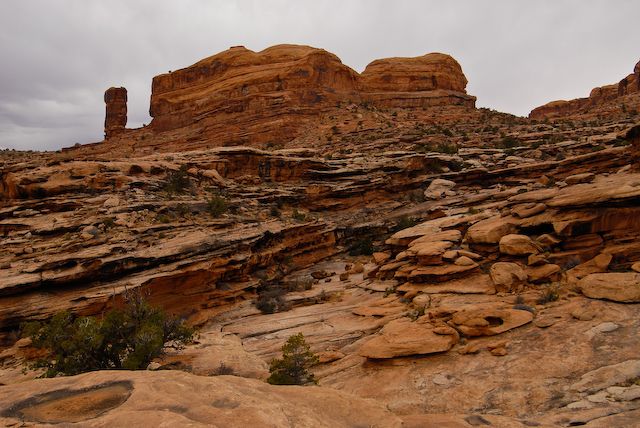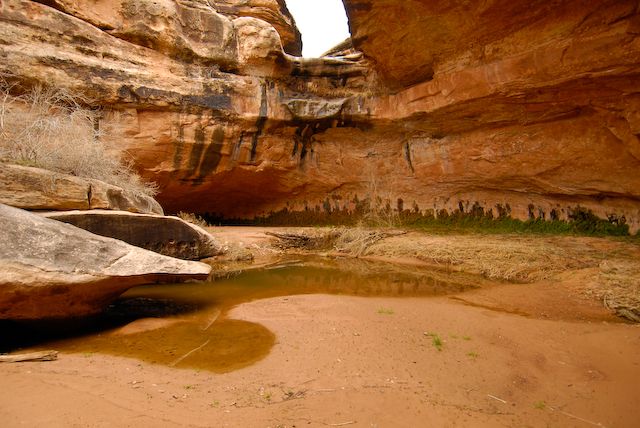 Trail Facts
Waypoints
CML001
Location: 38.5749435424805, -109.632522583008
From the Corona Arch Trailhead, hike north along ATV tracks to gate. Gold Bar campground lies to the west, between UT 279 and the Colorado River.
CML002
Location: 38.5791511535644, -109.634986877441
Follow zigzag passage through fence. Look for petroglyphs on boulder immediately to the north. Next, continue on trail that winds along bench on canyon's east side.
CML003
Location: 38.5856857299805, -109.63053894043
At mile 1.2, after rounding Point 4,293 (unnamed high point), descend to gully and turn left (north).
CML004
Location: 38.5868339538574, -109.631477355957
Shallow pools in slickrock slab are great for soaking the feet. Continue north.
CML005
Location: 38.5875816345215, -109.632545471191
Bypass dry pour-over at mile 1.3 by detouring left (southeast); hike downcanyon.
CML006
Location: 38.58740234375, -109.632278442383
Climb out of wash onto ledges west of canyon bottom.
CML007
Location: 38.5873832702637, -109.632713317871
Nice campsite on open slabs with views of surrounding bowl, mesas overhead, and sandstone fins across the Colorado River.
CML008
Location: 38.5881156921387, -109.633720397949
Pass through keyhole behind boulder.
CML009
Location: 38.5884780883789, -109.633338928223
More slickrock pools.
CML010
Location: 38.5925140380859, -109.632476806641
Large pour-over blocks upstream passage in wash. Detour right (east); may require backtracking.
CML011
Location: 38.5939674377441, -109.630264282227
Ledges allow you to downclimb back to washbottom, or continue northeast on ledges above canyon.
CML012
Location: 38.5955047607422, -109.625984191895
Good point to turn around (rougher terrain ahead). Retrace route back to trailhead.
Steep Walls
Location: 38.5879325866699, -109.633476257324
Pinon Scrub
Location: 38.5884971618652, -109.63353729248
Rock Formations
Location: 38.588924407959, -109.633171081543
Look for these rock formations just south of Point 4,672.
Shady Spot
Location: 38.5894432067871, -109.633247375488