Minneapolis, MN: Light Up Your Life (Superior Hiking Trail)
Sample the 310-mile Superior Hiking Trail on this overnight past Oberg Mountain and Lake Agnes. Fall bonus: Northern Lights. BY KATHLEEN FERRARO
Heading out the door? Read this article on the new Outside+ app available now on iOS devices for members! Download the app.
We huddle in our sleeping bags on a natural jetty that extends 50 yards into the black, placid waters of Lake Agnes. We'd foregone our tent because the view was so good: Above the maple canopy, yellow and green lights flicker across the star-speckled night sky. It's a well-earned prize on the 310-mile Superior Hiking Trail, which stretches from Duluth up to the Canadian border. Today, we took on perhaps the best section: a 13-mile piece that crosses peaks and valleys as it winds past small, unnamed lakes and wide panoramas of Lake Superior. The Northern Lights feel like a bonus, but we're spoiled. Tomorrow will bring another fall spectacle when daylight illuminates a collage of red and yellow foliage.
Trip stats
Distance: 12.6 miles (point to point)
Time: 2 days
Turn-by-turn
From the Oberg Mountain trailhead
(1) Pick up the Superior Hiking Trail (SHT) and proceed 5.8 miles northeast past rocky Oberg Mountain and over Moose Mountain to the Mystery Mountain Campground.
(2) Descend from the campsite and continue 6 miles northeast on the SHT to a junction.
(3) Take the north (hiker's left) path .8 mile to the Caribou trailhead.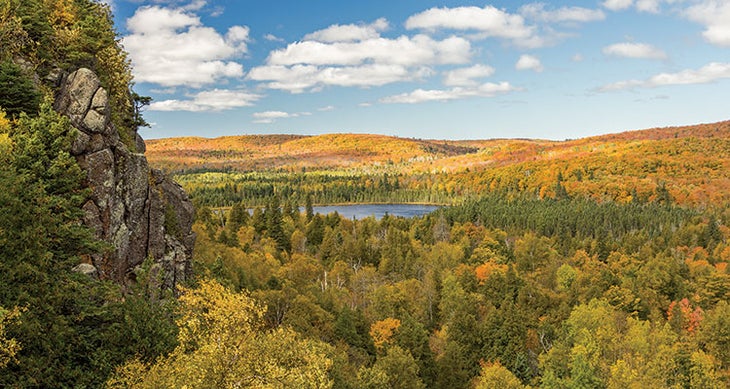 Campsite
Mystery Mountain (mile 5.8)
The dense birches and firs make this four-site camp (first-come, first-serve) ideal for hammocks, but there's plenty of space for tents. Collect water .5 mile north at Poplar River, where you can also gather thimbleberries and raspberries in July and August. If you're OK with a long first day (or want to stretch the hike into three days), spend a night on the natural jetty at Lake Agnes (mile 11.2).
Moose
Look for tracks and antler rubs in the Poplar River area. Moose are most active in fall, especially during dawn and dusk.
Northern Lights
Target clear nights with little moonlight in late fall and winter to try to spot the aurora borealis. (Get an aurora forecast at softservenews.com before you set out.)
DO IT Shuttle car 47.707228, -90.667473; 7 miles northwest of Lutsen Resort off Caribou Trail. Trailhead 47.627400, -90.783248; 20 minutes southwest of the shuttle car on Onion River Rd. Season May to November Permit None Custom mapbit.do/BPmapSHTsection ($15) Contactshta.orgTrip databackpacker.com/shtsection
Trail Facts
State: MN
City: Minneapolis, MN
Distance: 12.6
Contact: shta.org
Land Type: National Forest