Minneapolis, MN: Afton State Park
From bluffs to beaches to a bluebird trail, this 3.5-mile lollipop loop samples Afton State Park and the shores of the federally-designated wild and scenic St. Croix River.
Heading out the door? Read this article on the new Outside+ app available now on iOS devices for members! Download the app.
Habitats merge and, even on busy summer days, hikers find solitude on over 20 miles of hiking trails in Afton State Park. This 3.5-mile day or overnight trip begins at the visitor center and heads north down 100-steps toward the St. Croix River. The trail turns left after passing a popular swimming beach and goes under an old railroad bridge to begin a 2.3-mile loop. Winding under hardwoods, through remnant farmlands and uphill to a 150-year-old pine plantation, the trail intersects a left-hand spur trail at mile 1.4. Turn left for an overnight at the 24-site hike-in campground, or turn right to complete the loop in one day.
As the trail heads north it passes the old Oliver Charlie farmstead and traverses a recent oak woodland restoration area before a few short switchbacks to the river. From there it's 1.1 miles on the railroad-grade trail or, if the water level is low, along the river's rocky beach to the picnic area. Look for eagles and ducks near the water's edge and pileated woodpeckers and kingbirds along the forested cliffs. From the swimming beach and picnic area it's just 0.5 familiar miles—100 steps, remember?—uphill to the visitors center.
-Mapped by Afton State Park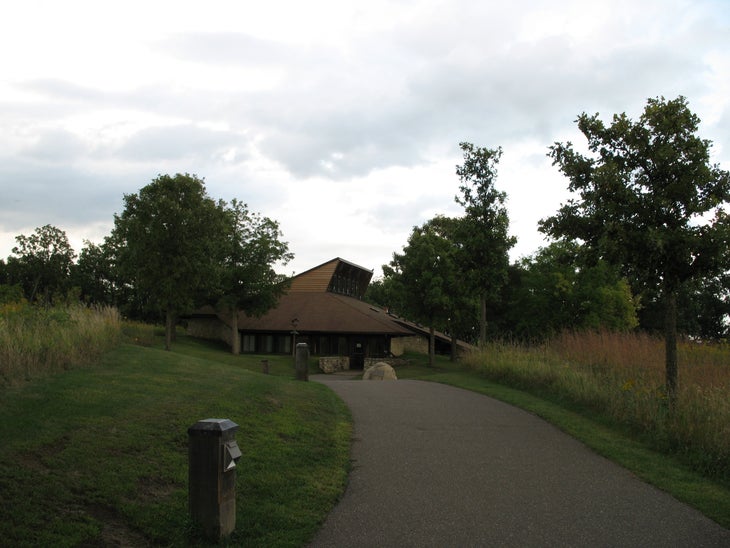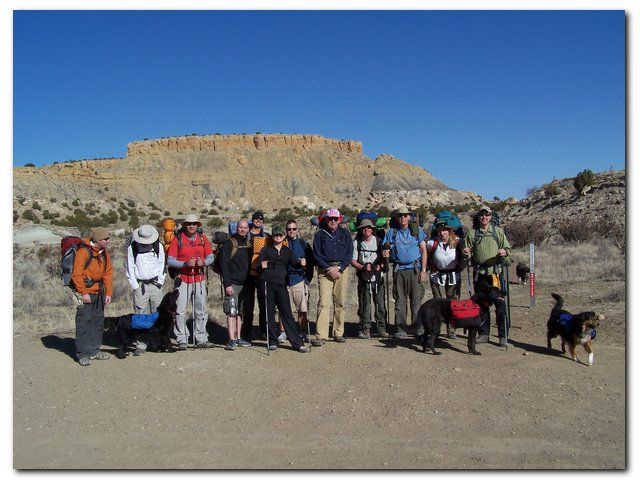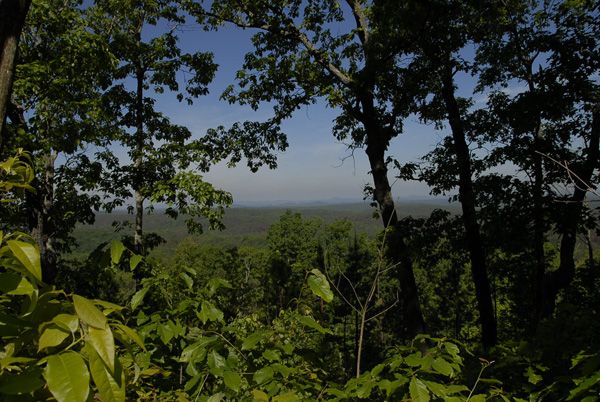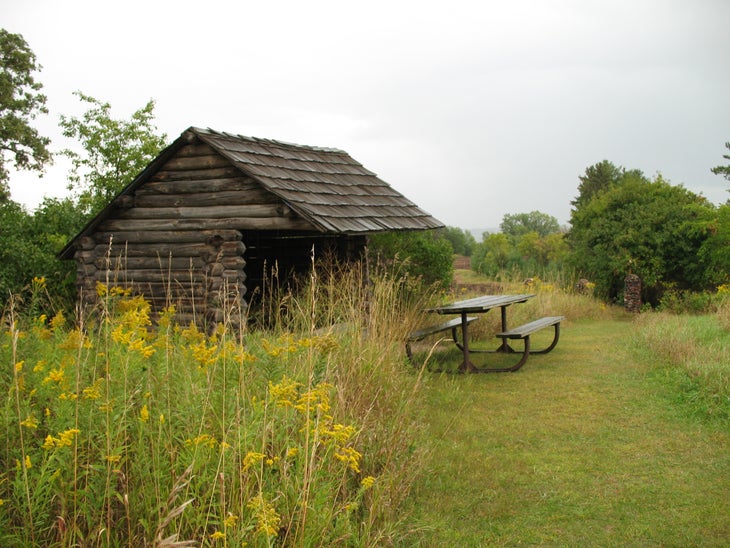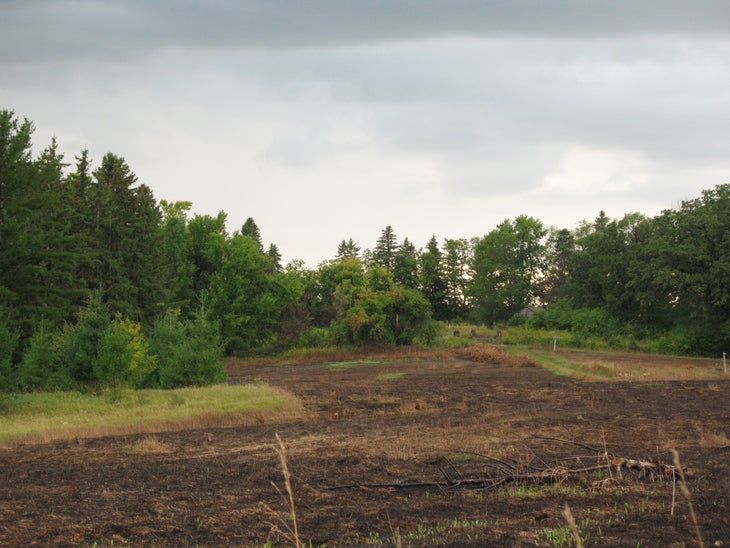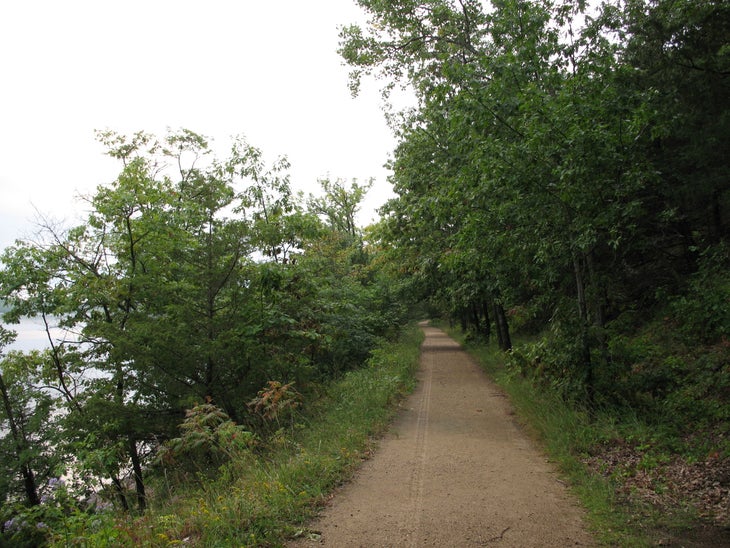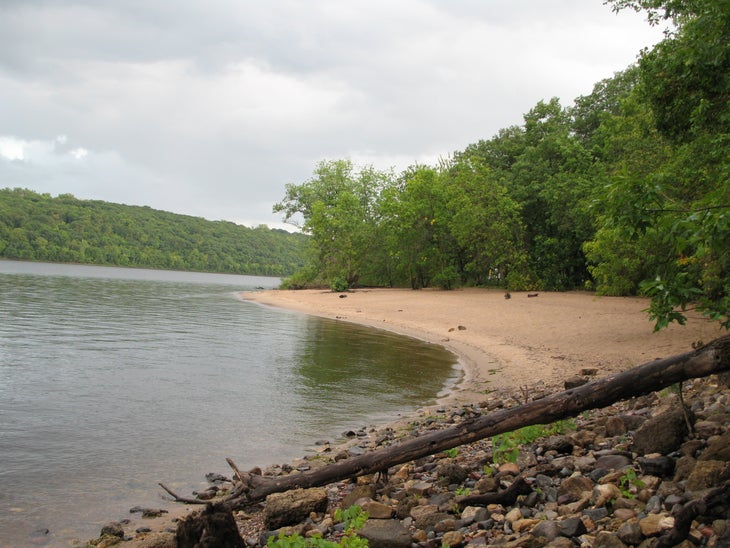 Trail Facts
Distance: 5.7
Miles from city center: 34
Waypoints
AFT001
Location: 44.8534502, -92.7746943
The Afton State Park Visitor Center has a historical interpretive exhibit and is heated in the winter, offering a place to toast chilled fingers and recoup after a ski adventure.
AFT002
Location: 44.8556749, -92.7746218
The downhill trail to the riverside beach and picnic area begins at the north end of the visitor's center parking lot.
AFT003
Location: 44.8575648, -92.7743644
Within 300 yards of the trailhead, the platform at this scenic overlook offers upstream views of the St. Croix River and gives a preview of the steep, 170-foot descent ahead. You'll descend 100 wooden stairs and cross a trellised railroad bridge before reaching the picnic area.
AFT004
Location: 44.8633978, -92.7731681
Follow signed trails to the beach and picnic area, canoe
campsite or the boater beach, popular summertime destinations for
families. This mapped route turns right @ Y-junction and loops under a railroad bridge to the Terrace-Prairie Trail, heading away from the river.
AFT005
Location: 44.8671543, -92.7721596
A short climb leads to this second trailside overlook offering St. Croix River views. Just past the overlook, the trail turns left and skirts a prairie restoration area. This 5-acre clearing is one of several prairie areas where park personnel are actively working to restore native habitat.
AFT006
Location: 44.8689488, -92.7762794
The steep, 270-foot climb from the valley flattens as the trail passes an old timber plantation. The open understory beneath organized rows of 150-year old white pine is a contrast the park's more common hardwood and maple forests.
AFT007
Location: 44.8690856, -92.7799702
The park has 24 hike-in-only campsites that are accessible via the left-hand trail at this junction (1.4 miles from the trailhead). Turn right to follow this mapped route's loop around the park's north side.
AFT008
Location: 44.8710284, -92.7788731
The trail passes a wooden shelter (perfect for escaping the elements on hot, summer days, or windy, winter ones) and a farmstead abandoned in 1969. An interpretive exhibit is planned for this location, but the only visible farmstead remnants are the stone pillars from an old gate.
AFT009
Location: 44.8718115, -92.7777654
Afton State Park is working to restore this open area. Oak
planting in the fall of 2008 will hopefully lead to healthy woodland habitat for 15 targeted bird species (including cerulean and hooded warblers) by 2028.
AFT010
Location: 44.8717773, -92.7737796
A 5-minute detour on this left-hand spur leads to an overlook offering downstream views of the river and a several houses in neighboring Wisconsin.
AFT011
Location: 44.8715568, -92.7705395
The hardwood canopy merges with another organized stand of plantation-era white pine, remnants from the area's logging history. The trail gets steeper from this point as it switchbacks into a narrow valley before reaching the river.
AFT012
Location: 44.8705607, -92.7694023
Turn right onto the gravel riverside segment of the trail which follows an old railroad bed (this trail is also open to cyclists). When river levels are low in late summer, descend a ballast-rock slope for a rocky, bicycle-free beach walk.
AFT013
Location: 44.8714123, -92.7683938
Houseboats and large power boats pull up to the sand at the north boating beach, just a short walk north from this route.
AFT014
Location: 44.8635955, -92.7733183
The riverside trail crosses an old railroad bridge and completes this route's loop. Stop for a swim or a picnic before retracing your steps uphill to the trailhead and visitor's center.
Visitor's Center
Location: 44.853435, -92.7746272
©Afton State Park
Trailhead
Location: 44.8556559, -92.774713
The trailhead at the north end of the parking area. ©Afton State Park
Overlook
Location: 44.857542, -92.7742839
The trail's first overlook offers upstream views of the St. Croix River and a look at the beach. ©Afton State Park
Shelter
Location: 44.8708991, -92.7791333
The wooden shelter provides respite for winter skiers looking to escape the elements for a few minutes. It's also a shady spot to stop in the summer. ©Afton State Park
Restoration
Location: 44.871918, -92.7783501
A controlled late-summer burn left this restoration area blackened, but by 2028, this old farming area will be a bird-filled oak woodland. ©Afton State Park
Riverside Path
Location: 44.8682492, -92.770915
The riverside segment of the trail follows an old railroad along a flat, wide path (also a great trail to ride a bicycle). ©Afton State Park
Beach
Location: 44.8640289, -92.7725351
When water levels are low on the St. Croix, the swimming beach is a large, welcoming expanse of sand. ©Afton State Park