Microdose Adventure With These 10 Tiny Urban Trails
Find adventure out your own back door. Here are 10 urban hiking trails—each under 2 miles—worth exploring.
Photo: Sabih Jafri via Getty Images
Heading out the door? Read this article on the new Outside+ app available now on iOS devices for members! Download the app.
Although long trips are nice, you don't have to hike far to reap the benefits of nature: Some of the most rewarding slices of the outdoors are right in your own neighborhood.
Micro trails—accessible mini-adventures that are 2 miles or less—lie in parks, greenways, nature sanctuaries, and local forest preserves. Hiking them takes a fraction of the planning, time, and endurance necessary to tackle a more traditional hike. From worn-down dirt trails that weave through tree-filled pockets of suburban neighborhoods to woodchip paths through urban greenspaces and parks, micro trails offer a quick escape into nature—even if just for 20 minutes on your lunch break.
Micro trails can also be made of crushed gravel or paved with concrete. Their added accessibility doesn't make them any less legitimate than a rugged hiking trail. Trekking short distances near home, or wherever you travel, helps you slow down, replenish your mental battery, and connect to nature. Another perk: You can often get to the trailhead by foot, bike, or public transit. 
For your next microadventure, find a micro trail in your own neck of the woods. Or, explore one of these short hikes in 10 big cities across the states—from Dallas and Chicago to LA and Phoenix. 
New York, New York
Place: Gull Trail Loop, Shirley Chisolm State Park
Distance: 1.6 miles
This 1.6-mile trail on the outskirts of Brooklyn covers a mix of gravel and paved pathway that winds through the 407-acre Shirley Chisholm State Park. The Empire State Building pops up from the horizon to the northwest and views to the south give way to the Jamaica Bay Wildlife Refuge; the wetland estuary is home to hundreds of primitive horseshoe crabs, waterbirds like heron and egrets, and migrating osprey that travel through the refuge between April and September. Want a longer challenge? Extend your trek to cover all 10 miles of trail within the park. Heads up: Pets are not allowed in Shirley Chisholm State Park.
Chicago, Illinois
Place: South Shore Nature Sanctuary Loop, South Shore Nature Sanctuary
Distance: 0.7 miles
What this nature oasis on Chicago's south side lacks in length, it makes up for in an overwhelming diversity of plants and wildlife. The less-than-1-mile dirt and boardwalk path travels through a microcosm of Illinois's varied habitat—from dunes and woodlands to prairie and savannah. The South Shore Nature Sanctuary welcomes migratory birds traveling north and south along the Lake Michigan shoreline in search of respite. Looking for flora? Towering oaks, wild blue iris, sand reed, milkweed, and purple coneflower are just a handful of the many plant species you'll find here. 
Houston, Texas
Place: West 11th Street Park Nature Trail, Lorraine Cherry Nature Preserve
Distance: 0.4 miles
Hide from the Texas heat on this heavily wooded trail within the Lorraine Cherry Nature Preserve. The Timbergrove Manor neighborhood park is a popular hiking and birding spot for both locals and visitors. You can bike to the trailhead via the White Oak Bayou Trail, a 17-mile hike-and-bike trail system and greenway that extends from the heart of the city at the University of Houston Downtown to the northwest neighborhood of West Little York Park. Make a pit stop on the way back downtown at the Houston Heights Bird Sanctuary and the Woodland Park Bird Sanctuary to catch a glimpse of a yellow-crowned night heron, green heron, tufted titmouse, or belted kingfisher. 
Phoenix, Arizona
Place: South Mountain Devastator Trail, South Mountain Preserve
Distance: 1.9 miles
Get your heart pumping on this short-yet-steep-incline trail on the northeast edge of South Mountain Park and Preserve. A micro trail option within a massive 50-mile trail system, the Devastator Trail gains 650 feet in less than a mile before topping out at its high point. If you're looking for more distance, continue along the over 5-mile Mormon Loop Trail, which links up to even longer trail segments within the park. Saguaro cacti along the dusty and rocky dirt trail evoke the quintessential landscape of the Sonoran Desert surrounding Phoenix. Average summer temperatures hover around 100°F, so you'll want to hike this route in the shoulder season (November through April) or at dusk and dawn. The payoff for early mornings or dark descents: amazing sunrise and sunset views over downtown Phoenix from the trail.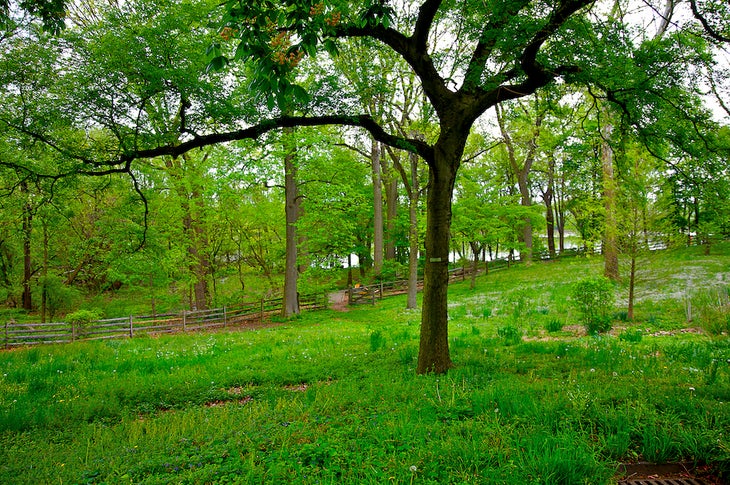 Philadelphia, Pennsylvania
Place: Bartram's Mile Trail, Bartram's Garden
Distance: 1.5 miles
This accessible urban gem is a 1.5-mile paved path that runs next to the west bank of the Schuylkill River—connecting Southwest Philly neighbors to urban nature in their own backyard. Some might not consider walking on a paved path a proper hike, but when you're surrounded by the lush foliage of the riverfront and the oldest surviving botanic garden in North America, it's hard to feel like you're anywhere but the backwoods. This shorter segment of the longer 30-mile Schuylkill River Trail runs through Bartram's Garden, a 50-acre greenspace, public garden, and National Historic Landmark. Along the way, you can veer off to make your own route along short dirt and boardwalk segments of nature trail that wind through the forested greenspace. 
San Antonio, Texas
Place: Wilderness and Wildlife Loop Trail, Brackenridge Park
Distance: 1.4 miles
Want to see a wilder side of San Antonio? Hike under a moss-covered canopy while keeping watch for roosting egrets on the 1.4-mile Wilderness and Wildlife Loop Trail. This kid-friendly micro trail in Brackenridge Park is home to the San Antonio Zoo, Japanese Tea Garden, and Sunken Garden Theatre—making it a great option for families with little ones to combine exploration and entertainment in one outing. A combination of mixed-use paved and gravel path follows alongside the north branch of the San Antonio River before looping back through stands of decades-old heritage oak and cypress trees. You'll forget you're a stone's throw from the second-largest city in Texas while wandering the 349-acre expanse of urban nature here.  
Dallas, Texas
Place: Piedmont Ridge Trail, Great Trinity Forest
Distance: 1.6 miles
Tucked on the northeast edge of the country's largest urban forest—The Great Trinity Forest—you'll find the best dayhiking Dallas has to offer. The 1.6-mile Piedmont Ridge Trail follows an escarpment that gives you a glimpse of the surrounding forest through breaks in the oak and cedar treeline. In spring, you'll pass through native prairies that pop with vibrant  Texas bluebonnets and sightings of native wildlife like coyotes, white-tailed deer, and pileated woodpeckers. In fall, make a pit stop at the Scyene Overlook Trail area just north of the Piedmont Ridge trailhead. Walk a few hundred yards to the northern edge of the park for arguably one of the most stunning fall foliage views in all of Dallas. The surrounding oak trees turn bright orange and yellow come mid-October.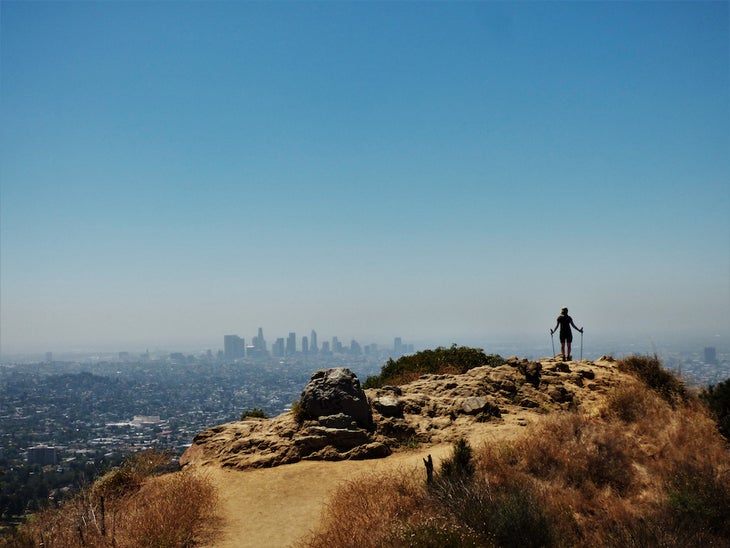 Los Angeles, California
Place: Burbank Peak Trail, Griffith Park
Distance: 1.1 mile
Not afraid of a little uphill battle? This steep 1.1-mile out-and-back climb to the top of Burbank Peak rewards you with panoramic views of downtown Los Angeles. A lone pine tree—The Wisdom Tree—greets you at the summit with a unique vantage point of Griffith Park down below and the Hollywood sign to the west. By mid-April, Burbank Peak Trail becomes a wildflower wonderland with orange and yellow California poppies and deep purple desert Canterbury bells surrounding the dirt path. You can turn the trip into a longer 3.9-mile loop by continuing on to Cahuenga Peak and Mt. Lee, passing the Hollywood Sign along the way.
San Diego, California
Place: Maple Canyon Trail, Maple Canyon Nature Preserve
Distance: 1 mile
Up for some urban canyon hiking? Hit Maple Canyon Trail, a lesser-known pick of the over 150 canyons that make up the San Diego Canyonlands. This short and sweet taste of urban adventure takes you on a 1-mile loop trail through the Maple Canyon Nature Preserve's date palms, coastal shrubs, and eucalyptus trees that fill Maple Canyon year-round, and the bright red, yellow, and magenta blooms that sprout from prickly pear cactus from April to June. The route also takes you across the 60-foot-tall Quince Street Pedestrian Bridge, a wooden historic footbridge built in 1905, and under the 104-foot-tall First Avenue Bridge, a towering metal arch-truss bridge built in 1931. 
San Jose, California
Place: North Rim Trail to Eagle Rock, Alum Rock Park
Distance: 1.9 miles
San Jose's Alum Rock Park gives locals access to rugged beauty without leaving city limits. The out-and-back route through the rolling foothills and up to Eagle Rock via the North Rim Trail features wide-open views of the Diablo Range—a popular escape for Bay Area hikers. From the vantage point at Eagle Rock, you'll look out over the forested Santa Clara Valley, with views of downtown San Jose in the distance. Much of the trail is exposed to sun, so plan accordingly when hiking in the summer heat.