Makena, HI: LaPerouse Bay and Hoapili Trail
Hike across Maui's most recent lava flow around a gorgeous turquoise bay frequented by spinner dolphins. Bring your snorkel gear for a refreshing dip post-hike.
Heading out the door? Read this article on the new Outside+ app available now on iOS devices for members! Download the app.
The southern portion of Maui was the last to see volcanic activity two centuries ago. Lava poured from the split vent uphill of the road, streaming down to the ocean and creating a jagged coastline and a large natural bay. The area just north of LaPerouse is the 'Ahihi-Kina'u Natural Reserve. Although several guidebooks indicate that trails in the reserve lead to secluded snorkeling pools, the reserve has been closed for study and restoration.
The trail around LaPerouse Bay begins at the southwest corner of the parking area. Hike the shoreline trail, or take a short detour around some ancient Hawaiian ruins. The ragged lava shoreline hosts numerous small coves, lava arches, and tidepools. About a half-mile from the trailhead, a gorgeous little white sand beach awaits the first group to stake a claim to it. Enter a shaded grove of ragged trees, littered with the remains of rock walls, and watch for wild goats and pygmy deer.
Emerging from the grove, the trail continues ahead on an abandoned jeep trail, or deviate uphill slightly through a gate to the Hoapili Trail which parallels the shoreline trail for a ways. The Hoapili Trail—also called the King's Highway—is believed to be an old cattle road that Hawaiians would walk barefoot. At a signpost, the Hoapili Trail continues another 2 miles to the secluded Keawanaku Beach, another good snorkeling spot. Staying on the shoreline trail will take you to the western point of Cape Hanamanioa and the southernmost tip of LaPerouse Bay for a 3-mile round trip.
Numerous other faint trails crisscross through the lava fields around LaPerouse, most leading nowhere. Please respect the ruins in the area by staying on the trails.
-Mapped by Eli Boschetto, Bosco Mountain Photo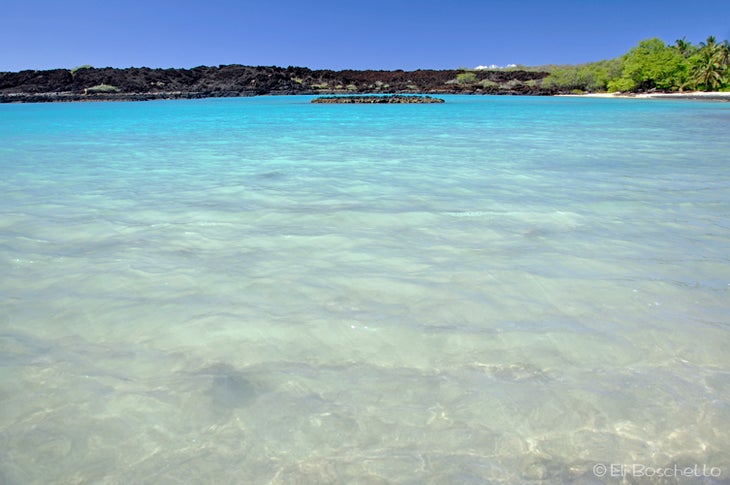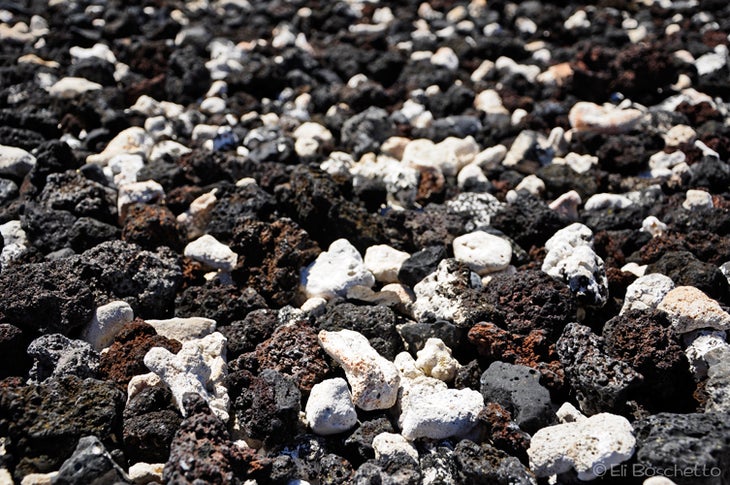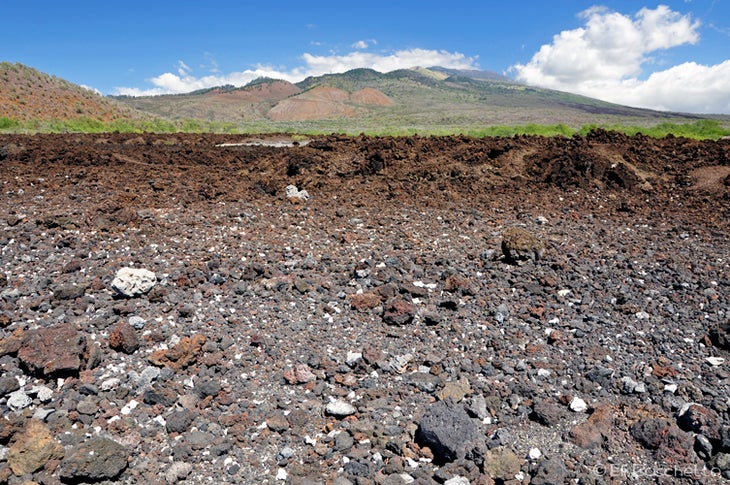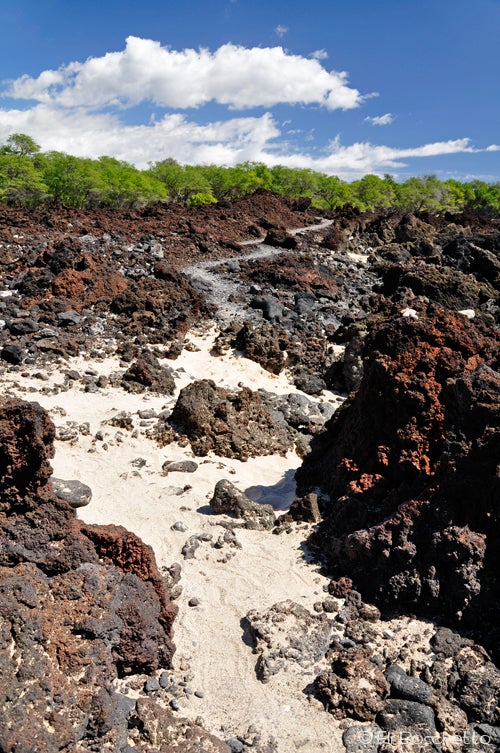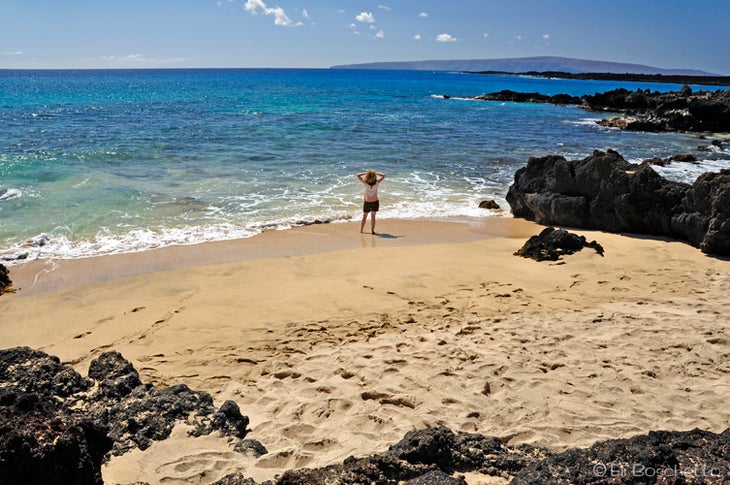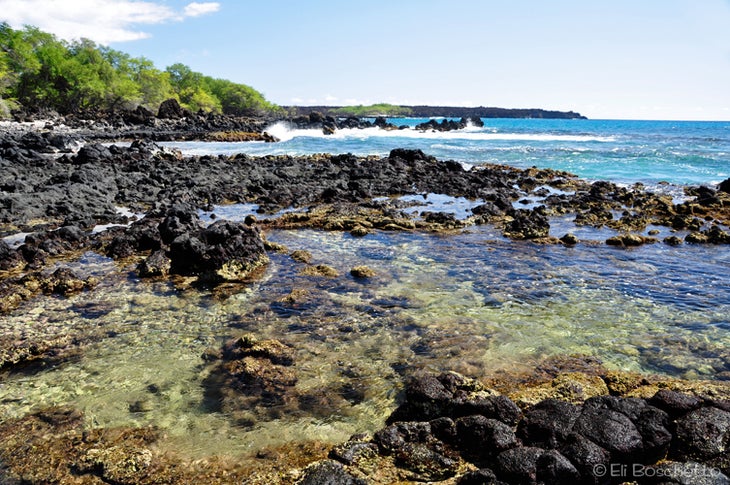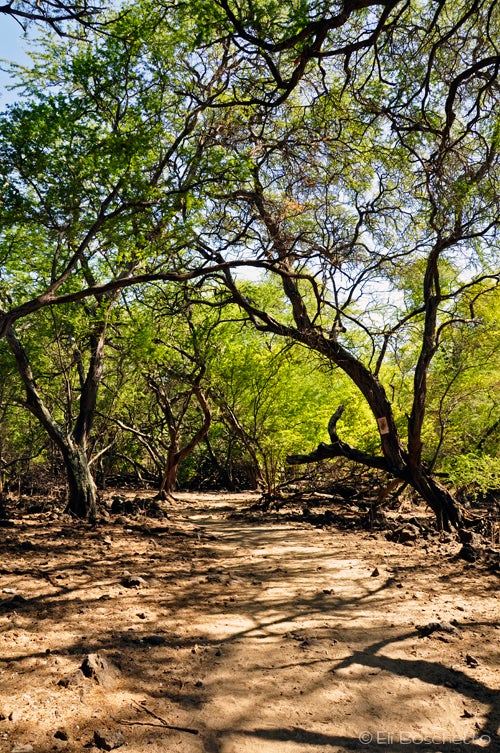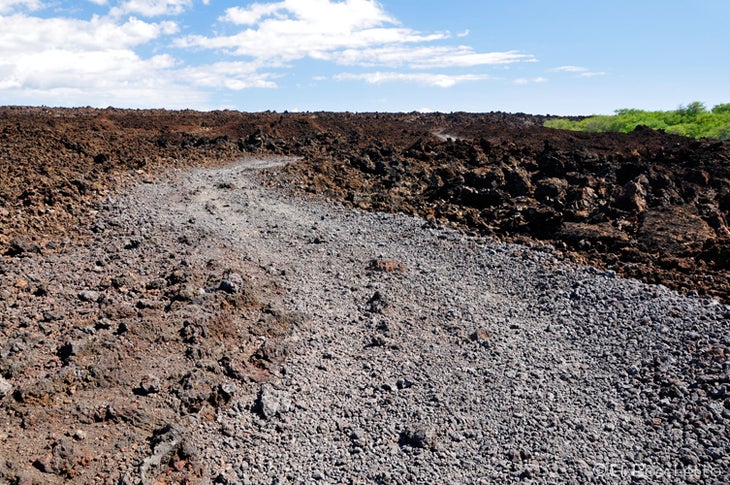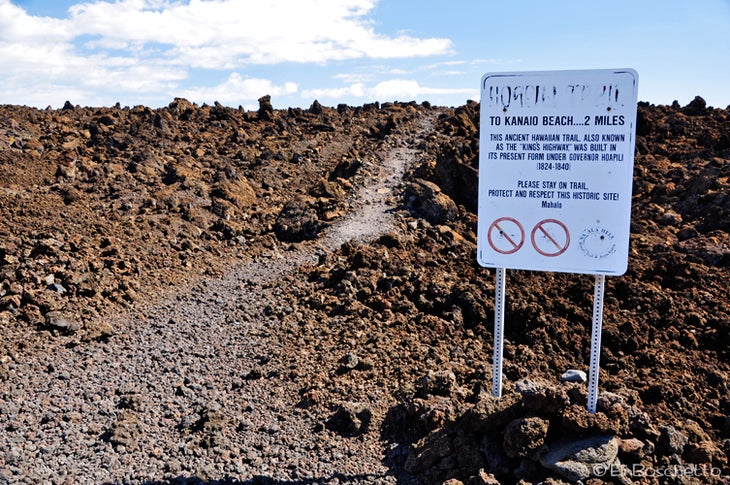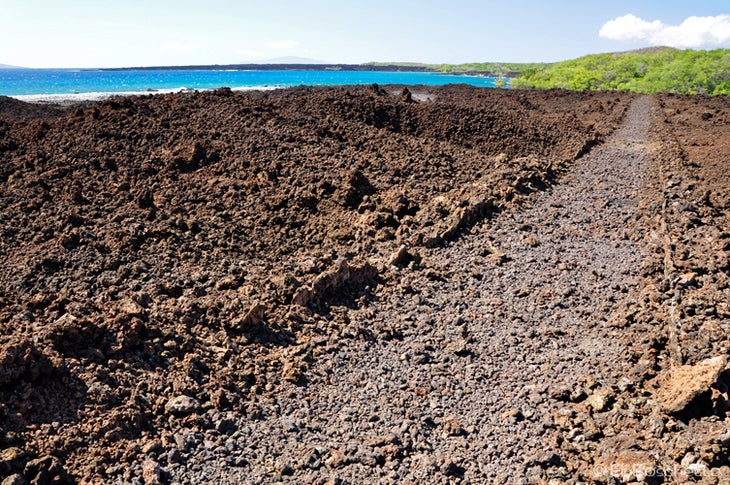 Trail Facts
Waypoints
LPB001
Location: 20.599162, -156.419657
Hike southeast along LaPerouse Bay, one of the better snorkeling locations on Maui. Much of the shoreline consists of lava and coral rock. Come early in the morning to spot spinner dolphins.
LPB002
Location: 20.598391, -156.418914
Pass a side trail that loops around ancient Hawaiian stone remnants (stay on trails).
LPB003
Location: 20.597969, -156.418211
Pass a small lava arch. The lava fields at LaPerouse Bay are from some of the most recent volcanic activity on Maui.
LPB004
Location: 20.597819, -156.417444
Arrive early and stake a claim at this small white sand beach in the middle of a lava field.
LPB005
Location: 20.597743, -156.417149
A large cairn marks the route across this lava bench.
LPB006
Location: 20.597382, -156.416221
Pass a large pit of dried coral. Ahead: You'll spot tide pools that dot LaPerouse Bay.
LPB007
Location: 20.596302, -156.414708
Watch for wild goats and pygmy deer along this shaded section of trail.
LPB008
Location: 20.595153, -156.414098
Two surfer graves.
LPB009
Location: 20.593714, -156.413126
A side trail on the left connects to Hoapili Trail (King's Highway), which was used by ancient Hawaiians who traveled barefoot (be thankful for your rugged Vibram bootsoles). Next, the trail turns into a wide jeep track across the next lava field.
LPB010
Location: 20.591291, -156.41171
Fork right to continue to Cape Hanamanioa. The Hoapili Trail enters on the left.
LPB011
Location: 20.583657, -156.411994
Stop for views from Cape Hanamanioa. Backtrack to Waypoint 10 and turn right onto Hoapili Trail.
LPB012
Location: 20.593746, -156.413056
Turn right onto the main trail and retrace the route to the trailhead.
LaPerouse Bay
Location: 20.598863, -156.419349
Salt and Pepper
Location: 20.598471, -156.419021
The shoreline is covered in lava and coral rock.
Haleakala
Location: 20.597964, -156.418056
The lava fields at LaPerouse Bay.
LaPerouse Trail
Location: 20.597899, -156.417637
The trail around LaPerouse Bay winds through recent lava fields.
Private Beach
Location: 20.597799, -156.417359
Lava Coast
Location: 20.596829, -156.415197
The shoreline around LaPerouse Bay is dotted with tide pools.
Tree Cover
Location: 20.596312, -156.414628
Watch for wild goats and pygmy deer along this shaded section of trail.
Jeep Track
Location: 20.5934, -156.412965
The trail turns into a wide jeep track across the next lava field.
Beach Trail
Location: 20.591532, -156.411254
Continue along the Hoapili Trail for 2 more miles to Kawanaku Beach.
Hoapili Trail
Location: 20.592385, -156.411769
The Hoapili Trail (King's Highway) was used by ancient Hawaiians who traveled barefoot!