Magnifique: Discover France's Maritime Alps
Where classic Euro trekking meets the Mediterranean coast.
Heading out the door? Read this article on the new Outside+ app available now on iOS devices for members! Download the app.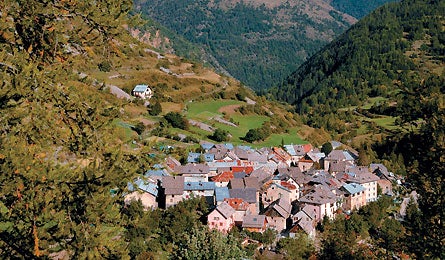 Saint-Dalmas-Le-Selvage, Carly Calhoun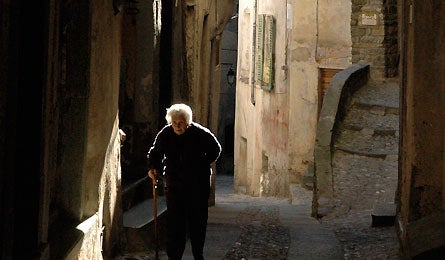 Village of Tende, Carly Calhoun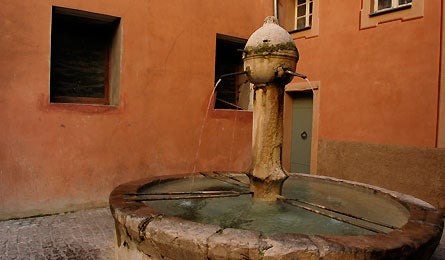 Sospel, Carly Calhoun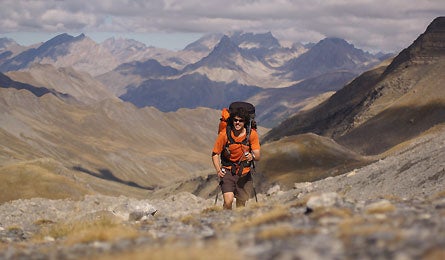 Northern Maritime Alps, Carly Calhoun
In Europe, the past is never far from the present–even in the wilderness. It's day seven on a hike through southeastern France's Maritime Alps, and I'm standing atop a scree-covered pass, getting my first glimpse down into La Vallée des Merveilles–The Valley of Wonders. It's a mesmerizing sight filled with garage-size red boulders, towers of stones stacked like coins, and dozens of shining glacial lakes. And after a longer look, it's clear I'm not the first to be inspired by the valley's grandeur. Nearly 40,000 petroglyphs, some more than 5,000 years old, are etched across the boulders. The ancient drawings depict lightning flashes, bulls, and men with zigzag arms. In addition to the petroglyphs, there's graffiti left by Romans, medieval travelers, and shepherds. According to local guide Jean-Jacques Dellepiane, this open-air museum has kept visitors awestruck since the Bronze Age.
Dellepiane, our guide for the day, is wiry, fortyish, and an expert in locating and interpreting the best of the valley's rock art. When he calls a halt for lunch, photographer Carly Calhoun and I break out our meager rations: energy bar, hunk of stale bread, melting chocolate, tattered bag of peanuts. Dellepiane looks at our food and says, "No, no. On a day like this and in a place like this, you must eat well." He removes a feast from his pack like a magician pulling rabbits from a hat. First comes the fromage–pungent wedges neatly wrapped in cloth. Next, the baguette: warm and soft and smelling like a bakery just opened for the morning rush. Then a hunk of spicy sausage. Finally–of course–a bottle of dark, strong local red wine.
"The reason early travelers came up here was because of the water–it was dry in the valley," says Dellepiane as he slices the sausage with a well-worn, wooden-handled pocketknife. "The storms around Mont Bégo were terrific and terrible. People believed the god of lightning was here, and they came to pray for rain."
As we study the many different petroglyphs–including The Sorcerer, with arms stretched upward and a dagger in each hand–and enjoy wine and cheese in the clear mountain air, it's easy to understand why so many others have come before us. What I can't figure out is why more modern backpackers don't do the same.
Imagine if you could start a hike high in the Rockies and end it, a leisurely week and a half later, on the beach in Big Sur. Now add cobblestoned villages, a network of cozy mountain huts, and rustic gourmet meals served hot and fresh. That, in a nutshell, is the Maritime Alps, which run between Provence and the Italian border in southeastern France.
Our hike started a week earlier in the town of Larche, at the north end of the range. Eleven days and 113 miles later, we'll arrive at the end of the trail, on the edge of the Mediterranean. Our route follows the GR 5 and GR 52, part of France's well-maintained Grande Randonnée trail system. Most days, we hike about 10 miles on a well-marked path (we only need to consult our map once or twice a day) that climbs and descends steep switchbacks over alpine passes, crosses lush valley bottoms, and leads through ancient villages. The October weather is near perfect–60s and sunny every day, with cool nights–though that's not unexpected in a place that averages 300 crystalline days a year.
Just south of Larche, we crossed the path's high point, 8,763-foot Pas de la Cavale, and almost immediately noticed a phenomenon nearly as stunning as the scenery: the absence of other hikers. Compared to the busy trails around Mont Blanc, the paths we walk each day seem virtually empty. With the tourist magnets of Chamonix and the Riviera to the north and south, respectively, the Maritime Alps exist in a bubble of solitude. As Dellepiane puts it, describing the region's administrative département, "You know, les Alpes-Maritimes is 90 percent mountains and 10 percent sea. But 90 percent of the people live on the sea, and people who come to the Côte d'Azur stay on the Côte d'Azur." So instead of other trekkers, we mostly see shepherds leading their flocks down from mountain pastures.
For the most part, our route follows the boundaries of Parc National du Mercantour, which doglegs through the heart of the range. Mercantour, one of seven national parks in France, was created in 1979. The preserve covers more than 250 square miles and encompasses the area's highest peak, 10,311-foot Mont Gélas. More than 2,000 plant species–including slopes of pastel saxifrage and indigo gentian that have likely inspired more than one paintbrush–are found within the park. Royal eagles and bearded vultures patrol the skies. Mercantour's ibex, chamois, marmots, ermines, and wild boar are all protected from hunters within the park's boundaries. Even wolves–which disappeared from France in the early 20th century, but are now naturally migrating from Italy–have a safe home here.
Pierre Commenville, Mercantour's vice director, describes the park's pristine environment as a necessary balance to the crowded cities. "France is a country of mass tourism, and we must think of this area in terms of equilibrium," he says when I question him after our trek. "Our equilibrium is to bring a little bit more quality while keeping our soul and spirit. Imagine being here at this moment with a lot of other hikers. It wouldn't be the same. This is a very densely populated country, so it's a very precious land for educating people."
Here's what our education consisted of the first week of our trek: Pack light (no tent or cooking gear required); bring a big memory card (whatever you think is enough, double it); hike hard each day (you'll eat like a king every night).
We ascended rocky switchbacks through autumnal explosions of bright yellow and orange larch pines, then plunged down scree-covered slopes (bring trekking poles). We cruised long ridges with spectacular alpine views and crossed meadows braided with icy streams. We saw herds of chamois dance up cliffs and were warned by giant, sheep-guarding dogs called patou.
Each night, we explored ancient towns crisscrossed by stony tangles of pedestrian-only streets, and bunked in high mountain huts and village gîtes (think high-class hostels). We dined on local specialties like les boursotou, which sounds good even with my menu-translation butchering: "stuffing made from leeks, spinach, rice, anchovies, and Parmesan in a thin and crispy batter." And after seven or eight hours on the trail, we slaked our thirst with ice-cold beer or a dangerously sweet herbal mountain liqueur called genepi.
And now, just when we think we've seen and tasted the best the Maritime Alps had to offer, we arrive in the Valley of Wonders with Dellepiane and his pack full of fresh bread, cheese, and wine. By the time we bid adieu to our guide, the wow factor has ratcheted up to a new level.
The next day, we continue our hike south to the sea. We leave the park's boundaries just two short stages later, and I feel oddly reluctant to keep going. It could be that we hear shots from hunters for the first time in more than a week. But more likely it's that I've adopted the us-versus-them mentality that the mountain dwellers have toward the larger seaside populations.
Either way, the feeling dissolves as we march downhill across terraced slopes of olive groves, with the salty smell of the sea in our noses. This isn't so bad, either. We reach the medieval town of Sospel, with cobbled streets and café-lined piazzas, and walk avenues that once served as the salt road between Nice and Torino. In the shadow of the Cathedral Saint-Michel, built on the site of a Roman church and cemetery, we order cafés au lait.
The next day, our last stage, the transition is complete. We descend some 3,000 feet to the coastal city of Menton, famous for palms, mimosas, and lemon trees. The Alps disappear into the Riviera, with its beaches, sports cars, gelato vendors, and chattering sunbathers. But even as we approach the waves to dip our feet in the Mediterranean, I recall a moment near the beginning of our trek.
We were staying in the village of Saint-Dalmas-le-Selvage, where painted sundials decorate house fronts. There we had dinner with Anne Marie Issautier, France's first female park ranger. Over mutton, roasted potatoes, and fresh greens, Issautier explained her theory for why so few hikers make it to the Maritime Alps. "People forget there are mountains here," she said. "People forget there is life behind the sea."