Lost Coast Trail (Copy)
Play tag with the pounding surf by day and camp in misty coves by night on this 26-miler along the wildflower-swathed hillsides of the Lost Coast.
Heading out the door? Read this article on the new Outside+ app available now on iOS devices for members! Download the app.
In 1849, a party trying to penetrate the Lost Coast's secluded wilderness got in trouble and had to eat flour paste that formed in their wet packs. No wonder: The King Range's 4,000-footers form a natural barricade to the Lower 48's wildest stretch of coast. Now, 70 miles of trails access natural arches, sea caves, spits, and high-wattage sunsets along the black-sand beaches.
A 26-mile segment of the Lost Coast Trail starts at Mattole Creek. Head south for 8.3 miles, passing otters and a sea-lion rookery, before making camp at Randall Creek. On day 2, ascend 6.6 miles to the lush grasslands of Spanish Flats. Continue on to Miller Flat at Big Flat Creek for a camping spot with driftwood forts on both sides of the creek.
The last day, link more beaches and boulders going south to Shelter Cove and its parking area where you'll pick up your shuttle car. In at least three spots you'll need to time your hike with the tides, so bring a chart.
MORE INFO: www.ca.blm.gov/Arcata
-Mapped by Dave Miller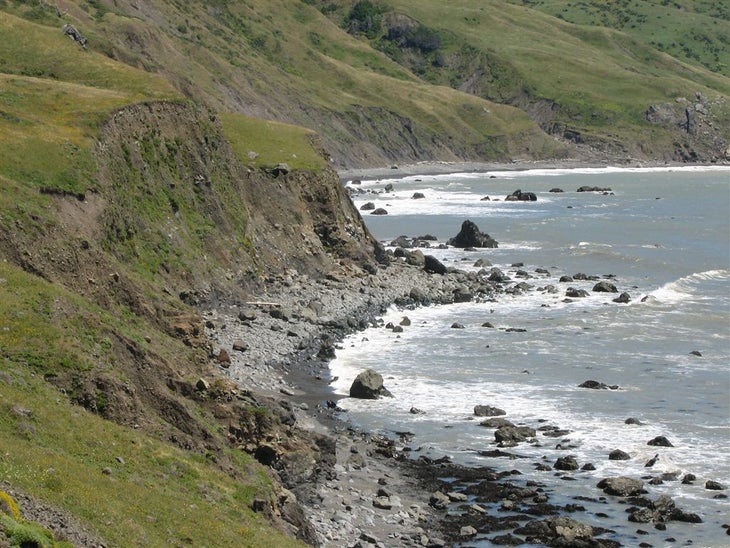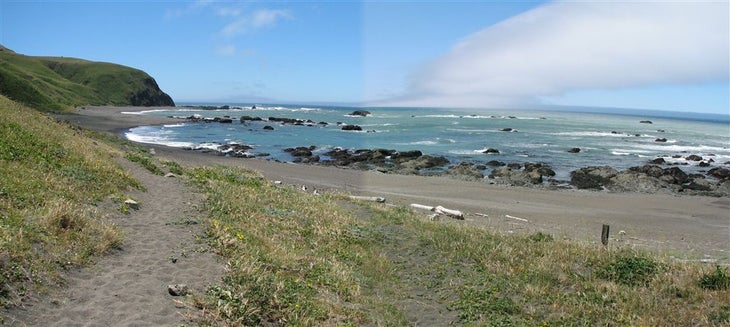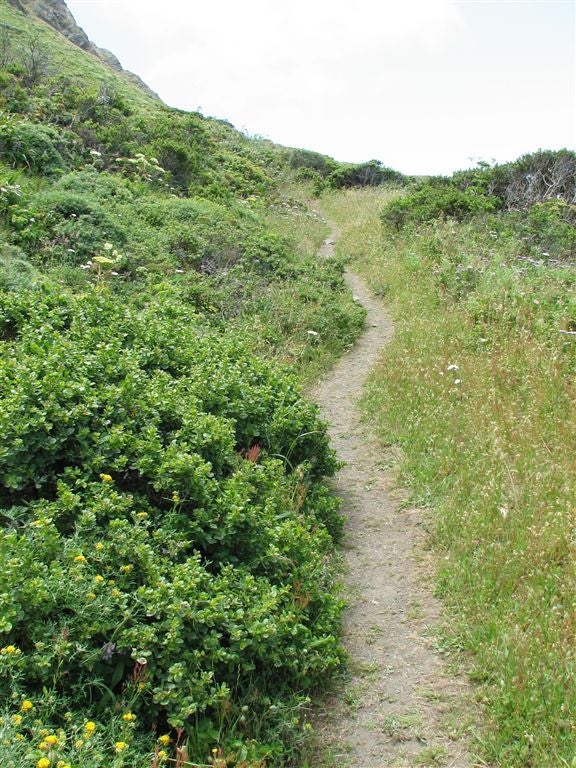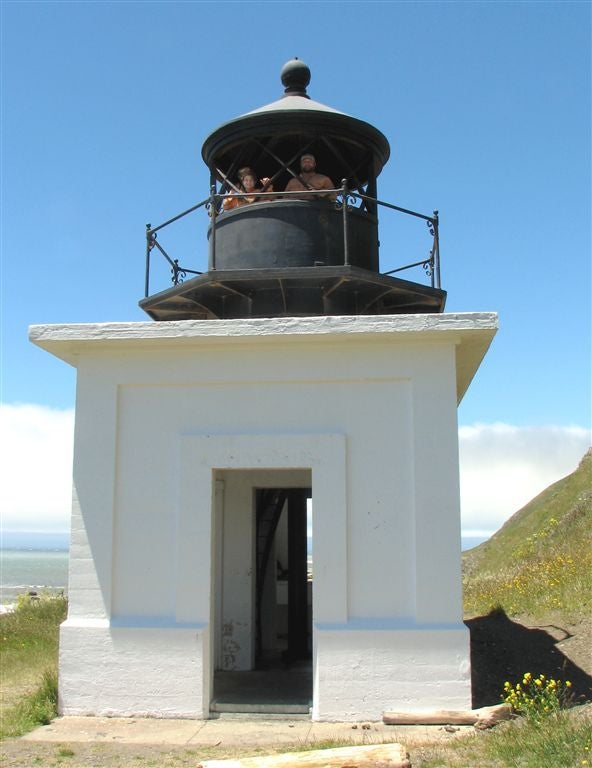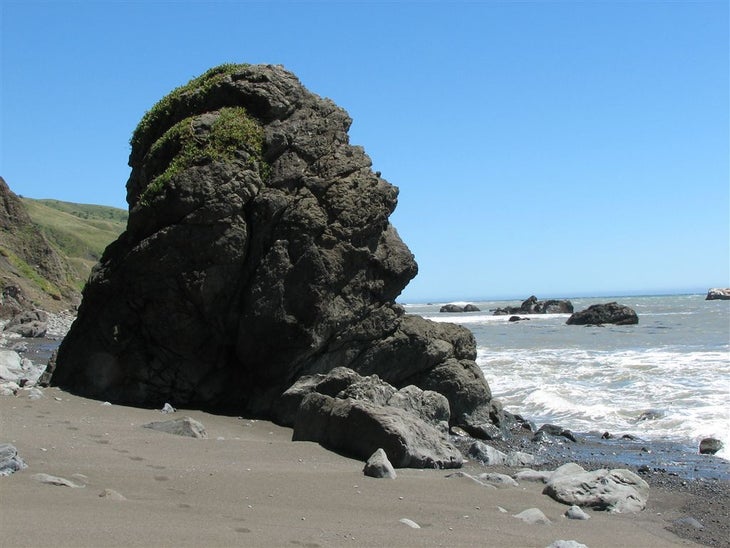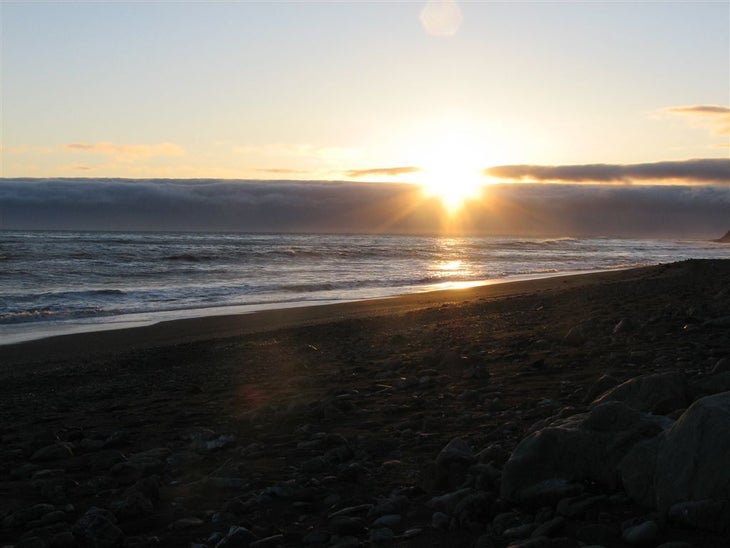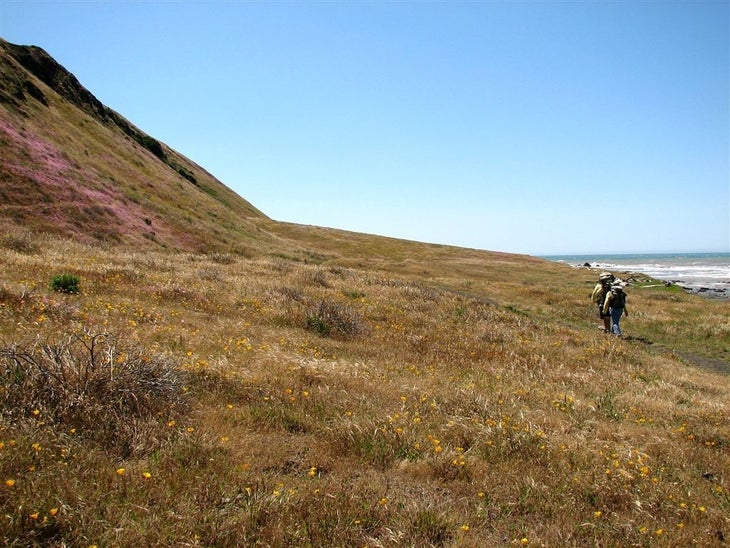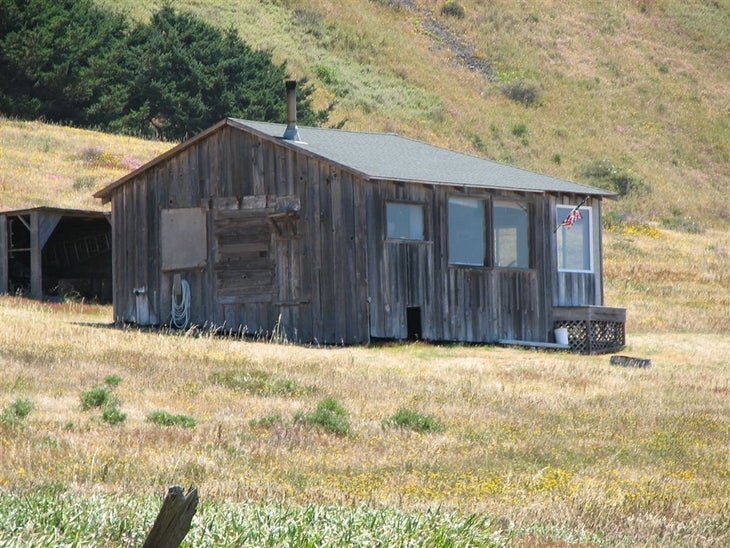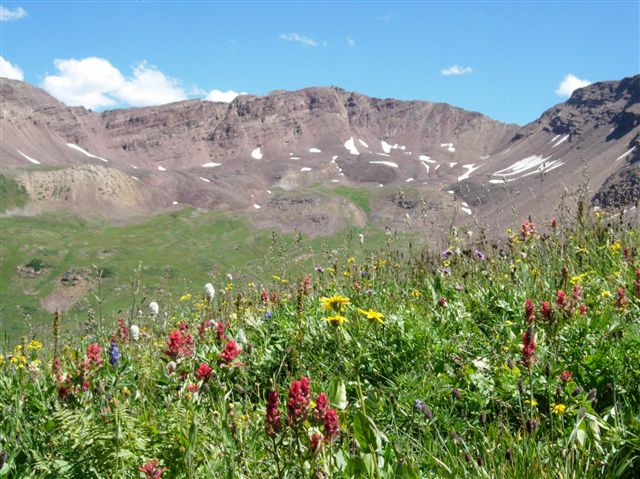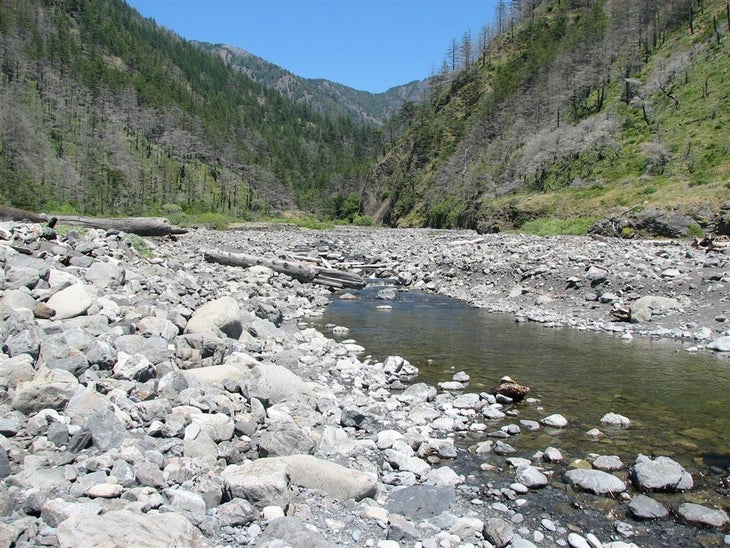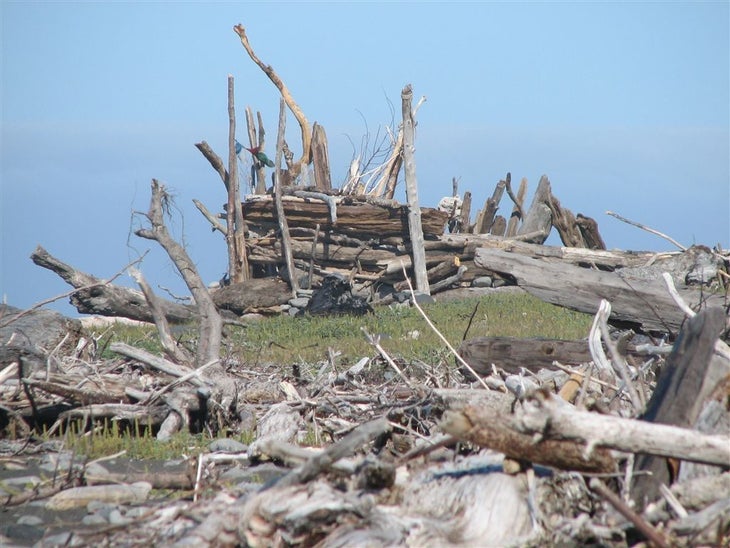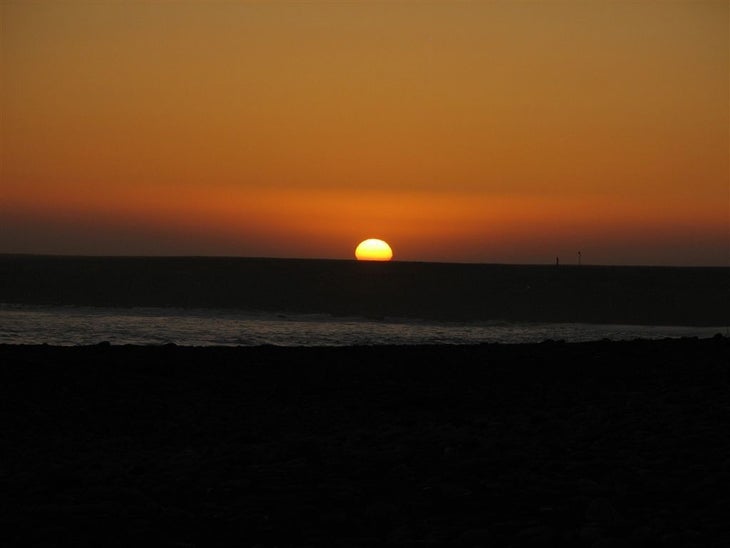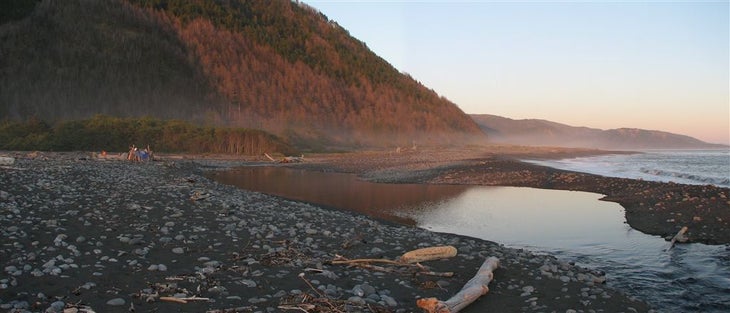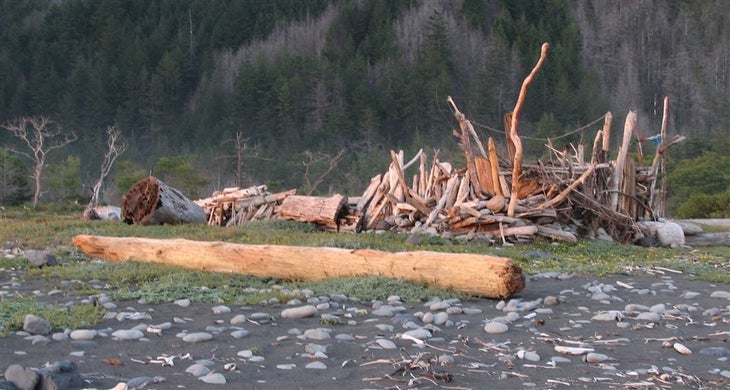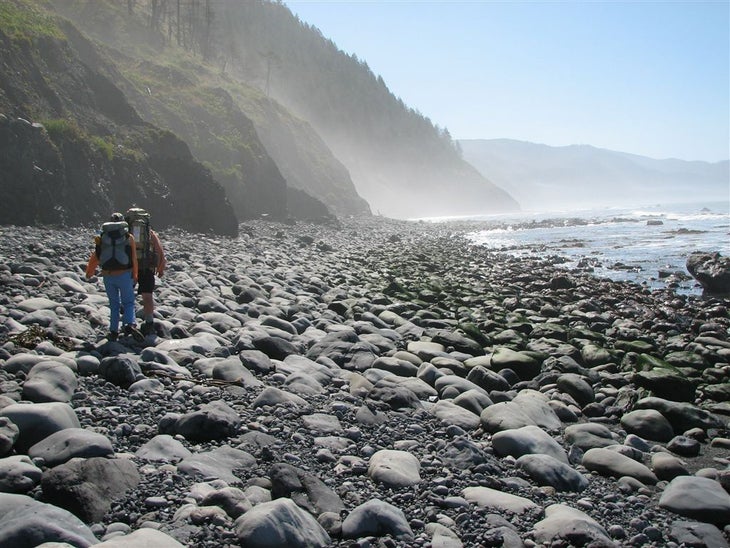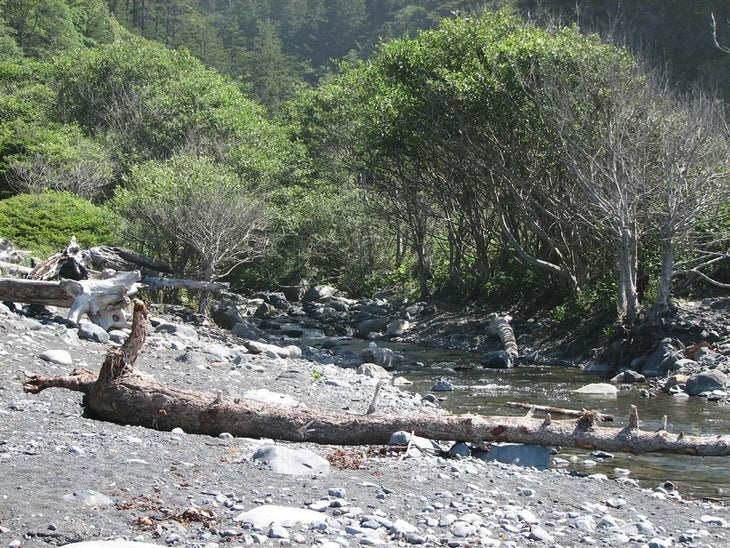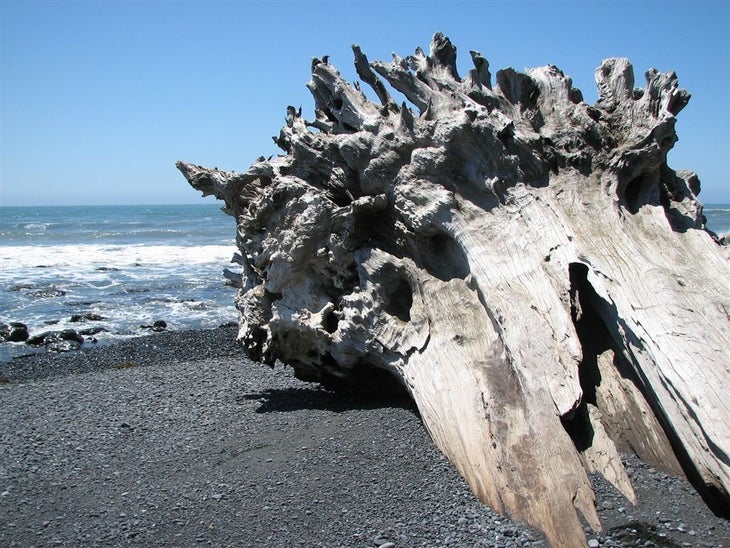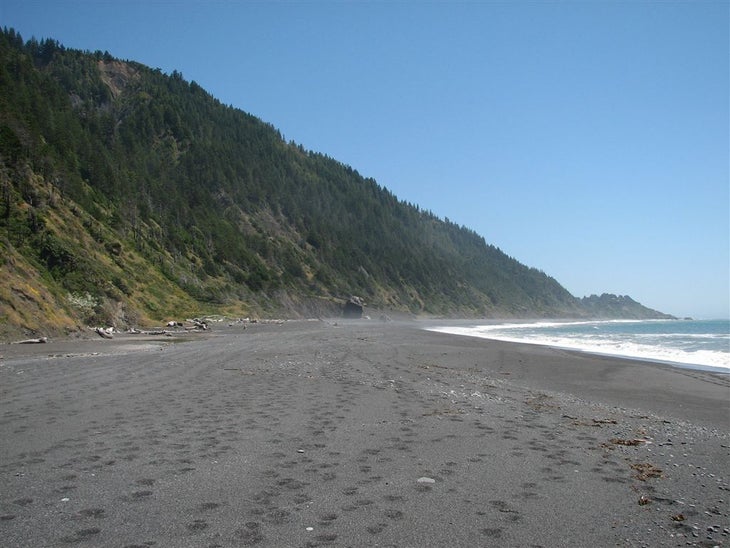 Trail Facts
Waypoints
LCT001
Location: 40.288971, -124.356102
Head S onto black-sand beach littered with driftwood. Don't forget: Pack a tide table to time crossings
LCT002
Location: 40.287201, -124.358597
Leave beach for trail along fence
LCT003
Location: 40.269699, -124.362602
More soft-sand hiking on beach. During low tide, stay close to the water for firm footing, but watch out for sleeper waves
LCT004
Location: 40.262218, -124.363098
Trail pinched by surf and cliffs @ high tide; path picks up in 300 yds. Conical Rock hovers in the breakers
LCT005
Location: 40.255859, -124.357498
Carefully ford gravel bars of Fourmile Creek upstream from where it pours into the ocean
LCT006
Location: 40.254108, -124.355003
Continue R @ Cooskie Creek marker; Spanish Ridge rises to N
LCT007
Location: 40.24992, -124.350487
Punta Gorda Lighthouse: The razor-sharp reefs ripped the hulls of many ships until this short white tower was built in 1911
LCT008
Location: 40.243919, -124.341698
Leave beach for more navigable terrain along bluffs and undulating ridgelines dotted with wildflowers
LCT009
Location: 40.240829, -124.333801
Sea lions sunbathe on surf-worn rocks
LCT010
Location: 40.239738, -124.331497
Look for flowering succulents along the gully's edge while descending to the mouth of Sea Lion Gulch, hardpack trail dumps onto rocky beach.
LCT011
Location: 40.23505, -124.3255
Driftwood shelter: Intricate log pile is a windless, safe, high-tide campsite. Continue S
LCT012
Location: 40.23391, -124.325203
Tricky spot: Pass rocky beach @ low tide. In a few strides, follow cairns on S side of unnamed creek up bluff, then take user trail to Cooskie Creek Spur marker. Turn R and return to beach
LCT013
Location: 40.219601, -124.3106
Cooskie Creek: Crimson sunsets burn extra splen­dor into already fantastic oceanside campsites (permit and bear canister required)
LCT014
Location: 40.213791, -124.303497
Area is impassable at high tide; this stretch is one of the last of the beach hiking for Day 2. Terrain can go from soft sand to pea gravel to boulders. Small waterfalls and tributary streams shoestring along the folded cliff face.
LCT015
Location: 40.200645, -124.28405
L @ Randal Creek, then R onto trail into the gulch. This begins a scenic stretch from Spanish Flat to Big Flat where carpets of wildflowers line an old Jeep trail. Trail conditions improve greatly from here to Kinsey Creek.
LCT016
Location: 40.190559, -124.265099
Continue S @ intersection with unnamed trail.
LCT017
Location: 40.185322, -124.253998
Spanish Creek: R @ Y, then R @ marker
LCT018
Location: 40.179291, -124.243896
Outlet of Oak Creek between pinched walls of Oak and Kinsey Ridge
LCT019
Location: 40.174469, -124.232903
Go R to continue S on beach
LCT020
Location: 40.172119, -124.229797
Free-flowing braids of Kinsey Creek provide a great lunch spot and water break. Top off bladders here.
LCT021
Location: 40.167931, -124.225304
Keep R on trail along beach; go past Etter Cabin, a private homesteand still in use today.
LCT022
Location: 40.15995, -124.213699
L heading uphill to bypass beach
LCT023
Location: 40.15699, -124.211601
Reach Big Creek and go L up to bluff; best bet for dry crossing is upstream.
LCT024
Location: 40.131962, -124.181198
R on foot path. Leave landing strip and follow sandy trail to Big Flat Creek; Black Rock protrudes from the offshore surf
LCT025
Location: 40.128059, -124.1763
Miller Flat at Big Flat Creek: perfect camping spot with driftwood shelters on both sides of creek; other camping areas back among the trees on S side of creek. To continue: follow sandy trail S
LCT026
Location: 40.12249, -124.162697
Return to beach hiking with a stretch of climbing on small boulders. Areas ahead to Gitchell Creek impassible at high tide.
LCT027
Location: 40.121201, -124.157204
Boulder-laced section ends and soft-sand hiking returns
LCT028
Location: 40.117771, -124.148399
Tidepools along break-line. Watch for blacktailed deer coming to the beach from Shipman Creek.
LCT029
Location: 40.108582, -124.121803
Buck Creek: can be difficult to cross in spring or early summer as run-off from steep-walled canyon creates a rushing torrent.
LCT030
Location: 40.094292, -124.102097
Gitchell Creek features camping areas deeper in the mouth of the canyon. Tides are not an issue and it's all beach to the S. Horse Mountain and Kaluna Cliff tower through the haze in the SE.
LCT031
Location: 40.04517, -124.078598
Reach Shelter Cove and go L up bluff to parking lot.
Rocky Beach
Location: 40.243656, -124.340454
Cliffs crumble into the sea. ©Dave Miller
Mattole Creek and Pacific Panorama
Location: 40.2887, -124.357918
Blue-sky views over the Pacific. ©Dave Miller
Hardpack Trail
Location: 40.28672, -124.356606
Trail leads to the bluffs above the ocean. ©Dave Miller
Hills Meet Ocean
Location: 40.274773, -124.361481
Wildflowers lace the verdant hills throughout the Lost Coast. ©Dave Miller
Driftwood Shelter #1
Location: 40.25927, -124.36084
For years, surfers and hikers have built driftwood shelters along the coast. First come basis. ©Dave Miller
Lighthouse
Location: 40.249371, -124.349815
The Punta Gorda Lighthouse is no longer in use. ©Dave Miller
Sealion Rock
Location: 40.241283, -124.332855
Locals catch major rays just offshore. ©Dave Miller
Profile Rock
Location: 40.239826, -124.33036
A hulking anthropomorphic figure among the breakers. ©Dave Miller
Driftwood Shelter #2
Location: 40.235085, -124.32489
Flotsam and driftwood make for a wind-free shelter. ©Dave Miller
Squeeze Factor
Location: 40.219204, -124.309517
There's room for two tents in this ocean-side lean-to. ©Dave Miller
Cooskie Creek Panorama
Location: 40.219471, -124.309654
A driftwood camp near the mouth of the Cooskie Creek. ©Dave Miller
Camp Sunset
Location: 40.219471, -124.310135
The sun drops below thick clouds. ©Dave Miller
Boulders Into the Sea
Location: 40.216476, -124.306145
Breakers pound against boulder piles. ©Dave Miller
Yellow Paths
Location: 40.195232, -124.269691
A wildflower carpet draped along the Lost Coast. ©Dave Miller
Dotted Hills
Location: 40.198807, -124.274673
Hikers pass lonely hillsides laced with wildflowers. ©Dave Miller
Private Cabin
Location: 40.182632, -124.250725
©Dave Miller
Wildflowers
Location: 40.18103, -124.24765
In spring and summer, the hills bloom in vibrant displays. ©Dave Miller
Big Creek
Location: 40.157822, -124.209351
A rocky outlet spilling into the Pacific. ©Dave Miller
Driftwood Fortress
Location: 40.127529, -124.171852
Perced atop Miller Flat, this shelter has a top-notch view of remote beaches.©Dave Miller
Yellow Orb at Big Flat
Location: 40.131039, -124.179611
An orange-and-crimson sun burns into a darkened horizon. ©Dave Miller
Big Flat Creek Sunset
Location: 40.1311, -124.177521
Wisps of evening mist color the hillsides at Big Flat Creek. ©Dave Miller
Big Flat Driftwood Shelter
Location: 40.129807, -124.178322
A small dwelling that will protect surf-worn hikers. ©Dave Miller
Rocky Hiking
Location: 40.121677, -124.156891
Carefully balancing with each step, hikers travel into verdant and misty coves ©Dave Miller
Buck Creek
Location: 40.10881, -124.121063
Fallen trees and thick growth choke the outlet of Buck Creek. ©Dave Miller
Massive Trunk
Location: 40.067806, -124.081352
A huge tree trunk rests half-buried in black sand. ©Dave Miller
Black Sand Beach
Location: 40.067806, -124.081352
Shelter Cove, the final destination, lays along the hazy horizon. ©Dave Miller
Upper Map Corner
Location: 40.346544, -124.50325
Lower Map Corner
Location: 40.033924, -123.982773