Lose the Crowds at these Stellar Second-Bests
If you want a side of solitude with your wilderness awe, head to these second-superlatives, where the grandeur is enormous but the crowds are not.
Heading out the door? Read this article on the new Outside+ app available now on iOS devices for members! Download the app.
It takes just a few minutes of scrolling through social media to see that we're all a little superlative obsessed when it comes to the outdoors—the tallest trees, the highest mountain, the deepest lake. But that got us wondering: What about those places that didn't quite make the cutoff? You know, that slightly shorter waterfall, the cave that doesn't go as far back. It turns out that while some of these destinations are already plenty famous in their own right (we're looking at you, Tahoe), others are so far off the beaten path that you're all but assured some quiet time there. Who said there was no prize for second place?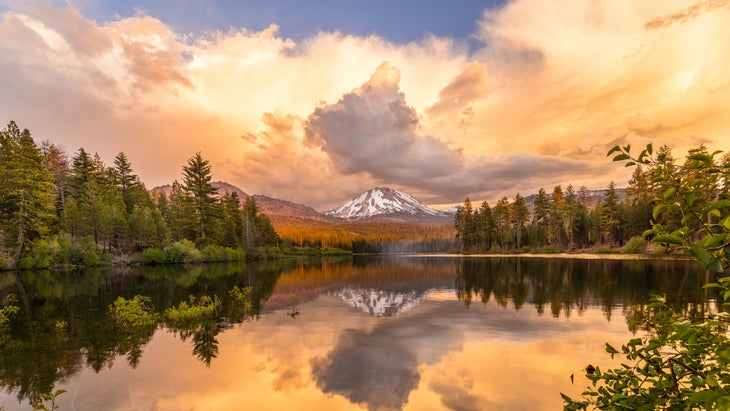 Second Most Recent Eruption: Lassen Peak, California
When Mt. St. Helens erupted in 1980, thousands up and down the West Coast were reminded that the quiet sentinels of the Cascade range were in reality active volcanoes that erupt with surprising regularity—Rainier in 1894, Baker in 1880, and Hood in 1865. The most recent eruption in the continental U.S. before St. Helens was southerly Lassen Peak in 1915, with a series of explosions that sent a plume 30,000 feet into the air, flooded the nearby town of Old Station, and rained ash down on communities as far away as Nevada. The volcano hasn't exactly quieted down since then, and visitors today can enjoy a melody of unearthly hisses, cracks, and pops to background steam vents, boiling springs, and bubbling mud pits in sulfuric shades of green, yellow, and red. Hike it Devils Kitchen Trail (3.7 miles)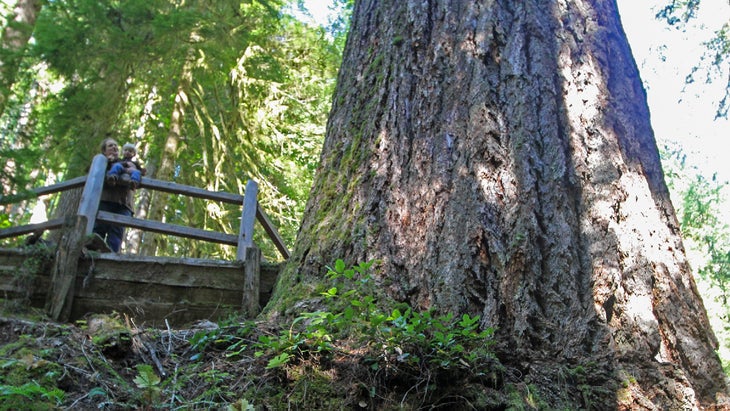 Second Tallest Trees: Douglas Firs, Oregon
Just about everyone knows the tallest trees in the world are California's coastal redwoods. But a short jaunt up 101 gets you within spitting distance of some Douglas firs that are worthy contenders to the crown. The reigning champion in this stand near Coos Bay is the 327-foot Doerner Fir, but unfortunately this behemoth was topped some years back, so it won't be challenging 380-foot Hyperion's claim to fame anytime soon. Keep an eye instead on the 318-foot Hunewell Honey, which might just yet reach the heights of the Mineral Tree—a Doug fir that held the all-time world title of tallest tree at 393 feet until it fell in Mt. Rainier National Park 1930. Hike it Doerner Fir Trail (1 mile)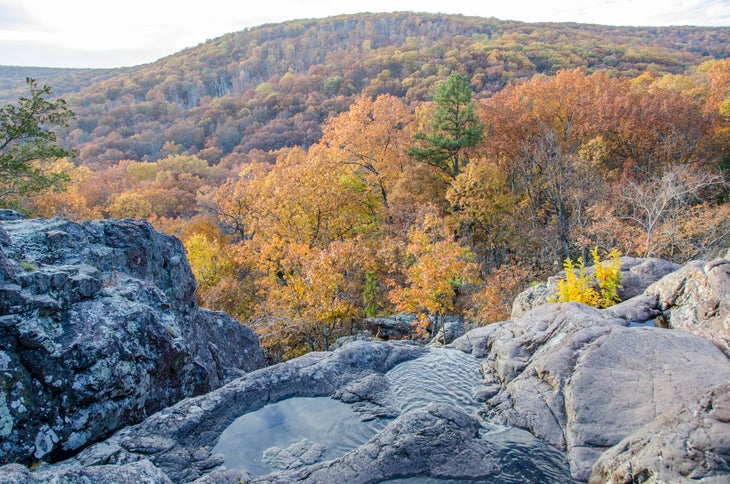 Second Oldest Mountain Range: St. Francois Mountains, Missouri
While it's no surprise that the 1.8-billion-year-old Black Hills, the site of so many indigenous legends and sacred stories, is the oldest range in the U.S., the Ozarks' St. Francois Mountains have a unique history all their own. This range got its start when a series of calderas, including Taum Sauk, Butler Hill, and Hawn Park, erupted during the Precambrian era (1.5 billion years ago). The series of mountains that formed stood some 8,000 feet tall; at least, until the rest of Missouri flooded and the range was transformed into an island archipelago (coral fossils can still be found at the base of the mountain). Today, the St. Francois Mountains have been whittled down to sub-2,000-foot stature, but we think you'll agree that they've lived an interesting life. Hike it Scour Trail (1.4 miles)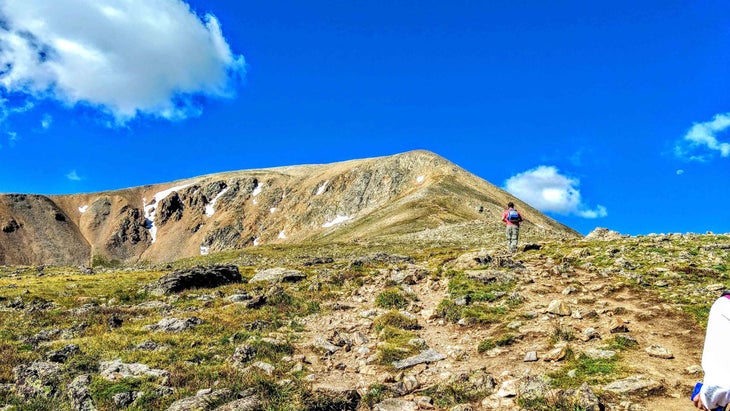 Second Highest Peak: Mt. Elbert, Colorado
Sixty-five feet. A couple of switchbacks, seven flights of stairs. That's all that separates Colorado's 14,439-foot Mt. Elbert from the glory enjoyed by the Sierra Nevada's 14,505-foot Mt. Whitney. Elbert's fan base might have tried to edge out the competition with a bit of snow here, a stone or two there, but it was already dealing with subterfuge closer to home during the first part of the twentieth century, as a set of unruly climbers kept building 13-foot rock cairns on nearby 14,429-foot Mt. Massive in an effort to steal the silver. Eventually even Washington's 14,411-foot Mt. Rainier threatened to get in on the action, when climbers started another unlikely campaign to pile on snow and rocks. Do your part to help Elbert protect its claim to (secondary) fame by leaving that souvenir rock behind on your peakbagging expedition, Hike it Mt. Elbert Northeast Ridge (6.8 miles)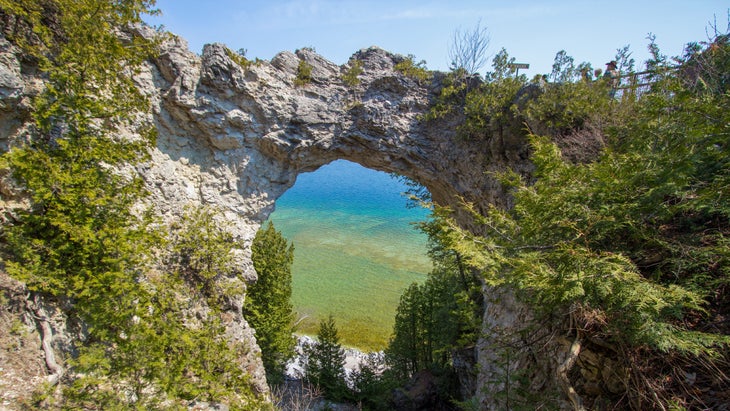 Second Established National Park: Mackinac, Michigan
First there was Yellowstone—a dormant supervolcano spanning three states that's home to half the world's hydrothermal features. And then there was Mackinac, a resort island in Lake Huron. While not possessing quite as much splendor as its predecessor, there's still lots for outdoors lovers to appreciate, particularly where the wind and rain and surf carved the island's limestone into a series of caves, arches, outcrops, and pinnacles. Plan to explore the island by foot or bicycle as cars are banned here, a decision we wish was more widespread to be honest. While it only lasted twenty years as a national park, Mackinac's establishment three years after Yellowstone helped ensure that the American national park system didn't become a one-off. Hike it Tranquil Bluff Trail (6.2 miles)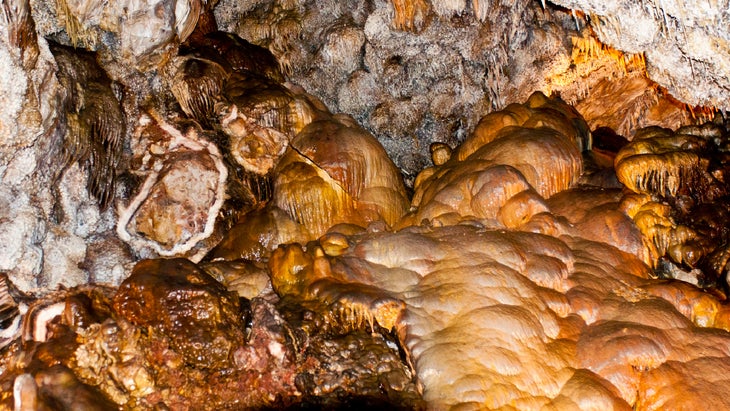 Second Longest Cave: Jewel Cave, South Dakota
It's thought that Jewel Cave covers about half the ground of the 412-mile-long Mammoth Cave. But, since no one's made it to the end of either, we're not really sure. While we wait for teams of cavers—who've mapped over 200 miles to date by spending up to four days inside of Jewel at a time—to finally settle this once and for all, take a moment to admire how the calcite, once oozing out of the walls on all sides, formed the draping curtains, tiny crystals, and even popcorn that gives Jewel its name. (We're also pretty impressed by that 570-foot-long, 30-foot-high room named, less impressively, the Big Duh.) To get a flavor for just how far back Jewel Cave might go, embark on the Wild Caving Tour (tours are the only way to access the cave) where you'll rope climb a near vertical face, chimney up using cave walls, and even commando crawl through holes. Spelunk it Wild Caving Tour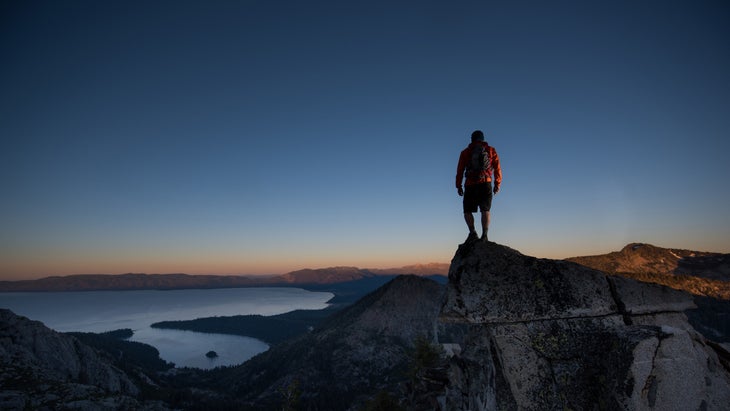 Second Deepest Lake: Lake Tahoe, California
In truth, Tahoe gets plenty of limelight without also being, at 1,645 feet, the second deepest lake in the United States (the bottom of the lake is nine feet lower in elevation than Carson City for those of you keeping track). This deep-blue beauty got this way thanks to California's notorious fault lines, which pushed up the Carson Range and the Sierra Nevada some two millions years ago, leaving a basin in between that was dammed by a series of lava and mudflows from nearby Mount Pluto. Today the lake holds some 37 trillion gallons of water, or enough to cover the entire state in 14 inches of water. Maybe California isn't so dry, after all. Hike it Tahoe East Shore Trail (7 miles)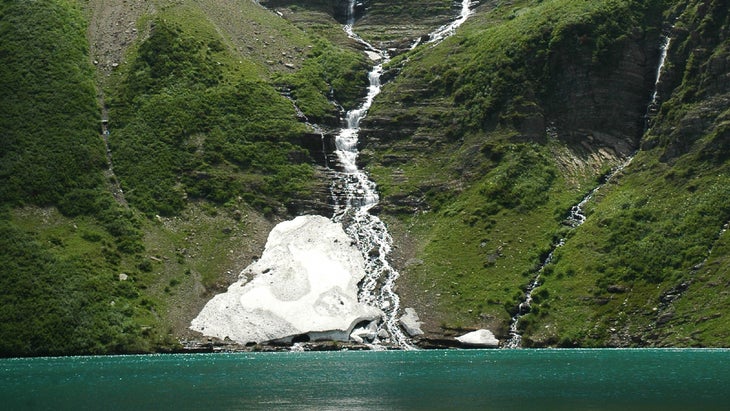 Second Longest Waterfall Drop: Lake Francis Falls, Montana
Don't tell, but we think the runner up on this list might be the more worthy destination. Buried deep in the backcountry of Glacier National Park, the 1,500-foot falls cascading into Lake Francis gets significantly less foot traffic than the 1,612-foot descent of Yosemite's Ribbon Falls down El Capitan's granite face, but the beauty of this delicate tendril snaking past cliffs toward aquamarine waters is unsurpassed. And at nearly 10 miles from the trailhead (and with only two campsites to choose from), it boasts solitude that would be unimaginable in the Valley. There's only one catch: The source of the falls, Dixon Glacier, has lost about half its surface area over the last 60 years. See this one before it's too late. Hike it Lake Francis via Bowman Creek (30.1 miles)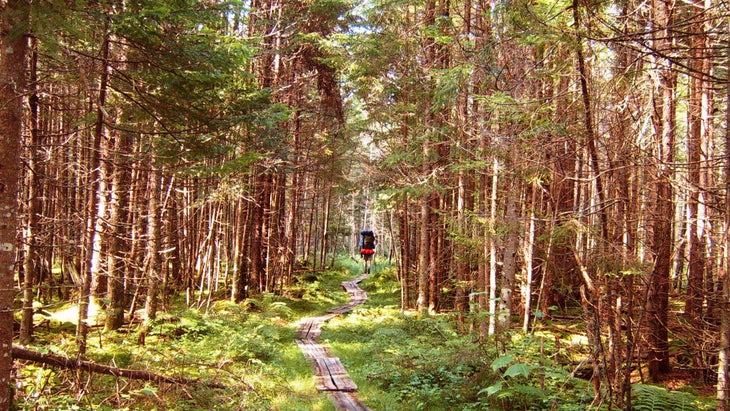 Second Oldest Long Trail: Northville-Placid Trail, New York
Here's the thing: techhhhnically Vermont's Long Trail was completed after New York's Northville-Placid Trail, since its final stretch of single track didn't hit Canada until 1930. Since the Long Trail already had 209 miles under its belt before the Northville-Placid Trail even began construction in 1922, we're not gonna dispute their claim to "oldest contiguous trail." But if you want to follow us on down this rabbit hole of "what long trail came first," we'll head next to the Cascades, where a USFS ranger who was supposed to be surveying a road was instead laying down signposts and blazes for the 260-mile Oregon Skyline Trail (he published his map of this "very rough pioneer trail" in 1921). And if we keep going back we'll find indigenous trails (like the Natchez Trace) that had existed long before Europeans arrived on American shores. This one's tough. Hike it Northville-Placid Trail (138 miles)