Los Angeles's Best Local Hikes
Appreciate the urban on a nitty-gritty city trek; dayhike to a crowd-free airy view; and snag a peak-bagging overnight on Los Angeles's best local hikes.
Heading out the door? Read this article on the new Outside+ app available now on iOS devices for members! Download the app.

Score views of the Verdugo Mountains on a 5.8 trek in Wildwood Canyon Park, one of Los Angeles's best local hikes. Photo by Benny Haddad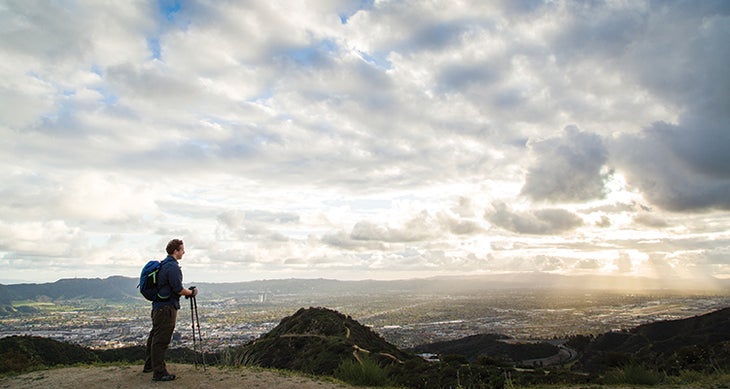 Passing On the Left
Think hiking is just for the woods? This nitty-gritty city trek will change your mind.
By Dan Koeppel
I am not looking for peace and quiet. I'm seeking action, noise, light, and sound—especially sound: a wall of it. If I close my eyes, I might be able to imagine that this is the roar of the ocean, but I don't want to close my eyes. It is dusk, and the I-5 traffic is blowing past me on either side. It is the perfect time to be exactly here on this hike. The cars are inches away—on the other side of a barrier—and I'm thinking, when I have room for thought, that this is why I live in Los Angeles. This is a beautiful Los Angeles moment.
There are a few obvious ways urban hiking is different. You're in a city, usually on pavement, with better access to bathrooms and burritos (more on that in a sec). The wildlife you encounter tends to be of the human variety. But the biggest difference—the key difference—is less apparent. An in-town walk is an exercise in multiple choice. There's no one "right" path between the start and the finish. There's chaos in choice, but also freedom.
My highway-staircase-trail 10-mile hike begins just north of downtown at the Chinatown Metro Gold Line light rail station. I walk through Los Angeles State Historic Park, along the former Zanja Madre, or "Mother Ditch," heading toward the Los Angeles River, the concrete-lined channel famous for movie car chases and slated for a $1 billion green makeover.
When the Arroyo Seco Parkway, the next segment, was constructed in 1939, a large chunk of Los Angeles' major north-south surface thoroughfare—Figueroa Street—and its sidewalks disappeared to make way. In its place, engineers created a half-mile long, caged walkway that includes ramps and spiral stairways that thread between the north and southbound lanes of the highway, and there I walk upstream against a violent river of motor vehicles.
The highway walkway ends in the Solano Canyon Neighborhood, one of the city's oldest Mexican-American communities. In the late 1950s, most of the canyon's residents were evicted, and Dodger Stadium was built. I find a cool—if heartbreaking—detour along Lilac Terrace to a remote parking area for the baseball field. The smooth black asphalt doesn't hint at what's below: homes and a church which had their roofs torn off and their interiors filled and paved over.
From here, the hike starts to feel more like a hike, following the Portola Trail with views of the distant San Gabriel Mountains through Elysian Park. This empties out into one of the city's oldest neighborhoods, Echo Park, a patchwork of hundred-year-old houses, steep streets, and more than 40 public stairways. I climb the zigzagging Baxter Street Stairs—at 231 steps, the city's second longest—and the Loma Vista Stairway (182 steps).
The walk ends a mile later near Sunset Boulevard, where I indulge in what is arguably the journey's greatest asset—a taco from the legendary Guisado's, an East Los Angeles tradition. I could work off the taco by walking 2 miles due east on Sunset Boulevard toward the start, but maybe I'll just grab the #2 bus. It's a city; there are no right answers.
Trip Planner
Trailhead
34.087418, -118.213373Infobigparadela.com
Dayhike
Vital Link Trail, Wildwood Canyon Park
Skip the yoga-pant-wearing, sneaker-sporting, latte-sipping crowds on some of L.A.'s other dayhikes, and lace up your boots for this rocky, 5.8-mile round-tripper to an airy view. The trail climbs almost 2,000 feet on the Vital Link Trail to the crumbly ridge of the Verdugo Mountains. Bring a hat as there's almost no shade along the entire route. Follow the ridge southeast with near constant views over Burbank and downtown L.A.
Trailhead 34.202783, -118.298303Drive time 30 mins. Info glendaleca.gov
Overnight
Three T's Trail, Cucamonga Wilderness
The T's stand for the names of the three 8,000-plus-foot peaks you'll crest on this 13.5 miler. Follow ski trails up 8,587-foot Thunder Mountain, then a narrow crest trail to 8,985-foot Telegraph Peak. Camp on the flats southwest of the summit (bring water). Pop over Timber Mountain (8,303 feet) to Baldy Notch at mile 13.5, where you can grab the chairlift down if you're beat (mtbaldyskilifts.com).
Trailhead 34.266084, -117.626796Drive time 1 hr. 15 mins. Info $5 daily Adventure Pass; bit.do/ThreeTs
See the rest of the country's best local hikes