Los Angeles's Top 6 Dayhikes
The best local trails, as selected by BACKPACKER Local scout Brad Stapleton.
Heading out the door? Read this article on the new Outside+ app available now on iOS devices for members! Download the app.
The City of Angels: land of brunch, tanning, and of course, celebrity sightings at the local coffeeshop. For those of us looking to travel off the beaten path to places that don't start with "Runyon," there are tons of options that are all over the (literal) map. From ocean vistas and waterfalls to low alpine ascents and the 20-mile grinder hikes that accompany them, the list of places to hike in the West Coast's largest sprawl borderlines on endless. Simply put, Los Angeles quietly boasts one of the broadest ranges of hikes of every level in the nation: Look closely, and there's a trail to be found that will sate any type of outdoor appetite.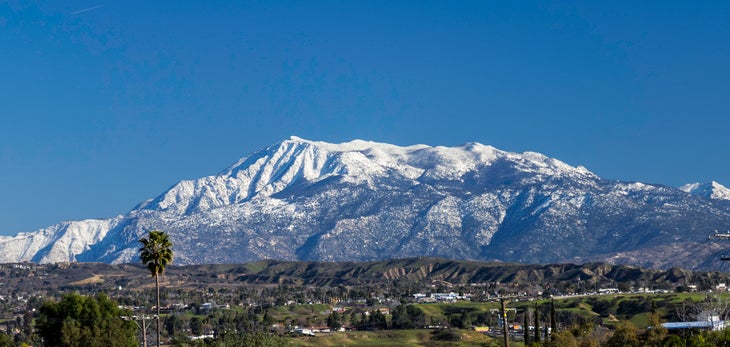 1. Mt. San Jacinto, Mt. San Jacinto State Park
Trailhead: Long Valley
Mileage: 12 (round-trip)
Drive time from the Staples Center: 2 hours
Let's say Palm Springs is on the weekend docket, but poolside views for 48 hours just won't quite cut it. Look no further than Mt. San Jacinto: This San Gabriel peak is perfect for those who want the alpine views and elevation, but don't want to suffer tremendously to get them. Step one: Hop on the Palm Springs Aerial Tramway ($25.95 round-trip). Step two: Head to the ranger station nearby and grab a wilderness permit (even for day trips). Step three: Strap in for almost 12 miles (round-trip) of subalpine views, with an altitude gain of 2,434 feet. Hikers will top out at 10,833 feet and will be able to see the Coachella Valley and Palm Desert to the east, and the Inland Empire to the west. The views are stunning. Pack a layer–it's brisk up there.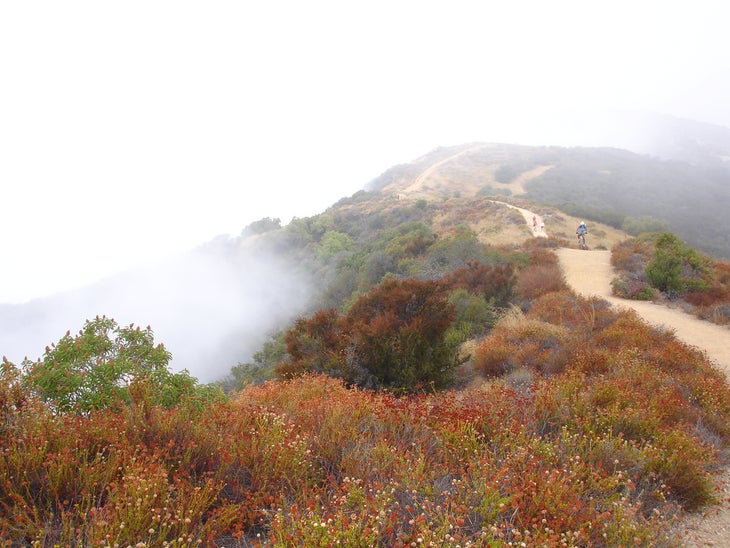 2. Parker Mesa, Topanga State Park
Trailhead: Los Liones
Mileage: 7.3 (round-trip)
Drive time from the Staples Center: 25 minutes
This is the perfect hike for those of us who want to feel like they accomplished something–got some views, got some exercise, and got some nature–but can get down in time for brunch on Abbot Kinney. The hike starts in the neighborhoods of the Pacific Palisades, and quickly rises out of the trees via a wide dirt path known as the Los Liones Trail. The trail meets up with the fire road system of Topanga State Park, and the ascends to the mesa from there. The views are quite ridiculous for the short amount of work (less than two hours of hiking) required to achieve them–on a clear day, it's easy to see Palos Verdes Peninsula, Catalina Island, and even San Clemente Island. Total elevation gain is around 900 feet. For a longer day, hikers can continue to Trippet Ranch on the aforementioned fire roads.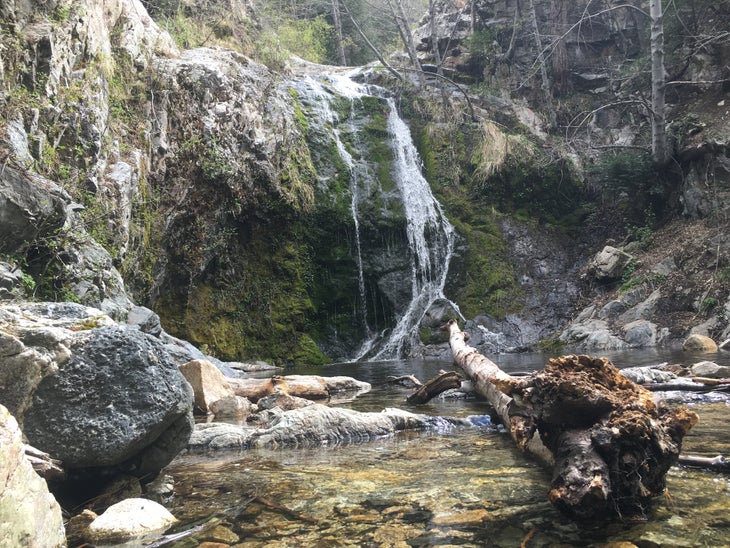 3. Cooper Canyon, Angeles National Forest
Trailhead: Buckhorn Campground
Mileage: 3 (round-trip)
Drive time from the Staples Center: 1 hour, 10 minutes
Ever wanted to (briefly) hike the Pacific Crest Trail, but never knew where to go? Cooper Canyon has you covered. Start at the back of Buckhorn Campground (which is great for some accessible car camping), and then descend the Burkhart Trail–yes, it's down the whole way–with 745 feet of loss over the course of a mile and a half. For those of us at home in the Sierras, this hike will feel similar at points, with lots of ancient trees that look like they belong at a different elevation. Right before arriving at the final destination, hikers will cross the PCT, which can be explored east or west at their leisure. Otherwise, the reward is the wonderfully secluded Cooper Canyon Falls, a cascade that's more tranquil than grandiose, but is a great way to spend a summer day with a few cold beverages and a sack lunch. Bonus: Dogs are allowed because it's national forest.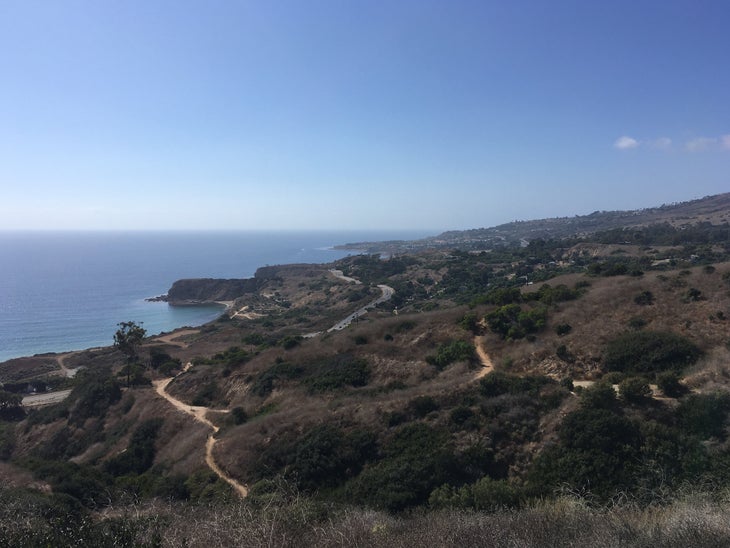 4. Portuguese Bend Reserve 
Trailhead: Burma Road
Mileage: 1-4 (round-trip)
Drive time from the Staples Center: 30 minutes
Most hikers look to the San Gabriels or Santa Monica Mountains for their fun, but there are tons of quick trails to be had close to the South Bay on the Palos Verdes Peninsula. Portuguese Bend is home to 399 acres of chaparral goodness–replete with quick hill ascents, great views, and (way) more than a handful of trails to choose from (and a quick bit of trivia: It's one of 10 nature reserves on the peninsula). To start, park at the Burma Road Trailhead off of Crenshaw. From there, wander along Burma to Peacock Flats, which climbs towards Allor Trail and the Eagle's Nest Trail (which, as its name hints, provides great views). After Eagle's Nest, there's still more to do: Hikers can hit the Vanderlip Trail, Landslide Scarp Trail, scramble along the Rim Trail, or run the Ishibashi Trail to get in a few hill repeats. The total mileage is whatever you want it to be, ranging from 1-4 miles.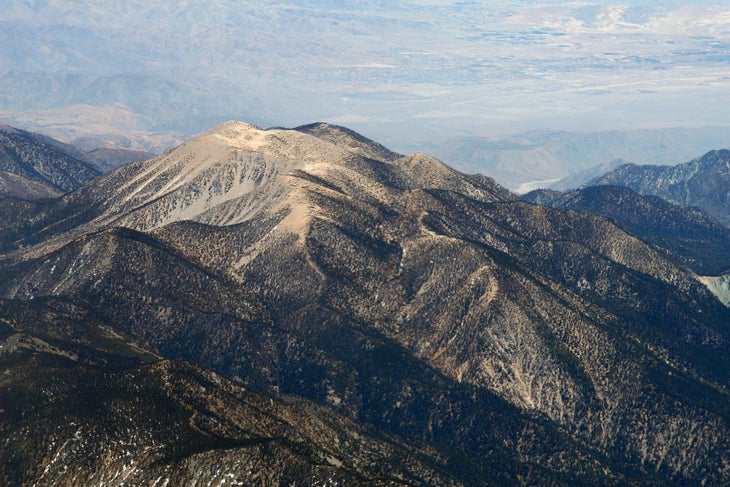 5. Mt. San Gorgonio, San Gorgonio Wilderness
Trailhead: Vivian Creek
Mileage: 18 (round-trip)
Drive time from the Staples Center: 1 hour, 45 minutes
Simply put, this hike is a beast. The highest peak in Southern California, it's also number 18 on the "ultras"–a list of the most prominent peaks in the United States–with a summit that reaches 11,503 feet. The trail is just under 18 miles long, with 5,390 feet of elevation gain. Some people do the hike as an overnight (grab a permit at the Mill Creek Visitor Center if that's of interest), but otherwise, crush this out in one fell swoop. Start at the Vivian Creek Trailhead, and after a brief jaunt through the canyon, get ready to climb. For a long time. The best part of this hike is the varied climate and ecosystems that demonstrate everything Southern California mountains have to offer–starting out in a lush wood, ascending through subalpine trees, scree, and bush, and finally topping out on a moonscape with hardly more than sparse scrub brush. Mt. Whitney hopefuls, this is your training ground.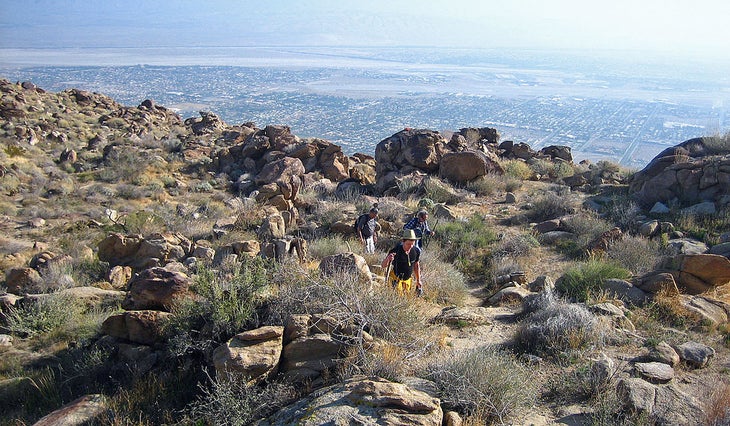 BONUS: Cactus to Clouds Trail
Trailhead: Palm Springs Art Museum
Mileage: 22 (round-trip)
Drive time from the Staples Center: 2 hours
So, let's say that Mt. San Jacinto was great, but there's a nagging feeling… does one really have to take the aerial tramway to get to the start of the hike?
The answer is no–there's something hellaciously worse. Enter the Cactus to Clouds Trail, known as C2C. This route encompasses the Skyline Trail, an 11-mile stretch of lung-busting drudgery not sanctioned by any one public land agency (think more cross-country route than trail) and the hike to San Jacinto peak.
The net elevation gain is 10,400 feet over the course of 16 miles, with the bulk of the gain–8,000 feet–taking place over the first 10 miles. Essentially, hikers will climb the same face that tramway-goers ferry up and down on an hourly basis, then hike up to San Jacinto. Start at the Palm Springs Art Museum ("cactus"), take the Skyline Trail up to Long Valley, then scale San Jacinto from there ("clouds"), and then retrace 5-ish miles to the aerial tramway to take it down for the evening. The extraordinarily ambitious can complete what is known as the C2C2C, in which they would bypass the aerial tramway ride home, instead opting to descend the Skyline Trail down. Bring double the water you think you'll need, start in the wee hours of the morning (3 am is great), and avoid this hike during the summer months.